A Better Way To Fund Infrastructure
Trump's investor-friendly plan and other conventional approaches are likely to fail—it's time to try something new.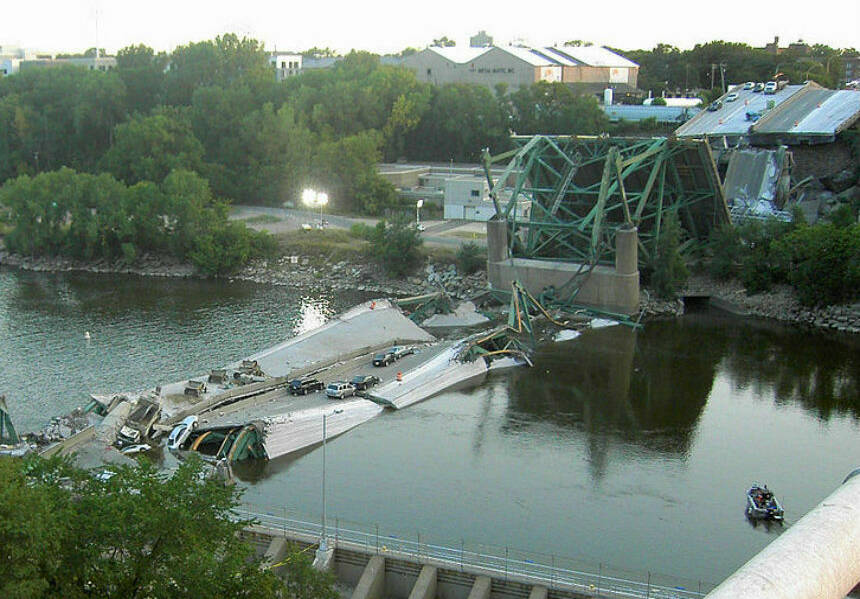 In their 2017 infra­struc­ture report card, the Amer­i­can Soci­ety of Civ­il Engi­neers (ASCE) gave the Unit­ed States a dis­mal D+ — and for good rea­son. ASCE notes, for instance, that each day 188 mil­lion trips are made across the nation's 56,007 struc­tural­ly defi­cient bridges. Anoth­er cat­a­stro­phe like the 2007 col­lapse of the I‑35 bridge in Min­neapo­lis (which killed 13 peo­ple and injured 145) seems only a mat­ter of time. In fact, just this past week an ele­vat­ed sec­tion of I‑85 col­lapsed in Atlanta after a fire. A recent state inspec­tion had found numer­ous cracks and spalling (con­crete dete­ri­o­ra­tion) in the structure.
The other approach would be for the Treasury, Federal Reserve or Congress to create the money and just directly invest it in infrastructure projects.
Beyond the vis­i­bly decay­ing bridges, dams and rail­roads, var­i­ous hid­den issues also plague the coun­try. The peo­ple of Flint, Mich., are still with­out clean, safe drink­ing water near­ly three years after state emer­gency man­agers switched the city's water source to the Flint Riv­er. The high­ly pol­lut­ed riv­er water was treat­ed with high lev­els of chlo­rine, mak­ing it around 19 times more cor­ro­sive than the pre­vi­ous sup­ply from Lake Huron, caus­ing aging pipes to leach iron and lead into people's water. Across the coun­try, dete­ri­o­rat­ing infra­struc­ture — includ­ing poor­ly designed or main­tained roads, rail­roads that don't use the lat­est avail­able track tech­nol­o­gy, and pipelines that leak and explode — is respon­si­ble for thou­sands of deaths, injuries and ill­ness­es every year, to say noth­ing of tens of bil­lions of dol­lars in eco­nom­ic costs.
Clear­ly, America's infra­struc­ture is in des­per­ate need of repair and mod­ern­iza­tion. But there are right and wrong ways to take action.
On the cam­paign trail, and in his Feb­ru­ary address to Con­gress, Pres­i­dent Don­ald Trump promised a $1 tril­lion infra­struc­ture plan that would cre­ate jobs and ​"rebuild" the coun­try. In Jan­u­ary, labor lead­ers from sev­er­al build­ing and con­struc­tion unions met with Trump at the White House and affirmed their sup­port for such a pro­gram. On the sur­face, this may seem like a bright spot in the Trump pol­i­cy agen­da — but the plan appears seri­ous­ly flawed.
As Sean McGar­vey, pres­i­dent of North America's Build­ing Trades Unions, con­firmed after the meet­ing, the administration's approach to infra­struc­ture involves sub­stan­tial pri­vate sec­tor invest­ment and so-called ​"pub­lic-pri­vate part­ner­ships" (PPPs). Once con­sid­ered an inno­v­a­tive and nov­el way to finance infra­struc­ture, PPPs have lost their appeal to many experts and pol­i­cy­mak­ers amidst high-pro­file bank­rupt­cies, extor­tionary con­tracts, and spi­ral­ing fees, tolls, and rate increas­es for users. Just last year, the pri­vate oper­a­tor of parts of State High­way 130 in Texas declared bank­rupt­cy. This fol­lows on the heels of the 2014 bank­rupt­cy of the com­pa­ny run­ning the Indi­ana Toll Road (once con­sid­ered the country's mar­quee PPP project) and sim­i­lar fail­ures in Cal­i­for­nia, Vir­ginia and South Carolina.
There's a rea­son PPPs are a risky, cost­ly bet. In a recent­ly released pol­i­cy brief for the Next Sys­tem Project, Ellen Brown (pres­i­dent emer­i­tus of the Pub­lic Bank­ing Insti­tute and for­mer Green Par­ty can­di­date for Cal­i­for­nia Trea­sur­er) explains that one of the prob­lems with pri­vate-sec­tor approach­es is that the investor (often a large finan­cial cor­po­ra­tion) requires a con­sid­er­able rate of return on its invest­ment to pay off its debt and turn a healthy prof­it. (Full dis­clo­sure: I am direc­tor of research at the Democ­ra­cy Col­lab­o­ra­tive, where Ellen Brown is a fel­low, and which hosts the Next Sys­tem Project.) This return is gen­er­at­ed on the back of high­er user fees and rates, sub­si­dies and guar­an­tees from gov­ern­ments, and con­trac­tu­al restric­tions on competition.
The tra­di­tion­al alter­na­tive of financ­ing infra­struc­ture involves state or local gov­ern­ments issu­ing bonds to be bought by investors and paid off over time. How­ev­er, this isn't ide­al either — pay­ing off inter­est on the bonds can some­times as much as dou­ble the cost of a project. Accord­ing to Brown, there's a much bet­ter way: The fed­er­al gov­ern­ment can finance infra­struc­ture by sim­ply issu­ing new money.
There are at least two ways to go about this. In one, the Fed­er­al Reserve would cre­ate mon­ey just as it did through its post-finan­cial cri­sis ​"quan­ti­ta­tive eas­ing" (QE) pro­gram, when tril­lions in new mon­ey was pumped into the finan­cial sys­tem through the pur­chase of secu­ri­ties from banks. These funds could then cap­i­tal­ize a nation­al infra­struc­ture bank or a net­work of state-lev­el infra­struc­ture banks. She calls this ​"qual­i­ta­tive eas­ing," because the mon­ey would be inject­ed into the real econ­o­my rather than into the bal­ance sheets of the major Wall Street banks.
The oth­er approach would be for the Trea­sury, Fed­er­al Reserve or Con­gress to cre­ate the mon­ey and just direct­ly invest it in infra­struc­ture projects. Whether fun­neled through a pub­lic bank or banks, or invest­ed direct­ly, the funds could be pro­vid­ed at no or very low inter­est, allow­ing states and local­i­ties to pur­sue a host of press­ing infra­struc­ture projects with­out levy­ing or rais­ing tax­es, tolls and user fees.This isn't so rad­i­cal as it sounds: As pres­i­dent, Abra­ham Lin­coln print­ed $450 mil­lion (almost $11 bil­lion in today's dol­lars) in ​"Green­backs" to help pay for the Civ­il War, and even Mil­ton Fried­man pro­posed ​"heli­copter mon­ey" — a metaphor for ​"drop­ping" new­ly print­ed mon­ey direct­ly into com­mu­ni­ties — as a way to com­bat deflation.
Crit­ics will, of course, scream ​"hyper­in­fla­tion" and con­jure up images of wheel­bar­rows full of mon­ey in Weimar Ger­many or last decade's worth­less Zim­bab­wean bank notes. But Brown has a dif­fer­ent take. Nei­ther QE (despite the dire pre­dic­tions of many in the eco­nom­ics pro­fes­sion) nor Lincoln's Civ­il War mon­ey-print­ing caused hyper­in­fla­tion. Giv­en the per­sis­tence of rel­a­tive­ly low infla­tion (as well as oth­er fac­tors) there is good rea­son to believe that in the cur­rent eco­nom­ic cli­mate, invest­ing new mon­ey into the real econ­o­my through infra­struc­ture projects would mere­ly pro­vide a much-need­ed boost.
While Brown's pro­pos­al may seem out­side the main­stream of con­tem­po­rary U.S. polit­i­cal dis­course, it is exact­ly what is being pro­posed by major eco­nom­ic fig­ures and politi­cians in Europe, rang­ing from Yanis Varo­ufakis, the left­ist for­mer finance min­is­ter of Greece, to Rick Rieder, the Glob­al Chief Invest­ment Offi­cer of Black­Rock, the world's largest invest­ment man­age­ment corporation.
A large-scale com­mit­ment to rebuild­ing America's decay­ing infra­struc­ture is long over­due. A smart infra­struc­ture pol­i­cy could direct­ly and indi­rect­ly cre­ate between 10 and 15 mil­lion jobs over the next decade, includ­ing good-pay­ing union jobs in some states. It would ben­e­fit the econ­o­my: Alle­vi­at­ing traf­fic jams and improv­ing pub­lic tran­sit could work won­ders for pro­duc­tiv­i­ty. It would also save people's lives and keep them healthy, and keep the coun­try com­pet­i­tive with oth­ers that already are active­ly and ener­get­i­cal­ly upgrad­ing their infrastructure.
The Trump approach, how­ev­er, would like­ly increase the already heavy bur­den on local tax­pay­ers, infra­struc­ture users, work­ers, and pub­lic bud­gets by allow­ing pri­vate finan­cial inter­ests to syphon off sub­stan­tial resources, dri­ving wors­en­ing inequal­i­ty and eco­nom­ic hard­ship. It's time to reject such failed con­ven­tion­al approach­es, and mobi­lize around new ideas and possibilities.