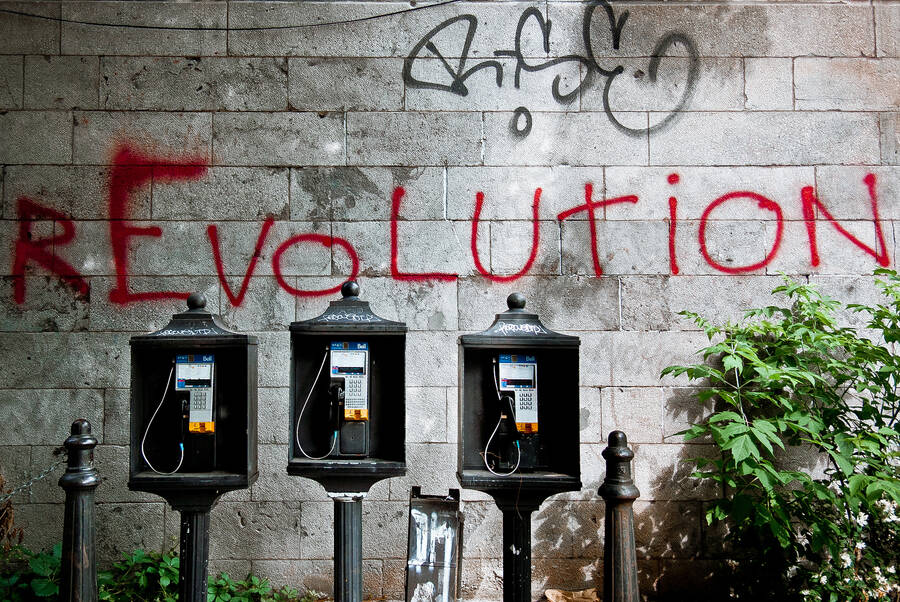 There is sim­ply no oth­er way to put it: The elec­tion of Don­ald Trump was a dis­as­ter for the Left and for all those strug­gling against exploita­tion and oppres­sion in the Unit­ed States. We face an ener­gized white nation­al­ist move­ment, a right-wing-con­trolled leg­is­la­ture and exec­u­tive branch, and soon, a Supreme Court hos­tile to labor and pro­gres­sive causes.
But we cannot afford a repeat of what happened during this electoral cycle, which was to show up late to the game and then not take the other team seriously.
One of the things we des­per­ate­ly need at this moment is hope. Real hope. As in, ​"we're going to freak­ing win" hope. And there is a lot of fod­der for hope, despite what we will be up against in the next four years. Mil­lions of peo­ple, includ­ing many who have nev­er attend­ed a protest, are ask­ing what they can do to change our coun­try's pol­i­tics. Stu­dents are walk­ing out of high schools and col­leges. Indi­vid­u­als every­where are pledg­ing to sup­port those who will be the direct tar­gets of the new admin­is­tra­tion's repression.
For me, part of get­ting to real hope is hav­ing clar­i­ty about what hap­pened — hav­ing the courage to be self-crit­i­cal and grow. And I think this starts with a basic acknowl­edge­ment: The Left failed the test of this election.
To be clear, I don't believe the Left bears the brunt of the blame for Hillary Clin­ton's defeat, and I reject argu­ments that try to score polit­i­cal points through guilt-trip­ping. Both long-term and short-term fac­tors worked against a Clin­ton vic­to­ry. The Demo­c­ra­t­ic Par­ty alien­at­ed large sec­tions of the work­ing class over the past two decades and then threw its weight behind a deeply flawed can­di­date with a dubi­ous record on eco­nom­ic and racial jus­tice. Clin­ton also con­front­ed enor­mous amounts of sex­ism through­out the elec­tion. The FBI pushed a polit­i­cal­ly moti­vat­ed leak in the final week. The list goes on.
Still, the elec­tion con­front­ed the Left with a few key questions:
How do we assess the dan­ger posed by Trump and the social forces back­ing him? Is that dan­ger sig­nif­i­cant enough that we should work for a Clin­ton victory?
What is our larg­er vision around elec­toral strategy?
Will we put our own time and resources into defeat­ing Trump?
Many on the Left did not feel that Trump's can­di­da­cy posed a large enough threat to advo­cate for some­one they saw as the gen­uine can­di­date of the rul­ing class — Hillary Clin­ton. They took this atti­tude for var­i­ous rea­sons: Trump had lit­tle to no chance of win­ning; Trump would not be able to move a rad­i­cal­ly racist and right-wing pro­gram upon assum­ing pres­i­den­cy; a Trump admin­is­tra­tion would spark greater social move­ment activ­i­ty than a Clin­ton admin­is­tra­tion; Clin­ton was arguably a greater dan­ger in terms of for­eign pol­i­cy; Clin­ton was arguably more neolib­er­al than Trump, etc.
Many pre­ferred a Clin­ton vic­to­ry over Trump but believed the Demo­c­ra­t­ic par­ty (or elec­toral pol­i­tics more gen­er­al­ly) is ulti­mate­ly a dead-end for polit­i­cal orga­niz­ers seri­ous about rad­i­cal change, and that seri­ous engage­ment with Demo­c­ra­t­ic can­di­date cam­paigns serves to drain move­ments of trans­for­ma­tive poten­tial. There­fore, because of their larg­er vision around elec­toral strat­e­gy, they felt unable to call on the Left to mobi­lize vot­ers for Clinton.
So for one rea­son or anoth­er, many regard­ed the Clin­ton cam­paign with indif­fer­ence or hos­til­i­ty. I dis­agreed and still dis­agree with this posi­tion, but this short note is not intend­ed as a polemic against my third-par­ty and anti-elec­toral com­rades, most of whom are now in the streets along­side us. Instead, this note is meant for the left­ists and pro­gres­sives who, like me, believed Trump to be a his­toric dan­ger, believed it impor­tant to both build social move­ments and be involved in elec­toral pol­i­tics, were not opposed to engag­ing with a Demo­c­ra­t­ic can­di­date in prin­ci­ple, and yet failed to play a sig­nif­i­cant role in this election.
I don't mean that this fail­ure occurred on an indi­vid­ual lev­el: Peo­ple did­n't do noth­ing. (Although I cer­tain­ly crit­i­cize myself on those grounds: I called vot­ers in Penn­syl­va­nia the week­end before the elec­tion on behalf of Clin­ton — the first time I ever stepped inside a Demo­c­ra­t­ic Par­ty cam­paign head­quar­ters — but I could and should have done more.) And plen­ty of peo­ple did much more. Many of my friends spent 10- or 12-hour days turn­ing out the vote for Clin­ton in bat­tle­ground states, either through unions or the Work­ing Fam­i­lies Par­ty. Oth­ers orga­nized their friends to fly to those swing states for elec­toral work, reg­is­ter­ing ex-offend­ers in Vir­ginia and peo­ple of col­or in Flori­da. Oth­ers led the impor­tant mul­ti-racial fem­i­nist fight­back in the wake of the Trump-Bil­ly Bush tapes.
So many of us did all that could be rea­son­ably expect­ed, and more. But: We did not add up to more than the sum of our parts. We did­n't have a col­lec­tive vehi­cle for the Left to play a role in this elec­tion. We did­n't have a dis­cus­sion about how to move resources in a way that accord­ed with our polit­i­cal assess­ments. We were unable to broad­ly legit­i­mate vot­ing for Hillary in swing states as a left posi­tion. Per­haps we were in one of the key left groups that were too inter­nal­ly divid­ed to devel­op an inde­pen­dent, mil­i­tant means of par­tic­i­pa­tion in this elec­tion. But we can­not afford a repeat of what hap­pened dur­ing this elec­toral cycle, which was to show up late to the game and then not take the oth­er team seriously.
We must, of course, unite with all to defeat Trump­ism in the streets: protest­ing, block­ing raids in neigh­bor­hoods and work­places, build­ing a move­ment for sanc­tu­ary cities or sanc­tu­ary schools, upping our sup­port for the Move­ment for Black Lives and Stand­ing Rock, etc. Our pri­or­i­ties are dis­rupt­ing the Trump admin­is­tra­tion, grass­roots resis­tance, orga­niz­ing mil­i­tant activists in unions and com­mu­ni­ty orga­ni­za­tions, even sheer sur­vival. And if these efforts grow, oth­er pos­si­bil­i­ties open up: Remem­ber how in Feb­ru­ary of 2011 mas­sive demon­stra­tions against Wis­con­sin's Gov. Scott Walk­er's anti-labor leg­is­la­tion pushed state law­mak­ers to leave the state in order to deprive the leg­is­la­ture of quo­rum? And in the wake of the Pulse shoot­ing, pub­lic sen­ti­ment drove fed­er­al leg­is­la­tors to orga­nize a Con­gres­sion­al sit-in for (flawed) gun con­trol leg­is­la­tion. We could see a repeat of this — where mass mobi­liza­tion and out­rage push law­mak­ers to find cre­ative ways to gum up the gears of government.
But I believe that if the Left is going to be rel­e­vant in the fight against Trump­ism in the elec­toral are­na, then the frag­men­ta­tion of left­ists who are oth­er­wise unit­ed broad­ly around an inside/​outside strat­e­gy — social move­ments and elec­toral pol­i­tics, inside and out­side the Demo­c­ra­t­ic par­ty — will have to change. Through this past elec­tion, left­ists who agreed on the over­whelm­ing neces­si­ty of defeat­ing Trump lacked a vehi­cle for coor­di­nat­ing our resources and efforts, ampli­fy­ing our ideas and expe­ri­ences, engag­ing pro­gres­sives and lib­er­als, and build­ing polit­i­cal uni­ty through the process. This will be an even larg­er prob­lem in the years ahead. Elec­toral pol­i­tics will be one of the cen­tral foci of strug­gle, and in the next sev­er­al years most of our peo­ple, our com­mu­ni­ties, will see defeat­ing Trump in 2020 or flip­ping Con­gress in 2018 as the basic con­di­tion of any pro­gres­sive change. I am not call­ing on folks to leave their left orga­ni­za­tions to start a new one, but either we decide to be lead­ers in this strug­gle as a Left (rather than sim­ply indi­vid­u­als or a scat­ter­ing of grass­roots orga­ni­za­tions), or the Left remains mar­gin­al for anoth­er turn of the his­tor­i­cal wheel.
In 1980 Ronald Rea­gan began his cam­paign at the Nesho­ba Coun­ty Fair close to Philadel­phia, Mis­sis­sip­pi. That's the city where three civ­il rights work­ers had been mur­dered in 1964 dur­ing Free­dom Sum­mer. His speech pledged his com­mit­ment to states' rights, a bare­ly-cod­ed sop to white suprema­cy. Four years after Rea­gan won that elec­tion, we saw a social demo­c­ra­t­ic, mul­ti-racial Rain­bow Coali­tion grow out of a com­bi­na­tion of mil­i­tant fight-backs and local elec­toral vic­to­ries. Chap­ters of the Rain­bow sup­port­ed local orga­niz­ing while also coor­di­nat­ing nation­al­ly with oth­er chap­ters to sup­port Jesse Jack­son's cam­paign to be the Demo­c­ra­t­ic Par­ty's nom­i­nee for president.
Today we have a num­ber of inspir­ing move­ments (and encamp­ments!) that will con­tin­ue under the Trump admin­is­tra­tion. We have incred­i­ble mul­tira­cial alliances — from the Nation­al Domes­tic Work­ers' Alliance to Grass­roots Glob­al Jus­tice—all across the Unit­ed States. We have cut­ting-edge work in elec­toral pol­i­tics through our mass orga­ni­za­tions at the local lev­el (like San Fran­cis­co Ris­ing or the South Bay Labor Coun­cil) reach­ing into the state lev­el (with New Vir­ginia Major­i­ty and New Flori­da Major­i­ty). There's a lot going for us, but whether we are able to build a wor­thy suc­ces­sor to the Rain­bow, which repli­cates its achieve­ments while avoid­ing its quite obvi­ous fail­ures, depends on us mov­ing beyond what we've been doing.
But: Our folks are bril­liant. Our folks are wicked­ly tal­ent­ed. We have the capac­i­ty to reflect, be self-crit­i­cal, and grow. And we're going to freak­ing win.
In uni­ty and struggle,
Lynn Koh
Spe­cial thanks to Kayan Che­ung-Miaw, Lucia Lin, David Monkawa, Dan DiMag­gio, and Joe Schwartz for feed­back on this article.
Lynn Koh
is a stu­dent and labor activist in the San Fran­cis­co Bay Area.