A Cover Artist, Discovered—40 Years Later
Mingering Mike had all the requisites for a legendary music career, except the music.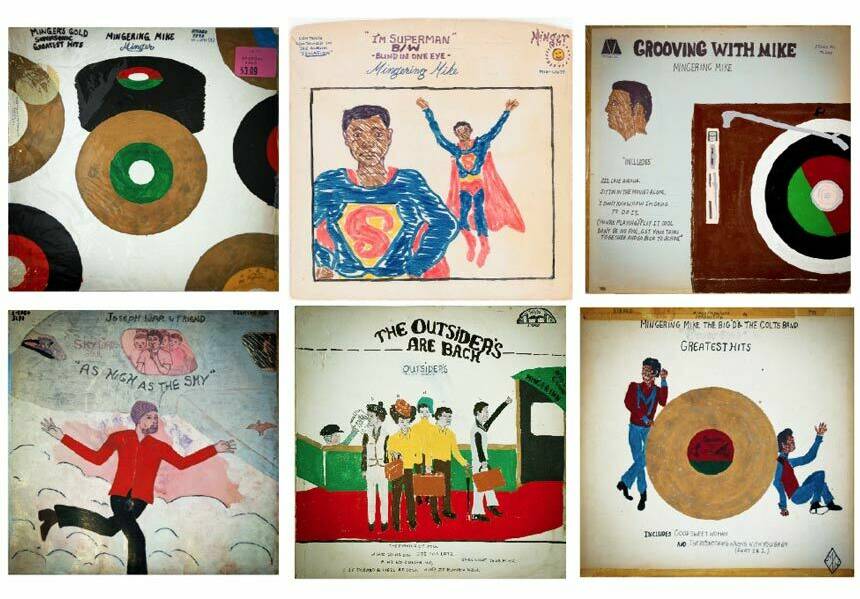 In the inter­lock­ing ​'60s-era rev­o­lu­tions in pop, soul and rock ​'n' roll, there was an inchoate sense of com­mu­nal promise — a belief that a new gath­er­ing of voic­es hymn­ing new vari­a­tions on age-old themes of gen­er­a­tional revolt, social protest and per­son­al long­ing could break through to a mass audi­ence. That dis­af­fect­ed artists, for­mer­ly con­signed to the bohemi­an mar­gins, need no longer feel quite so alone.
The imaginary soul star, who'd retired in 1977, was plunged into that weird and in many ways scarcely less imaginary form of 21st-century renown: online celebrity.
In the ful­crum of this shift, the African-Amer­i­can artist known today as Min­ger­ing Mike began to reg­is­ter the impact of these upheavals on his own vul­ner­a­ble young life. Grow­ing up in the grimmest reach­es of Wash­ing­ton, D.C., in the ​'60s, the boy had lived in 13 dif­fer­ent neigh­bor­hoods by the time he was 18. His moth­er died when he was 5, and his trou­bled father bailed out not long after­ward. An old­er sis­ter raised him, and while she looked after him as best she could, her alco­holic and abu­sive hus­band was a con­stant threat.
In con­trast, the soul music of his youth preached love, opti­mism, inde­pen­dence, self-assur­ance — and rebel­lion. So, like mil­lions of oth­er Amer­i­can young peo­ple in the 1960s and 1970s, he sought to carve out a life for him­self in that oth­er, more accom­mo­dat­ing world. He tried to coax new songs out of a ​"cheap toy gui­tar," but, he recalls, his main con­nec­tion to music was visu­al: ​"When I was 15 and draw­ing a lot, all of a sud­den, names of songs that I nev­er heard of would pop in my head, but I didn't have the knowl­edge to write." Mike craft­ed a per­sona around the made-up name ​"min­ger­ing" — a hybrid of min­gling and merg­ing — and cre­at­ed an amaz­ing body of imag­i­nary soul records, hand con­struct­ed from card­board and lav­ish­ly anno­tat­ed. He invent­ed imag­i­nary record labels — Pup­py Dogg, Ming-War, and Fake Records, among oth­ers — and out­fit­ted them with titles from a sprawl­ing cat­a­logue of fic­ti­tious Min­ger­ing Mike songs.
Noti­fi­ca­tion from the Selec­tive Ser­vice came in 1969, the year he turned 19: His draft num­ber had come up. He didn't show up for deploy­ment to Viet­nam, and pro­ceed­ed to spend most of the 1970s afraid to leave his apart­ment or seek a steady job, lest he be sent to prison. In seclu­sion, how­ev­er, his alter­nate per­sona blos­somed, and the result was more than 150 faux LPs and sin­gles between 1969 through 1977, when the new­ly inau­gu­rat­ed Jim­my Carter declared amnesty for draft resisters. Min­ger­ing Mike became a vocal crit­ic of the war; a con­cept album titled ​"You Only Know What They Tell You" bears the leg­end, ​"The Unit­ed States of Amer­i­ca Pup­pet Force."
This sounds grim and con­fronta­tion­al — more KRS‑1 than Mar­vin Gaye. But the Mike per­sona is also wicked­ly fun­ny. A 45 he made in 1969 for a group called the Free­dom Stom­pers fea­tures a Nixon-like fig­ure announc­ing to a crowd ​"Peace will come" — and a black fig­ure behind him, con­fined like Nixon in ball and chains, answer­ing ​"Yes, prob­a­bly when we're all dead from hatered [sic]."
How Min­ger­ing Mike came to pub­lic atten­tion is now the stuff of D.C. leg­end. In 2003, a soul record col­lec­tor, Dori Hadar, stum­bled upon a crate full of odd-look­ing albums at an out­door flea mar­ket. The graph­ics were hand drawn with cheap felt pens and mag­ic mark­ers, but the accom­pa­ny­ing text was long on descrip­tive detail. When he reached inside the record sleeves, Hadar pulled out card­board fac­sim­i­les of vinyl records, most of which even had grooves lov­ing­ly hand drawn on them.
​"I thought that they were like pro­to­types for albums I nev­er heard of by some guy I nev­er heard of," Hadar recalls. ​"The song titles were amaz­ing, the lyrics were amaz­ing. I want­ed them to be real. But the more I looked at them … it became clear that this was all by one per­son." Hadar's day job was as a crim­i­nal inves­ti­ga­tor. He tracked down the stor­age space that had dis­gorged the crate full of Min­ger­ing Mike records. A hand­ful of bills pro­duced a name, and a few phone calls to rel­a­tives turned up the man himself.
Mike, an intense­ly pri­vate and shy man, would at first only talk to Hadar through the door of his apart­ment. ​"We had this bizarre dis­cus­sion over break­fast at Denny's," Hadar says, ​"where I had to explain that I had all this work of his, and had post­ed it on Soul­strut" — a pop­u­lar D.C. web­site for vin­tage record col­lec­tors. The news that his work had drawn an avid fol­low­ing was not thrilling to some­one like Mike, who had spent most of his life avoid­ing encoun­ters with peo­ple he didn't know. ​"It was like tak­ing his diary and putting it online," Hadar says. So he took down what he had posted.
Fol­low­ing that, how­ev­er, Hadar and anoth­er Min­ger­ing Mike col­lec­tor gave the real-life Mike a taste of how his work had been greet­ed, read­ing him print­outs from Soul­strut. And so the imag­i­nary soul star, who'd retired in 1977, was abrupt­ly plunged into that weird and in many ways scarce­ly less imag­i­nary form of 21st-cen­tu­ry renown: online celebrity.
When I was able to reach Mike on the phone, he was, as expect­ed, slow to warm up to an inter­view. But when the talk turned to what inspired his cre­ations, he spoke in the excit­ed cadence of the true fan. I not­ed that his musi­cal influ­ences — James Brown, Mar­vin Gaye — were clear enough, but I was try­ing to puz­zle out his comedic influ­ences. ​"Are you famil­iar with Stan Fre­berg?" he asks, name-check­ing a polit­i­cal satirist known for his par­o­dies of McCarthy­ism. ​"When you admire some­thing so much it becomes a part of you, you pick it up and make it your own," he explains.
Today, Mike is on the verge of real-life star­dom. At the end of Feb­ru­ary, the Smith­son­ian Amer­i­can Art Muse­um debuted an exhib­it, ​"Min­ger­ing Mike's Super­son­ic Great­est Hits," which will run until August 2. His sto­ry has yield­ed one movie option, and anoth­er film-doc­u­men­tary project may be in the works. For­mer Talk­ing Heads front­man David Byrne had sought to bro­ker a trib­ute album, but that project fiz­zled when Byrne tried to claim the pub­lish­ing rights.
But the most promis­ing devel­op­ment of all is the prospect that Mike will resume record­ing his own mate­r­i­al. In col­lab­o­ra­tion with one of his cousins, he had laid down some tracks back in the 1970s over vocal­ized rhythm back­ing ("some peo­ple say I invent­ed the beat box," he says), and vir­tu­al­ly all the tracks pre­sent­ed on his album cov­ers exist in some state of composition.
I ask him if Mike today would take up his old protest man­tle — singing, say, about the non-indict­ments in the police killings of Eric Gar­ner and Michael Brown. He paus­es, then says, ​"I prob­a­bly wouldn't have the people's name in it. I would just have the feel­ings peo­ple con­veyed to one anoth­er or as they saw it on TV. Most of the time you need some­thing that's fun­ny, to get peo­ple out of the cycle of being blasé, and say­ing, ​'Well, I knew that was gonna hap­pen.' " At which point he name checks yet anoth­er post­war Jew­ish come­di­an: ​"Just like Alan Sher­man — you remem­ber him?"