A Crime to Fit the Punishment
Black-listed Salt of the Earthhonors 1950s Empire Zinc strike in Grant County, New Mexico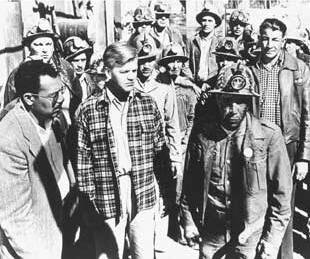 Unless you attend­ed its 10-week run at New York City's Grand The­atre in 1954, you missed Salt of the Earth the first time around. In the decades since, direc­tor Her­bert Biberman's dra­mat­ic account of the real-life strike by the men and women of a Mex­i­can-Amer­i­can min­ing com­mu­ni­ty has tak­en on a myth­ic sta­tus among cul­tur­al fem­i­nists, inter­ra­cial union­ists and indie film buffs. In most accounts, the movie itself is the main char­ac­ter. A hero­ic one at that: Pro­duc­er Paul Jar­ri­co called it ​"our chance to real­ly say some­thing." Its black­list­ed cre­ators, he boast­ed, had final­ly com­mit­ted ​"a crime to fit the punishment."
In On Strike and on Film, his­to­ri­an Ellen Bak­er explores Salt of the Earth, but shifts the focus from crimes to labors: indus­tri­al work, polit­i­cal work, cul­tur­al work. She begins by chart­ing the decades-long bat­tles of min­ers in Grant Coun­ty, N.M., who dug cop­per, lead and zinc out of one of capitalism's most unfor­giv­ing cor­ners. In the rur­al South­west, strug­gles over class and pow­er were always about race, too. The min­ing com­pa­ny Empire Zinc presided over a sys­tem of employ­ment that sort­ed ​"Amer­i­can" and ​"Mex­i­can" employ­ees into two tiers of work­er rights and housed their fam­i­lies in two kinds of com­pa­ny housing.
For work­ers like José Mar­tinez, who start­ed at Empire Zinc as a track labor­er in 1918 and retired in 1953 from the same job at the bot­tom of the pay scale, it might have seemed like things would nev­er change. But as Bak­er shows, in the 1930s the ground began to move. The Depres­sion shut down some of the mines for years at a stretch, dev­as­tat­ing near­by com­mu­ni­ties. ​"Let's start up again clean" – with­out union labor – mut­tered the vice pres­i­dent of anoth­er closed mine; when it reopened in 1937, even the town's left­ist bar­ber found him­self black­list­ed. But the Depres­sion also cre­at­ed grass­roots demands for action. Com­mu­ni­ty relief work brought the fed­er­al gov­ern­ment into com­pa­ny towns where boss­es had nev­er before answered to any­one. And there was a new actor on the stage, with a mouth­ful of a name: the Inter­na­tion­al Union of Mine, Mill and Smelter Work­ers. After Amer­i­ca entered World War II, work­ers wield­ed new weapons: patri­ot­ic rhetoric, mil­i­tary demands for cop­per and zinc, and the rel­a­tive strength that came with wartime labor shortages.
Mean­while, in Cal­i­for­nia the cul­tur­al work­ers who made up the Hol­ly­wood chap­ter of the Com­mu­nist Par­ty gath­ered for beach­front strug­gle ses­sions. They were, as Bak­er shows, the party's elite: cul­ti­vat­ed and cod­dled, absolved even of the drea­ry task of sell­ing the Dai­ly Work­er from soap­box­es. Although the industry's struc­ture and its exec­u­tives' pol­i­tics fore­closed any tru­ly trans­for­ma­tive pos­si­bil­i­ties, left­ist film­mak­ers slow­ly opened opportunities.
But if New Mex­i­can cop­per min­ers and pro­gres­sive film­mak­ers emerged from the war with a new sense of pow­er, the Cold War, as Bak­er shows, brought quick retrac­tion. Loy­al­ty oath require­ments led to lost jobs. House Un-Amer­i­can Activ­i­ties Com­mit­tee (HUAC) sub­poe­nas appeared in Hol­ly­wood mail­box­es. The 1947 Taft-Hart­ley Act announced that the gov­ern­ment would not hear com­plaints from unions that couldn't cer­ti­fy their mem­bers weren't com­mu­nists; three years lat­er the CIO purged Mine-Mill, ​"hon­ey­combed" with sub­ver­sion. ​"Mine-Mill was a belea­guered union in 1950," writes Bak­er, ​"cast out­side the pale of the main­stream labor move­ment that it had helped build." On top of it all, changes in glob­al met­al mar­kets made min­ing jobs scarce through­out Grant Coun­ty. When the men of Local 890 walked off the job on Oct. 17, 1950, they were strik­ing not only for bet­ter wages, but against America's all-out assault on their union.
It was an ugly strike, with racist threats, black­lists and fisticuffs. Mine-Mill was a fight­ing man's union, and fought back hard. Not only with the men of its rank and file, but – as evic­tion notices appeared on the doors of com­pa­ny-owned hous­ing and the gro­cery store closed its cred­it books – with the ener­gy of whole fam­i­lies. Final­ly, on June 12, 1951, came an injunc­tion for­bid­ding strik­ing min­ers from return­ing to the pick­et line the next day. At the union meet­ing hall that night, as min­ers' wives served cof­fee, the men of Local 890 con­sid­ered their equal­ly unap­peal­ing options: Give up the strike or go to jail. Either way, the strike was lost.
From the audi­ence, one of the women point­ed out that the ​"strik­ing min­ers" cit­ed in the injunc­tion didn't include her. In Salt of the Earth​'s account of the mid­night union meet­ing, a lone woman stum­bles upon the idea that women could take over the pick­et lines. In real­i­ty, as Bak­er shows, that idea had emerged from long plan­ning ses­sions among Grant County's activist women. And the vote car­ried only because mem­bers of Mine-Mill women's aux­il­iaries could vote in union meet­ings – a right that came from decades of orga­niz­ing and activism by labor fem­i­nists and demo­c­ra­t­ic union­ists. By 2 a.m., the women who labored in the shad­ow of Empire Zinc, if not on its pay­rolls, had stepped for­ward to take over the pick­et line. For six months, they stared down tear gas, mass arrests, inde­cent expo­sure and the hos­til­i­ty of some of their own hus­bands. But they won: In Jan­u­ary 1952, com­pa­ny nego­tia­tors agreed to most of the work­ers' demands.
The two strands of Baker's sto­ry first came togeth­er in the sum­mer of 1951, when Paul and Sylvia Jar­ri­co heard of the strike and went to Grant Coun­ty to walk the pick­et line; with­in a year, Michael Wil­son was in town. Although Wil­son start­ed the script, the men and women of Local 890 fin­ished it, insist­ing in the era of Ricky Ricar­do that Latino/​a char­ac­ters would be favor­ably pre­sent­ed in the mass media. Biber­man cast only five pro­fes­sion­al actors, among them a young Will Geer (bet­ter known to tele­vi­sion view­ers as the folksy Grand­pa Wal­ton) and the left­ist Mex­i­can actress Rosaria Revueltas, who called Salt of the Earth ​"the film I want­ed to do my whole life." Strike par­tic­i­pants filled the ranks, most mem­o­rably Juan Chacón, who played the lead­ing role of Ramón Quin­tero. His emo­tion­al rich­ness and sly humor make him far and away the film's best performer.
Film­ing began in Jan­u­ary 1953 on a light­ly fic­tion­al­ized ver­sion of the Empire Zinc strike. Art soon imi­tat­ed life in more dis­turb­ing ways as well. Con­gress­men denounced the film as ​"a weapon for Rus­sia." Police hound­ed cast and crew. On March 7, the crew left town with just enough film to string togeth­er a movie. On March 8, Local 890's union hall burned in a mys­te­ri­ous fire.
By most of the stan­dards that film­mak­ers use to mea­sure the great­ness of a film Salt of the Earth comes up short. In fact, watch­ing 90 min­utes of agit­prop can almost make you under­stand why the East­ern Euro­peans who leapt the Berlin Wall in 1989 so eager­ly snapped up Ernest Goes to Camp videos. In Baker's hands, though, artis­tic mis­steps open win­dows into the cul­tur­al pol­i­tics of the Cold War. If the edit­ing seems chop­py, that's because Biber­man and Jar­ri­co had to sub­mit the film to a dozen dif­fer­ent devel­op­ing hous­es under false titles, lest anti­com­mu­nist devel­op­ers destroy it; some of the edit­ing they did them­selves in a con­vert­ed bath­room. An orches­tra, told only that it was scor­ing a movie called Vaya Con Dios, accom­pa­nied a film its mem­bers nev­er saw.
Like­wise, crit­ics have sneered at the fre­quent scenes in which Rosaria Revueltas appears in close-up silent shots that feel dis­tant from the film's real action. Well, in fact, she was: Revueltas was deport­ed in Feb­ru­ary 1953, before film­ing was fin­ished. Months lat­er, Biber­man shot a hand­ful of make­ups in Mex­i­co. Black­list­ed in two coun­tries, she nev­er made anoth­er film.
In Grant Coun­ty, Salt of the Earth found only a sin­gle show­ing, at the Sil­ver Sky-Vue dri­ve-in. On Strike and on Film presents that fact not in a close-up but from the panoram­ic view, part of Baker's rich his­to­ry of work, pol­i­tics and cre­ativ­i­ty that restores the Mex­i­can-Amer­i­can men and women of Grant Coun­ty to the cen­ter of the sto­ry. Years after the film, Biber­man reflect­ed, ​"We had thought of our­selves as ​'the black­list­ed.' And we were the ver­i­est newcomers."