Interviews for Resistance: A Democratic Socialist on Running to Transform the Democratic Party
A candidate for city council in South Fulton, Georgia, talks about running for local office as a way to infiltrate and transform the Democratic Party.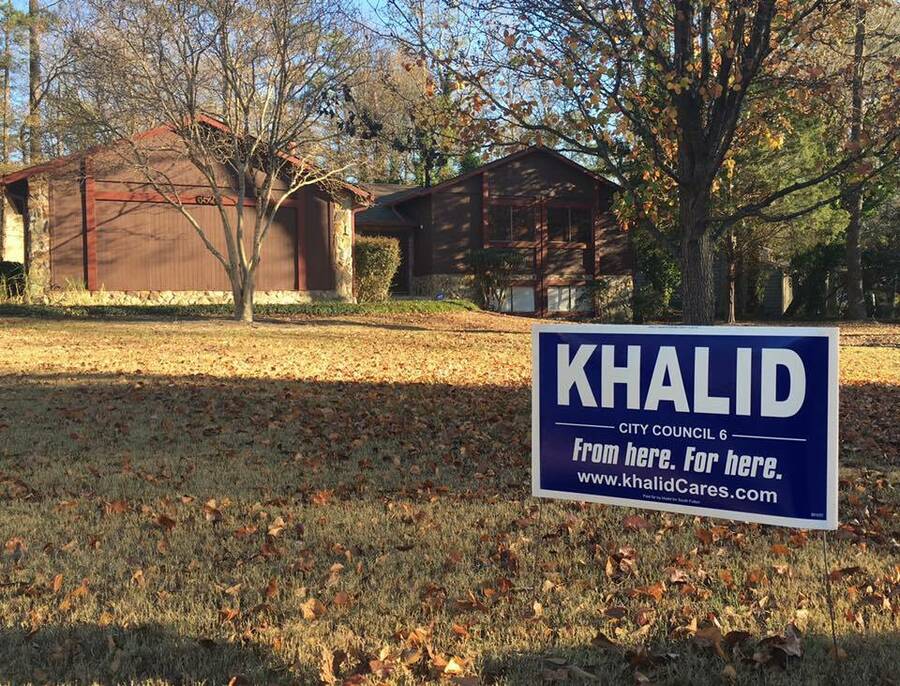 Wel­come to Inter­views for Resis­tance. Since elec­tion night 2016, the streets of the Unit­ed States have rung with resis­tance. Peo­ple all over the coun­try have wok­en up with the con­vic­tion that they must do some­thing to fight inequal­i­ty in all its forms. But many are won­der­ing what it is they can do. In this series, we'll be talk­ing with expe­ri­enced orga­niz­ers, trou­ble­mak­ers and thinkers who have been doing the hard work of fight­ing for a long time. They'll be shar­ing their insights on what works, what does­n't, what's changed and what is still the same.
"The middle class has disappeared. Now, we have a working class and wealthy class."
khalid kamau: My name is khalid kamau. I am run­ning for city coun­cil in the city of South Ful­ton, Georgia.
Sarah Jaffe: Let's start with your deci­sion to run for the city coun­cil. Talk about what made you decide to run for elect­ed office.
khalid: There were a vari­ety of fac­tors, but it all real­ly began with Bernie Sanders. I don't think any of us yet rec­og­nized how mon­u­men­tal his cam­paign was. Every pres­i­den­tial race brings into the polit­i­cal process a new gen­er­a­tion of vol­un­teers, peo­ple who are will­ing to knock doors and get involved in pol­i­tics, but Bernie gal­va­nized a group of high­ly edu­cat­ed, high­ly skilled activists. These peo­ple were pret­ty much already polit­i­cal­ly involved, folks like myself. Then, he charged us to run for local office, specif­i­cal­ly, as a way of both infil­trat­ing and trans­form­ing the Demo­c­ra­t­ic Par­ty, and work­ing our way up the polit­i­cal ladder.
I think one of the big mis­takes that many folks on the left, par­tic­u­lar­ly, make — but peo­ple in gen­er­al — is this idea of try­ing to trans­form gov­ern­ment and soci­ety from the top down. So, only focus on the big races: the pres­i­den­tial race or governor's race. We hope to get some­one in office that way and that they will make this change from the top down. What we have seen, obvi­ous­ly, from states like North Car­oli­na is that even when you are able to win the big seats, which are usu­al­ly long­shot races, if you haven't infil­trat­ed that par­ty or that gov­ern­ment struc­ture from the ground up, it is very hard for a head of state, whether it is a gov­er­nor or the pres­i­dent to real­ly insti­tute change if they don't have a coop­er­a­tive Con­gress or state leg­is­la­ture or city council.
Then, the sec­ond impor­tant thing about going the oth­er direc­tion is that you are real­ly devel­op­ing a set of peo­ple that vote in key posi­tions. For exam­ple, both with the nom­i­na­tion process for the Demo­c­ra­t­ic Par­ty and the elec­tions this last month of the DNC chairs, there weren't enough pro­gres­sives in deci­sion-mak­ing places, be it superdel­e­gates or del­e­gates to the con­ven­tion, but also post hold­ers and coun­ty chairs that get to vote at the DNC win­ter meet­ing for the DNC chair. Those posi­tions are held by peo­ple that get into them years before those elec­tions hap­pen. So, years before the 2016 con­ven­tion and years before the 2017 DNC win­ter meet­ing, peo­ple ran for elec­tions and got into those seats. It is real­ly impor­tant that we do the real­ly hard, long game ground work. Those are the things that excit­ed me, per­son­al­ly, as an activist and polit­i­cal organizer.
I was think­ing about how I could get involved in metro Atlanta, in my local area. By the grace of God, it turned out that the area that I lived in, which was unin­cor­po­rat­ed, decid­ed to become a city. So, here, this place that I was cur­rent­ly liv­ing, which is where I was born and raised — I live in the house that I grew up in as a child — was incor­po­rat­ing and becom­ing a city. That was a nat­ur­al fit. Then, I learned the specifics, that this city will be the largest city that the state of Geor­gia has cre­at­ed in over 100 years and that it is near­ly the size of the cap­i­tal city itself, under­stand­ing the size and scope of the city, which peo­ple who are not as polit­i­cal­ly involved are just becom­ing aware of. Every day peo­ple are begin­ning to real­ize just how large this city is, how many dif­fer­ent coun­ties and munic­i­pal­i­ties we will touch. We have the pos­si­bil­i­ty to have the largest pro­gres­sive city in the South if we can win four out of the sev­en city coun­cil posi­tions and/​or the mayor's office.
The third key point is that by hav­ing a city that is pro­gres­sive, it gives us a chance to make the argu­ment for pro­gres­sive pol­i­cy. A lot of these poli­cies that Bernie and oth­er pro­gres­sives have talked about, whether it is a $15 min­i­mum wage and uni­ver­sal health­care or hav­ing elec­tion day be a nation­al hol­i­day, lots of peo­ple think, ​"Oh, those are good ideas, but they can't work. They are not sus­tain­able. They are not eco­nom­i­cal­ly fea­si­ble." So, we are ask­ing peo­ple very often in nation­al elec­tions to take a chance on some­thing that they have not seen at the local lev­el, on a small­er lev­el. This is our shot, in Geor­gia specif­i­cal­ly, but in the South in gen­er­al, to show that these poli­cies actu­al­ly do work and that they are not just good ideas, but they are smart ideas and they can grow economies and trans­form regions and get peo­ple involved in their elec­torate and their local gov­ern­ment. Those are things that excite me.
Sarah: I under­stand you work with a vari­ety of orga­ni­za­tions and activist groups in the Atlanta area. I would love to hear about some of the orga­niz­ing you did with Black Lives Mat­ter, the Fight for $15.
khalid: I helped orga­nize the Atlanta chap­ter of Black Lives Mat­ter. I was at the very first meet­ing. It was actu­al­ly called by a very for­ward think­ing com­rade, Mary Hooks. She called togeth­er a meet­ing, so I got involved with that. We had done a lot, par­tic­u­lar­ly around address­ing police vio­lence. I call it ​"blue on black" crime here in Atlanta. That is actu­al­ly anoth­er thing that inspired me to run … because there have been quite a few inci­dents in Geor­gia. We have been try­ing to at least have a tri­al for police offi­cers. We have not in the past sev­en years — there have been over 70 shoot­ings, 70 killings of civil­ians by police and we have not once in those sev­en years ever had a tri­al, let alone a con­vic­tion, just nev­er even a tri­al about it.
We have been real­ly push­ing as well for mar­i­jua­na decrim­i­nal­iza­tion because that is a big dri­ver in the prison pipeline. Geor­gia is actu­al­ly [at the top] for dis­parate mar­i­jua­na arrests, for black and brown peo­ple being arrest­ed at a dis­pro­por­tion­ate rate. Those are the two big things we have been work­ing on.
I real­ize with this new city, that a lot of the posi­tions that we were try­ing to replace or a lot of the ordi­nances that we were try­ing to have changed, as a brand new city, we would get to write those ordi­nances. We would get to select or vote on the police chief or the city court sys­tem. It just seems like a nat­ur­al progression.
I also worked with orga­nized labor here in Atlanta both for the Fight for $15, but also in my own job. At the time that I began work­ing for the Sanders cam­paign, I was actu­al­ly a para­tran­sit bus oper­a­tor here in Atlanta. Atlanta tran­sit sys­tem, which is called MAR­TA, Metro Atlanta Rapid Tran­sit Author­i­ty, decid­ed to out­source over 300 bus oper­a­tors and mechan­ics. It was real­ly an effort to get out of its con­tract with the union, to get out of its pen­sion oblig­a­tions and its health insur­ance oblig­a­tions that had been nego­ti­at­ed by orga­nized labor. We fought that for sev­er­al months. The out­sourc­ing hap­pened and I lost my job, which real­ly fur­ther rad­i­cal­ized me.
The good news is that a fed­er­al judge has actu­al­ly over­turned that out­sourc­ing and issued an injunc­tion. Those tran­sit work­ers are going to get their jobs back. MAR­TA is still appeal­ing that deci­sion, but as of right now it looks like the court has ruled in our favor, so those jobs will go back. Just being a part of those dif­fer­ent move­ments was real­ly what helped when it came time for me to run for office in terms of endorse­ments and vol­un­teers. It was real­ly just sort of a nat­ur­al evolution.
Sarah: Geor­gia is not a state with a big labor move­ment. It is a so-called ​"right to work" state. I would love to hear you talk a lit­tle bit more about being involved in the labor move­ment in Geor­gia, in Atlanta — the pit­falls, but also the pos­i­tives of the labor move­ment in Georgia.
khalid: With the cur­rent admin­is­tra­tion that we have in office and the bal­ance of the Supreme Court right now, we may be nation­al­ly mov­ing to a nation­al right-to-work law and over­turn­ing decades of prece­dents that favored orga­nized labor. I think it is sort of excit­ing and infor­ma­tive to be in this state to see how labor orga­nizes and recruits when it is not auto­mat­ic for work­ers to be enrolled. How do you, in a right-to-work state, explain the val­ue and impor­tance of join­ing the union and sup­port­ing the union? My work, pri­mar­i­ly, has been with ATU, the tran­sit union. But, I was also a mem­ber of CWA and I have been endorsed in this race by the Teamsters.
Sarah: I found out about your cam­paign through the Demo­c­ra­t­ic Social­ists of Amer­i­ca, who were very excit­ed to have one of their own run­ning for office. I would love to hear you talk a lit­tle bit about the con­nec­tions that you have to nation­al groups and think­ing about run­ning for local office in the con­text of build­ing a broad­er move­ment across the country.
khalid: I think it is very impor­tant. We only have a two-par­ty sys­tem, unfor­tu­nate­ly, right now. So, in states where Democ­rats are not in pow­er, red states, it is very impor­tant to net­work nation­al­ly so that you can get a lev­el of sup­port both finan­cial­ly and in terms of vol­un­teers that your par­ty local­ly may not be able to sup­ply. I don't think that we have a short­age of vol­un­teers in Geor­gia, but it has been amaz­ing the groundswell of finan­cial sup­port that I have got­ten nation­al­ly just being aligned with Our Rev­o­lu­tion and Bernie Sanders and by the Demo­c­ra­t­ic Social­ists of Amer­i­ca, which Bernie also came out of. I trav­elled to New York to speak at the youth con­fer­ence, signed up scores of vol­un­teers, received thou­sands upon thou­sands of dol­lars, at this point, tens of thou­sands of dol­lars in dona­tions from across the country.
That is very key in financ­ing these insur­gent cam­paigns because even if you are able to gar­ner sup­port from your local state par­ty — which, very often, you will not because they have their own estab­lish­ment can­di­dates that they pre­fer to sup­port — it is very impor­tant for true pro­gres­sives to net­work across state lines and to pool their resources across state lines into races that we can both win and that can have some notable impact on pol­i­cy for a region.
Sarah: Relat­ed to that, what has been the reac­tion of the estab­lish­ment Democ­rats to your cam­paign? How have they react­ed to you? Espe­cial­ly, after your pret­ty over­whelm­ing vote total in the first round of this election.
khalid: They have been qui­et­ly sup­port­ive. There is always a com­pli­cat­ed polit­i­cal cal­cu­lus. In my race, it was real­ly his­toric. We have sev­en city coun­cil dis­tricts and a may­or. So, eight seats and we had over 71 can­di­dates for those eight seats. Many estab­lish­ment Democ­rats in Geor­gia were afraid to endorse me or any­one in any of the races, because they were afraid of who they might piss off that was con­nect­ed to one of the 71 can­di­dates. All of us know our dif­fer­ent peo­ple. So, a lot of them just stayed out of the race. Then, very often — and it is prob­a­bly a good thing — many state par­ties and state par­ty lead­ers, because this is an over­whelm­ing­ly Demo­c­ra­t­ic race and region, many of them have a pol­i­cy of just not get­ting into races where there is a Demo­c­rat on Democrat.
So, their sup­port has been tepid, at best. But, hav­ing true pro­gres­sives, unapolo­getic pro­gres­sives, I real­ly see us build­ing a move­ment that is sort of like the Tea Par­ty where we are not afraid to endorse in intra-par­ti­san races or non-par­ti­san races. Peo­ple like the DSA or Our Rev­o­lu­tion are look­ing for bonafide pro­gres­sive can­di­dates. Those are the only peo­ple they are going to sup­port and they will sup­port them even if they are run­ning against anoth­er Demo­c­rat and they put mon­ey behind it. Then, you do have a few coura­geous estab­lish­ment Democ­rats like Ted Ter­ry, who is the may­or of Clark­ston, who is real­ly a mod­el for pro­gres­sivism in Geor­gia. He has raised the min­i­mum wage of city work­ers to $15 an hour and made vot­ing a munic­i­pal hol­i­day and also less­ened the penal­ties for mar­i­jua­na so that work­ing-class peo­ple are not just being locked up for smok­ing a joint.
That is also the impor­tance of hav­ing true pro­gres­sives get orga­nized in a fundrais­ing way and in a vol­un­teer way to real­ly influ­ence local elec­tions. Hope­ful­ly, this is just prac­tice for first a statewide move­ment to get involved in pol­i­tics at the state lev­el and then, the nation­al lev­el. I think this cam­paign has been gal­va­niz­ing for pro­gres­sives because they under­stand, ​"Oh, when we get involved and we start orga­niz­ing in a very tar­get­ed way and sup­port­ing peo­ple at a very tar­get­ed way, we can win races and if we can do this local­ly, we can do it on larg­er stages, as well."
I think the thing that is most pow­er­ful about this race, or even my cam­paign, is that I love Bernie, but I think where his cam­paign failed — I don't think this is a per­son­al fail­ure of Bernie, but per­haps of the peo­ple that were around him and advis­ing that cam­paign — is that there wasn't enough atten­tion paid to peo­ple of col­or. I am not sure that peo­ple of col­or who were in that cam­paign were lis­tened to the way they should have been. Bernie didn't make — he made a very excel­lent class argu­ment. I think it is implied that peo­ple of col­or are more dis­pro­por­tion­ate­ly affect­ed by class dis­par­i­ties than whites. I think there was an assump­tion that peo­ple of col­or would under­stand that and would under­stand that the argu­ments that he was mak­ing about class and equal­i­ty were implic­it­ly also argu­ments about racial inequality.
I think that, frankly, because Bernie was an old white man, black folks, peo­ple of col­or, did not implic­it­ly get that he was speak­ing to them. I did think he was speak­ing to them, but I am not sure every­one else did. One of the things that the pro­gres­sive move­ment is going to have to do is find lead­ers of col­or and can­di­dates of col­or to car­ry this mes­sage. When I speak about it, right­ly or wrong­ly, when I am talk­ing about income equal­i­ty and when I am talk­ing about work­ing class fam­i­lies, the black and brown audi­ences that I speak to do implic­it­ly get that I am speak­ing to them and that I am speak­ing for them and that I am speak­ing about them. I don't nec­es­sar­i­ly go around mak­ing a lot of racial argu­ments. I think that my bonafides of Black Lives Mat­ter speak vol­umes about my own racial pol­i­tics and that I can make these argu­ments of class and peo­ple of col­or get, because this city is 89 per­cent African-Amer­i­can and because I am African-Amer­i­can, peo­ple know that I am talk­ing about them.
The best way to reach out to com­mu­ni­ties of col­or is by hav­ing can­di­dates of col­or and insti­tut­ing these poli­cies in cities of col­or. If you look at a lot of these most pro­gres­sive places, they are places like Seat­tle or Mass­a­chu­setts, in a lot of these most pro­gres­sive cities, they tend to be small­er cities, they tend to be more white and more afflu­ent. The idea is that only rich peo­ple, only rich white folks can afford to enact these kind of pro­gres­sive poli­cies. I think it is going to be real­ly impor­tant that the lead­er­ship of the Demo­c­ra­t­ic Par­ty, specif­i­cal­ly, but the left in gen­er­al, that the lead­er­ship needs to look like its base of voters.
I know that there has been all of this angst about ​"How do we get work­ing class white vot­ers?" But, right now, the most con­sis­tent vot­ers in Amer­i­ca are black women and the most con­sis­tent­ly pro­gres­sive vot­ers are black and brown folks. We need to grow the base of our par­ty or of that move­ment with those folks and make sure that we are run­ning can­di­dates in places and insti­tut­ing poli­cies in places that sup­port those folks. I do think that the big issue of these next few elec­tions, and I think the next 20 years of Amer­i­ca, the biggest chal­lenge that we will face is income inequal­i­ty and this grow­ing dis­par­i­ty. The mid­dle class has dis­ap­peared. Now, we have a work­ing class and wealthy class. We real­ly need to keep ham­mer­ing that truth into the pub­lic and polit­i­cal con­ver­sa­tion that is hap­pen­ing. That is what I hope to do, is to bridge that racial gap for peo­ple to under­stand that whether you are red or yel­low, black or white, that we are all suf­fer­ing from income inequal­i­ty for the past 30 years.
Sarah: What are the next steps here? When is the runoff?
khalid: The runoff is April 18th. Ear­ly vot­ing has already begun. It will be going on for three weeks through the Fri­day before April 18th. Then, on April 18th, that Tues­day will be our elec­tion. In addi­tion to my race, when folks get in touch with me, they can find out about peo­ple that I am endors­ing across oth­er city coun­cil dis­tricts. Once again, it is about being effec­tive in imple­ment­ing these pol­i­cy changes. That is not some­thing I can do uni­lat­er­al­ly. I will need a vote of four and, hope­ful­ly, a pro­gres­sive­ly dis­posed may­or to make these changes happen.
Sarah: How can peo­ple keep up with you?
khalid: They can get in touch with me at Khalid​Cares​.com. You can find out about me, you can find out about oth­er races here in the city of South Ful­ton and in the state of Georgia.
Inter­views for Resis­tance is a project of Sarah Jaffe, with assis­tance from Lau­ra Feuille­bois and sup­port from the Nation Insti­tute. It is also avail­able as a pod­cast on iTunes. Not to be reprint­ed with­out permission.
Sarah Jaffe
is a for­mer staff writer at
In These Times
and author of
Nec­es­sary Trou­ble: Amer­i­cans in Revolt
, which Robin D.G. Kel­ley called ​
"
The most com­pelling social and polit­i­cal por­trait of our age." You can fol­low her on Twit­ter
@sarahljaffe
.