A Haymarket Revisionary
Timothy Messer-Kruse raises serious doubts about one of the Left's most precious myths.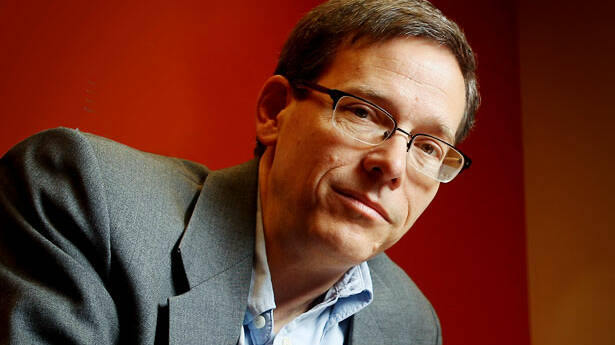 Tim­o­thy Mess­er-Kruse, who is a pro­fes­sor and chair of the eth­nic stud­ies depart­ment at Ohio's Bowl­ing Green State Uni­ver­si­ty, says he has ​"always been polit­i­cal­ly active and very close to pro­gres­sive caus­es." But his recent work has raised seri­ous doubts about one of the Left's most pre­cious myths. Last year, he pub­lished The Tri­al of the Hay­mar­ket Anar­chists: Ter­ror­ism and Jus­tice in the Gild­ed Age, which he had been work­ing on for 10 years, and his newest book, The Hay­mar­ket Con­spir­a­cy: Transat­lantic Anar­chist Net­works, comes out in August. Togeth­er, the two books offer a rad­i­cal­ly dif­fer­ent inter­pre­ta­tion of the Hay­mar­ket anar­chists who were charged in the May 4, 1886, bomb­ing of a demon­stra­tion, which result­ed in the deaths of at least sev­en police and four civil­ians. For decades his­to­ri­ans have por­trayed the eight con­vict­ed anar­chists, four of whom were hanged by the state of Illi­nois, as inno­cent mar­tyrs, unjust­ly tried.
Mess­er-Kruse dis­agrees. He main­tains that the avail­able evi­dence indi­cates the anar­chists were respon­si­ble for the bomb­ing. His work rais­es fas­ci­nat­ing ques­tions about the way the past is roman­ti­cized, the rad­i­cal­iz­ing nature of Gild­ed Age pover­ty and why the Unit­ed States hasn't pro­vid­ed fer­tile ground to rev­o­lu­tion­ary vanguardism.
You're upend­ing a lot of his­to­ry. For peo­ple who don't make the con­nec­tion, briefly describe the impor­tance of May Day and how May Day came to be.
May Day was the Sec­ond International's memo­r­i­al to the Hay­mar­ket mur­ders, to the labor lead­ers who lost their lives dur­ing the bomb­ing in Chica­go in May 1886 and as the result of the sub­se­quent Hay­mar­ket court case. May Day was sort of a delayed out­growth of the inter­na­tion­al move­ment to save the lives of the con­demned men in Chicago.
But the his­to­ry, almost uni­ver­sal­ly, has been that these anar­chists were wrong­ly accused, wrong­ly con­vict­ed and wrong­ly exe­cut­ed, right?
These days, yes. But for the first half cen­tu­ry after the event, from the 1880s down to the ear­ly 20th cen­tu­ry, you had two dif­fer­ent his­tor­i­cal mem­o­ries of this event. You had those on the Left who were enshrin­ing the mem­o­ry of the mar­tyrs. Then you had the gen­er­al pub­lic, which believed they were right­ful­ly exe­cut­ed ter­ror­ists. Indeed, the most pop­u­lar view of them was prob­a­bly that they were for­eign ter­ror­ists and rep­re­sent­ed a for­eign ideology.
You main­tain that, in fact, the accused were guilty, and that the tri­al, giv­en stan­dards of the time, was rea­son­ably fair. At what point did you real­ize that you were up against a mas­sive accu­mu­la­tion of con­ven­tion­al wisdom?
From the out­set, because this accu­mu­lat­ed con­ven­tion­al wis­dom was also in my head. After all, when I was in grad­u­ate school, a bunch of my friends and I jumped in a car and drove down to Chica­go for the cen­ten­ni­al obser­vance at Wald­heim Ceme­tery in 1986. I did not doubt any of the con­ven­tion­al wis­dom, as you call it. Every­thing I'd ever read about it clear­ly indi­cat­ed that there was no good evi­dence con­nect­ing any of these men to the crime, that it was a col­lec­tive pun­ish­ment, that they were rail­road­ed to their deaths based on the first Amer­i­can red scare and the fer­vor sur­round­ing that.
And then a stu­dent asked you, ​"Well if there was no evi­dence pre­sent­ed, what did they talk about for six weeks dur­ing the trial?"
I was teach­ing a labor his­to­ry class, and a very pre­co­cious stu­dent asked me that ques­tion, and I had no answer. It's tak­en me 10 years to final­ly get an answer.
The tri­al tran­script is now eas­i­ly avail­able online, but that hadn't been the case for many pre­vi­ous scholars.
No, it def­i­nite­ly was not. There were only two copies of the full tri­al tran­script. One was at the Chica­go His­to­ry Muse­um. The oth­er one was down­state at the Spring­field archives. So it would have been very dif­fi­cult for any researcher to real­ly sit down and pour through the thou­sands of pages of transcript.
There was one pas­sage in par­tic­u­lar I found inter­est­ing. You write about the tes­ti­mo­ny of a fel­low, Met­zn­er, who had a shop across the street from where the bomb­ing occurred. He went out the sub­se­quent morn­ing and observed a lot. Details come out that seem like con­clu­sive evidence.
In those days roads were made of plank wood. And Met­zn­er found the inden­ta­tions where the bomb struck the street and then bounced and explod­ed. He was able to describe that in great detail. The inden­ta­tions showed, because of the oblong nature of the inden­tion in the wood, the direc­tion from which the bomb was thrown. One of the major con­tro­ver­sies in the tri­al was whether the bomb was thrown near the alley­way where the speak­ers' wag­on was, or whether it was thrown far down the block by a Pinker­ton spy or a police provo­ca­teur. But this gentleman's tes­ti­mo­ny didn't make it into the most wide­ly used sources that his­to­ri­ans have used for the last cen­tu­ry to dis­cuss the Hay­mar­ket trial.
There was an abstract of the tri­al that was pro­duced at the time of the appeals, and this abstract — this two-vol­ume abstract — pur­port­ed to con­tain the most impor­tant wit­ness tes­ti­mo­ny. And it was the only pub­lished source on the actu­al tes­ti­mo­ny of the tri­al. How­ev­er, nowhere on that abstract was it made clear that it was pro­duced by the defense coun­sel them­selves for the pur­pose of appeal.
To take the prosecution's point of view, there is a ton of evi­dence. They caught these guys who had bomb-mak­ing mate­ri­als, who were cast­ing bombs, who had caches of dyna­mite, revolvers and ammu­ni­tion. It wasn't just one or two lit­tle pieces of evidence.
They had quite a bit of evi­dence. I want to add one caveat, though. The pur­pose of writ­ing this book is not to retry the anar­chists and to re-con­demn them. I'm try­ing to illus­trate what the tri­al rep­re­sent­ed in its own day, and to bring out facts about what actu­al­ly hap­pened in the trial.
But an impor­tant ques­tion does have to be retried — the phi­los­o­phy of vio­lence, because here we are cel­e­brat­ing the Hay­mar­ket anar­chists and at their core they were advo­cat­ing and prac­tic­ing a phi­los­o­phy of vio­lence that has poi­soned sub­se­quent polit­i­cal engagement.
They were advo­cates of a par­tic­u­lar phi­los­o­phy of vio­lence — van­guardist vio­lence. It was that a small, com­mit­ted group of indi­vid­u­als could employ vio­lence to spark a gen­er­al work­ers insur­rec­tion and lead the mass­es to their lib­er­a­tion. It was a pro­to-Lenin­ist sort of a view that I think is par­tic­u­lar­ly dangerous.
Did the Hay­mar­ket inci­dent result in sev­er­ing impor­tant ties between Amer­i­can and for­eign labor movements?
It sev­ered one par­tic­u­lar tie, the con­nec­tion between rev­o­lu­tion­ary anar­chism in Europe and mil­i­tant move­ments in Amer­i­ca. Essen­tial­ly, on May 3, the anar­chists in Chica­go were believ­ers in van­guardist vio­lence, believ­ers in their abil­i­ty to spark a gen­er­al insur­rec­tion. But on May 5, the day fol­low­ing the bomb­ing, they sud­den­ly became demo­c­ra­t­ic social­ists. In their des­per­ate attempt to save the lives of their lead­ers, they denied most of what they had once believed. And they began advo­cat­ing a much more legal­is­tic and peace­ful path to social change.
No one in the Unit­ed States, at least of that gen­er­a­tion, had any fur­ther inter­est in build­ing an inter­na­tion­al rev­o­lu­tion­ary move­ment along the lines the Hay­mar­ket anar­chists had been try­ing to build in the 1880s. That move­ment just comes to a crash­ing halt.
Are you going to change the his­to­ry, or will it take a num­ber of decades?
What I hope hap­pens is that this book sparks oth­ers to go back to the sources and re-eval­u­ate not only this event but this whole inter­est­ing 1880s peri­od of mil­i­tan­cy across the Unit­ed States. The Hay­mar­ket anar­chists were putting their actions where their words were. It tells us that con­di­tions in indus­tri­al­iz­ing, urban­iz­ing Chica­go were so dire that a sig­nif­i­cant move­ment of indi­vid­u­als was will­ing to take up arms against it. That helps us under­stand just what the extremes of pover­ty and wealth in the Gild­ed Age real­ly represent.
So you don't want to dis­par­age the ideals of labor orga­niz­ing, but it's fair to ask crit­i­cal ques­tions about methods?
Absolute­ly. Precisely.

This inter­view was adapt­ed from a pod­cast at Elec­tric Politics.
George Ken­ney
, a for­mer career U.S. for­eign ser­vice offi­cer, resigned in
1991
over U.S. pol­i­cy toward the Yugoslav con­flict. He is now a writer in Wash­ing­ton, and host and pro­duc­er of the pod­cast
Elec­tric Pol­i­tics
.