Mutually Assured Madness
British Ambassador Peter Jenkins on the alternatives to bombing Iran.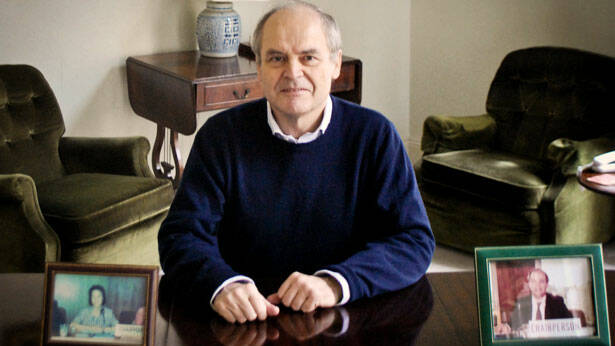 In terms of nuclear non­pro­lif­er­a­tion, the West's clash with Iran over its nuclear pro­gram appears to make sense. But once one peels back the lay­ers of rhetoric sur­round­ing the West's demands, our real pri­or­i­ty seems to be régime change. Those opposed to an unnec­es­sary war with Iran are thus faced with two com­pli­cat­ed chal­lenges: First, to debunk
War is not a satisfactory answer. There is no guarantee that we would succeed in eliminating all the facilities that might be relevant to Iran producing a nuclear weapon.
the man­u­fac­tured hys­te­ria over Iran­ian nuclear activ­i­ties, and sec­ond, to make explic­it the unex­am­ined assump­tions behind the use of régime change as a default reac­tion. The past 150 years should have taught us that despite the West's abil­i­ty to remove Mid­dle East­ern or Asian gov­ern­ments, it's not so easy – or even pos­si­ble – to replace them. By alter­ing the nat­ur­al course of his­to­ry we're as liable to make things worse as to make them better.
Ambas­sador Peter Jenk­ins address­es our first chal­lenge as thor­ough­ly as any­one might wish. Hav­ing worked for 33 years in the British diplo­mat­ic ser­vice, with his last post­ing as Britain's Per­ma­nent Rep­re­sen­ta­tive to the Inter­na­tion­al Atom­ic Ener­gy Agency (IAEA) from 2001 – 2006, he knows Iran's nuclear pro­grams inti­mate­ly. When Jenk­ins says that there is a rea­son­able nuclear deal to be had with Iran he must be tak­en seriously.
On the sec­ond front, we must now con­nect the dots to see how régime change, unchecked, threat­ens a new Cold War, bring­ing the nuclear conun­drum full circle.
Do you recall a moment when you real­ized that there was a bet­ter way of inter­act­ing with Iran?
It was a grad­ual thing. It prob­a­bly crys­tal­lized when the Amer­i­can intel­li­gence com­mu­ni­ty pro­duced their Nation­al Intel­li­gence Esti­mate, in Novem­ber 2007, that said there were grounds for con­fi­dence that Iran had not decid­ed to devel­op nuclear weapons. Since then I no longer feel that it's absolute­ly essen­tial to deprive Iran of an enrich­ment capa­bil­i­ty – enrich­ment capa­bil­i­ties are very rel­e­vant to pro­duc­ing nuclear weapons. It's bet­ter to focus on pos­si­ble Iran­ian motives and to try, through diplo­ma­cy, to min­i­mize the risk that they will use that capa­bil­i­ty to make weapons.
In any case, war is not a sat­is­fac­to­ry answer. There is no guar­an­tee that we would suc­ceed in elim­i­nat­ing all the facil­i­ties that might be rel­e­vant to Iran one day pro­duc­ing a nuclear weapon. And even if we did suc­ceed in destroy­ing all those facil­i­ties, there would remain a lot of tech­ni­cal infor­ma­tion and know-how in the minds of Iran­ian sci­en­tists. Unless we were going to line them up against a wall and shoot them all – which I think the West, even in its cur­rent slight­ly degen­er­ate state, would hes­i­tate to do – then the time would come when Iran would be able to recon­sti­tute its enrich­ment program.
Could going to war against Iran actu­al­ly encour­age proliferation?
Lead­ers who have been con­tent up until now to have a latent capa­bil­i­ty might sud­den­ly think, ​"Well, we'd bet­ter turn this latent capa­bil­i­ty into actu­al weapons because if we have the weapons then the West won't attack us."
There is a fas­ci­nat­ing doc­u­ment in the Nation­al Secu­ri­ty Archives at George Wash­ing­ton Uni­ver­si­ty. It's a declas­si­fied memo, writ­ten in June 1968, from the direc­tor of the Pol­i­cy Plan­ning Coun­cil in the State Depart­ment to Sec­re­tary of State Dean Rusk. It points out that under the Nuclear Non­pro­lif­er­a­tion Treaty (NPT), states would be able, legal­ly, to reach a state of what the author calls ​"nuclear preg­nan­cy," i.e., this latent capac­i­ty that I've been talk­ing about. I stress that the word ​"legal­ly" appears in that section.
My read­ing of the NPT is entire­ly con­sis­tent with that. Pro­vid­ed a state does not cross the thresh­old and start man­u­fac­tur­ing or oth­er­wise acquir­ing nuclear explo­sive devices, then it is stay­ing with­in the let­ter of the NPT. To con­duct the kind of basic research into how to put togeth­er a weapon may not be entire­ly con­sis­tent with the spir­it of the NPT, but it is not against the let­ter – and by the way, Iran is not the only NPT non-nuclear-weapon state that has con­duct­ed such research.
Would it be worth­while, through var­i­ous U.N. venues, to have dis­cus­sions on a nuclear weapons-free zone?
Absolute­ly. In fact, dis­cus­sions are going on because at the last NPT review con­fer­ence in 2010, the Amer­i­cans were per­suad­ed by Egypt in par­tic­u­lar that if they want­ed a pos­i­tive out­come to that review con­fer­ence they'd have to stop block­ing any dis­cus­sion of a nuclear weapons-free zone in the Mid­dle East. How­ev­er, since 2010 Israel has made clear that it is unen­thu­si­as­tic about a nuclear weapons-free zone in the Mid­dle East.
That's why I've been try­ing to put into cir­cu­la­tion the idea of a sub-region­al nuclear weapons-free zone span­ning the coun­tries on either side of the Gulf. A zone of that sort could be a valu­able con­fi­dence build­ing mea­sure, par­tic­u­lar­ly for Sau­di Ara­bia, which is ner­vous about what's been going on in Iran.
The media tends to latch on to reports, like the Novem­ber 2011 IAEA report that alleges that Iran is doing all kinds of hor­ri­ble things. What does the report on Iran mean?
I sus­pect that the IAEA Direc­tor Gen­er­al and his advi­sors were rather sur­prised at the way in which the report was spun in the West­ern media.
These are hon­est peo­ple, with great integri­ty, and they chose their words very care­ful­ly in writ­ing that report. There was cer­tain­ly noth­ing in what they said that sub­stan­ti­at­ed the claim that Iran is deter­mined to devel­op and pos­sess nuclear weapons. All the report said was that, in the past and maybe to a lim­it­ed extent since 2003, Iran has con­duct­ed cer­tain research work that would be rel­e­vant to putting togeth­er a bomb. That is not the same thing as say­ing Coun­try X is deter­mined to have the bomb.
We seem to be locked into a sit­u­a­tion where pol­i­cy is dri­ven not by ratio­nal assess­ments but by emotion.
I large­ly agree. Those emo­tions are under­stand­able because it must have been very upset­ting to have Amer­i­can diplo­mats held hostage. It must have been very upset­ting to have U.S. Marines blown up by Hezbol­lah in Lebanon and to know that Hezbol­lah was get­ting sup­port from the Iran­ian Rev­o­lu­tion­ary Guards. Iran has done some quite unfor­giv­able things to the Unit­ed States, but Amer­i­cans tend to for­get the equal­ly unfor­give­able things that they've done to Iran.
They sup­port­ed Sad­dam Hus­sein dur­ing that eight-year war, includ­ing sell­ing pre­cur­sors for chem­i­cal weapons and pro­vid­ing intel­li­gence. And in 1988 the USS Vin­cennes shot down an Iran Air pas­sen­ger air­craft with 290 peo­ple on board. Then if you fast-for­ward to 2001, when Iran's lead­ers were I think gen­uine­ly sym­pa­thet­ic fol­low­ing the 9⁄11 attack and coop­er­at­ed with the Unit­ed States in the offen­sive launched that autumn against the Tal­iban in Afghanistan – how did they get thanked for that by Pres­i­dent George W. Bush? At the end of Jan­u­ary 2002 they're brack­et­ed as part of the Axis of Evil. They must find the Unit­ed States a very, very bizarre and dif­fi­cult and con­fus­ing coun­try with which to have to coexist.
Is this a sub­ject that diplo­mats talk about amongst them­selves in Europe?
The British For­eign and Com­mon­wealth Office and the British Diplo­mat­ic Ser­vice have become very sub­servient to the Unit­ed States, and peo­ple are reluc­tant to voice any opin­ion that could be con­strued as a crit­i­cism. This is part­ly the fault of our polit­i­cal lead­ers who, at least since the time of Tony Blair, have been over-awed by the Unit­ed States and reluc­tant to say or do any­thing that might pos­si­bly put at risk what they like to refer to as the ​"spe­cial rela­tion­ship." Things were dif­fer­ent when I served in Wash­ing­ton in the 1980s.
So where is advice to the Unit­ed States going to come from?
I would like to hope that one day Europe may com­bine to agree to a more inde­pen­dent line in rela­tion to Iran, and might then be ready to speak its mind to Wash­ing­ton. Speak­ing truth to pow­er can be pos­i­tive, helpful.
In Britain, our pol­i­cy toward Iran rarely gets a good air­ing in Par­lia­ment or among the pub­lic. Part­ly it's because there hasn't been much demand for a debate. Maybe that, in turn, is because the issue appears daunt­ing­ly com­plex, tech­ni­cal­ly, legal­ly and polit­i­cal­ly, to those on the outside.
Anoth­er one of those cas­es where there's a very seri­ous pos­si­bil­i­ty of acci­dent­ly hav­ing a war that nobody seri­ous­ly talks about before­hand.
Exact­ly.
George Ken­ney
, a for­mer career U.S. for­eign ser­vice offi­cer, resigned in
1991
over U.S. pol­i­cy toward the Yugoslav con­flict. He is now a writer in Wash­ing­ton, and host and pro­duc­er of the pod­cast
Elec­tric Pol­i­tics
.