Labor's Makeover
Live from the AFL-CIO convention: Federation President Richard Trumka has a dream.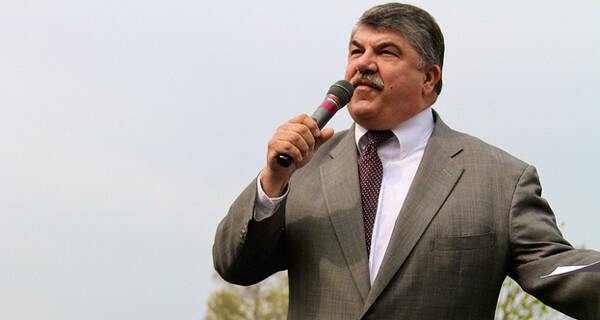 Richard Trum­ka, pres­i­dent of the AFL-CIO, told the federation's qua­dren­ni­al con­ven­tion in Los Ange­les on Mon­day that he wants the fed­er­a­tion of unions to broad­en itself into a new move­ment that includes all work­ing peo­ple, not only those in tra­di­tion­al labor unions. And he wants that work­ing-class move­ment to be the cor­ner­stone of a more close­ly knit, broad­ly based pro­gres­sive movement.
'If you work for a living in this country, our movement is your movement,' Trumka said. 'It's time to tear down the barriers, remove the boundaries between workers.'
Com­ing short­ly after the 50th anniver­sary of the March on Wash­ing­ton for Jobs and Free­dom, Trumka's effort to inspire lead­ers of an embat­tled labor move­ment invit­ed com­par­i­son with Mar­tin Luther King's famous ​"I have a dream" speech. By that mea­sure, it fell short- — and not just of the unre­al­is­ti­cal­ly high bar for pub­lic rhetoric. More sig­nif­i­cant­ly, the declin­ing labor move­ment has lit­tle of the ener­gy of the ascend­ing civ­il rights move­ment 50 years ago.
Per­sis­tent cor­po­rate and polit­i­cal attacks since the 1970s have weak­ened unions and put them on the defen­sive; they've not yet found a foothold for a coun­terof­fen­sive. As a result, over the past sev­er­al decades, the labor move­ment lost much of its for­mer pow­er to improve all work­ers' lives and cre­ate a more egal­i­tar­i­an and demo­c­ra­t­ic soci­ety. Many non-union work­ers came to see union­ized work­ers' advan­tages not as the stan­dard that they might share, as they did dur­ing the 1940s through the 1960s, but as sim­ply union priv­i­lege. And rather than improve the pay of non-union work­ers to match the union stan­dard, employ­ers increas­ing­ly demand­ed union con­ces­sions to match non-union—or over­seas — stan­dards. Unions thus lost some abil­i­ty to pro­tect their gains, and the class sol­i­dar­i­ty inspired by union-spurred improve­ments to the lives of all work­ers was fractured.
Since 1980 or so, Trum­ka said, the world of the Amer­i­can work­er has been turned upside down: The rich­est Amer­i­cans took all the new nation­al income, and con­se­quent­ly, ​"The work­ing class is not the mid­dle class any more."
To reverse the decline, Trum­ka urged unions to embrace new forms of mem­ber­ship, from orga­niz­ing work­ers even when the law or cir­cum­stances make it dif­fi­cult to form tra­di­tion­al unions (such as taxi dri­vers or domes­tic work­ers) to expand­ing Work­ing Amer­i­ca, the decade-old com­mu­ni­ty affil­i­ate of the AFL-CIO.
He pro­posed a new effort to orga­nize tra­di­tion­al unions in the South, the poor­est and least union­ized region in the coun­try; he also stressed the impor­tance of revised pro­ce­dures to avoid con­flicts among union-orga­niz­ing campaigns.
​"To turn Amer­i­ca right-side-up," he said, ​"we need a real work­ing-class move­ment." That would be a move­ment of ​"the 99 per­cent," he said, as opposed to the 11 per­cent now in labor unions, most of whom work under nego­ti­at­ed col­lec­tive bar­gain­ing agreements.
Any work­er could — and every work­er should — join this new move­ment, Trum­ka con­tin­ued. Nei­ther the gov­ern­ment nor employ­ers, both of whom now heav­i­ly influ­ence who forms unions, should be able to decide whether a work­er can join this movement.
The new work­ing-class move­ment would include orga­ni­za­tions of day labor­ers, many already part­ners of the AFL-CIO, and work­er cen­ters. It would also encom­pass work­ers who left their union jobs as well as union sup­port­ers in a work­place where a major­i­ty vot­ed against union­iz­ing. Work­ing Amer­i­ca, which has already signed up 3.2 mil­lion non-union sup­port­ers by knock­ing on doors in work­ing-class com­mu­ni­ties, plans to tar­get both groups.
In keep­ing with its empha­sis on non-tra­di­tion­al work­er orga­ni­za­tions, the AFL-CIO gave its Meany-Kirk­land Human Rights Award to the Inter­na­tion­al Domes­tic Work­ers' Net­work (IDWN), which recent­ly suc­ceed­ed in get­ting the Inter­na­tion­al Labor Orga­ni­za­tion to set stan­dards for domes­tic work.
Though Trumka's vocal sup­port of orga­nized labor alter­na­tives met with lit­tle dis­sent, his addi­tion­al pre-con­ven­tion sug­ges­tion that some allies, such as the NAACP or Sier­ra Club, could become mem­bers of the AFL-CIO and share in deci­sion-mak­ing ran into resis­tance and was thus not for­mal­ly proposed.
Labor­ers' Inter­na­tion­al Union of North Amer­i­ca (LIU­NA) Gen­er­al Pres­i­dent Ter­ry O'Sullivan said he had no prob­lem work­ing in coali­tions or see­ing the AFL-CIO as part of a pro­gres­sive coali­tion, but he strong­ly object­ed to ​"out­side groups" hav­ing a voice in deci­sions affect­ing his mem­bers' job prospects. O'Sullivan has clashed with envi­ron­men­tal groups, such as the Sier­ra Club, over build­ing the Key­stone XL pipeline, which LIU­NA strong­ly sup­ports. He also advo­cat­ed restraint by oth­er unions with­out equi­ty in the jobs, say­ing they should either sup­port the union with jobs at stake or keep quiet.
On the oth­er hand, Stu­art Appel­baum, pres­i­dent of the Retail, Whole­sale and Depart­ment Store Union (RWD­SU) divi­sion of the Unit­ed Food and Com­mer­cial Work­ers (UFCW), which just recent­ly left the Change To Win fed­er­a­tion to return to the AFL-CIO, was ​"thrilled" by pro­pos­als for clos­er rela­tion­ships with non-union allies. ​"We don't have an option," he said. In many recent cam­paigns, includ­ing orga­niz­ing car wash­ers, he point­ed out that the union and com­mu­ni­ty groups shared deci­sion-mak­ing, which he found use­ful even though the union did not always prevail.
​"The future of the labor move­ment is to be inclu­sion­al," he con­tin­ued. ​"I'm more opti­mistic now than I've ever been."
In this vein, the AFL-CIO, along with indi­vid­ual unions, con­tin­ues to work to include in both the ranks and lead­er­ship of the labor move­ment work­ers who have been left out in the past — and to address issues par­tic­u­lar­ly ger­mane to them. A high­er per­cent­age of del­e­gates at the con­ven­tion — though still less than their share of union mem­bers — were women and peo­ple of col­or than at the last con­ven­tion. Gay rights — and for the first time, trans­gen­der rights — found ready approval in res­o­lu­tions. The con­ven­tion adopt­ed the strongest lan­guage yet on women hav­ing con­trol of their bod­ies and choice in med­ical treat­ments. And there was strong sup­port for a res­o­lu­tion call­ing for an end to poli­cies, includ­ing prison for non-vio­lent drug offens­es, that have result­ed in ​"mass incar­cer­a­tion," espe­cial­ly of young men of color.
The AFL-CIO also made an effort to include young work­ers at the con­ven­tion and to encour­age lead­er­ship train­ing for typ­i­cal­ly under­rep­re­sent­ed con­stituen­cies. Trumka's own slate, elect­ed with­out oppo­si­tion, includ­ed Liz Shuler, 43, re-elect­ed as sec­re­tary trea­sur­er, and an Ethiopi­an polit­i­cal refugee, Tef­ere Gebre, 45, as exec­u­tive vice pres­i­dent — both of whom are much younger than most AFL-CIO lead­ers in the past.
Trumka's keynote speech exem­pli­fied the fact that the labor move­ment is chang­ing — and talk­ing of even big­ger changes to come.
​"If you work for a liv­ing in this coun­try, our move­ment is your move­ment," Trum­ka said. ​"It's time to tear down the bar­ri­ers, remove the bound­aries between work­ers. It's time to stop let­ting employ­ers and politi­cians tell us who is a work­er and who isn't, who's in our move­ment and who isn't. Work­ing peo­ple alone should decide who's in the labor movement."
But is labor chang­ing enough? Are the changes the right ones? I'll take up those ques­tions and more in my next report from the convention.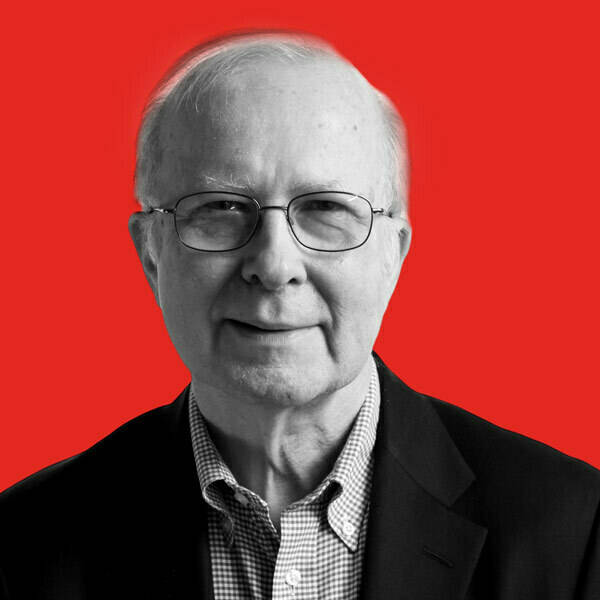 David Moberg, a senior edi­tor of In These Times, has been on the staff of the mag­a­zine since it began pub­lish­ing in 1976. Before join­ing In These Times, he com­plet­ed his work for a Ph.D. in anthro­pol­o­gy at the Uni­ver­si­ty of Chica­go and worked for Newsweek. He has received fel­low­ships from the John D. and Cather­ine T. MacArthur Foun­da­tion and the Nation Insti­tute for research on the new glob­al economy.