A New Door for Guestworkers?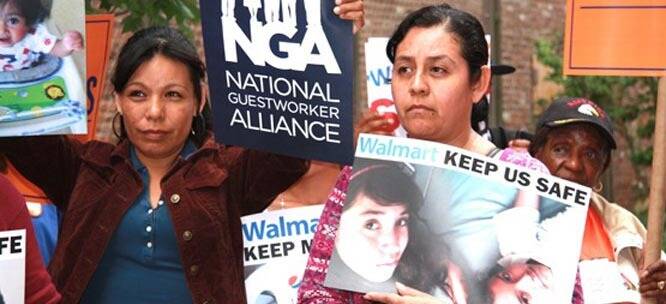 The peren­ni­al impasse in the immi­gra­tion debate between labor and busi­ness seems to be fad­ing as a group of sen­a­tors, work­ing with indus­try and union lob­bies, irons out a frame­work that would bring more migrants into the labor force, pur­port­ed­ly under a sys­tem that extends rights and pro­tec­tions for so-called ​"guest­work­ers." But what the new sys­tem real­ly means for work­ers depends on how it is imple­ment­ed and reg­u­lat­ed, and who is con­trol­ling the gates.
The pro­posed W‑visa plan report­ed­ly strikes a com­pro­mise between business's desire for low-cost labor and union con­cerns (rep­re­sent­ed by the AFL-CIO in Wash­ing­ton) about main­tain­ing jobs for U.S. work­ers and enforc­ing wage-and-hour laws. Aimed at less-skilled sec­tors like restau­rant work, the W‑visa would dif­fer from pre­vi­ous employ­ment-based visas in two key ways. For one, it would offer immi­grants a way to peti­tion for res­i­den­cy and even­tu­al­ly attain cit­i­zen­ship. And unlike much maligned tem­po­rary-work­er pro­grams, the visa would be ​"portable," mean­ing it would not be tied to a spe­cif­ic work­place or employ­er. In the­o­ry, that would allow a work­er to switch jobs with­out jeop­ar­diz­ing her legal sta­tus.
Address­ing fears of cre­at­ing a ​"sec­ond tier," or min­i­mal­ly reg­u­lat­ed low-wage work­force, the com­pro­mise report­ed­ly ensures that employ­ers pay no less than the industry's stan­dard ​"pre­vail­ing wage," deter­mined accord­ing to labor mar­ket con­di­tions. The New York Times reports:
Labor groups want­ed to ensure that guest work­ers would not be paid less than the medi­an wage in their respec­tive indus­tries, and the two sides com­pro­mised by agree­ing that guest work­ers would be paid the high­er of the pre­vail­ing indus­try wage as deter­mined by the Labor Depart­ment or the actu­al employ­er wage.
The num­ber of visas issued would start at 20,000 in the first year, then rise incre­men­tal­ly each year to reach 75,000 after four years. The cap could then be read­just­ed accord­ing to labor mar­ket and eco­nom­ic con­di­tions, under the direc­tion of a ​"data dri­ven" research bureau run by immi­gra­tion author­i­ties. The cur­rent plan sets an annu­al max­i­mum of 200,000 visas.
Though the details are still murky, the W‑visa appears to grant work­ers more free­dom and mobil­i­ty than they would have under con­ven­tion­al, time-restrict­ed visa pro­grams. Rebec­ca Smith, an attor­ney with the advo­ca­cy group Nation­al Employ­ment Law Project tells Work­ing In These Times:
The break­through ideas are that work­ers have the right to bring their fam­i­lies, change employ­ers and self-peti­tion for per­ma­nent sta­tus, and they enter the U.S. with full labor rights. These rights and work­ing con­di­tions go a long way toward help­ing work­ers to stand up for their rights, to orga­nize, or to join a union and avoid some of the most dire human rights abus­es we have seen in exist­ing tem­po­rary programs.
The W‑visa is being advanced at the same time that law­mak­ers are revis­it­ing the H‑2A agri­cul­tur­al visa, a prime exam­ple of how guest­work­er arrange­ments abet vir­tu­al serf­dom. Known for pulling peo­ple into exploita­tive, gru­el­ing jobs, the sys­tem is so poor­ly reg­u­lat­ed, half or more migrant farm­work­ers are said to be undocumented.
Daniel Cos­ta, an ana­lyst at the Eco­nom­ic Pol­i­cy Insti­tute, says the W‑visa, which aims to tight­en reg­u­la­tion of labor recruit­ment and sta­bi­lize migra­tion flows, could be a mod­el for ratio­nal­iz­ing labor visa policies:
The W‑visa is not real­ly a guest­work­er pro­gram, it's a qua­si-immi­grant pro­gram, since work­ers enter the coun­try with pro­vi­sion­al visas that can quick­ly turn into green cards. It can set a high­er bar for for­eign work­er pro­grams, and if it works well, once it's jux­ta­posed with the oth­er exploita­tive pro­grams, will hope­ful­ly cre­ate some polit­i­cal momen­tum for reform­ing oth­er programs.
Still, despite efforts to insti­tute an order­ly, less politi­cized frame­work, the W‑visa's imple­men­ta­tion is a prod­uct of com­pro­mis­es between main­stream unions and employ­ers, who could press to expand or close the valve accord­ing to polit­i­cal and eco­nom­ic pres­sures. (Already, the W‑Visa job cat­e­gories specif­i­cal­ly carve-out cer­tain high­er-skill con­struc­tion trades, reflect­ing con­cerns about under­cut­ting union jobs.)
In the future, employ­ers would pre­sum­ably keep push­ing for expand­ed labor impor­ta­tion. Mean­while pub­lic anx­i­eties about job com­pe­ti­tion or demo­graph­ic change would fuel pres­sure to restrict migra­tion or impose harsh, con­sti­tu­tion­al­ly ques­tion­able enforce­ment poli­cies. These fac­tors all tie into cap­i­tal­ist mar­kets and a volatile, often xeno­pho­bic polit­i­cal are­na. So under a"reformed" sys­tem, anchored in busi­ness and polit­i­cal maneu­ver­ing, will immi­grant fam­i­lies and com­mu­ni­ties have a voice? Will any­one broad­en the dis­cus­sion to uphold­ing human rights in tan­dem with, or in spite of, brute eco­nom­ic forces? As reform moves for­ward, giv­en the his­tor­i­cal reac­tionary ten­den­cies of both indus­try and some main­stream unions on immi­gra­tion pol­i­cy, can pro-migrant activists advo­cate around the deep ties between labor and immi­grants' polit­i­cal and social rights?
Late­ly, the AFL-CIO has beefed up out­reach and orga­niz­ing efforts for immi­grant work­ers, inside and out­side of tra­di­tion­al unions. But bring­ing immi­grants' full voice into the labor debate requires broad­er social and polit­i­cal changes to strength­en the rights of all migrants, espe­cial­ly as they inter­sect with racial and gen­der jus­tice strug­gles in poor com­mu­ni­ties of color.
A more ​"lev­el play­ing field" in the labor mar­ket is just the begin­ning of the con­ver­sa­tion. The eco­nom­ic land­scape is so skewed that it has rup­tured basic pil­lars of a demo­c­ra­t­ic soci­ety, from free­dom of assem­bly (attacks on unions' pow­er to orga­nize), to due process (arbi­trary deten­tions and mass depor­ta­tions of the undoc­u­ment­ed), to pub­lic ser­vices (edu­ca­tion­al access and health­care remain high­ly restrict­ed for doc­u­ment­ed and autho­rized migrants). And thou­sands of oth­er guest­work­ers will con­tin­ue to suf­fer from inad­e­quate labor reg­u­la­tion and employ­er exploita­tion and coercion.
This is why, inde­pen­dent of the main­stream debate on reforms and visas, pro-migrant coali­tions like the Unit­ed Work­ers Con­gress demand equal, uncom­pro­mised pro­tec­tions for all immigrants.
That would entail enforc­ing rights across all visa pro­grams, like the H2A, and the H2‑B visa for tem­po­rary non-farm indus­tri­al jobs. Mean­while, more rad­i­cal groups want to abol­ish any form of guest­work­er pro­gram, to move toward a less rigid, more rights-con­scious migra­tion policy.
Saket Soni, exec­u­tive direc­tor of the Nation­al Guest­work­er Alliance, tells Work­ing In These Times via email:
Now that it's clear that any immi­gra­tion reform will come with a new guest­work­er pro­gram, we need to ensure that all future immi­grant work­ers are treat­ed with dig­ni­ty and respect. All guest­work­er pro­grams must include visa porta­bil­i­ty, the right to orga­nize, and strong pro­tec­tions to stop abu­sive employ­ers from retal­i­at­ing against whistleblowers.
While the new W‑visa will hard­ly cure the mas­sive inequal­i­ties fac­ing immi­grant work­ers, it might help nar­row the polit­i­cal gap between the labor and pro-migrant move­ments. Cap­i­tal has always pit­ted immi­grants against native-born work­ers along racial, eth­nic and class lines, exploit­ing the arti­fice of cit­i­zen­ship to degrade all work­ers. As such cru­el legal divi­sions start to be dis­man­tled, work­ers may start see­ing what they can fight for in com­mon: the injus­tices that can only be reme­died by col­lec­tive pow­er, and their shared aspi­ra­tions for a just, inclu­sive economy.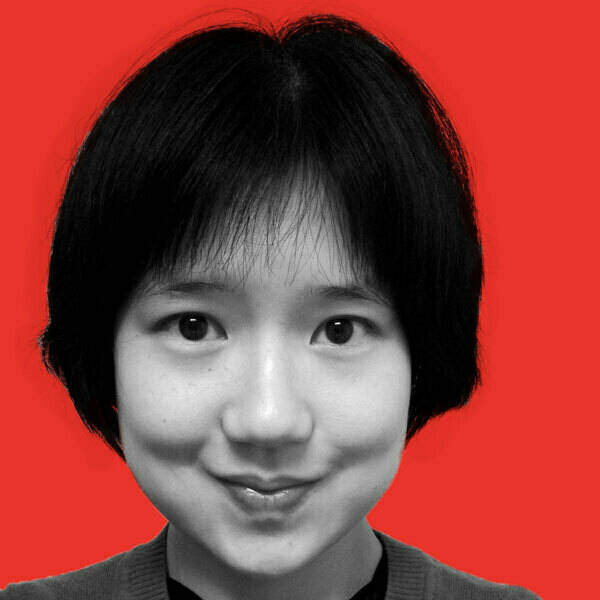 Michelle Chen is a con­tribut­ing writer at In These Times and The Nation, a con­tribut­ing edi­tor at Dis­sent and a co-pro­duc­er of the ​"Bela­bored" pod­cast. She stud­ies his­to­ry at the CUNY Grad­u­ate Cen­ter. She tweets at @meeshellchen.