A Pain, and Proud of It
Frances Kissling retires after 25 years at CFFC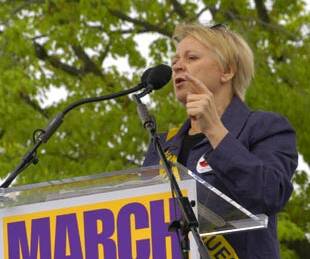 We wanted to make sure you didn't miss the announcement of our new Sustainer program. Once you've finished reading, take a moment to check out the new program, as well as all the benefits of becoming a Sustainer.

On Feb. 6, when William Donohue, leader of the conservative Catholic League for Religious and Civil Rights, attacked John Edwards' campaign for hiring two feminist bloggers who had been sharply critical of church doctrine, Frances Kissling declared that Donohue did not speak for all Catholics. It wasn't the first time Kissling and Donohue squared off, but it would be their last public tussle.
Less than three weeks later, Kissling stepped down as president of Catholics for a Free Choice (CFFC), which has served as a dissenting Catholic voice on matters of reproductive and women's rights since 1973. After 25 years, Kissling said, she felt her leadership was bordering on predictable and that CFFC would be invigorated by a new president. Donohue's Catholic League Web site gleefully announced, ​"Good Riddance to Frances Kissling." And the equally hard-line Catholic Family and Human Rights Institute crowed, ​"Kissling has been an outspoken opponent of Catholic Church teachings on contraception, abortion, gay rights and stem cell research, but has failed to change any of them."
But Kissling's long-stated goal is not to change Catholic doctrine on these issues, but to initiate conversation about them. For 25 years, Kissling has pointed out that criticizing church doctrine and agitating for reform is not anti-Catholic. "[T]he bloggers had a lot to say about religion and a lot to say that's critical of the Catholic Church," Kissling told Salon​.com on Feb. 13. ​"Well-deserved criticism, in my opinion. But it feeds very nicely into the Donohue agenda, which is to cast everything that is critical of positions taken by the Catholic Church as anti-Catholicism."
It's an agenda that she made a career out of opposing. One of her first statements as CFFC president was to point out that committed Catholics have differing opinions about abortion. More recently, when conservative Cardinal Joseph Ratzinger was named pope, CFFC launched Pope​-Watch​.org to monitor his actions and spark dialogue, not overthrow the papacy.
Kissling has deep roots in both the Catholic Church and the pro-choice movement. At the age of 19 she became a nun, but left the convent after six months. She went on to help found the National Abortion Federation and run one of the very first legal abortion clinics in New York. In 1982, she assumed leadership of Catholics for a Free Choice, a perfect match for the organization that positions itself at the intersection of feminism, Catholicism and civil liberties.
Anti-choice and fundamentalist Christian groups have long portrayed Kissling as a puppet of the secular pro-choice movement, claiming she uses her faith to win over more moderate Christians. And indeed, a recent tribute to her at the Four Seasons Hotel in Washington featured a Who's Who of the pro-choice movement – Gloria Steinem, former NARAL president Kate Michelman and the Feminist Majority's Eleanor Smeal. There were many quips about religion, but no prayers.
"What Frances did was keep us grounded and honest by challenging the status quo," Michelman says, describing how Kissling always played the role of the ​"anti-sloganeer" in coalition meetings. ​"She never accepted the expected way of addressing the challenges we faced."
Under her direction, Catholics for a Free Choice not only sought to challenge the Catholic Church, but to reform the abortion debate in the United States. Consistently referred to as the ​"philosopher of the pro-choice movement," Kissling was one of the first abortion-rights leaders to encourage discussion about the status of fetal life. Her 2004 essay ​"Is There Life After Roe?: How to Think About the Fetus," published in CFFC's Conscience magazine, is often quoted by anti-choice groups seeking to prove that abortion is a morally ambiguous choice.
At the time, the Republican-controlled Congress was considering and passing bills to expand fetal rights, and pro-choice groups were more reluctant than ever to tackle the subject. Unafraid of criticism, she wrote, ​"The prochoice movement will be far more trusted if it openly acknowledges that the abortion decision involves weighing multiple values and that one of those values is fetal life."
As writer and self-described Catholic girl Anna Quindlen remarked in her tribute to Kissling, ​"It's important to speak truth to the power of your opponents, but it's more important to speak truth to the power of your friends."
Kissling will likely continue to do so. In September, she will begin a fellowship at the Radcliffe Institute for Advanced Study, where her challenging thinking on pro-choice politics will continue to inform – and agitate – the movement. As her successor, Jon O'Brien, who has worked with Kissling at CFFC for the past decade, bluntly put it at the event: ​"Someone at this tribute just had to say it. Frances Kissling is a pain in the –."
Those are kind words to Kissling's ears. ​"If I wasn't such a pain in the ass," she says, ​"no one would pay attention to me."
Be a Sustainer
We surveyed thousands of readers and asked what they would like to see in a monthly giving program. Now, for the first time, we're offering three different levels of support, with rewards at each level, including a magazine subscription, books, tote bags, events and more—all starting at less than 17 cents a day. Check out the new Sustainer program.