Interviews for Resistance: A Sanders Campaign Vet on How to Connect with Disaffected Voters
Becky Bond talks about the importance of knocking on doors to bridge the gap between voters and campaigns.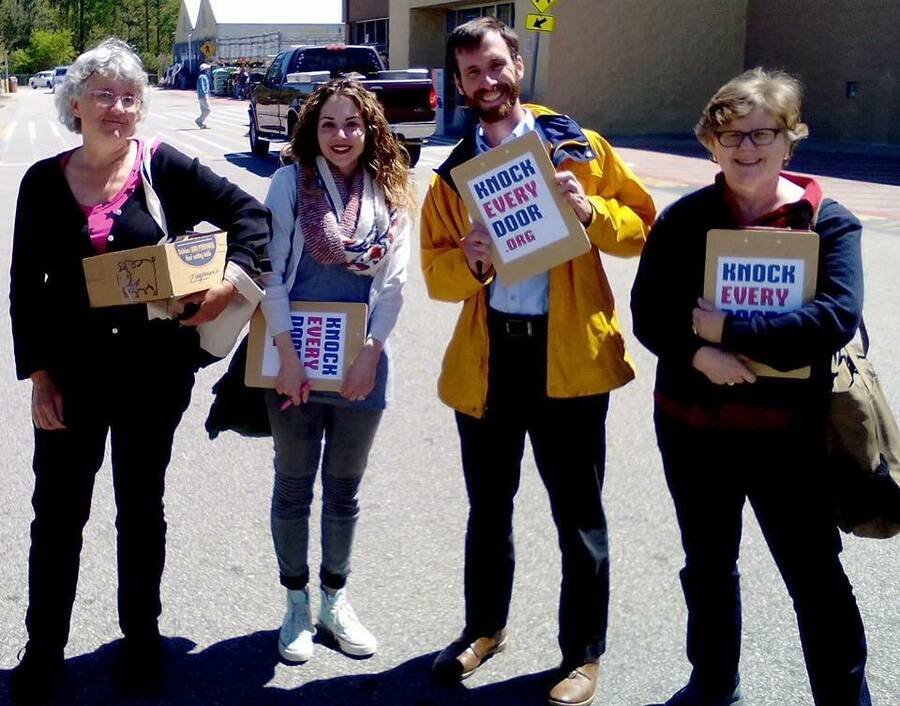 Wel­come to Inter­views for Resis­tance. Since elec­tion night 2016, the streets of the Unit­ed States have rung with resis­tance. Peo­ple all over the coun­try have wok­en up with the con­vic­tion that they must do some­thing to fight inequal­i­ty in all its forms. But many are won­der­ing what it is they can do. In this series, we'll be talk­ing with expe­ri­enced orga­niz­ers, trou­ble­mak­ers and thinkers who have been doing the hard work of fight­ing for a long time. They'll be shar­ing their insights on what works, what does­n't, what's changed and what is still the same.
'There was a dissonance between the voters and the messages that were coming out of the Democrats. There was this disconnect.'
Becky Bond: I am Becky Bond. I was senior advis­er on the Bernie Sanders' pres­i­den­tial cam­paign and, since the elec­tion of Trump, been in a lot of parts of the resis­tance, includ­ing co-found­ing a group called Knock Every Door.
Sarah Jaffe: I want to talk about Knock Every Door. Tell us how that got start­ed. Where did the idea come from and how did you end up putting it together?
Becky: Like a lot of peo­ple that have been involved in orga­niz­ing after the elec­tion of Trump, every­one I knew and peo­ple that I didn't know, would come up to me and say, ​"What do we do now? What should I do?"
It was kind of an amaz­ing moment, in part because every­body want­ed to do some­thing and not only did they want to do some­thing, it wasn't just that they want­ed to know where to give a dona­tion or how to make a phone call, but they want­ed to do things that were in per­son where they lived. They want­ed to be with oth­er peo­ple and they want­ed to be active togeth­er in per­son, which was an amaz­ing impulse. I, per­son­al­ly, felt that, too. I want­ed to be with oth­er peo­ple and I want­ed to be engaged in work that was going to be part of the solution.
One of the things I would tell peo­ple was that sure­ly one of the next things that was going to hap­pen was that we were going to start talk­ing to the vot­ers who had sup­port­ed Pres­i­dent Oba­ma in 2008 and 2012 and who flipped to sup­port Trump in 2016, as well as with the peo­ple who vot­ed for Pres­i­dent Oba­ma in 2008 and 2012, but didn't vote in 2016. Under­stand­ing what hap­pened with those vot­ers is going to be key in how were going to make things be dif­fer­ent next time. We have got to get out there and knock on doors and talk to peo­ple and we have got to phone bank these peo­ple and start the conversation.
I actu­al­ly just real­ly thought that most orga­ni­za­tions that were involved in elec­tions were going to basi­cal­ly start the work for the next cycle then because so many peo­ple were ready. They were like, ​"Let's go! Let's go can­vas." And then nobody asked them to do that. Nobody asked me to do that. So, even at the same time as all these new sto­ries were com­ing out about the pres­i­den­tial cam­paign, which had real­ly failed to talk to vot­ers, at scale, in per­son with vol­un­teers, there had been this idea on the cam­paign that that wasn't a valu­able or cost effec­tive thing to do.
One of the things that became clear, I think that the peo­ple who were ask­ing me what to do next felt it very vis­cer­al­ly, was that some­how we lost this feed­back loop between vot­ers and the peo­ple who were run­ning cam­paigns. If you had actu­al­ly gone out and talked to peo­ple, like we did on the Bernie Sanders cam­paign across the coun­try, you knew that peo­ple were real­ly angry and hurt­ing and that the solu­tions that the Democ­rats were talk­ing about and were brag­ging about, ​"We fixed the econ­o­my. The econ­o­my is grow­ing. It is awe­some." They were talk­ing about the amaz­ing advances of Oba­macare, which did solve prob­lems for a lot of peo­ple, but I would talk to peo­ple again and again across the coun­try who said, ​"I am forced to pay expen­sive pre­mi­ums that I can't afford and my deductible is so high that I can't go to the doc­tor when I am sick."
There was a dis­so­nance between the vot­ers and the mes­sages that were com­ing out of the Democ­rats. There was this dis­con­nect. There were a lot of peo­ple that were ready to go out and start hav­ing the con­ver­sa­tions and to lis­ten and try and forge the con­nec­tions that we need and the civ­il dia­logue that we need to get out of this hole. When that oppor­tu­ni­ty wasn't offered, there were some oth­er orga­niz­ers that were feel­ing the same as I was and we all got togeth­er kind of as vol­un­teers and we said, ​"Well, what if we could just help peo­ple go out and go can­vass­ing? Why do we need a pro­fes­sion­al orga­ni­za­tion to run these can­vass­es and to invite peo­ple to do it?" We learned a lot on the Bernie Sanders cam­paign about how to use very cheap or free con­sumer soft­ware to help vol­un­teers actu­al­ly run their own vot­er con­tact operations.
So that is when we decid­ed that we would set an all-vol­un­teer run, pret­ty much, cam­paign up that we called Knock Every Door. That was a series of con­fer­ence calls and Google Docs and data entry teams and text mes­sage turnout teams and sort of bring­ing peo­ple togeth­er where they lived to go out and talk to voters.
Sarah: It has been a few months now that this has been going on. How is it going? How many doors have been knocked? Where are peo­ple doing the door-knocking?
Becky: It is amaz­ing. Vol­un­teers are run­ning can­vas­es in 37 states right now and they've knocked on tens of thou­sands of doors and they have had thou­sands of amaz­ing con­ver­sa­tions. And a lot of it is listening.
What is so amaz­ing about this moment that we are in and the real­ly sort of hum­ble and gen­er­ous atti­tude of the vol­un­teers who believe that we need to break out of fil­ter bub­bles and go talk to peo­ple that may not agree with us to try and under­stand, ​"What are the prob­lems that they are fac­ing? What are their hopes and fears for the future?" Then, how do we engage with them about our hopes and fears, espe­cial­ly if they are different?
We have debrief­ing calls every week where the vol­un­teers who host­ed a con­fer­ence get on one of these free con­fer­ence calls with oth­er peo­ple who have host­ed and some of the orga­niz­ers that were involved in the Bernie Sanders cam­paign, some of them were involved with the Clin­ton cam­paign and what they say is that peo­ple who show up and go out to can­vass who have nev­er done it before, not only are they hav­ing con­ver­sa­tions that they think will make progress for the next elec­tion, but it is trans­form­ing them and how they feel about things. It is a real­ly amaz­ing per­son­al expe­ri­ence for them to actu­al­ly go out and relearn talk­ing to peo­ple that are dif­fer­ent than we are and shar­ing expe­ri­ences. It has opened their eyes to the world in a cer­tain way and it is cre­at­ing a sense of con­nec­tion that is missing.
Sarah: What kinds of things are peo­ple learn­ing on the doors?
Becky: I think the thing that we are learn­ing at the doors is that peo­ple actu­al­ly want to talk. We worked with some polit­i­cal sci­en­tists to try and write scripts that would be most effec­tive at the door that would also tap into a new kind of research about can­vass­ing that sug­gests that a cer­tain kind of, they call it deep can­vass­ing, is actu­al­ly the most impact­ful in terms of per­suad­ing peo­ple and hav­ing that per­sua­sion be durable over time. We ask peo­ple at the end of the sur­vey, ​"Would you like to have some­one come back and talk to you about this again?" Over­whelm­ing­ly, peo­ple say ​"Yes," they would.
There is this myth that peo­ple don't like to be both­ered, that the vot­ers don't like to be both­ered, that we are both­er­ing them by going in and hav­ing con­ver­sa­tions. One of the most amaz­ing things that we are learn­ing is that actu­al­ly peo­ple do want to have these con­ver­sa­tions with their fel­low cit­i­zens about what is at stake and peo­ple real­ly want to feel like they are lis­tened to not just deliv­er­ing a script and try­ing to tell some­body what they should think.
Sarah: All of these con­ver­sa­tion are hap­pen­ing, where does this go? Where does the infor­ma­tion go? Where do the con­ver­sa­tions lead?
Becky: Right now what we are doing is if you are a vol­un­teer and you want to start can­vass­ing, when you go to the doors with your fel­low vol­un­teers, you pre-print out these forms where you can record the answers and what peo­ple say at the door. It is a com­bi­na­tion of ver­ba­tims and pick­ing on a scale of one to ten, ​"How do you feel about X or Y?" What they do after a can­vass is there are these free apps you can put on your phone, and they turn the forms that they fill out into PDFs right there with their phone. Then, they email those forms in. Then, we have a team of a vol­un­teers who actu­al­ly enter the data into the database.
Right now the data I think just goes into an air table just like on Google Sheets where we are track­ing these respons­es. Then, we also send the Google spread­sheet back to the can­vass orga­niz­er to give them that data back, because a lot of peo­ple when they are doing this have a small local group that is actu­al­ly run­ning a cam­paign that they look for can­di­dates at times and they want the data back about the peo­ple that you talked to. So we are giv­ing it back to the peo­ple that did it, but we are also keep­ing account of it.
Right now, you think about how many peo­ple are doing this wher­ev­er they are, it is not con­cen­trat­ed in one area, so right now rel­a­tive to the num­ber of vot­ers, it's a small data­base, but we are going to keep com­pil­ing it. And if enough peo­ple get involved, it will get large enough to be use­ful, at which point, what we say is that we are open to shar­ing the infor­ma­tion with cam­paigns that are fight­ing for racial and eco­nom­ic jus­tice. But, for now, we are just keep­ing infor­ma­tion and putting it back in the hands of the peo­ple that are orga­niz­ing on the ground.
Sarah: It has been real­ly inter­est­ing to me to see all of these new orga­ni­za­tions or for­ma­tions like Knock Every Door. There are a whole bunch of oth­er things where it seems like you are doing basi­cal­ly what polit­i­cal par­ties in coun­tries that have func­tion­al polit­i­cal par­ties would be doing. Espe­cial­ly in this vac­u­um of the Demo­c­ra­t­ic Par­ty not want­i­ng to do some of these things, how do you feel about how all these dif­fer­ent for­ma­tions come togeth­er and what they're build­ing towards?
Becky: I think, in some ways, what we are see­ing are that peo­ple are just way out in front of the politi­cians and par­ty lead­ers. With Knock Every Door, one of the things that we want­ed to do was make a bold state­ment say­ing that this was real­ly impor­tant and we need to show that vol­un­teers actu­al­ly real­ly want­ed to do it and to show that the vot­ers at the doors actu­al­ly want to be a part of the con­ver­sa­tion. When we start­ed this, there was no chair of the DNC and now we have peo­ple at the DNC talk­ing very pas­sion­ate­ly about the need to go out, espe­cial­ly in an off year, and knock on every door.
We have cre­at­ed a demand to knock every door and we are see­ing the par­ty start to talk about it. I think that is progress. Where we are actu­al­ly see­ing the par­ty real­ly get involved and real­ly get involved with these vol­un­teers is sev­er­al state par­ties have come to us, where you have some­one who works at the state par­ty who went, ​"This is what I have been want­i­ng to do is knock every door because our lists aren't great," or ​"I know we could per­suade peo­ple." There are a lot of peo­ple that work at state par­ties who, espe­cial­ly in red states where there are coun­ties where they don't have staff on the ground in those coun­ties because they just don't have enough Demo­c­ra­t­ic vot­ers there. For them, this has been this great tool, this great plat­form where they can say, ​"I am going to run. I want help to run a Knock Every Door can­vass in these coun­ties in my state where we don't have par­ty staff." We have been work­ing with state par­ties about [how] they could get vol­un­teers to start doing this work in places where they are not fund­ed to do it.
And real­ly want­i­ng to put this togeth­er as a plat­form and not as a cam­paign behind a spe­cif­ic idea. We already have Act­Blue, which real­ly rev­o­lu­tion­ized how peo­ple can raise small dol­lar dona­tions to can­di­dates with­out ever hav­ing to talk to staff or not hav­ing to rely on a group like the DNC or the DCCC to pro­mote a can­di­date. We thought, in the same way, what if peo­ple could con­tribute small amounts of doors knocked to a larg­er strat­e­gy and cre­ate a plat­form that would let any­body plug into it and get start­ed and with the hope that like Act­Blue, which start­ed slow­ly but has even­tu­al­ly become this real­ly impor­tant part of the infra­struc­ture of the Demo­c­ra­t­ic Par­ty and pro­gres­sive move­ments, that set­ting up a plat­form where vol­un­teers could be can­vass­ing could real­ly change things.
Then final­ly, this is impor­tant too, is that we are turn­ing peo­ple on to can­vass­ing and once peo­ple start going door-to-door and talk­ing to peo­ple, it is pret­ty addic­tive. What you find is that peo­ple that do it, some of them real­ly get into and do it a lot. It is the kind of the thing where you get bet­ter at it the more you do it. We are com­plete­ly cer­tain that what is going to hap­pen here is that by the time can­di­date cam­paigns and maybe some issue cam­paigns get to the matu­ri­ty that they are ready to go out and knock on doors for some of the can­di­date cam­paigns for 2018, it might not be until the sum­mer of 2018, but when they do, they are going to find these vol­un­teers who have been doing Knock Every Door can­vass­es, they are going to be ready to come and be their top vol­un­teers and start can­vass­ing for that can­di­date for that campaign.
We think that when the par­ty catch­es up to the peo­ple and they open up their own can­vass­es for these impor­tant races to come that we are going to have a bunch of peo­ple that are ready to go, they have been doing this all along, and that can be huge con­trib­u­tors to climb­ing that hill that we have to climb, which is midterm elections.
Sarah: This obvi­ous­ly comes out of your work on the Sanders cam­paign and the will­ing­ness to trust peo­ple to go run their own can­vass, to do things large­ly with­out ask­ing for per­mis­sion. The tough ques­tion will be: How do you decide who is part of the move­ment and who isn't?
Becky: The folks behind Knock Every Door are work­ing on a lot of things as part of the resis­tance. This is a cer­tain plat­form that we thought could be impor­tant to all sorts of things that are going on. For exam­ple, a lot of the Swing Left chap­ters and Indi­vis­i­ble chap­ters are run­ning Knock Every Door can­vass­es. They have a pro­gram, we have a plat­form to help peo­ple with resources to get trained and tools to use and data entry abil­i­ty and the con­fer­ence calls where peo­ple can debrief togeth­er and sup­port each other.
In this work we have real­ly said this plat­form is going to be used by any­one who sup­ports racial and eco­nom­ic jus­tice. But in our oth­er work we are more specif­i­cal­ly ide­o­log­i­cal. There is a real divide in the par­ty right now and all these calls for uni­ty with­in the Demo­c­ra­t­ic Par­ty, I think they kind of get it wrong, the calls for uni­ty and heal­ing. I think what we actu­al­ly have [is] groups of peo­ple that believe dif­fer­ent things. I think we have fac­tions or for­ma­tions, and the peo­ple we gen­er­al­ly refer to as the neolib­er­als, they want to have a few more win­ners and a few less losers, but they want to keep the cur­rent eco­nom­ic sys­tem basi­cal­ly the way it is.
Then, there are oth­er peo­ple that think that finan­cial­ized cap­i­tal­ism is a huge con­trib­u­tor to gross eco­nom­ic and racial injus­tice and that we have to take on cap­i­tal­ism and struc­tur­al racism at the same time. That is incom­pat­i­ble with a par­ty which rep­re­sents big mon­ey and elites in this coun­try. In our oth­er work, we are work­ing on racial jus­tice cam­paigns. We are work­ing to elect dis­trict attor­neys who are going to end mass incar­cer­a­tion. We are look­ing at oth­er munic­i­pal and coun­ty cam­paigns where we can stop pipelines and pro­tect vot­ing rights, super­vise elec­tions and that kind of stuff. I think that it is impor­tant to be clear about what you believe in and to be work­ing for spe­cif­ic solu­tions, but also I think it is sort of the tax on all of us, or maybe a tithe, that we all need to con­tribute to cre­at­ing prac­tices and infra­struc­ture for every­one that is going to lift all boats.
And I think that when we have a sys­tem or when we are push­ing tac­tics that involve get­ting more peo­ple involved, get­ting vol­un­teers involved, and talk­ing to more vot­ers that is good for strength­en­ing little‑d democ­ra­cy. This is how we make peo­ple more impor­tant than mon­ey and it is some­thing that we need to work on even as we are pur­su­ing oth­er spe­cif­ic poli­cies. This is why we are real­ly open to this being some­thing we hope is adopt­ed by the par­ties, no mat­ter where we stand on some of the issues and some of the ide­o­log­i­cal bat­tles which we are engaged in and that I think are real­ly impor­tant, but I think this is impor­tant, too.
Sarah: I sup­pose is part of the goal of this is to bring some feed­back back to can­di­dates and cam­paign­ers about what peo­ple actu­al­ly care about and what peo­ple are actu­al­ly feel­ing and that should shape what those pol­i­cy deci­sions end up being, right?
Becky: Yes, I think that is right. I think if cam­paigns actu­al­ly heard word for word from vot­ers, and if they tried to talk all the vot­ers — not just a small num­ber of vot­ers they cher­ry-picked to swing an elec­tion — there are a lot of things to take away from the 2016 pres­i­den­tial elec­tion. One of the things to take away was how absolute­ly dan­ger­ous it was, that strat­e­gy which was going for 50 per­cent of the vote plus one because there should have been a wide mar­gin between the Clin­ton cam­paign and the Trump cam­paign going into elec­tion day. Had there been that wide mar­gin, then the Comey rev­e­la­tions and the oth­er things, they could have got­ten it down some, but it wouldn't have been so catastrophic.
The big data strat­e­gy is where essen­tial­ly you hire a bunch of data con­sul­tants to run a bunch of mod­els to find out, ​"What is the small­est num­ber of peo­ple you can talk to and win? Who are those peo­ple and what do they care about?" We need to talk to every­body. When you talk to a small group of peo­ple, they may not reflect back what the cam­paign needs to hear and about what is real­ly going on with most of the con­stituents in that race. I think that cam­paigns need to hear from the major­i­ty of the peo­ple how poli­cies are affect­ing their lives. Then, that could real­ly change what politi­cians decide to talk about and fight for.
One of the things that I real­ly learned from talk­ing to peo­ple across the coun­try is that the peo­ple that are not par­tic­i­pat­ing in elec­tions, the so-called ​"low infor­ma­tion vot­ers," it is not that they are igno­rant peo­ple at all. In fact, time and time again, when I talk to them I come away feel­ing like they have a very sophis­ti­cat­ed polit­i­cal analy­sis and they are choos­ing not to par­tic­i­pate in pol­i­tics. Not because they don't know, but because their lib­er­a­tion is not on the bal­lot or they don't see how vot­ing is actu­al­ly going to mate­ri­al­ly change any­thing in their lives. I think that reestab­lish­ing the feed­back loop of talk­ing vot­ers is doing an impor­tant thing. That the con­cerns from the peo­ple that are not par­tic­i­pat­ing can also be some­thing that politi­cians take into account, not just the nar­row slice of vot­ers who they think will put them over the top.
Sarah: We are hav­ing this con­ver­sa­tion short­ly before the People's Sum­mit, which is going to be the sec­ond year in a row of this post-Bernie cam­paign gath­er­ing. You are going to be talk­ing. What are you look­ing for­ward to about it?
Becky: I am real­ly excit­ed about the People's Sum­mit in Chica­go. I feel like it could real­ly be a turn­ing point for the resis­tance in 2017. I am talk­ing about a cou­ple of things there. One, there is going to be a pan­el about big orga­niz­ing after Bernie. Big orga­niz­ing is this idea of cam­paign­ing behind big ideas that are real­ly going to change things and get­ting as many peo­ple involved as pos­si­ble in mak­ing change.
And then also, I am real­ly excit­ed to be there because this is an explic­it gath­er­ing of the left activists who are fight­ing both fas­cism and neolib­er­al­ism and are involved in a project of polit­i­cal edu­ca­tion so that we know not just which races we need to win and not just who we are sup­port­ing, but, ​"What is it that we are actu­al­ly for and why?" and ​"How is what's going on right now and is that caused by the deep­er issues that are going on in pol­i­tics?" I am very excit­ed to be part of a move­ment that cares about this kind of analy­sis and putting it into action and that cares about bring­ing move­ment val­ues into elec­toral pol­i­tics. I think we will look back on the People's Sum­mit in 2017 pos­si­bly as a real turn­ing point for the Demo­c­ra­t­ic Par­ty and for the Amer­i­can left at a real­ly dire moment when big change is need­ed and the coun­try could go in two very dif­fer­ent directions.
Sarah: How can peo­ple keep up with you and sign up to knock every door?
Becky: Go to Knock​Ev​ery​Door​.org. If you sign up at Knock​Ev​ery​Door​.org, you will get a text mes­sage from a vol­un­teer invit­ing you to be on a con­fer­ence call where you can talk to peo­ple about how you can get start­ed going door-to-door in your com­mu­ni­ty. It is not just about get­ting some infor­ma­tion, it is not just a soft­ware site, it is real­ly a com­mu­ni­ty of vol­un­teers that are sup­port­ing each oth­er to do this work and we would love to have as many peo­ple come and join us as available.
You can fol­low me on Twit­ter. I am @BBond. Then, you can also find me on the web at Rules​For​Rev​o​lu​tion​ar​ies​.org.
Inter­views for Resis­tance is a project of Sarah Jaffe, with assis­tance from Lau­ra Feuille­bois and sup­port from the Nation Insti­tute. It is also avail­able as a pod­cast on iTunes. Not to be reprint­ed with­out permission.
Sarah Jaffe
is a for­mer staff writer at
In These Times
and author of
Nec­es­sary Trou­ble: Amer­i­cans in Revolt
, which Robin D.G. Kel­ley called ​
"
The most com­pelling social and polit­i­cal por­trait of our age." You can fol­low her on Twit­ter
@sarahljaffe
.