Why Chicago Won't Go Bankrupt—And Detroit Didn't Have To
Detroit's bankruptcy wasn't inevitable. Neither is Chicago's. But the austerity hawks don't want you to know that.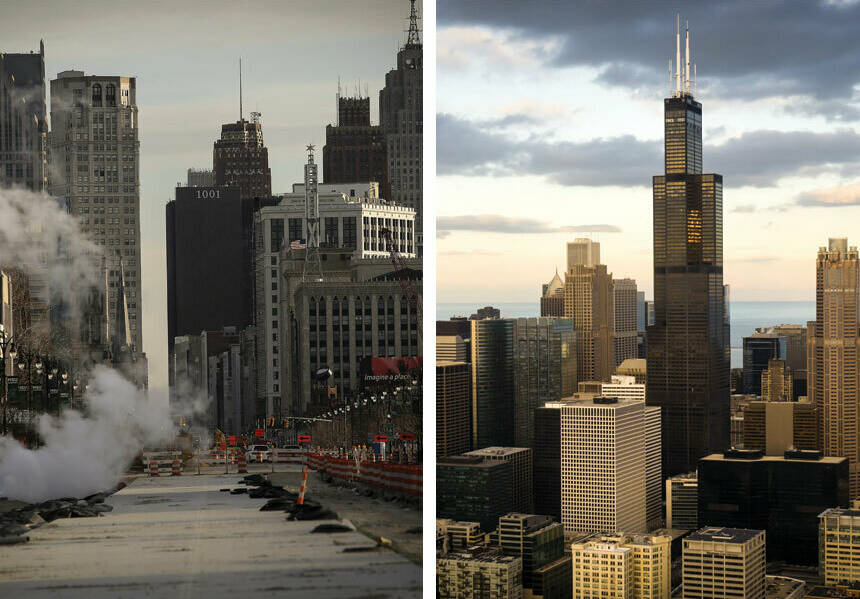 When Detroit became the largest city in the his­to­ry of the Unit­ed States to file bank­rupt­cy in 2013, a ques­tion quick­ly emerged: Which city would be next?
The $198 million shortfall could have been addressed fairly easily—in part, simply by undoing state actions that had pushed Detroit into bad financial straits in the first place.
Because con­ven­tion­al wis­dom held that bloat­ed pen­sions had bank­rupt­ed Detroit, the con­ver­sa­tion revolved around oth­er cities with large pen­sion short­falls, such as New York, Philadel­phia and Jack­sonville, Flori­da. Anti-union politi­cians used the oppor­tu­ni­ty to hold up Detroit as a boogey­man. Bruce Rauner, then a Repub­li­can can­di­date for Illi­nois gov­er­nor, ran a cam­paign ad in 2013 that said, ​"Detroit just declared bank­rupt­cy, and if we don't change direc­tion, Illi­nois is next," explic­it­ly invok­ing the state's unfund­ed pen­sion lia­bil­i­ty as the rea­son (it should be not­ed that this claim was untrue, as fed­er­al law bars states from fil­ing bankruptcy).
All of this uproar rest­ed on a basic false­hood in the dom­i­nant pub­lic nar­ra­tive around Detroit: that pen­sions played a key role in dri­ving the city bank­rupt. But those who stud­ied the bank­rupt­cy close­ly know that the reverse is true: The city filed bank­rupt­cy so that it could cut pensions.
Detroit's bank­rupt­cy was not borne out of finan­cial neces­si­ty and was not a fore­gone con­clu­sion. It was a polit­i­cal deci­sion made by state offi­cials. Gov. Rick Sny­der and the Michi­gan Leg­is­la­ture chose to push the dis­tressed city over the edge in order to accom­plish two oth­er­wise dif­fi­cult polit­i­cal goals: slash­ing pen­sions and region­al­iz­ing the Detroit Water and Sew­er­age Depart­ment. It was dis­as­ter cap­i­tal­ism at its finest.
Aus­ter­i­ty hawks are now hop­ing to use the Detroit play­book in oth­er cities to force the pub­lic to accept extreme mea­sures to fix bud­get crises. And the bond mar­kets seem to have final­ly set­tled on an answer to that ques­tion about which city will be the next Detroit: Chica­go. Moody's Investor Ser­vice, one of the three major cred­it rat­ing agen­cies, just down­grad­ed Chicago's cred­it rat­ing to junk lev­el — the munic­i­pal equiv­a­lent of a sub­prime cred­it score, cau­tion­ing poten­tial lenders that the city may not be able to pay them back — mak­ing it the low­est-rat­ed major city in the coun­try after Detroit.
Chica­go is not an obvi­ous choice. It remains the third largest city in the coun­try, has a thriv­ing down­town and is home to some of the largest and most prof­itable cor­po­ra­tions and wealth­i­est peo­ple in the world. Chica­go clear­ly has mon­ey, even though its dis­tri­b­u­tion is wild­ly unequal.
But as was the case in Detroit, the talk of a Chica­go bank­rupt­cy has lit­tle to do with the city's finan­cial health and much to do with a broad­er polit­i­cal agen­da to oblit­er­ate the social safe­ty net and slash pen­sions. Even though there are numer­ous rea­sons why Chica­go is not going bank­rupt, the fact is that there has been a sus­tained effort by politi­cians like May­or Rahm Emanuel to cre­ate a finan­cial cri­sis and then use the threat of bank­rupt­cy in order to ush­er in deep and painful cuts, just as the Right was able to do in Detroit.
Chica­go is the test case for whether the Detroit play­book can be run in oth­er, more pros­per­ous cities. If it suc­ceeds there, cities across the coun­try will like­ly emu­late this strat­e­gy to bal­ance bud­gets on the backs of work­ing-class com­mu­ni­ties while let­ting banks, big cor­po­ra­tions and the rich off the hook.
The Detroit playbook
Most of us learn about bank­rupt­cy through games like Monop­oly or Wheel of For­tune, where being bank­rupt is syn­ony­mous with being broke. But when it comes to munic­i­pal­i­ties, not only is bank­rupt­cy a choice, it is a polit­i­cal choice. Elect­ed offi­cials decide whether to do it, when to do it and how to do it, and their pri­ma­ry rea­sons for doing it do not even have to be financial.
Munic­i­pal bank­rupt­cy is also unique in oth­er ways. In a cor­po­rate bank­rupt­cy, for exam­ple, a com­pa­ny can be liq­ui­dat­ed and all of its assets can be sold off to pay its cred­i­tors. How­ev­er, as a mat­ter of prac­ti­cal­i­ty, a city can­not be liq­ui­dat­ed. Detroit is not Cir­cuit City. If all its assets were sold off — streets, bus­es, police and fire sta­tions — what would hap­pen to the peo­ple who con­tin­ued to live there post-bank­rupt­cy? Because munic­i­pal bank­rupt­cies are premised on the notion that cities should sur­vive their bank­rupt­cy and one day even thrive, the goal is not to oblit­er­ate a city in order to pay down its out­stand­ing debt.
Under Chap­ter 9 of the Unit­ed States Bank­rupt­cy Code, munic­i­pal­i­ties may file bank­rupt­cy if they are unable to pay their debts as they come due. In order to emerge from bank­rupt­cy, they don't need to be able to pay all of their out­stand­ing debts right away, but rather to pay their bills on time. Just as a home­own­er with a 30-year mort­gage only needs enough mon­ey to make each month­ly pay­ment, cities sim­i­lar­ly just need to be able to pay their bills, one bill at a time.
Dur­ing Detroit's bank­rupt­cy pro­ceed­ings, Emer­gency Man­ag­er Kevyn Orr, who had been appoint­ed by Sny­der to run the city dur­ing its fis­cal cri­sis, repeat­ed­ly assert­ed that the city had $18 bil­lion in out­stand­ing debt, so as to imply that the city had to come up with $18 bil­lion in sav­ings to get out of bank­rupt­cy. This was not true.
First of all, that $18 bil­lion num­ber itself was inflat­ed using non-stan­dard account­ing assump­tions and by includ­ing debt that did not actu­al­ly belong to the city itself, such as the debt of the Detroit Water and Sew­er­age Depart­ment. But more impor­tant­ly, the $18 bil­lion fig­ure was irrel­e­vant for the pur­pos­es of Chap­ter 9 bank­rupt­cy, since there was nev­er any expec­ta­tion that the city pay all of its long-term debts imme­di­ate­ly. What mat­tered, accord­ing to an analy­sis by the think-tank Demos, was the $198 mil­lion cash flow short­fall that the city faced that fis­cal year. Detroit's expens­es were $198 mil­lion more than its rev­enues, so it could not pay its bills as they came due.
The $198 mil­lion short­fall could have been addressed fair­ly eas­i­ly — in part, sim­ply by undo­ing state actions that had pushed Detroit into bad finan­cial straits in the first place. For exam­ple, Detroit had tak­en a major finan­cial hit over the course of 2011 and 2012, when Sny­der and the Michi­gan Leg­is­la­ture decid­ed to cut annu­al state rev­enue shar­ing with the city by $67 mil­lion. Restor­ing that fund­ing would have filled one-third of the city's short­fall. Sec­ond, there were state-imposed restric­tions on the city's abil­i­ty to raise local tax­es, dat­ing back to the 1990s. Lift­ing those restric­tions would have allowed the city to raise tax­es and bring in new revenue.
Or the leg­is­la­ture could have passed a law requir­ing sub­ur­ban employ­ers to auto­mat­i­cal­ly deduct city income tax for reverse com­muters who lived in Detroit. The city instead had to rely on reverse com­muters to vol­un­tar­i­ly pay their tax­es. Accord­ing to a study com­mis­sioned by the Mayor's Office, in 2009 alone, Detroit lost $142 mil­lion as a result of this loop­hole. But instead, the $18 bil­lion fig­ure was held up to cre­ate a greater sense of urgency in order to jus­ti­fy dras­tic cuts at the expense of pub­lic employ­ees and wrest con­trol of the water depart­ment from the city.
Con­ser­v­a­tives in Michi­gan had long been scape­goat­ing Detroit's pen­sion oblig­a­tions as the source of its fis­cal prob­lems, and Sny­der began enact­ing poli­cies to under­mine pen­sions his first year in office. How­ev­er, the Michi­gan Con­sti­tu­tion, like that of many oth­er states, pro­tects gov­ern­ment work­ers' pen­sions from cuts — since pen­sions are, after all, deferred wages for work that has already been done. Fed­er­al bank­rupt­cy law, how­ev­er, does not pro­tect pen­sion­ers when a city declares bank­rupt­cy. Detroit was a test case for whether munic­i­pal­i­ties could get around their state con­sti­tu­tions by fil­ing bank­rupt­cy under Chap­ter 9. In 2013, dur­ing Detroit's bank­rupt­cy pro­ceed­ings, a fed­er­al judge ruled that they can, because fed­er­al law trumps state law.
Then there was the Detroit Water and Sew­er­age Depart­ment (DWSD), a source of polit­i­cal pow­er for the major­i­ty African-Amer­i­can city, which many white sub­ur­ban res­i­dents had grown to resent. White sub­ur­ban vot­ers are an impor­tant con­stituen­cy for Sny­der, who needs them to make up for his low approval rat­ing in Detroit, Michigan's largest city.
The elec­tion of Cole­man Young as Detroit's first African-Amer­i­can may­or in 1973 accel­er­at­ed white flight out of the city. Even though most of Detroit's white fam­i­lies moved to the sub­urbs, they were still depen­dent on the city-run water depart­ment, which serves most of south­east­ern Michi­gan and 40 per­cent of the state's pop­u­la­tion. This cre­at­ed a lot of ten­sion. When­ev­er there were ser­vice prob­lems or rate hikes, sub­ur­ban res­i­dents blamed it on the mis­man­age­ment by what they believed to be cor­rupt and incom­pe­tent city offi­cials. While cor­rup­tion was a real prob­lem in Detroit, includ­ing in the DWSD, these charges often fed off racial tensions.
Through bank­rupt­cy, the state was final­ly able to take con­trol of the water depart­ment out of Detroit's hands and region­al­ize it. In one stroke, Sny­der had achieved two long-sought polit­i­cal goals.
The next Detroit?
Politi­cians have been rais­ing the specter of a Detroit-style bank­rupt­cy in Chica­go for a cou­ple of years now— most recent­ly in the may­oral runoff elec­tion this spring, when Sen. Mark Kirk com­ment­ed that Chica­go could end up like Detroit if May­or Emanuel lost. But the threat nev­er seemed cred­i­ble to most peo­ple who were actu­al­ly famil­iar with Chica­go, because Chica­go appears to be a fun­da­men­tal­ly pros­per­ous city. Then, in May, Moody's Investor Ser­vice down­grad­ed the cred­it rat­ings of both the City of Chica­go and Chica­go Pub­lic Schools to junk lev­el. Sud­den­ly, the threat seemed much more real.
The down­grades could force the city and the school dis­trict to hand over as much as $2.5 bil­lion in ear­ly pay­ments and penal­ties to banks on var­i­ous finan­cial deals. The city was forced to pay penal­ty inter­est rates on a $674 mil­lion bond offer­ing, which will cost tax­pay­ers an extra $70 mil­lion. The down­grades them­selves were a direct response to an Illi­nois Supreme Court deci­sion affirm­ing the state constitution's pro­tec­tion of gov­ern­ment work­ers' pen­sions, effec­tive­ly pro­hibit­ing the state and local gov­ern­ments from slash­ing pen­sions to bal­ance their bud­get. May­or Rahm Emanuel would not be allowed to cut pen­sions and pay debts. Chica­go seemed to be run­ning out of options. Talk of a bank­rupt­cy sud­den­ly no longer seemed so farfetched.
Except that it is, because the polit­i­cal will is not there. Emanuel does not want his lega­cy to be that he bank­rupt­ed the third largest city in the coun­try. Even though wealth and income are very unequal­ly dis­trib­uted across the city, Chica­go still enjoys a healthy tax base and, unlike Detroit, has no statu­to­ry lim­its on its abil­i­ty to raise local tax­es (although it can­not imple­ment a city income tax with­out state autho­riza­tion). Chica­go will not go bank­rupt because the may­or will raise tax­es if nec­es­sary to avoid that fate.
There is one oth­er big rea­son why Chica­go will not go bank­rupt: It can't. Under Illi­nois state law, munic­i­pal­i­ties are not allowed to file bank­rupt­cy. Chap­ter 9 delin­eates the process for munic­i­pal bank­rupt­cy, but it is up to each indi­vid­ual state whether to let cities use that process. Michi­gan does. Illi­nois, like 25 oth­er states, does not.
As was the case in Detroit, politi­cians are invok­ing bank­rupt­cy in Chica­go to cre­ate pub­lic sup­port for slash­ing pen­sions. Like Michigan's, the Illi­nois Con­sti­tu­tion also pro­tects gov­ern­ment work­ers' pen­sions. There was a bill in the Illi­nois Leg­is­la­ture this ses­sion to allow munic­i­pal bank­rupt­cies, and its chief pro­po­nents made no secret of the fact that their goal was to let cities use bank­rupt­cy to get around the state constitution's pen­sion pro­tec­tions. Elect­ed offi­cials from small­er cities, such as Rock­ford May­or Lar­ry Mor­ris­sey, her­ald­ed the munic­i­pal bank­rupt­cy bill as a god­send that would allow them to ​"set aside the unman­age­able and unsus­tain­able labor con­tracts and pen­sion agree­ments with which local tax­pay­ers have been sad­dled across the state."
The bill was sup­port­ed by Illi­nois Repub­li­can Gov. Bruce Rauner, who advo­cat­ed the use of bank­rupt­cy to help munic­i­pal­i­ties deal with their bud­get woes. Of course, he, too, was tak­ing a page out of the Detroit play­book. He cre­at­ed a finan­cial cri­sis for cities across the state by propos­ing a 50 per­cent reduc­tion in munic­i­pal­i­ties' share of state income tax rev­enue. Like state offi­cials did to Detroit, Rauner inflict­ed finan­cial hard­ship on cities and then dan­gled bank­rupt­cy in front of them as the solution.
The munic­i­pal bank­rupt­cy bill did not pass before the end of the ses­sion on May 31, but even the threat of such leg­is­la­tion can be a pow­er­ful tool for offi­cials to strength­en their hand in con­tract nego­ti­a­tions with pub­lic sec­tor unions and con­vince the broad­er pub­lic to accept an aus­ter­i­ty agenda.
The preda­to­ry lend­ing cri­sis no one talks about
Aus­ter­i­ty hawks have done a great job of sell­ing bud­get short­falls as the result of reck­less over­spend­ing by incom­pe­tent and cor­rupt gov­ern­ment offi­cials. As a result, the solu­tion gets framed as a choice between cut­ting pen­sions or slash­ing the social safe­ty net. Work­ing-class com­mu­ni­ties lose either way, while the 1% remains untouched.
But the real prob­lem with pub­lic bud­gets is that there is not enough rev­enue com­ing into pub­lic cof­fers. Since the Rea­gan Rev­o­lu­tion, there has been a sus­tained effort to dele­git­imize gov­ern­ment and sup­press tax­es. Tax rates for cor­po­ra­tions and top income-earn­ers have declined at pre­cise­ly the moment that the Unit­ed States has seen the most explo­sive pop­u­la­tion growth, leav­ing all lev­els of gov­ern­ment unable to afford to pay for the basic ser­vices that com­mu­ni­ties need to func­tion. As a result, gov­ern­ment bor­row­ing has skyrocketed.
While it is sound pub­lic pol­i­cy to use debt to fund long-term cap­i­tal projects, it is deeply prob­lem­at­ic when gov­ern­ments are forced to bor­row mon­ey to deal with rev­enue short­falls. It is even more prob­lem­at­ic when they are doing so as a result of a con­cert­ed effort to sup­press tax­es by the same banks and peo­ple they are bor­row­ing from. Banks and the wealthy cre­at­ed a cri­sis by lob­by­ing hard to sup­press tax­es, and then they use that cri­sis to enrich them­selves — a page right out of the Detroit playbook.
When cities and states bor­row mon­ey by issu­ing bonds, the lenders are typ­i­cal­ly high-wealth indi­vid­u­als, who pur­chase the bonds to get a tax break. It is a per­verse sys­tem through which, rather than pay­ing their fair share in tax­es, the wealthy are instead able to lend that mon­ey to us, charge us inter­est for it, and then claim a fur­ther tax break on it.
The banks that under­write munic­i­pal bonds also prof­it by sell­ing cities addon prod­ucts like inter­est rate swaps. As munic­i­pal debt explod­ed, from $361 bil­lion in 1981 (about $940 bil­lion in today's dol­lars) to $3.7 tril­lion in 2012, banks start­ed tar­get­ing cash-strapped cities with more and more of these add-ons, which had high costs and hid­den risks, were over­ly com­plex and were often designed to fail. They were preda­to­ry finance deals, much like the preda­to­ry mort­gages tar­get­ed at cash­strapped home­own­ers. Some of these prac­tices were ille­gal, while oth­ers were mere­ly uneth­i­cal. The effect was that banks col­lect­ed bil­lions in fees from bor­row­ing that was neces­si­tat­ed in the first place by their refusal to pay their fair share in taxes.
At the same time that this was hap­pen­ing, anti-gov­ern­ment con­ser­v­a­tives start­ed sound­ing the alarm over ris­ing gov­ern­ment debt in order to make the case for pri­va­tiz­ing ser­vices. This allowed many of the same cor­po­ra­tions that had lob­bied for low­er tax­es to then prof­it off the rev­enue cri­sis they had helped cre­ate by lit­er­al­ly buy­ing up pub­lic assets, such as toll­ways and park­ing meters, and then charg­ing us to use them.
Because state and local gov­ern­ments did not have enough tax rev­enue com­ing in, they often opt­ed for ​"pen­sion hol­i­days" to make ends meet, skip­ping pay­ments to the pen­sion fund. Over time, this cre­at­ed large unfund­ed pen­sion lia­bil­i­ties. In effect, cities and states bor­rowed mon­ey from pen­sion­ers to make up for rev­enue short­falls. Now aus­ter­i­ty hawks are using these unfund­ed lia­bil­i­ties to argue for slash­ing pen­sions, even though it was their own anti-tax poli­cies that caused the problem.
A pro­gres­sive playbook
We need to flip the Detroit play­book on its head to cre­ate a new class of win­ners: work­ing class com­mu­ni­ties. We must reject the par­a­digm in which Moody's points a gun to our head and forces us to choose between clos­ing schools and throw­ing seniors under the bus. We can­not allow aus­ter­i­ty hawks to man­u­fac­ture crises in order to push rad­i­cal­ly regres­sive agen­das that bal­ance the bud­gets on the backs of those who can least afford it.
We need to define the ​"aus­ter­i­ty" prob­lem as what it is — a lack of rev­enue caused by the refusal of Wall Street banks, big cor­po­ra­tions and mil­lion­aires to pay their fair share in tax­es— and put forth solu­tions to make them pay. This includes pro­gres­sive rev­enue mea­sures: We can pass a mil­lion­aires tax and a finan­cial trans­ac­tions tax, close cor­po­rate tax loop­holes and end sub­si­dies for prof­itable com­pa­nies. It also includes poli­cies to stop Wall Street from goug­ing tax­pay­ers, like rene­go­ti­at­ing preda­to­ry bank­ing fees and tox­ic finan­cial deals, and cre­at­ing pub­lic banks to cut out Wall Street altogether.
We must reframe the choice for elect­ed offi­cials as one between the 99% and the 1%. Will Chicago's May­or Emanuel close anoth­er 50 schools to bal­ance the Chica­go Pub­lic Schools bud­get, or will he sue the banks that like­ly broke fed­er­al law by sell­ing the school dis­trict preda­to­ry inter­est rate swaps that have cost hun­dreds of mil­lions of dol­lars? Will Rauner cut state aid to cities in half and force them to slash essen­tial pub­lic ser­vices, or will he fight for a mil­lion­aires tax? Whose side is he on?
A quick Google search shows that near­ly every major city in Amer­i­ca has been called ​"the next Detroit" at some point in the last two years. The Right plans to use the Detroit play­book across the coun­try to force the gen­er­al pub­lic to accept uncon­scionable cuts to pub­lic works while let­ting the true cul­prits off the hook. We need to expose the peo­ple and cor­po­ra­tions who are prof­it­ing from the crises that they cre­at­ed, and force them to pay their fair share.