A Serious Occupation: 3 Years After Republic Windows Struggle, Workers Occupy Same Factory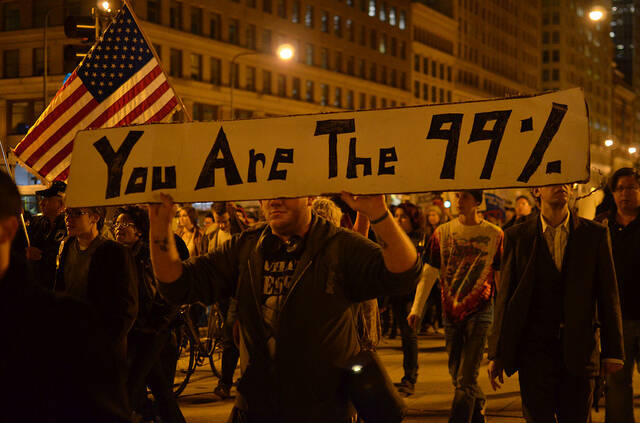 This article is a composite of two articles published by The Occupied Chicago Tribune here and here.
CHICAGO — A little more than three years after the Republic Windows and Doors workers occupied their Goose Island factory on Chicago's North Side, they are at it again. Late Thursday afternoon, workers occupied the same factory, now owned by Serious Materials, to protest being laid off without notice after local managers announced earlier in the day that the facility was bring closed immediately.
By early Friday morning, a deal had been reached between workers and management.
Dozens of Serious employees emerged from the Serious Materials factory building at 1333 N. Hickory Avenue last night, chanting ​"Si se pudo!" to cheers from a wet but excited crowd of roughly 30, many of whom had planned to spend the night in solidarity. Led by United Electrical (UE) workers union Local 1110 President Armando Robles, they exchanged hugs as Robles spoke into a camera. First in English, then in Spanish, he welcomed the result.
​
"
We got a good resolution, better than we expected," he said, and thanked those there for their support. The main portion of the settlement was an agreement that the workers could keep their jobs for
90
days while searching for new owners for the plant, and Robles' suggestion that the workers could run the company under their own banner was met with applause. ​
"
Give us hope, give us work! For the workers of America!" cheered someone from the crowd.
A short, conciliatory statement from a Serious Materials spokesperson followed, but minds were clearly elsewhere, elated with the victory and the future prospect of a cooperative enterprise.
Robles, speaking to press in alternating English and Spanish, described events of the morning, when workers were taken to a notorious anti-union law firm and informed that their jobs would be terminated, effective immediately; though they would still receive 60 days of Worker Adjustment and Retraining Notification (WARN) Act pay, they would not be allowed to work any more. (Violation of the WARN Act was at the core of the 2008 occupation of the plant.)
The company planned to begin dismantling the plant for sale, to which Robles and UE responded, ​"This is not acceptable."
At the 5 p.m. shift change, workers stayed in the factory, and the rest is (newly written) history. According to organizer and journalist Micah Uetricht, who updating from the scene via Twitter: ​"Workers demanded chance to find buyer, save jobs… or start worker-owned cooperative. Company said no, so they occupied."
Pizza was delivered to the occupying workers, but met with some resistance from Chicago police present. According to Uetricht, the pizza was let in after chants of ​"let the workers eat," and after one supporter told the police: ​"Sir, you don't want to be on camera denying workers pizza." But according to Chicagoist reporter Aaron Cynic, the CPD ​"refused to let more food into" the building.
When the factory was Republic Windows and Doors, it was the recipient of millions of dollars of TIF money from Chicago taxpayers. In 2008, the factory drew national attention when around 200 workers participated in a six-day sit-down strike to demand severance pay and back wages.
In coming days, Robles said workers will get in touch with workers cooperative groups in New York and Argentina for guidance.
By the time the tents were packed and the workers on their ways, the rain had turned to ice and snow, leaving a pair of confused security guards cracking jokes outside the doors of a major labor victory.
Rosa Trakhtensky, Nick Burt, Joe Macaré contributed to this report; thanks to Aaron Cynic, Micah Uetricht and Kenzo Shibata.