No Such Agency
Glenn Greenwald's new book, No Place To Hide, recounts how he and Edward Snowden dragged the secretive agency into the spotlight.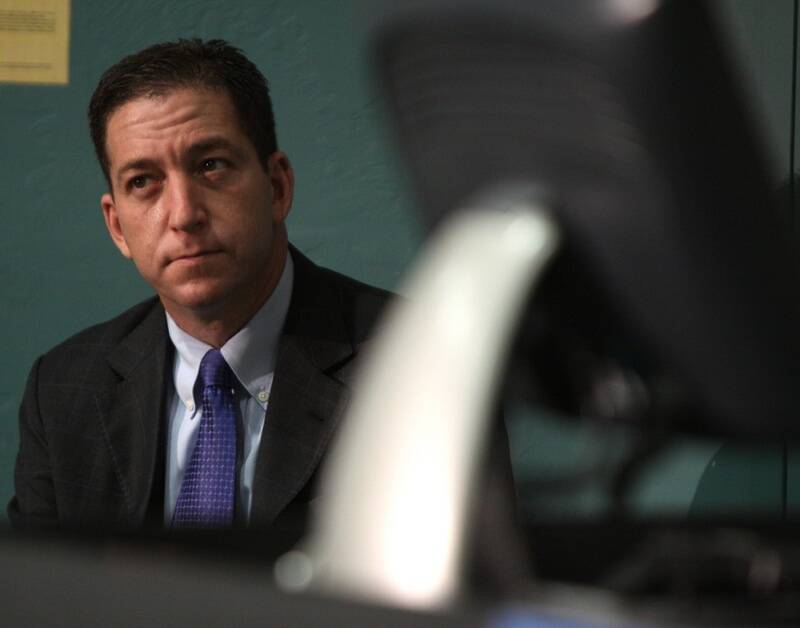 On June 5, 2013, when UK news­pa­per The Guardian informed U.S. offi­cials that it was about to pub­lish a report about the NSA's mass sur­veil­lance of Amer­i­cans, the gov­ern­men­t's response was indig­nant. Janine Gib­son, the paper's U.S. edi­tor, was ​"not a seri­ous jour­nal­ist," The Guardian ​"not a seri­ous news­pa­per," and ​"no nor­mal jour­nal­is­tic out­let would pub­lish this quick­ly with­out first meet­ing with us," unnamed offi­cials told the paper.
When government officials label Snowden or Greenwald a terrorist or criminal, it's not idle bullshit—it's representatives of one of the planet's most powerful forces identifying an enemy.
The report, pub­lished lat­er that day, was the first of a string of sto­ries about the NSA that earned The Guardian and the Wash­ing­ton Post a 2014 Pulitzer Prize for pub­lic ser­vice. No Place to Hide, a new book by jour­nal­ist Glenn Green­wald — the force behind many of those Guardian sto­ries — is a chill­ing and pre­cise indict­ment of the cul­ture of con­trol and secre­cy that has become Washington's ​"nor­mal," as well as a sto­ry of how it may be com­ing to an end.
Based on doc­u­ments care­ful­ly pur­loined by whistle­blow­er Edward Snow­den, The Guardian report­ing pro­vid­ed unprece­dent­ed glimpses into the hyper-secre­tive world of the NSA, show­ing an agency with lit­tle over­sight, vast capa­bil­i­ties and an insa­tiable hunger to spy on every­one and every­thing. The respons­es to the leaks from estab­lish­ment media, for their part, show a U.S. main­stream press eager and will­ing to defend and serve pow­er. Green­wald is typ­i­cal­ly bois­ter­ous and unspar­ing in attack­ing these two forces, the book's main tar­gets. (Even the Wash­ing­ton Post, co-win­ner of the Pulitzer, doesn't escape his ire; Green­wald calls its edi­to­r­i­al page writ­ers ​"vocif­er­ous and mind­less cheer­lead­ers for U.S. mil­i­tarism, secre­cy and surveillance.")
No Place To Hide is pep­pered with crit­i­cism of the dys­func­tion­al unwrit­ten rules of U.S. nation­al-secu­ri­ty report­ing. For exam­ple, the prac­tice of ​"treat­ing [gov­ern­ment asser­tions] with respect no mat­ter how friv­o­lous they are," ​"vest­ing with equal cre­dence the gov­ern­men­t's defens­es and the actu­al facts," and ​"dilut­ing rev­e­la­tions to a mud­dled, inco­her­ent, often incon­se­quen­tial mess." Or the sup­pres­sion of unfa­vor­able sto­ries at the gov­ern­men­t's request, as when the New York Times quashed an elec­tion-year 2004 sto­ry on war­rant­less wire­tap­ping under George W. Bush. (The paper pub­lished it a year lat­er; Green­wald sug­gests this is because they did­n't want to get scooped by a forth­com­ing book from their own reporter.) And then there's the jin­go­ist's unholy trin­i­ty, ​"nation­al secu­ri­ty," ​"ter­ror­ism," and ​"9÷11," used to jus­ti­fy any gov­ern­ment abuse or moral com­pro­mise, no mat­ter how great. Or even the myth of objec­tiv­i­ty itself, a chimeric neu­tral­i­ty that is in prac­tice a pow­er­ful defense of the sta­tus quo. All receive treat­ment, and it's clear: Some­thing is very rot­ten in the metaphor­i­cal sur­veil­lance state of Den­mark. (In the less metaphor­i­cal state of the U.S., with the help of the media, the NSA reigns.)
Green­wald does not pull his punch­es: Argu­ments have ​"obvi­ous moral short­com­ings;" they are not mere­ly deceit­ful, but deceit­ful ​"in the extreme." But his con­tempt for the swarm of pun­dits and politi­cians vom­it­ing, con­sum­ing and vom­it­ing again safe, ​"neu­tral" opin­ions in defense of the sta­tus quo is cut, sea­soned and made palat­able by his clear­ly sourced looks at indi­vid­ual spy­ing pro­grams and espe­cial­ly, the grip­ping retellings of the events behind the news. Every deci­sion was high stakes, and most are unpacked for the read­er. This sto­ry will make an excel­lent movie.
In between polemics and sto­ry­telling, Green­wald makes heart­felt and con­vinc­ing appeals about the impor­tance of pri­va­cy—a right with many faces, as law pro­fes­sor Daniel Solove has not­ed—and the unique dan­ger of wide­spread online surveillance.
​"The Inter­net is not some stand-alone, sep­a­rate domain where a few of life's func­tions are car­ried out," Green­wald writes. ​"It is not mere­ly our post office and our tele­phone. … It is the epi­cen­ter of our world, the place where vir­tu­al­ly every­thing is done. It is where friends are made, where books and films are cho­sen, where polit­i­cal activism is orga­nized, where the most pri­vate data is cre­at­ed and stored."
When the Church Com­mit­tee, a 1970s reform body tasked with clean­ing up intel­li­gence abus­es of anoth­er age (and which is quot­ed in the book's ded­i­ca­tion), addressed sur­veil­lance and sab­o­tage, there was still one realm that felt unas­sail­ably pri­vate: human thought. With the devel­op­ment of the Inter­net, how­ev­er, view­ing people's search­es, emails, Tweets and diver­sions becomes tan­ta­mount to min­dread­ing. Or, as Green­wald writes, ​"To per­mit sur­veil­lance to take root on the Inter­net would mean sub­ject­ing vir­tu­al­ly all forms of human inter­ac­tion, plan­ning and even thought itself to com­pre­hen­sive state examination."
The man behind the leaks
The under­stand­ing of one­self as poten­tial­ly being watched is a crit­i­cal part of effec­tive sur­veil­lance – the point isn't that the gov­ern­ment is watch­ing every­thing — it's that at any point, it could be, that any action could be scru­ti­nized at any time. ​"Know it All, Col­lect it All, Process it All, Exploit it All," reads one NSA slide pub­lished for the first time in No Place To Hide. Under recent­ly depart­ed Direc­tor Kei­th Alexan­der, the NSA's goal was the col­lec­tion of every­thing, every­where — the total erad­i­ca­tion of pri­va­cy in any form or con­cep­tion. It was the sheer excess of the NSA's aims that turned Edward Snow­den from NSA hack­er to arguably the most sig­nif­i­cant whistle­blow­er in U.S. history.
For the first time, Green­wald quotes Snow­den describ­ing his time sta­tioned in Japan as an NSA con­trac­tor at Dell Cor­po­ra­tion, ​"The stuff I saw real­ly began to dis­turb me. I could watch drones in real time as they sur­veilled the peo­ple they might kill. You could watch entire vil­lages and see what every­one was doing. I watched [the] NSA track­ing peo­ple's Inter­net activ­i­ties as they typed. … I real­ized the true breadth of this sys­tem. And almost nobody knew it was happening."
No Place To Hide vivid­ly recounts the unfold­ing rela­tion­ship between Snow­den, Green­wald and film­mak­er Lau­ra Poitras, from their ini­tial con­tact (Snow­den con­nect­ed with Poitras when Green­wald could­n't fig­ure out encrypt­ed mes­sag­ing), to their meet­ings in Hong Kong and the tense days prepar­ing the ini­tial sto­ries for pub­li­ca­tion. Snowden's influ­ence on the author is as pal­pa­ble as his actions have been on the world since the sto­ries first broke, and Greenwald's admi­ra­tion for the whistle­blow­er's courage serves as an endear­ing coun­ter­point to the book's fiery anti-authoritarianism.
The dirty details
The doc­u­ments cho­sen for inclu­sion high­light major fea­tures of the NSA's glob­al oper­a­tions. First, from infor­ma­tion about the NSA's BOUND­LESS INFOR­MANT record-keep­ing sys­tem, which was at the top of the metic­u­lous­ly orga­nized archive that Snow­den gave Poitras and Green­wald, and from slides describ­ing the NSA's mis­sion to ​"col­lect it all," the doc­u­ments are intend­ed to destroy the cred­i­bil­i­ty of nation­al secu­ri­ty offi­cials who assured Con­gress and reporters that the NSA kept no such records, had no such mis­sion, and under­took no such collection.
Sec­ond, No Place To Hide​'s cen­tral sec­tion empha­sizes the NSA's rela­tion­ships with cor­po­rate part­ners, an essen­tial part of the agency's glob­al drag­net. The book includes a doc­u­ment, pre­vi­ous­ly report­ed in part by Der Spiegel but nev­er pub­lished in full, list­ing Qwest, AT&T, EDS, H‑P, Motoro­la, Cis­co, Qual­comm, Ora­cle, IBM, Ver­i­zon, Microsoft and Intel as part of a group of ​"over 80 Major Glob­al Cor­po­ra­tions" with whom the NSA has part­nered. Via the agen­cy's Spe­cial Source Oper­a­tions (SSO) unit, the NSA lever­ages these part­ner­ships to ​"gain access to high-capac­i­ty inter­na­tion­al fiber-optic cables, switch­es and/​or routers through­out the world."
That access lets the U.S. gov­ern­ment down­load mind­bog­gling amounts of data. One cor­po­rate part­ner­ship, code­named FAIRVIEW, yield­ed 200 mil­lion dig­i­tal and phone records per day in Decem­ber 2012. The scope of total col­lec­tion under SSO and oth­er units is far more vast — in mid-2012, more than 20 bil­lion ​"com­mu­ni­ca­tions events" world­wide per day. At times, the only obsta­cle to glob­al col­lec­tion is an inabil­i­ty to store all the infor­ma­tion that the NSA's ten­ta­cles bring in.
Third, the doc­u­ments direct par­tic­u­lar atten­tion to the NSA's involve­ment in eco­nom­ic espi­onage, a point of diplo­mat­ic ten­sion since the Guardian sto­ry broke. A pre­vi­ous­ly report­ed but nev­er pub­lished slide about NSA attacks on pri­vate net­works shows spe­cif­ic tar­get­ing of Brazil­ian ener­gy com­pa­ny Petro­bras, the Bel­gium-based SWIFT bank­ing sys­tem used for trans­ac­tions world­wide, and, for the first time, the Russ­ian oil giant Gazprom and air­line Aeroflot. Oth­ers show atten­tion to indi­vid­u­als close to Mex­i­can then-pres­i­den­tial can­di­date Enrique Peña Nieto and Brazil­ian Pres­i­dent Dil­ma Rouss­eff. ​"Stop­ping ter­ror," Green­wald states, ​"is clear­ly a pretext."
Some doc­u­ments out­line rel­a­tive­ly well-known major pro­grams like PRISM and XKEYSCORE, but oth­ers offer expand­ed looks at more niche oper­a­tions — the NSA's tech­niques for tar­get­ing for­eign diplo­mat­ic mis­sions in Wash­ing­ton, D.C., and New York; the appro­pri­ate­ly named THIEV­ING MAG­PIE and HOM­ING PIGEON, designed to inter­cept cell phone activ­i­ty on air­planes; and sur­veil­lance tar­get­ing the Con­tent Deliv­ery Net­works that house and serve some con­tent — such as pho­tos — used on Face­book pages.
Final­ly, Green­wald stress­es how the Five Eyes intel­li­gence part­ner­ship, a mil­i­tary alliance in place since World War II, enables great coop­er­a­tion (and hands-off treat­ment) between intel­li­gence agen­cies in the UK, US, Cana­da, Aus­tralia, and New Zealand. Mate­ri­als appro­pri­at­ed by Snow­den include doc­u­ments from the British Gov­ern­ment Com­mu­ni­ca­tions Head­quar­ters that describe psy­cho­log­i­cal hacks designed to sew dis­trust and para­noia among tar­gets, while oth­ers advo­cate "'dis­rup­tion' tech­niques in lieu of … ​'tra­di­tion­al law enforce­ment'" — in oth­er words, sim­ply attack­ing sus­pects dig­i­tal­ly rather than deal­ing with the pesky for­mal­i­ties of ​"evi­dence-gath­er­ing, courts, and prosecutions."
Pow­er­ful enemies
Amidst the year's sur­re­al pro­ces­sion of rev­e­la­tions about gov­ern­ment spy­ing, it can be easy to lose sight of the sig­nif­i­cance of these leaks. But the NSA is an enti­ty so obsessed with secre­cy that in Wash­ing­ton, its ini­tials at one time were said to stand for ​"No Such Agency," and so for­mi­da­ble that pri­or to 2013, promi­nent elect­ed crit­ics spoke pub­licly of its excess only in cryp­tic warn­ings. The amount of trans­paren­cy and crit­i­cism in the wake of the Snow­den Files was pre­vi­ous­ly unthink­able; it pos­es an exis­ten­tial threat to the sta­tus quo.
So when gov­ern­ment offi­cials label Snow­den or Green­wald a ter­ror­ist or crim­i­nal, it's not idle bull­shit — it's rep­re­sen­ta­tives of one of the planet's most pow­er­ful forces iden­ti­fy­ing an ene­my. After Green­wald's part­ner, David Miran­da, was released after almost nine hours of deten­tion in Heathrow Air­port under a ter­ror­ism statute, he said, ​"There's real­ly noth­ing scari­er than being told by these two gov­ern­ments that you're a ter­ror­ist. … You real­ize they can do any­thing to you. … They kid­nap peo­ple, imprison them with­out charges or a lawyer, dis­ap­pear them, put them in Guan­tanamo, they kill them." Green­wald sur­mis­es offhand­ed­ly at one point that the secu­ri­ty state is more pow­er­ful than the pres­i­dent, and there is no real rea­son to believe he's wrong.
No Place to Hide is a deeply sat­is­fy­ing punc­tu­a­tion mark on what has sure­ly been a sin­gu­lar­ly uncom­fort­able year for the defense estab­lish­ment. It is a damn­ing pic­ture of a gov­ern­ment that oper­ates out­side of account­abil­i­ty, and of the war waged in the press against the peo­ple asso­ci­at­ed with the Snow­den Files, against jour­nal­ism, and against dis­sent. But ulti­mate­ly, No Place to Hide will be shock­ing in pro­por­tion to the depth of your illu­sions as to the good­ness of the main­stream media and the pow­er­ful inter­ests it defends. It leaves lit­tle room for argu­ment: What's nor­mal in Wash­ing­ton is very dan­ger­ous indeed.