A Win for Monsanto, a Loss for the World
The Ag giant has shown uncanny resilience—which bodes poorly for the planet's future.
Reprint­ed with per­mis­sion from Grist.
It looks like Monsanto has successfully engineered its seeds so that the whole generic biotech seed market will wither and die before it's fully flowered.
The top execs at Mon­san­to Corp. must be run­ning around HQ these days like direc­tor James Cameron post-Titan­ic, scream­ing ​"We're king of the world!" It's an under­stand­able reac­tion. Between a like­ly Supreme Court win, the recent­ly passed Mon­san­to Pro­tec­tion Act, and the company's vic­to­ry over a gov­ern­ment antitrust inves­ti­ga­tion, the com­pa­ny has been on quite a win­ning streak.
Odd, then, to remem­ber that less than three years ago, CNBC's stock mar­ket ​"ana­lyst" Jim Cramer declared that Monsanto's was ​"the worst stock of 2010." This came just before Forbes mag­a­zine all but with­drewits 2010 acco­lade that Mon­san­to was ​"com­pa­ny of the year."
Mon­san­to had all the hall­marks of a trou­bled com­pa­ny. Its net income dropped near­ly by half in 2010. By Octo­ber, its stock dropped by almost that much. But those were just the most obvi­ous indicators.
While it's true that, even at the time, the com­pa­ny dom­i­nat­ed the seed indus­try — 85 per­cent of all corn plant­ed in the U.S. that year con­tained Monsanto's patent­ed genet­i­cal­ly mod­i­fied traits, as did 92 per­cent of soy — its prod­ucts were tak­ing a beat­ing both in the fields and in the main­stream press. Word spread of the rise of super­weeds that were immune to Monsanto's pes­ti­cides, while farm­ers com­plained that Monsanto's new Smart­Stax seeds were over­priced and no more effec­tive than the old. At the same time, its flag­ship Roundup Ready prod­uct was about to go ​"off-patent," and ana­lysts were expect­ing a flood of ​"gener­ic" (and much cheap­er) pes­ti­cide-resis­tant seeds on the market.
As if that weren't enough, Mon­san­to was locked in a mul­ti-year legal bat­tle with one of its top com­peti­tors — DuPont. It was a bat­tle that some ana­lysts thought could top­ple Mon­san­to from its perch atop the biotech seed pyra­mid. Anti-Mon­san­to activists even looked at DuPont as a poten­tial ally, since it had filed an antitrust law­suit against its sworn ene­my as part of the fight. Then the gov­ern­ment got into the act when it ini­ti­at­ed its own antitrust inves­ti­ga­tion that threat­ened Monsanto's core busi­ness. Oh, how the mighty had fallen!
Fast for­ward to today. Mon­san­to Ascen­dant. Here's a stock chart that runs from Oct. 8, 2010, to today.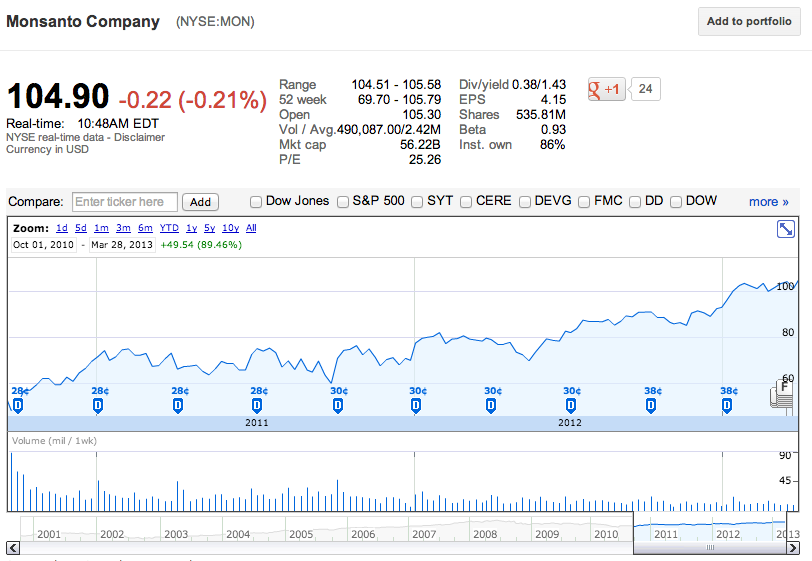 Had you bought Mon­san­to stock the day you read about Monsanto's trou­bles, you would have more than dou­bled your mon­ey — and tripled the return of the S&P 500 in the same period.
Well, the antitrust inves­ti­ga­tion dis­ap­peared in a puff of bureau­crat­ic smoke — most­ly because there's noth­ing ille­gal about mas­sive con­sol­i­da­tion and con­trol of an indus­try if the gov­ern­ment can't find com­pelling evi­dence that con­sumers were harmed. (For those that are inter­est­ed in going deep into the antitrust super­weeds, I explained how this came to be in a recent post.) Ergo, Mon­san­to isn't about to be dis­man­tled by the feds.
Mean­while, the company's sales recov­ered impres­sive­ly. Its 2012 earn­ings state­ment shows that its net income dou­bled since 2010 and now exceeds $2 bil­lion. Sales were dri­ven by record high corn plant­i­ngs in 2012 — thanks to sky-high demand from both corn ethanol and live­stock feed. Nev­er mind that the drought destroyed a good chunk of that year's crop — no refunds!! (It's worth not­ing that Mon­san­toclaimed its seeds out­per­formed the aver­age yield dur­ing the drought year. And with news that farm­ers will plant even more corn this year — the most since 1936 — Monsanto's sales will con­tin­ue to grow.)
As for the oth­er threats to Monsanto's busi­ness, accord­ing to this arti­cle from Har­vest Pub­lic Media, it looks like Mon­san­to has suc­cess­ful­ly engi­neered its seeds so that the whole gener­ic biotech seed mar­ket will with­er and die before it's ful­ly flow­ered. This is helped in some part by a Mon­san­to-relat­ed patent case that's cur­rent­ly before the U.S. Supreme Court. The Jus­tices seem to be favor­ing the com­pa­ny over the farmer accused of vio­lat­ing the company's patents by ​"ille­gal­ly" sav­ing seeds.
For its part, the U.S. Depart­ment of Agri­cul­ture seems hap­py to do Monsanto's bid­ding. From giv­ing approval to its GMO alfal­fa seed — despite the fact that many organ­ic farm­ing advo­cates com­plained that it could put them out of busi­ness — to allow­ing farm­ers to plant Monsanto's GMO sug­ar beets in vio­la­tion of a court order, the agency seems to agree that what's good for Mon­san­to is good for Amer­i­can farmers.
Then there's the so-called ​"Mon­san­to Pro­tec­tion Act," snuck into the recent fed­er­al government's fund­ing bill, that allows the USDA to over­ride any judge who tells Mon­san­to it's not allowed to spread its genet­i­cal­ly mod­i­fied seeds around. It may not have giv­en the com­pa­ny pro­tec­tions that it doesn't already enjoy from a com­pli­ant USDA — and Politi­co reports that Sec­re­tary of Agri­cul­ture Tom Vil­sack thinks the pro­vi­sion might be unen­force­able — but it cer­tain­ly demon­strates the company's con­tin­ued pow­er on Capi­tol Hill.
Sure­ly if the reg­u­la­to­ry and legal process­es have failed, a lit­tle com­pe­ti­tion will keep this mon­ster in check, right? What about that titan­ic strug­gle between the two biotech giants, Mon­san­to and DuPont? The one that could knock Mon­san­to off its perch? Yeah, well, the two com­pa­nies just kissed and made up. Not only did they drop all the law­suits, counter-suits, and patent claims, but they also entered into a broad licens­ing agree­ment that will allow Mon­san­to to use DuPont's genet­ic mod­i­fi­ca­tions in its seeds and vice ver­sa. One of the last stum­bling blocks Mon­san­to faced is now gone.
The upshot is that its genet­i­cal­ly mod­i­fied seeds will gain the abil­i­ty to with­stand repeat­ed expo­sure to a broad­er range of her­bi­cides, increas­ing agri­cul­tur­al chem­i­cal use and encour­ag­ing farm­ers to con­tin­ue plant­i­ng vast acreages of corn.
Of course, Monsanto's suc­cess is also pred­i­cat­ed on a high price of corn — since that jus­ti­fies the high­er cost of the seed and the high­er cost of using addi­tion­al her­bi­cides to com­bat super­weeds. But if this year's corn har­vest comes in as a bumper crop, corn prices are like­ly to drop, pos­si­bly pre­cip­i­tous­ly — there are even ear­ly indi­ca­tions that the boom may be end­ing and prices are return­ing to earth.
If the recent price drop con­tin­ues, we'll soon see if Monsanto's resur­gence is a per­ma­nent boom or just an extreme-cli­mate-dri­ven bump. Groups like Food Democ­ra­cy Now! are hop­ing for the lat­ter, and are cur­rent­ly push­ing back at Monsanto's pow­ers with demon­stra­tions and peti­tions. What­ev­er hap­pens, the com­pa­ny has demon­strat­ed an Ener­giz­er Bun­ny-like resilience. That may make investors hap­py. But it should make any­one inter­est­ed in a sus­tain­able agri­cul­tur­al sys­tem very, very sad.