Not many muse­ums have mount­ed a col­lec­tion of pho­tographs and ephemera that chron­i­cle the his­to­ry of work­er orga­niz­ing and the labor move­ment. That's not sur­pris­ing. Muse­ums and their spe­cial exhibits are under­writ­ten by foun­da­tions, cor­po­ra­tions and the very rich — fun­ders that, by and large, are not known for their con­cern for those who toil for a liv­ing and seek to bet­ter their lives through union representation.
"The city of New York would not exist in anything like its current form without the struggles of working people over the past three centuries." —Joshua B. Freeman
The annu­al Met Gala, the high-soci­ety ben­e­fit for the Met­ro­pol­i­tan Muse­um of Art's Cos­tume Insti­tute, has revolved around cou­turi­ers like Coco Chanel and Alexan­der McQueen or sar­to­r­i­al themes from camp to Catholi­cism. Tele­vi­sion view­ers have yet, how­ev­er, to see celebri­ties like Lady Gaga done up in a McDonald's uni­form or oth­er indus­tri­al-designed attire walk the red car­pet across David H. Koch Plaza — the $65 mil­lion gift to the Met from David H. Koch.
All of which makes City of Work­ers, City of Strug­gle: How Labor Move­ments Changed New York a rare and rad­i­cal gem of a show.
One enters this spe­cial exhib­it at the Muse­um of the City of New York through a mon­tage of pho­tographs of demon­stra­tors hold­ing plac­ards that read: ​"Abol­ish Slav­ery," ​"We Want Respect for Work­ers," ​"Put Black Men to Work or Stop Con­struc­tion," ​"Mt. Sinai Work­ers Can't Live on $32 a Week — On Strike" and ​"Car­washeros al Poder" (Pow­er to the Carwashers).
The exhib­it begins with the enslaved peo­ple of New York (40% of New York house­holds owned one or more work­ers in colo­nial days) and con­tin­ues through today's move­ment of min­i­mum-wage slaves and the Fight for $15.
If the over­ar­ch­ing theme of City of Work­ers is col­lec­tive action — how New York­ers formed unions and gained bet­ter work­ing con­di­tions and bet­ter pay — the sub­text is that coop­er­a­tion among black, brown and white work­ers made those advances pos­si­ble. In the age of Trump, that mes­sage bears repeating.
In the book that accom­pa­nies the exhib­it, labor his­to­ri­an Joshua B. Free­man writes, ​"The city of New York would not exist in any­thing like its cur­rent form with­out the strug­gles of work­ing peo­ple over the past three cen­turies." Sim­i­lar sto­ries could be told of any num­ber of cities across the coun­try — cities where labor his­to­ry exhibits could be mount­ed, if not for want of muse­um space, cities where the strug­gle of work­ers con­tin­ues to this day.
City of Work­ers, spon­sored by the union-friend­ly Puf­fin Foun­da­tion of Tea­neck, N.J., is on exhib­it through Jan. 5, 2020, at the Muse­um of the City of New York, just one mile north of the Met and across from Cen­tral Park. While you are there, check out Activist New York, a per­ma­nent exhib­it on the city's his­to­ry of polit­i­cal agi­ta­tion in the Puf­fin Foun­da­tion Gallery.
All images cour­tesy of the Muse­um of the City of New York.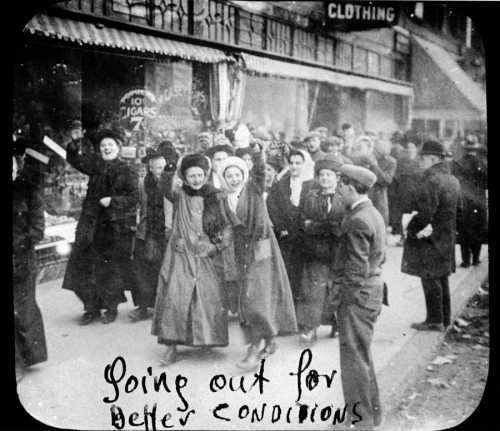 (A few of the New York shirt­waist work­ers, most of whom were Jew­ish women, went on strike in 1909 for bet­ter pay, work­ing con­di­tions and short­er hours. The strike, known as the Upris­ing of the 20,000, tar­get­ed more than 600 gar­ment shops and fac­to­ries.)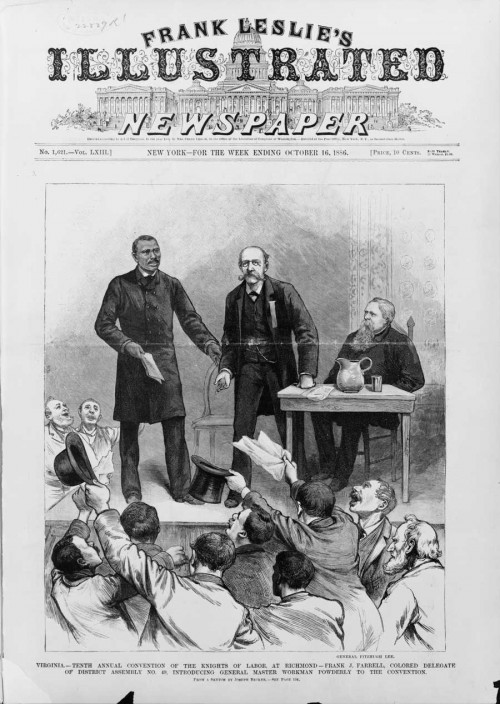 (Frank J. Fer­rell, a black del­e­gate of the New York City chap­ter of the Knights of Labor address­es the group at their 1886 con­ven­tion in Rich­mond, Va. When Fer­rell was denied a room at a local hotel where he and his New York col­leagues had a reser­va­tion, they decamped en masse for less racist accom­mo­da­tions.)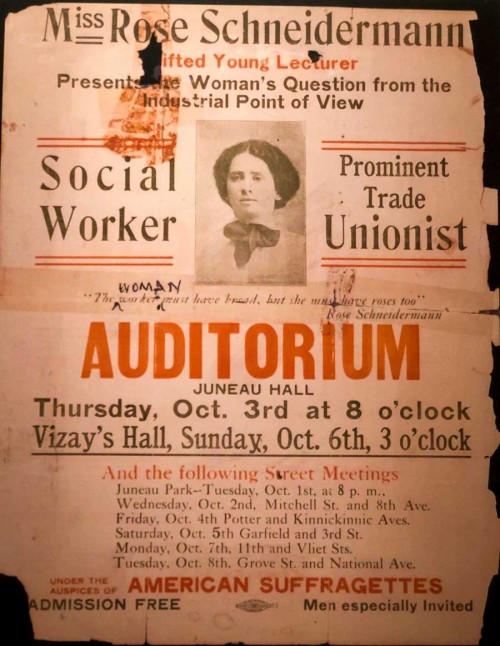 (This poster adver­tis­es a 1912 Mil­wau­kee talk by Rose Schnei­der­mann, a social­ist fem­i­nist who had worked in the gar­ment indus­try. Rose is best known for her speech that same year to mid­dle-class suf­fragettes in Cleve­land: ​"What the woman who labors wants is the right to live, not sim­ply exist … The work­er must have bread, but she must have ros­es, too. Help, you women of priv­i­lege, give her the bal­lot to fight with.")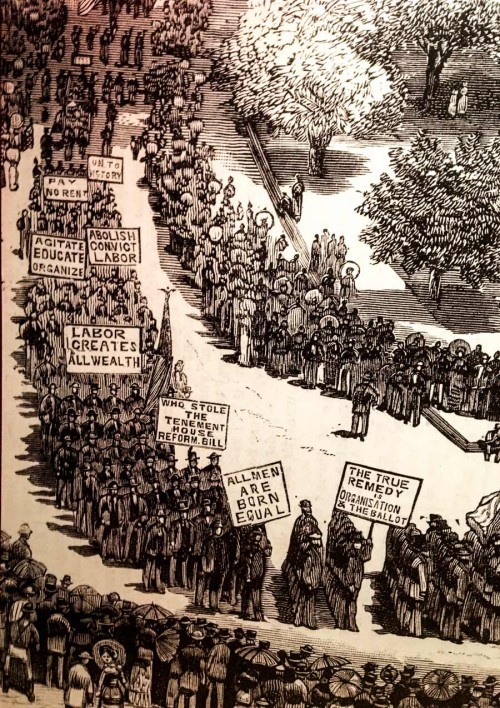 (In 1882, mem­bers of the Knights of Labor and the Cen­tral Labor Union gath­ered in New York's Union Square for the first-ever Labor Day parade.)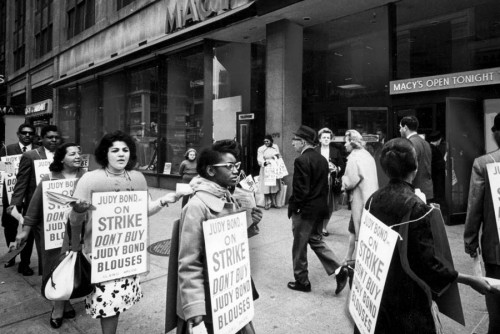 (In 1965, in front of Macy's, mem­bers of the Inter­na­tion­al Ladies' Gar­ment Work­ers' Union pick­et Judy Bond, a ​"run­away plant" that had moved to the South. The union's mul­ti-year cam­paign includ­ed shop­ping bags that read, ​"Judy Bond Inc., On Strike, Don't Buy Judy Bond Blous­es." Accord­ing to the union, strik­ers hand­ed out more than 3 mil­lion bags in 1963.)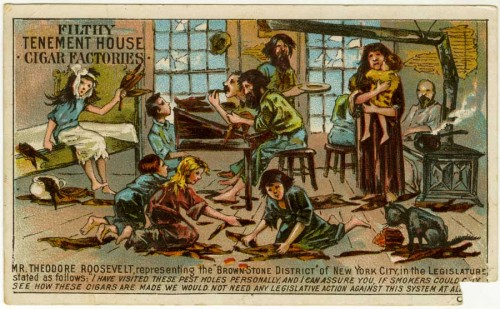 (​"Filthy Ten­e­ment House Cig­ar Fac­to­ries" post­card, cir­ca 1885.)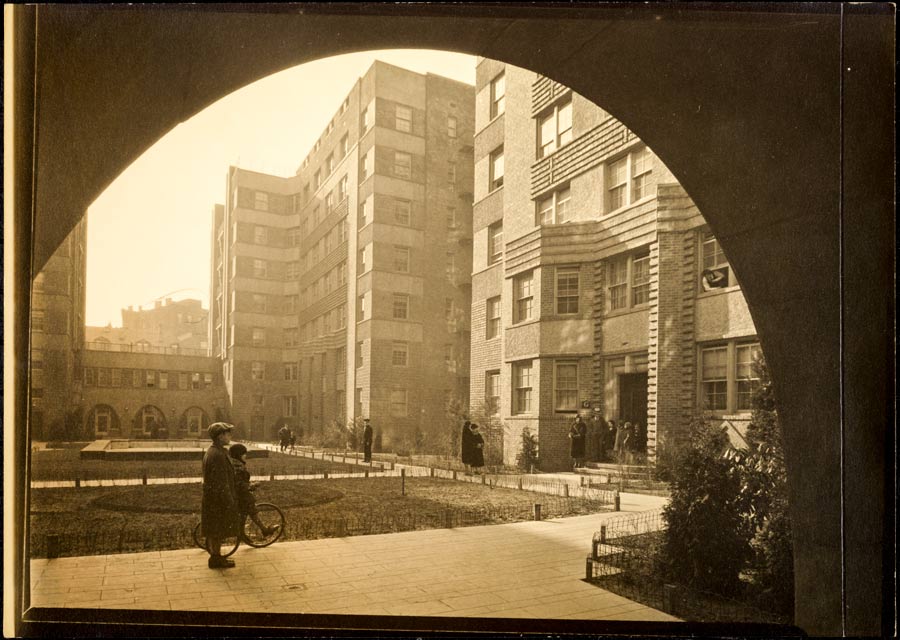 Amal­ga­mat­ed Dwellings is the old­est lim­it­ed-equi­ty hous­ing coop­er­a­tive in the U.S. Found­ed in 1927 in the Bronx by the Amal­ga­mat­ed Cloth­ing Work­ers of Amer­i­ca, the co-op was estab­lished to pro­vide afford­able hous­ing for work­ers. Today, Amal­ga­mat­ed is home to more than 1,400 families.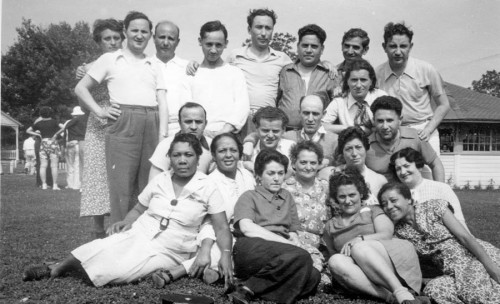 (In 1936, in the Poconos, mem­bers of New York's Com­mu­nist-led Dress­mak­ers' Union (Local 22) relax at Uni­ty House. Local 22 and Local 25 pur­chased the 750-acre retreat, which had for­mer­ly been a tony resort for Ger­man Jews, in 1919.)