This 28-Year-Old Progressive Helped Bernie Sanders Win Rhode Island. Now He Is Running for Lt. Gov.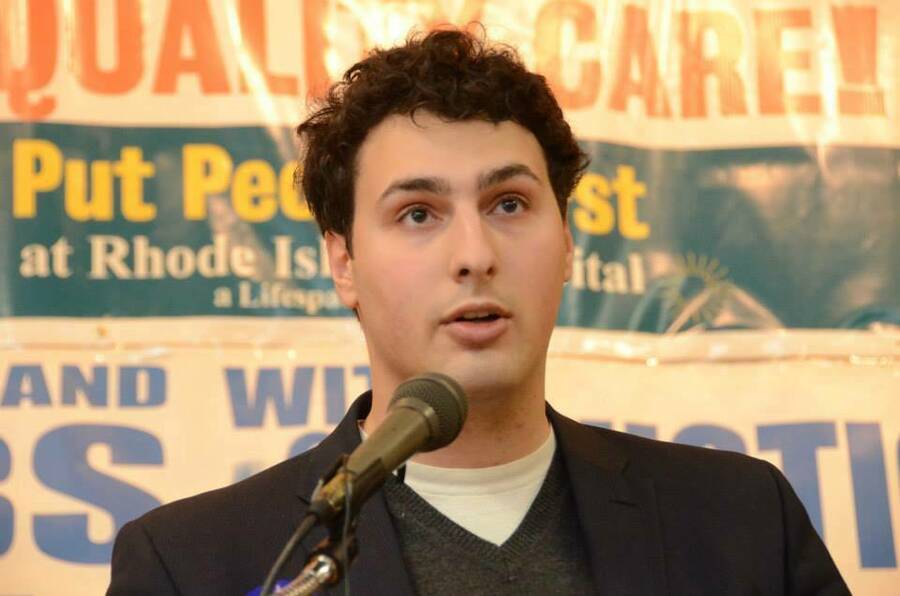 Two-term Rhode Island State Rep­re­sen­ta­tive Aaron Regun­berg is still in his 20s, but already has a long pedi­gree of orga­niz­ing for social change.
At 20, Regun­berg co-found­ed the Prov­i­dence Stu­dent Union, a group ded­i­cat­ed to empow­er­ing high-school stu­dents to ​"win a fair say in the edu­ca­tion sys­tem." At 24, Regun­berg was elect­ed to the Rhode Island State House after run­ning on a strong pro­gres­sive plat­form. At 26, he helped orga­nize Bernie Sanders' come-from-behind vic­to­ry in the state's Demo­c­ra­t­ic pri­ma­ry. At 27, he spon­sored a suc­cess­ful effort to pass paid sick leave leg­is­la­tion. Now, at 28, he's run­ning for lieu­tenant gov­er­nor, backed by orga­nized labor and the Ocean State's grow­ing activist community.
Regun­berg, a Brown Uni­ver­si­ty grad­u­ate, is chal­leng­ing one-term incum­bent Dan McK­ee in the Sep­tem­ber Demo­c­ra­t­ic pri­ma­ry. McK­ee is wide­ly con­sid­ered a con­ser­v­a­tive-lean­ing Demo­c­rat and has close ties to the state's char­ter school lob­by. Unlike in oth­er states, lieu­tenant gov­er­nor can­di­dates in Rhode Island do not cam­paign as run­ning mates but rather are pop­u­lar­ly elect­ed every four years.
The race fits into a broad­er nation­wide pat­tern of pro­gres­sive can­di­dates chal­leng­ing mod­er­ate and con­ser­v­a­tive Democ­rats in par­ty pri­maries, with many of these chal­lengers inspired by Bernie Sanders' his­toric 2016 pres­i­den­tial campaign.
Regunberg's cam­paign has won the sup­port of orga­nized labor, and is being pow­ered both by the grow­ing anti-Trump resis­tance move­ments as well as Rhode Island's pro­gres­sive statewide infrastructure.
Regun­berg sees his can­di­da­cy as a chal­lenge to cor­po­rate con­trol over Rhode Island pol­i­tics. ​"I've been in the state­house since 2014, so I've been in gov­ern­ment long enough to see that the sys­tem needs change" Regun­berg tells In These Times. ​"I've seen first­hand how lob­by­ists paid for by Wal­mart pay­day lenders are ever present in the capi­tol, while every­day Rhode Islanders get ignored. I'm run­ning for lieu­tenant gov­er­nor to be an inde­pen­dent pub­lic advo­cate. That means that it's my job to be the voice for peo­ple who can't afford a lobbyist."
What would this 28-year-old self-described pro­gres­sive do once in office? His plat­form calls for cre­at­ing a state-based Medicare-for-all sys­tem in Rhode Island, pass­ing a $15 min­i­mum wage, defend­ing pub­lic edu­ca­tion, cod­i­fy­ing Roe v. Wade abor­tion pro­tec­tions on the state lev­el, and pro­tect­ing the envi­ron­ment through insti­tut­ing car­bon pricing.
"In Rhode Island the lieu­tenant gov­er­nor is a con­sti­tu­tion­al­ly inde­pen­dent office that cre­ates some real poten­tial to turn that office into an inde­pen­dent pub­lic advo­cate" says Regun­berg. ​"I'd like to use it to high­light and ele­vate a bold­er agen­da to bring some pub­lic account­abil­i­ty into the sys­tem. The office has some real resources, so let's use it to build pow­er for people."
While the posi­tion of lieu­tenant gov­er­nor is in large part cer­e­mo­ni­al, the office does offer a bul­ly pul­pit, a sub­stan­tial staff and pol­i­cy­mak­ing author­i­ty on issues rang­ing from long-term care to homelessness.
"I want to real­ly turn the lieu­tenant governor's office into an orga­niz­ing base to bring folks togeth­er and build coali­tions to get more ambi­tious pro­gres­sive pol­i­cy changes," Regun­berg says.
Steve Ahlquist, a jour­nal­ist who writes for the left-lean­ing web­site Upris​eRI​.com, says that Regun­berg, ​"has con­sis­tent­ly put forth the most inter­est­ing and pro­gres­sive leg­is­la­tion in the state. He's look­ing to the future in a way that both­ers con­ser­v­a­tive Democ­rats. Peo­ple like Aaron and Mar­cia [Ran­glin-Vas­sell] are not the only pro­gres­sives in the leg­is­la­ture, but they're real­ly super­charg­ing the pro­gres­sive move­ment here. They're encour­ag­ing peo­ple to think out­side the box."
Regun­berg has the back­ing of a num­ber of pow­er­ful labor orga­ni­za­tions in the state includ­ing the Ser­vice Employ­ees Inter­na­tion­al Union (SEIU) 1199, the Amal­ga­mat­ed Tran­sit Union (ATU) Local 618 and the Inter­na­tion­al Broth­er­hood of Elec­tri­cal Work­ers (IBEW) Local 2323. He is also being sup­port­ed by the Rhode Island Work­ing Fam­i­lies Par­ty, which, in 2016, led a suc­cess­ful effort to defeat four con­ser­v­a­tive Demo­c­ra­t­ic incum­bents in the state leg­is­la­ture and replace them with progressives.
McK­ee, mean­while, has failed to receive high-pro­file union endorse­ments. Some attribute this lack of labor sup­port to McKee's long­time back­ing of char­ter schools, which the state's teacher unions strong­ly oppose. In 2014, pro-char­ter school inter­ests helped fund McKee's campaign.
Labor's will­ing­ness to back Regun­berg could point to a larg­er shift in the state's pol­i­tics, as unions are gen­er­al­ly ret­i­cent to endorse pri­ma­ry challengers.
And as pub­lic-sec­tor unions face a future of scaled-back fund­ing as a result of the Supreme Court's Janus v. AFSCME case, Regunberg's cam­paign shows a poten­tial way for­ward. While unions may soon have less finan­cial capac­i­ty to hire lob­by­ists and play the leg­isla­tive inside game, they can use mem­bers' boots on the ground to help elect pro-labor chal­lengers in Demo­c­ra­t­ic pri­maries, rather than spend­ing mon­ey on influ­enc­ing Democ­rats who are hos­tile to unions after they are in office.
"In Rhode Island, peo­ple assume that the Demo­c­ra­t­ic Par­ty shares their core Demo­c­ra­t­ic val­ues: repro­duc­tive jus­tice, respect for immi­grants, sup­port for envi­ron­men­tal pro­tec­tions, sup­port for work­ing peo­ple and under­stand­ing the need to have eco­nom­ic jus­tice" says Regun­berg. ​"But in real­i­ty those prin­ci­ples are rarely trans­lat­ed into action at the state­house. I've fought for a liv­ing wage and paid sick time — my oppo­nent has opposed those efforts. I'm a strong believ­er in unions as the most pow­er­ful force in the coun­try for work­ing people."
Regunberg's lieu­tenant gov­er­nor cam­paign, he argues, has ​"some poten­tial to send a mes­sage about what our par­ty should be about: putting work­ing peo­ple front and cen­ter and push­ing for a Green New Deal that will put Rhode Islanders back to work."
For Emmanuel Fal­ck, the head of SEIU's health­care divi­sion in Rhode Island, Regun­berg embod­ies the type of pro-labor Demo­c­rat that unions need to ral­ly behind.
"Aaron is a cham­pi­on for work­ing peo­ple," says Fal­ck. ​"His two major leg­isla­tive accom­plish­ments have been to pass earned sick time and a min­i­mum wage increase. He was an effec­tive orga­niz­er before he sought pub­lic office and once he got in there he used his orga­niz­ing skills to advance an agen­da for work­ing fam­i­lies. He's lit­er­al­ly marched with us, he's been with us in the streets and the state­house. As a union, we couldn't ask for a bet­ter candidate."
Shirley Lom­ba, an SEIU mem­ber who has vol­un­teered on Regunberg's cam­paign and lob­bied to pass Rhode Island's earned sick time law, says that the can­di­date walks the walk when it comes to labor rights. ​"I work in a nurs­ing home that is one of the old­est in the state. Man­age­ment had threat­ened to close our doors in 30 days. So we orga­nized a march from the nurs­ing home to the state­house and Aaron marched along­side us. We've had infor­ma­tion­al pick­ets and Aaron's been there all along."
When it comes to his rel­a­tive youth, as a 28-year-old run­ning for Rhode Island's sec­ond-high­est office, Regun­berg admits that mil­len­ni­als ​"get a lot of hate." But that doesn't phase him. ​"We're lead­ing all of the fights that mat­ter right now," he says. ​"We're the gen­er­a­tion that grad­u­at­ed into this ter­ri­ble econ­o­my that we didn't cre­ate, a stu­dent loan cri­sis that we didn't cre­ate, an eco­log­i­cal cri­sis we didn't cre­ate, and with all of that, we're step­ping up to the chal­lenge, whether it's the cli­mate move­ment or Black Lives Matter.
"The polit­i­cal deci­sions that are being made right now are going to affect us for a long, long time. It's a scary moment for every human being on our plan­et. I think our gen­er­a­tion is bring­ing change. And I'm excit­ed to be a part of that."
Matthew Cun­ning­ham-Cook
is a labor researcher and writer liv­ing in Prince George's Coun­ty, Mary­land. You can con­tact him at m.cunninghamcook [at] gmail​.com.