The Rhode Island Progressive Who Helped Make Paid Sick Leave a Reality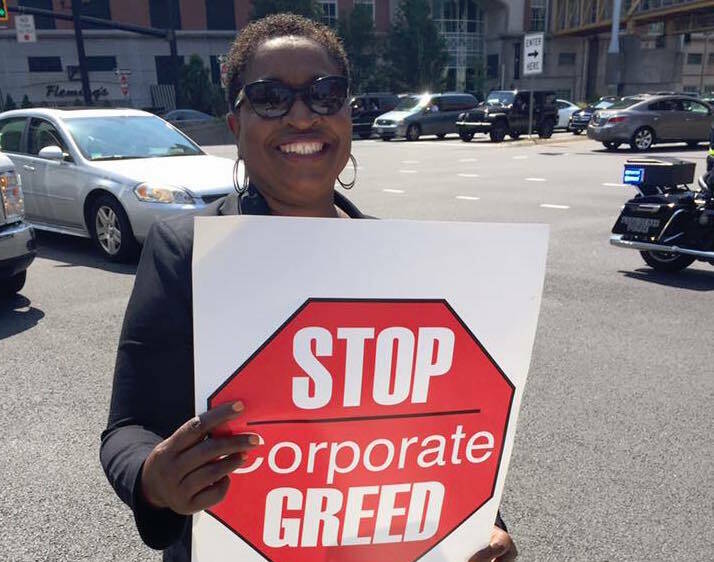 On April 26, 2016, Bernie Sanders shocked Rhode Island's entrenched Demo­c­ra­t­ic estab­lish­ment by pulling off a sur­prise win in the state's pres­i­den­tial primary.
Sanders won despite the fact that his oppo­nent Hillary Clin­ton had received endorse­ments from Rhode Island's entire Con­gres­sion­al del­e­ga­tion and every statewide elect­ed offi­cial and Demo­c­ra­t­ic Par­ty pow­er broker.
Through grass­roots orga­niz­ing, the insur­gent Sanders cam­paign pulled off a vic­to­ry by run­ning on a bold pro­gres­sive platform.
Five months lat­er, the same grass­roots ener­gy in the state helped lead to anoth­er shock when four pro­gres­sive chal­lengers endorsed by the Work­ing Fam­i­lies Par­ty unseat­ed Demo­c­ra­t­ic incum­bents in the state leg­is­la­ture in the Sep­tem­ber 2016 primary.
One of these chal­lengers was Mar­cia Ran­glin-Vas­sell, a long­time teacher who defeat­ed the pow­er­ful House major­i­ty leader John DeS­i­mone in the pri­ma­ry by 21 votes. Cam­paign­ing on a $15 min­i­mum wage, end­ing the school to prison pipeline and shift­ing funds from incar­cer­a­tion to edu­ca­tion, Ran­glin-Vas­sell made explic­it the con­nec­tions between unem­ploy­ment, pover­ty and the gun vio­lence wrack­ing her community.
"I got into pol­i­tics because of the num­ber of my own stu­dents who were dying in the streets because of pover­ty and vio­lence," says Ranglin-Vassell.
"What I have real­ized is the issue of gun vio­lence has to do with struc­tur­al pover­ty and racism, which is why we need to fight for a liv­ing wage. We have to address pover­ty to solve the issues of crime and violence."
In order to tack­le pover­ty in the state, Ran­glin-Vas­sell and oth­er Rhode Island pro­gres­sives joined togeth­er to pass paid sick leave leg­is­la­tion in Sep­tem­ber 2017. The bill passed the Rhode Island House 59 – 11 and the Sen­ate 27 – 8. Ran­glin-Vas­sell worked close­ly with the bill's spon­sor, state Rep. Aaron Regun­berg, to get the bill passed.
"One of the things I've learned in my first year in the leg­is­la­ture is that it's dif­fi­cult to make the gov­ern­ment work for peo­ple," says Ran­glin-Vas­sell. ​"But still, we were able to pass earned sick time. Now 100,000 Rhode Islanders will be able to stay home when they or their fam­i­lies are sick."
Geor­gia Hol­lis­ter Isman, State Direc­tor of the Rhode Island Work­ing Fam­i­lies Par­ty, a group that played a key role in elect­ing pro­gres­sive chal­lengers in 2017, says that Ranglin-Vassell's vic­to­ry was instru­men­tal in pass­ing paid sick leave legislation.
"You know the leg­is­la­ture is pret­ty big. There's a lot of Democ­rats, and defeat­ing four of them doesn't change the bal­ance of pow­er," says Hol­lis­ter Isman. ​"But it does lead their col­leagues to ask ​'Who are these new peo­ple, and what's the group that helped them, and how did they do it?' "
"That ques­tion fueled the paid sick leave vic­to­ry. What's remark­able is that we did paid sick days in a sin­gle year," says Hol­lis­ter Isman. ​"There was a fair amount of urgency around pass­ing pro­gres­sive leg­is­la­tion because of our elec­toral vic­to­ries. It's a pret­ty clear demon­stra­tion of the mod­el that you can run peo­ple on work­ing fam­i­lies val­ues and win, and build pow­er in gov­ern­ing bod­ies to get things done."
The work of women like Hol­lis­ter Isman and Ran­glin-Vas­sell have caught the atten­tion of Rhode Island's Demo­c­ra­t­ic estab­lish­ment. While the Ocean State is over­whelm­ing­ly Demo­c­ra­t­ic, many lead­ing Democ­rats lean mod­er­ate or con­ser­v­a­tive on a num­ber of issues.
Dur­ing her time as state trea­sur­er from 2011 to 2014, for exam­ple, for­mer ven­ture cap­i­tal man­ag­er and cur­rent Demo­c­ra­t­ic Gov­er­nor Gina Rai­mon­do pushed through a plan to elim­i­nate annu­al cost of liv­ing adjust­ments for pub­lic work­er pen­sions. She also mas­sive­ly increased the invest­ment man­age­ment fees state pen­sions paid to Wall Street. Dur­ing her run for gov­er­nor in 2014, Raimondo's Super­PAC received at least $100,000 from anti-pen­sion hedge fund bil­lion­aire John Arnold.
The state's junior sen­a­tor, Demo­c­rat Shel­don White­house, vot­ed in 2017 to con­firm far-right Koch both­ers ally and Trump pick Mike Pom­peo as CIA direc­tor and has con­sis­tent­ly vot­ed to increase gov­ern­men­tal sur­veil­lance pow­ers, sup­port­ing the con­tro­ver­sial Cyber­se­cu­ri­ty and Infor­ma­tion Secu­ri­ty Act and the Patri­ot Act. Rep. Jim Langevin, who rep­re­sents the state's 2nd dis­trict, is one of the last remain­ing anti-choice Democ­rats in Con­gress. A num­ber of oth­er lead­ing Rhode Island Democ­rats are close to the anti-abor­tion lob­by and in 2016, both Speak­er of the House Nicholas Mat­tiel­lo and Pres­i­dent of the Sen­ate Dominick Rug­giero received endorse­ments from the Rhode Island Right to Life Committee.
Against this back­drop, Ranglin-Vassell's pro­gres­sivism on a host of issues stands out.
So it came as lit­tle sur­prise when in late 2017 Joseph DeLoren­zo, a for­mer lead­ing Demo­c­ra­t­ic Par­ty offi­cial, lam­bast­ed Ran­glin-Vas­sell as ​"very pro­gres­sive." Speak­ing of the par­ty, he said, ​"I just don't like where we are going." DeLoren­zo lat­er quit the par­ty alto­geth­er, claim­ing it was mov­ing too far to the left.
Ran­glin-Vas­sell calls such neg­a­tive feed­back ​"noise." ​"My fight is about jus­tice, it's about envi­ron­men­tal jus­tice," says Ran­glin-Vas­sell. ​"What I have been doing in the leg­is­la­ture is what I've done since I was grow­ing up in Kingston, Jamaica — fight­ing for peo­ple. Fight­ing for health care and food for peo­ple liv­ing in poverty.
"Frankly there are a lot of DINOs (Democ­rats in Name Only) in Rhode Island" says Ran­glin-Vas­sell. ​"But I don't pay atten­tion to them. I pay atten­tion to the fight. Is it too pro­gres­sive to say ​'hot lunch­es for kids'? Is it too pro­gres­sive to say ​'fund schools, not pris­ons'? Too pro­gres­sive to work to reduce gun violence?"
What are the next steps for Ran­glin-Vas­sell and her allies in the state leg­is­la­ture? Ran­glin-Vas­sell says she's work­ing hard to pass a $15 min­i­mum wage, and an equal pay act in the leg­is­la­ture to address racial and gen­der pay dis­par­i­ties. She plans to intro­duce leg­is­la­tion to end school dis­tricts' sham­ing of chil­dren for hav­ing school lunch debt and to increase Med­ic­aid provider pay­ments so that poor peo­ple won't be denied care. Ran­glin-Vas­sell is also co-spon­sor­ing a statewide sin­gle-pay­er health­care bill. And she's work­ing to make sure she has more pro­gres­sive allies in the leg­is­la­ture after the 2018 elec­tions — espe­cial­ly women and peo­ple of color.
"When women run, we win," says Ran­glin-Vas­sell. ​"We need to be at the lead­er­ship table. If the Demo­c­ra­t­ic Par­ty wants to move an agen­da for Black and brown peo­ple, they can­not take us for grant­ed. We're try­ing to mobi­lize peo­ple who have his­tor­i­cal­ly not been engaged. We're going to vote and we're not going be tak­en for grant­ed any­more. The Demo­c­ra­t­ic Par­ty local­ly and nation­al­ly has been tak­ing the Black vote for grant­ed and they need to stop."
Matthew Cun­ning­ham-Cook
is a labor researcher and writer liv­ing in Prince George's Coun­ty, Mary­land. You can con­tact him at m.cunninghamcook [at] gmail​.com.