The Rhode Island Progressive Who Helped Make Paid Sick Leave a Reality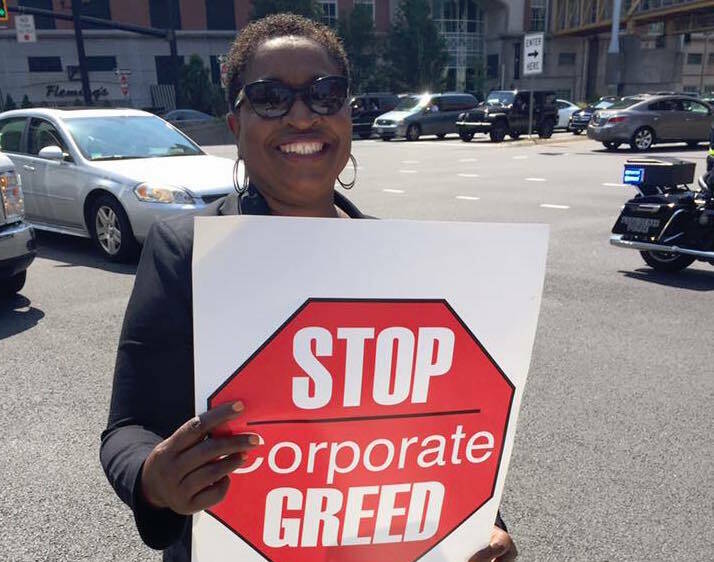 Reader donations, many as small as just $1, have kept In These Times publishing for 45 years. Once you've finished reading, please consider making a tax-deductible donation to support this work.
On April 26, 2016, Bernie Sanders shocked Rhode Island's entrenched Democratic establishment by pulling off a surprise win in the state's presidential primary.
Sanders won despite the fact that his opponent Hillary Clinton had received endorsements from Rhode Island's entire Congressional delegation and every statewide elected official and Democratic Party power broker.
Through grassroots organizing, the insurgent Sanders campaign pulled off a victory by running on a bold progressive platform.
Five months later, the same grassroots energy in the state helped lead to another shock when four progressive challengers endorsed by the Working Families Party unseated Democratic incumbents in the state legislature in the September 2016 primary.
One of these challengers was Marcia Ranglin-Vassell, a longtime teacher who defeated the powerful House majority leader John DeSimone in the primary by 21 votes. Campaigning on a $15 minimum wage, ending the school to prison pipeline and shifting funds from incarceration to education, Ranglin-Vassell made explicit the connections between unemployment, poverty and the gun violence wracking her community.
"I got into politics because of the number of my own students who were dying in the streets because of poverty and violence," says Ranglin-Vassell.
"What I have realized is the issue of gun violence has to do with structural poverty and racism, which is why we need to fight for a living wage. We have to address poverty to solve the issues of crime and violence."
In order to tackle poverty in the state, Ranglin-Vassell and other Rhode Island progressives joined together to pass paid sick leave legislation in September 2017. The bill passed the Rhode Island House 59 – 11 and the Senate 27 – 8. Ranglin-Vassell worked closely with the bill's sponsor, state Rep. Aaron Regunberg, to get the bill passed.
"One of the things I've learned in my first year in the legislature is that it's difficult to make the government work for people," says Ranglin-Vassell. ​"But still, we were able to pass earned sick time. Now 100,000 Rhode Islanders will be able to stay home when they or their families are sick."
Georgia Hollister Isman, State Director of the Rhode Island Working Families Party, a group that played a key role in electing progressive challengers in 2017, says that Ranglin-Vassell's victory was instrumental in passing paid sick leave legislation.
"You know the legislature is pretty big. There's a lot of Democrats, and defeating four of them doesn't change the balance of power," says Hollister Isman. ​"But it does lead their colleagues to ask ​'Who are these new people, and what's the group that helped them, and how did they do it?' "
"That question fueled the paid sick leave victory. What's remarkable is that we did paid sick days in a single year," says Hollister Isman. ​"There was a fair amount of urgency around passing progressive legislation because of our electoral victories. It's a pretty clear demonstration of the model that you can run people on working families values and win, and build power in governing bodies to get things done."
The work of women like Hollister Isman and Ranglin-Vassell have caught the attention of Rhode Island's Democratic establishment. While the Ocean State is overwhelmingly Democratic, many leading Democrats lean moderate or conservative on a number of issues.
During her time as state treasurer from 2011 to 2014, for example, former venture capital manager and current Democratic Governor Gina Raimondo pushed through a plan to eliminate annual cost of living adjustments for public worker pensions. She also massively increased the investment management fees state pensions paid to Wall Street. During her run for governor in 2014, Raimondo's SuperPAC received at least $100,000 from anti-pension hedge fund billionaire John Arnold.
The state's junior senator, Democrat Sheldon Whitehouse, voted in 2017 to confirm far-right Koch bothers ally and Trump pick Mike Pompeo as CIA director and has consistently voted to increase governmental surveillance powers, supporting the controversial Cybersecurity and Information Security Act and the Patriot Act. Rep. Jim Langevin, who represents the state's 2nd district, is one of the last remaining anti-choice Democrats in Congress. A number of other leading Rhode Island Democrats are close to the anti-abortion lobby and in 2016, both Speaker of the House Nicholas Mattiello and President of the Senate Dominick Ruggiero received endorsements from the Rhode Island Right to Life Committee.
Against this backdrop, Ranglin-Vassell's progressivism on a host of issues stands out.
So it came as little surprise when in late 2017 Joseph DeLorenzo, a former leading Democratic Party official, lambasted Ranglin-Vassell as ​"very progressive." Speaking of the party, he said, ​"I just don't like where we are going." DeLorenzo later quit the party altogether, claiming it was moving too far to the left.
Ranglin-Vassell calls such negative feedback ​"noise." ​"My fight is about justice, it's about environmental justice," says Ranglin-Vassell. ​"What I have been doing in the legislature is what I've done since I was growing up in Kingston, Jamaica — fighting for people. Fighting for health care and food for people living in poverty.
"Frankly there are a lot of DINOs (Democrats in Name Only) in Rhode Island" says Ranglin-Vassell. ​"But I don't pay attention to them. I pay attention to the fight. Is it too progressive to say ​'hot lunches for kids'? Is it too progressive to say ​'fund schools, not prisons'? Too progressive to work to reduce gun violence?"
What are the next steps for Ranglin-Vassell and her allies in the state legislature? Ranglin-Vassell says she's working hard to pass a $15 minimum wage, and an equal pay act in the legislature to address racial and gender pay disparities. She plans to introduce legislation to end school districts' shaming of children for having school lunch debt and to increase Medicaid provider payments so that poor people won't be denied care. Ranglin-Vassell is also co-sponsoring a statewide single-payer healthcare bill. And she's working to make sure she has more progressive allies in the legislature after the 2018 elections — especially women and people of color.
"When women run, we win," says Ranglin-Vassell. ​"We need to be at the leadership table. If the Democratic Party wants to move an agenda for Black and brown people, they cannot take us for granted. We're trying to mobilize people who have historically not been engaged. We're going to vote and we're not going be taken for granted anymore. The Democratic Party locally and nationally has been taking the Black vote for granted and they need to stop."
Your donation makes In These Times possible
Matthew Cunningham-Cook
is a labor researcher and writer living in Prince George's County, Maryland. You can contact him at m.cunninghamcook [at] gmail​.com.