Why Abolishing ICE Is Good Climate Policy
The war on terror has unleashed unspeakable cruelty. We must not rely on its institutions to fix the climate crisis.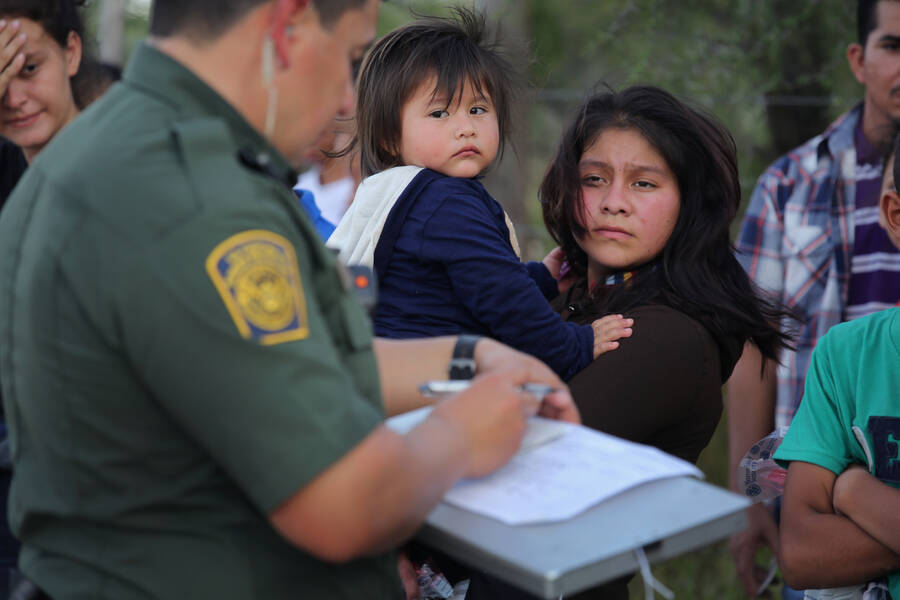 There's been a rash of hor­rif­ic news recent­ly about the treat­ment of immi­grants enter­ing the Unit­ed States through its south­ern bor­der. Accord­ing to Depart­ment of Home­land Secu­ri­ty (DHS) sta­tis­tics obtained and pub­lished by The Asso­ci­at­ed Press on Fri­day, near­ly 2,000 chil­dren were forcibly sep­a­rat­ed from their par­ents with­in just six weeks between April and May. That fol­lows Attor­ney Gen­er­al Jeff Sessions'announcement of a ​"zero-tol­er­ance" pol­i­cy on immi­gra­tion, to crim­i­nal­ly pros­e­cute cas­es of ille­gal entry into the Unit­ed States and incar­cer­ate chil­dren and their par­ents in sep­a­rate facilities.
It's hard to imagine what a just and effective U.S. governmental response to the climate crisis might look like. It's even harder to imagine DHS being a part of it, either in dealing acutely with catastrophic weather or over the long-term with increasing flows of climate migrants.
With­out real­iz­ing it, Jeff Ses­sions wrote a cli­mate pol­i­cy. As cli­mate-fueled migra­tion con­tin­ues to accel­er­ate, immi­gra­tion poli­cies will deter­mine how the U.S. gov­ern­ment nav­i­gates the cli­mate cri­sis. For now, pol­i­cy­mak­ers' play­book is the war on ter­ror, and its tools are the hap­less, bar­bar­ic insti­tu­tions cre­at­ed to wage it.
With Sessions'new man­date, the Depart­ment of Jus­tice (DOJ) has cre­at­ed a prob­lem the U.S. gov­ern­ment is inca­pable of han­dling. To deal with the sud­den influx of young pris­on­ers — some ripped cry­ing from their parents'arms — the admin­is­tra­tion is now con­struct­ing ad-hoc pris­ons in con­vert­ed Wal-Marts and tent cities, like the one built to house 360 kids in Tornil­lo, Texas. The DOJ also ruled that peo­ple flee­ing domes­tic abuse or any kind of non-gov­ern­men­tal vio­lence will no longer be eli­gi­ble for asy­lum, effec­tive­ly recast­ing gen­der-based vio­lence as a pri­vate rather than a pub­lic matter.
This week's onslaught of immi­gra­tion news offers a chill­ing pre­view of events that could become all the more like­ly as the plan­et warms. At the core of the immi­gra­tion debate is the ques­tion that will come to dom­i­nate the cli­mate-defined pol­i­tics of the 21st cen­tu­ry: Who gets to live here and live well?
New warm­ing, new walls
Near­ly every pol­i­cy field will be shaped by ris­ing tem­per­a­tures in the com­ing decades, and immi­gra­tion will almost cer­tain­ly be among those most deeply impact­ed. By 2080, cli­mate-relat­ed caus­es could send as many as 6.7 mil­lion peo­ple to the Unit­ed States from Mex­i­co alone. Over­all pro­jec­tions for cli­mate-fueled migra­tion vary wide­ly, though they gen­er­al­ly pre­dict that some­where between 25 mil­lion and 1 bil­lion peo­ple will be dis­placed in the com­ing decades — by leaps and bounds, the largest mass migra­tion event in world history.
These changes are already start­ing to play out. Cen­tral Amer­i­can farm­ers have for years been forced north­ward thanks to a com­bi­na­tion of pro­longed drought and increas­ing­ly neolib­er­al agri­cul­tur­al poli­cies in the region, in some cas­es brought about by Inter­na­tion­al Mon­e­tary Fund (IMF)-imposed struc­tur­al adjust­ment pack­ages. The North Amer­i­can Free Trade Agree­ment (NAF­TA) flood­ed Mex­i­co with U.S.-subsidized corn almost as soon as it passed, dev­as­tat­ing that country's agri­cul­tur­al econ­o­my and forc­ing many to pur­sue work else­where, often in fac­to­ries along the bor­der­lands or in the Unit­ed States. Fol­low­ing NAFTA's pas­sage and the ensu­ing surge in immi­gra­tion, then-pres­i­dent Bill Clin­ton dou­bled the bud­get of the Immi­gra­tion and Nat­u­ral­iza­tion Ser­vice and swelled secu­ri­ty forces and tech­nol­o­gy along the border.
With­in the Unit­ed States, as jour­nal­ist Todd Miller has not­ed, inter­nal migra­tion result­ing from unbear­able heat and cat­a­stroph­ic storms and fires could soon be treat­ed as an excuse for immi­gra­tion offi­cials to erect new bar­ri­ers to basic resources and state pro­tec­tions. In his book Storm­ing the Wall, Mil­er imag­ines a sce­nario in which the major­i­ty-Lati­no pop­u­la­tion of Phoenix is forced to flee through inter­state check­points con­trolled by Bor­der Patrol agents. ​"Bor­ders can be enact­ed quick­ly through road block­ades and inter­ro­gat­ing agents," he con­tends, not­ing that dur­ing the Depres­sion farm­ers flee­ing the Dust Bowl were blocked from enter­ing California.
Indeed, new bor­ders are already pro­lif­er­at­ing in the 21st cen­tu­ry. Since its cre­ation in 2003 as part of the war on ter­ror, the Immi­gra­tion and Cus­toms Enforce­ment (ICE) has effec­tive­ly extend­ed the mil­i­ta­rized south­ern bor­der into towns and cities through­out the Unit­ed States, to often ter­ri­fy­ing ends for those targeted.
"To be in the Unit­ed States with­out legal immi­gra­tion sta­tus is to be sub­ject to poten­tial depor­ta­tion. That's been a truth of immi­gra­tion law for­ev­er. It's just that for most of U.S. his­to­ry, it was most­ly a hypo­thet­i­cal truth,"writes Vox immi­gra­tion reporter Dara Lind. ​"The fed­er­al gov­ern­ment just didn't have the resources for inte­ri­or immi­gra­tion enforce­ment to pick up and remove large num­bers of immi­grants who hadn't com­mit­ted oth­er crimes." ICE's incep­tion made it far more like­ly that some­one could be picked up — say in a rou­tine traf­fic stop, at their work­place or school or from their own home — and deport­ed, forced at a Kafkaesque moment's notice to leave behind fam­i­lies and communities.
As writer and researcher Sean McEl­wee points out in his call to abol­ish the agency, ICE since its found­ing has oper­at­ed more or less by the prin­ci­ples of coun­terin­sur­gency — stay­ing all too true to its post‑9/​11 roots. Tar­get­ed raids on its out­spo­ken crit­ics are intend­ed to chill oppo­si­tion to the agency, spread fear with­in immi­grant com­mu­ni­ties and encour­age obe­di­ence. As act­ing ICE direc­tor Thomas Honan warned, ​"You should look over your shoul­der, and you need to be worried."
Today's immi­gra­tion poli­cies are deeply bound up in the war on ter­ror ethos: the com­mit­ment to mil­i­tary inter­ven­tion­ism abroad and embold­ened xeno­pho­bia at home that's been a main­stay of the Bush, Oba­ma and Trump admin­is­tra­tions. And just as dra­con­ian immi­gra­tion poli­cies aren't unique to the Trump White House, fed­er­al agen­cies under both Demo­c­ra­t­ic and Repub­li­can con­trol have been metic­u­lous­ly plan­ning for cli­mate change for years. The Pen­ta­gon has been writ­ing reports about how cli­mate change could impact U.S. defense inter­ests since 1992, dub­bing it a ​"threat mul­ti­pli­er" that pos­es ​"imme­di­ate risks" to nation­al secu­ri­ty, and even list­ing cli­mate change as a top nation­al secu­ri­ty threat in its 2014 Qua­dren­ni­al Defense Review. Defense Sec­re­tary James Mat­tis told the Sen­ate Armed Ser­vices Com­mit­tee that cli­mate change is already ​"impact­ing sta­bil­i­ty in areas of the world where our troops are oper­at­ing today," and has long argued that the mil­i­tary should wean itself off of fos­sil fuels.
A 2007 report from the Cen­ter for Naval Analy­sis (CNA) Cor­po­ra­tion, authored by a pan­el of retired gen­er­als, takes a sim­i­lar approach. Its authors rec­om­mend that the ​"nation­al secu­ri­ty con­se­quences of cli­mate change" be ​"ful­ly inte­grat­ed into nation­al secu­ri­ty and nation­al defense strate­gies." The panel's great­est con­cern by far is the risk of cli­mate-fueled migra­tion. ​"More pover­ty, more forced migra­tions, high­er unem­ploy­ment. Those con­di­tions are ripe for extrem­ists and ter­ror­ists," writes retired Admi­ral T. Joseph Lopez, for­mer top NATO com­man­der in Bosnia. ​"Cli­mate change will pro­vide the con­di­tions that will extend the war on ter­ror." Sim­i­lar­ly, retired Air Force Gen­er­al Chuck Wald pre­dicts that the U.S. mil­i­tary will ​"be drawn into the pol­i­tics of Africa, to a much greater extent than we have in the past"t han­ks to mass migra­tion and grow­ing con­flicts over resources on that continent.
In its rel­a­tive­ly sober look at the real­i­ties of cli­mate change, the defense com­mu­ni­ty seems to view warm­ing as cause for con­tin­ued mil­i­tary inter­ven­tion. The wide­ly-cit­ed Age of Con­se­quences report on the sub­ject rec­om­mends that the Pen­ta­gon moves to increase the ​"resilience of the inter­na­tion­al com­mu­ni­ty against cli­mate-relat­ed threats by strength­en­ing the gov­er­nance, health­care, and dis­as­ter pre­ven­tion and relief capa­bil­i­ties of for­eign coun­tries," lay­ing out a kind of cli­mate-con­scious White Man's Bur­den. If you all you have is a ham­mer, evi­dent­ly, every­thing looks like a nail.
Indeed, much of the aca­d­e­m­ic and pol­i­cy lit­er­a­ture around cli­mate change and secu­ri­ty posits migrat­ing pop­u­la­tions — those from the Glob­al South, espe­cial­ly — as a threat. In The Com­ing Anar­chy, renowned polit­i­cal sci­en­tist Robert Kaplan argues that envi­ron­men­tal changes will force respectable nations to defend them­selves on a ​"run­down, crowd­ed plan­et of skin­head Cos­sacks and juju war­riors, influ­enced by the worst refuse of West­ern pop cul­ture and ancient trib­al hatreds and bat­tling over scraps of overused earth in guer­ril­la con­flicts that rip­ple across continents."
The warm­ing we're already locked-in to expe­ri­ence — and that many places are expe­ri­enc­ing already — is play­ing out in a world marked by stag­ger­ing inequal­i­ty and con­flict, large­ly root­ed in Cold War-era mil­i­tarism and geopo­lit­i­cal divides. In his book Trop­ic of Chaos, Jour­nal­ist and geo­g­ra­ph­er Chris­t­ian Par­en­ti calls this phe­nom­e­non a cat­a­stroph­ic con­ver­gence, where ​"prob­lems com­pound and ampli­fy each oth­er, one express­ing itself through anoth­er." The real hor­ror of cli­mate change isn't that there's some­thing inher­ent­ly mon­strous about hur­ri­canes, for­est fires or sea lev­el rise, but that the ways gov­ern­ments respond to them (or don't) could be total­ly dis­as­trous for a super­ma­jor­i­ty of the world's pop­u­la­tion. Par­en­ti calls this the ​"pol­i­tics of the armed lifeboat: the prepa­ra­tions for open-end­ed coun­terin­sur­gency, mil­i­ta­rized bor­ders, aggres­sive anti-immi­grant polic­ing and a main­stream pro­lif­er­a­tion of right-wing xenophobia."
Fortress envi­ron­men­tal­ism
Yet despite the clear ties, immi­gra­tion has tend­ed to be some­thing of a blind spot for many envi­ron­men­tal­ists — or worse. Even self-described rad­i­cals with­in the big green tent have flirt­ed with mis­an­throp­ic Malthu­sian­ism, pin­point­ing over­pop­u­la­tion as a main dri­ver of cli­mate change. Dave Fore­man, founder of the rad­i­cal direct action group Earth First!, reli­ably aligns him­self with white suprema­cists in call­ing for restric­tive immi­gra­tion poli­cies. And while hard­ly anti-immi­grant in its own right, one of the found­ing texts of mod­ern envi­ron­men­tal­ism—Lim­its to Growth—out­lines a basic con­tra­dic­tion between expand­ing pop­u­la­tions and mate­r­i­al pros­per­i­ty that xeno­pho­bic ele­ments with­in the green move­ment have seized upon to call for harsh­er bor­der secu­ri­ty measures.
Some envi­ron­men­tal groups have even praised arms of the mil­i­tary for their clear-eyed stance on cli­mate, draw­ing a con­trasts between Pen­ta­gon posi­tions on cli­mate and those of the White House. ​"Mattis,"the Nat­ur­al Resources Defense Coun­cil raved, ​"not only believes in cli­mate change but believes it's mak­ing his job hard­er … appar­ent­ly not even clear­ly word­ed warn­ings from his own defense sec­re­tary are enough to sway Don­ald Trump on this mat­ter." In a Vet­er­ans Day blog post in 2017, Sier­ra Club Board pres­i­dent Loren Black­ford wrote that ​"many mil­i­tary lead­ers see an urgency in tran­si­tion­ing to renew­able ener­gy," and praised Mat­tis for urg­ing the mil­i­tary ​"to move away from oil and toward green tech­nolo­gies in order to help reduce the threat of attacks on fuels sup­plies. Here at home, more mil­i­tary bases are con­vert­ing to renew­able ener­gy because it makes them more resilient, inde­pen­dent, and powerful."
Such argu­ments may inad­ver­tent­ly end up empow­er­ing our bloat­ed, destruc­tive nation­al secu­ri­ty appa­ra­tus to decide how Amer­i­ca responds to cli­mate change. Rather than appeal­ing to Trump to lis­ten to James ​"Mad Dog" Mat­tis about glob­al warm­ing, cli­mate hawks might do well to put more ambi­tious demands on the table: Abol­ish­ing ICE, and dis­man­tling the Depart­ment of Home­land Security.
It's not a dif­fi­cult case to make. DHS is a Franken­stein mon­ster of a fed­er­al agency, an amal­ga­ma­tion of 22 fed­er­al agen­cies cob­bled togeth­er in the months after 9⁄11. The New Repub­lic​'s Matt Ford points out that DHS is respon­si­ble for too many things to do any of them well, with a man­date that includes every­thing from cyber-secu­ri­ty to dis­as­ter response to bor­ders. ​"The depart­ment," Ford con­tends, ​"will always be the hasti­ly assem­bled prod­uct of a dark, para­noid moment in Amer­i­can his­to­ry. It also helps give per­ma­nence to that moment, pre­vent­ing the coun­try from mov­ing beyond the post‑9/​11 era."
Of par­tic­u­lar con­cern to cli­mate activists should be the fact that FEMA, housed under DHS, is noto­ri­ous­ly incom­pe­tent at han­dling cat­a­stroph­ic events. Then-direc­tor Michael Brown famous­ly bungling the fed­er­al response to Hur­ri­cane Kat­ri­na, to dead­ly effect. And an exten­sive Politi­co inves­ti­ga­tion found that the agency reli­ably pri­or­i­tized Texas'recovery from Hur­ri­cane Har­vey over Puer­to Rico's from Hur­ri­cane Maria, despite the fact that the dam­age to the island dwarfed that done in the greater Hous­ton area. ​"Nine days after the respec­tive hur­ri­canes, FEMA had approved $141.8 mil­lion in indi­vid­ual assis­tance to Har­vey vic­tims, ver­sus just $6.2 mil­lion for Maria vic­tims," author Dan­ny Vinik wrote. With­in the same time peri­od after each storm, the fed­er­al gov­ern­ment sent a third of the per­son­nel it had sent to the Hous­ton region to Puer­to Rico. FEMA was also respon­si­ble for hand­ing out a scan­dalous con­tract to an Atlanta-based entre­pre­neur to deliv­er 30 mil­lion meals — only 50,000 of which mate­ri­al­ized before the con­tract was cancelled.
It's hard to imag­ine what a just and effec­tive U.S. gov­ern­men­tal response to the cli­mate cri­sis might look like. It's even hard­er to imag­ine DHS being a part of it, either in deal­ing acute­ly with cat­a­stroph­ic weath­er or over the long-term with increas­ing flows of cli­mate migrants. Yet as tem­per­a­tures con­tin­ue to rise, the mil­i­tary and the com­bined capac­i­ties of DHS stand as America's front­line respon­ders to direct and indi­rect cli­mate impacts. If allowed to con­tin­ue, this real­i­ty stands to cre­ate a kind of cli­mate apartheid, endow­ing an overt­ly polit­i­cal gov­ern­ment agency with the pow­er to decide who gets to recov­er from dev­as­tat­ing storms and floods, and which fam­i­lies are allowed to stay together.
The strat­e­gy behind the war on ter­ror has dri­ven, not mit­i­gat­ed, vio­lence, and pro­vid­ed the basis for unspeak­ably cru­el immi­gra­tion poli­cies. Why should we expect it to be any bet­ter at deal­ing with cli­mate change? Let's dis­man­tle DHS instead of giv­ing it license to deploy its trade­mark mix of incom­pe­tence and cru­el­ty on a warm­ing world.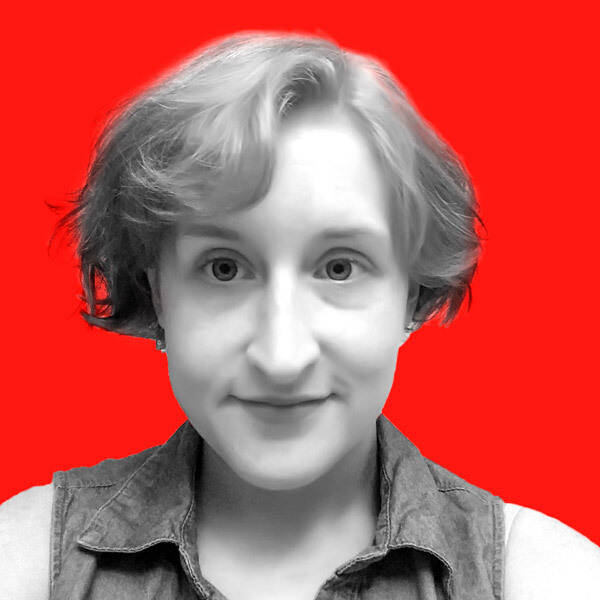 Kate Aronoff
is a Brook­lyn-based jour­nal­ist cov­er­ing cli­mate and U.S. pol­i­tics, and a con­tribut­ing writer at The Inter­cept. Fol­low her on Twit­ter @katearonoff.