Calls to Abolish ICE Were Everywhere at the Massive March Against Immigrant Family Detention
As tens of thousands took to the streets this weekend, many marchers joined the growing demand to defund and dismantle ICE.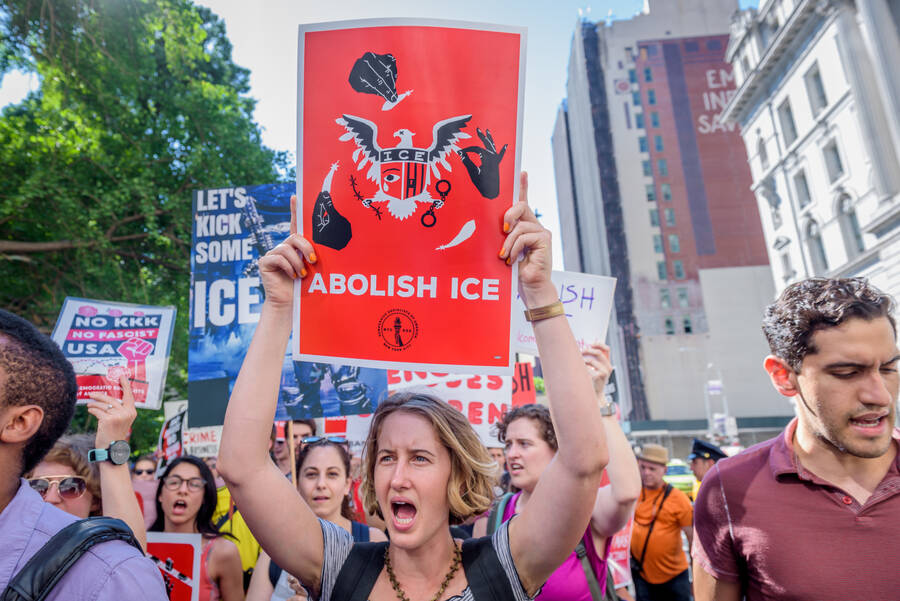 Chants of ​"ICE, shut it down; deten­tion cen­ters, shut it down," echoed across down­town Chica­go on Sat­ur­day as more than 50,000 pro­tes­tors took to the streets to demand an end to the Trump administration's bru­tal immi­gra­tion poli­cies, part of a nation­al day of action brand­ed as Fam­i­lies Belong Togeth­er that saw ral­lies in over 700 cities. Scat­tered through­out the crowd were signs read­ing, ​"ICE Crush­er" and ​"Fam­i­lies Against ICE" and some demon­stra­tors dis­trib­uted actu­al ice to com­bat the 100-degree heat index.
"The violence that is inherent within this institution cannot be reformed, it cannot be made more human. It must be abolished."
While the call to abol­ish U.S. Immi­gra­tion and Cus­toms Enforce­ment (ICE) — the agency large­ly respon­si­ble for sep­a­rat­ing fam­i­lies and oper­at­ing child deten­tion cen­ters — was absent from offi­cial protest descrip­tions, it was ever-present at the rally.
ICE, cre­at­ed in 2003 to over­see the deten­tion and depor­ta­tion of indi­vid­u­als arrest­ed for immi­gra­tion vio­la­tions, was the focus of intense crit­i­cism from pro­tes­tors and speak­ers alike. Sev­er­al of the orga­ni­za­tions involved in coor­di­nat­ing the Chica­go ral­ly, includ­ing the Lati­no Pol­i­cy Forum, Dream Action Coali­tion and the Nation­al Immi­grant Jus­tice Cen­ter, had pre­vi­ous­ly called for dis­man­tling ICE or divert­ing funds away from the agency.
"We need whole­sale immi­gra­tion reform to fix our bro­ken immi­gra­tion sys­tem as opposed to an increased puni­tive pol­i­cy that increas­es the reign of ter­ror — and ICE is the leader of cre­at­ing that fear," said Sylvia Puente, exec­u­tive direc­tor of Lati­no Pol­i­cy Forum, a group that helped orga­nize the march. ​"We've heard from many orga­ni­za­tions that we work with that Lati­nos who are legal per­ma­nent res­i­dents and some that are cit­i­zens are afraid to con­gre­gate, they're afraid to go shopping."
Pro­tes­tors voiced sim­i­lar crit­i­cisms of the threat that the agency pos­es, even to legal residents.
"They're tak­ing advan­tage of immi­grants who don't know what's going on, who are afraid, who as soon as they see an ICE offi­cer are imme­di­ate­ly scared," said Joan­na Her­nan­dez, 21, a DACA recip­i­ent. She car­ried a bright pink sign, embla­zoned with the words: ​"Abol­ish ICE."
What began as a call from immi­grant rights orga­ni­za­tions years ago has now become a move­ment endorsed by poten­tial 2020 pres­i­den­tial con­tenders and pro­gres­sive can­di­dates across the country.
Alexan­dria Oca­sio-Cortez, whose June 26 vic­to­ry in New York's 14th Dis­trict con­gres­sion­al pri­ma­ry upset 10-term incum­bent Rep. Joe Crow­ley, cam­paigned on a promise to abol­ish ICE. In the past week, Sens. Kirsten Gilli­brand and Eliz­a­beth War­ren have called for the agency to be replaced while Sen­a­tor Kamala Har­ris hedged the issue, sug­gest­ing that politi­cians should ​"prob­a­bly" start from scratch on immi­gra­tion enforce­ment in an inter­view with MSNBC.
Last week, Wis­con­sin Rep. Mark Pocan also announced plans to draft a bill to dis­man­tle ICE. Oth­er high pro­file endorsers of the call include New York May­or Bill De Bla­sio, Wash­ing­ton Rep. Prami­la Jaya­pal, New York guber­na­to­r­i­al can­di­date Cyn­thia Nixon and Wis­con­sin House can­di­date Randy Bryce, among others.
Despite many marchers' calls to abol­ish the agency, how­ev­er, some com­mu­ni­ty mem­bers felt the nation­al day of protest fell short of embrac­ing the change need­ed to make immi­grant com­mu­ni­ties feel safe.
On Fri­day, the night before, a small­er march was held in Pilsen, a heav­i­ly Lati­no neigh­bor­hood on Chicago's South Side, that focused pri­mar­i­ly on the abo­li­tion of ICE.
"In real­i­ty, a lot of peo­ple from this com­mu­ni­ty want to com­plete­ly abol­ish ICE," said Rosa Esquiv­el, a mem­ber of the Pilsen Alliance Exec­u­tive Board, explain­ing that fam­i­ly reuni­fi­ca­tion was not enough in the eyes of com­mu­ni­ty members.
ICE's 2017 bud­get sur­passed $6 bil­lion and it made a total of 143,470 arrests in the same year. Crit­ics have cit­ed the agency's role in sep­a­rat­ing fam­i­lies, aggres­sive work­place raids and uni­form tar­get­ing of all immi­grants regard­less of crim­i­nal records as main grievances.
Soon after tak­ing office, Pres­i­dent Trump issued an exec­u­tive order grant­i­ng ICE offi­cers dis­cre­tion to arrest all undoc­u­ment­ed immi­grants, where­as pre­vi­ous pol­i­cy had pri­or­i­tized tar­get­ing those con­vict­ed of seri­ous crimes. As report­ed by New York Mag­a­zine​'s Ben­jamin Hart, ICE's arrests of undoc­u­ment­ed and ​"non­crim­i­nal" immi­grants dur­ing the 2017 fis­cal year rock­et­ed to 37,734, more than dou­ble that of 2016.
Oth­er orga­niz­ing part­ners for the Pilsen march, which drew over 200 pro­tes­tors, echoed the need to end ICE activities.
"It's trau­mat­ic to even inter­act with ICE, it's trau­mat­ic to be detained indef­i­nite­ly," said Clara Alcott, Com­mu­ni­ca­tions Work­ing Group Co-Chair for Chica­go Demo­c­ra­t­ic Social­ists of Amer­i­ca. ​"We need to con­tin­ue the con­ver­sa­tion until ICE is abolished."
While grow­ing num­bers of pro­gres­sives have joined in calls to abol­ish the agency, skep­tics also find it unlike­ly that the move­ment will gain trac­tion under the Trump admin­is­tra­tion. In a Fox inter­view on Sat­ur­day, Pres­i­dent Trump called ICE agents ​"much tougher than MS-13" by a ​"fac­tor of 10," argu­ing that abol­ish­ing the agency would make the coun­try unsafe.
"Abol­ish­ing ICE is not some­thing that either one of the basic par­ties are going to do," said John Beacham, a coor­di­na­tor for Answer Chica­go, an anti­war orga­ni­za­tion. Beacham not­ed that it was under Pres­i­dent Oba­ma that the admin­is­tra­tion, ​"changed the pol­i­cy of ICE and immi­gra­tion enforce­ment in this coun­try to an offen­sive operation."
At the Sat­ur­day march, orga­niz­ers unfurled an ​"Abol­ish ICE" ban­ner behind speak­er Irene Romu­lo, an orga­niz­er for Orga­nized Com­mu­ni­ties Against Depor­ta­tions, as she addressed the crowd, call­ing for con­tin­ued efforts to shut­ter ICE.
"The vio­lence that is inher­ent with­in this insti­tu­tion can­not be reformed, it can­not be made more human," said Romu­lo. ​"It must be abolished."
Grace Dixon
is a sum­mer
2018
In These Times edi­to­r­i­al intern.