How Prison Gerrymandering Strips Power from Communities of Color
Prisoners have become the latest tools in statewide redistricting strategies to empower rural, white districts.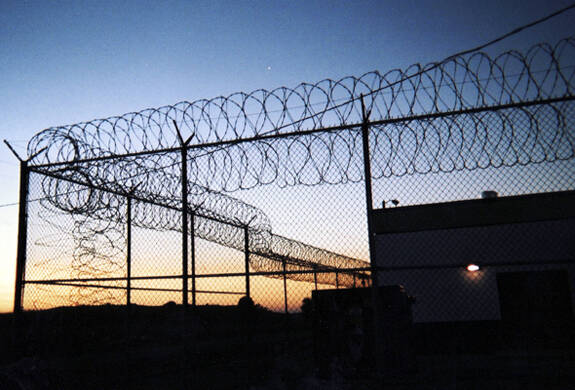 Russian interference, compromised voting machines and voter ID laws have been at the center of debate about the integrity of the 2018 midterm elections. Yet largely missing from the conversation is discussion over the practice of using incarcerated felons to gerrymander white rural districts at the expense of minority urban districts — a tactic called prison gerrymandering.
This imbalance results in a simultaneous transfer of both residents and political power, disproportionately denying minority communities equal representation.
Prison-based gerrymandering distorts representation within states by counting prisoners as residents of the location where they are incarcerated when drawing state district maps, rather than at their permanent residences. This imbalance results in a simultaneous transfer of both residents and political power, disproportionately denying minority communities equal representation.
"This results in a shift in or a skewing of voting and political power away from the urban centers, which tend to be more diverse, and toward these more rural areas which tend to be less diverse," says Brad Berry, General Counsel to the National Association for the Advancement of Colored People (NAACP). ​"This is an issue of having the political power and the voting power of communities of color accounted for properly."
The gerrymandering practice occurs when states use raw Census data, which counts all residents of ​"group quarters" – including prisons, military barracks and college dorms – at their current residence, to draw district lines.
Rural communities are 79 percent white while urban areas are home to a 56 percent minority population, according to the most recent American Community Survey data.
Rural areas, however, house 40 percent of the country's prisoners. These prison populations consist largely of black and Latino prisoners from urban centers who are incarcerated at disproportionately high rates, but are counted as residents of the county in which they're imprisoned.
Such misclassification results in white, rural districts, artificially inflated by prisoners, receiving the same representation as larger urban minority districts. This practice, alongside denying felons the right to vote in all but two states, has skewed representation in state legislatures.
"When you try to divvy up districts equally based on population and you use the census population blindly without second guessing it, you end up counting all these people in the wrong place which then shifts political power," says Aleks Kajstura, Legal Director for the Prison Policy Initiative, a nonprofit criminal justice think tank.
On June 28, the NAACP filed suit against Connecticut over the practice of prison gerrymandering. Most of the state's prison population comes from Bridgeport, Hartford and New Haven, the state's cities, while prisons are mainly located in far-away locations in northern Connecticut.
The suit identifies one rural district, home to three state prisons, as a flagrant example. The district's non-prison population is 15 percent smaller than that of urban districts located in New Haven, yet receives the same amount of representation in the state legislature.
"In [urban] communities, more people are being represented by only one representative. Essentially, that means competing for time and resources," says Ashley Hall, a student in the Yale Rule of Law Clinic which joined the NAACP in filing the lawsuit.
The NAACP's lawsuit calls for Connecticut's legislative boundaries to be redrawn before the 2020 election, arguing that the current map deprives the state of an additional district.
The Prison Policy Initiative and the NAACP Legal Defense and Education Fund were among a coalition of 40 civil rights groups that urged the Census Bureau to change course before 2020. These efforts sought to transfer the onus of reallocating prison populations from the states to the Bureau, but in early 2018, the effort failed.
New York is one of only four states that have successfully pushed to correct prison gerrymandering by reapportioning census data. The state legislature passed legislation in 2010 requiring that prisoners be counted as residents of their home district, an approach which could serve as a model for other states.
The redrawn district lines added a new seat to New York's congressional map.
California, Delaware and Maryland have also passed similar legislation to correct Census data. More than 200 local governments and counties have abolished the practice by removing prisons from district maps or splitting the prison population between all districts.
Advocates for redrawing prison-gerrymandered districts hope to see state-level changes before the 2020 election. The effects of prison gerrymandering on races, however, are often more pervasive than the electoral outcomes of specific districts.
"The types of people you are seeing even running are going to be different if you change the way that people are counted and the way that districts are drawn," says Sophia Lin Lakin, staff attorney for the ACLU's Voting Rights Project. ​"The fact that [prisoners] can't vote is obviously having an effect."
Prison-based gerrymandering may also influence legislative priorities, giving rural representatives incentives to promote mass incarceration policies.
Before New York ended prison gerrymandering, the staunchest opponents of drug sentencing reform were two senators whose districts were home to more than 17 percent of the state's prisoners. Of this population, almost one-third were imprisoned for drug offenses, according to the Prison Policy Institute.
The Connecticut lawsuit, the only pending suit on the subject, is unlikely to be resolved before the November 2018 midterms. The defendants' deadline to answer the complaint is September 6.
Even if the lawsuit doesn't have a calculable effect on the 2018 midterms, however, advocates hope it will ultimately change the way legislative seats are drawn for the foreseeable future.
"This distorts representation in a numerical sense, giving more disproportionate and unwarranted power," says Lin Lakin. ​"Prison-based gerrymandering is not very democratic."
Grace Dixon
is a summer
2018
In These Times editorial intern.