How Prison Gerrymandering Strips Power from Communities of Color
Prisoners have become the latest tools in statewide redistricting strategies to empower rural, white districts.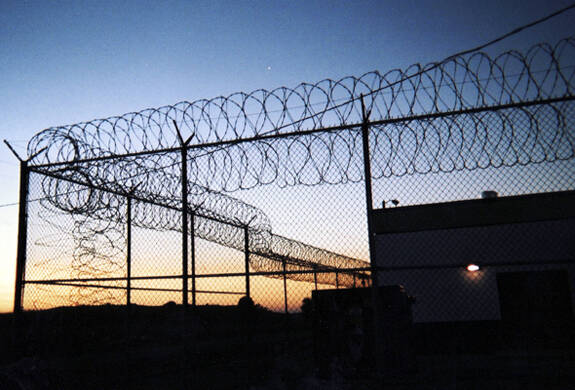 Russ­ian inter­fer­ence, com­pro­mised vot­ing machines and vot­er ID laws have been at the cen­ter of debate about the integri­ty of the 2018 midterm elec­tions. Yet large­ly miss­ing from the con­ver­sa­tion is dis­cus­sion over the prac­tice of using incar­cer­at­ed felons to ger­ry­man­der white rur­al dis­tricts at the expense of minor­i­ty urban dis­tricts — a tac­tic called prison gerrymandering.
This imbalance results in a simultaneous transfer of both residents and political power, disproportionately denying minority communities equal representation.
Prison-based ger­ry­man­der­ing dis­torts rep­re­sen­ta­tion with­in states by count­ing pris­on­ers as res­i­dents of the loca­tion where they are incar­cer­at­ed when draw­ing state dis­trict maps, rather than at their per­ma­nent res­i­dences. This imbal­ance results in a simul­ta­ne­ous trans­fer of both res­i­dents and polit­i­cal pow­er, dis­pro­por­tion­ate­ly deny­ing minor­i­ty com­mu­ni­ties equal representation.
"This results in a shift in or a skew­ing of vot­ing and polit­i­cal pow­er away from the urban cen­ters, which tend to be more diverse, and toward these more rur­al areas which tend to be less diverse," says Brad Berry, Gen­er­al Coun­sel to the Nation­al Asso­ci­a­tion for the Advance­ment of Col­ored Peo­ple (NAACP). ​"This is an issue of hav­ing the polit­i­cal pow­er and the vot­ing pow­er of com­mu­ni­ties of col­or account­ed for properly."
The ger­ry­man­der­ing prac­tice occurs when states use raw Cen­sus data, which counts all res­i­dents of ​"group quar­ters" – includ­ing pris­ons, mil­i­tary bar­racks and col­lege dorms – at their cur­rent res­i­dence, to draw dis­trict lines.
Rur­al com­mu­ni­ties are 79 per­cent white while urban areas are home to a 56 per­cent minor­i­ty pop­u­la­tion, accord­ing to the most recent Amer­i­can Com­mu­ni­ty Sur­vey data.
Rur­al areas, how­ev­er, house 40 per­cent of the country's pris­on­ers. These prison pop­u­la­tions con­sist large­ly of black and Lati­no pris­on­ers from urban cen­ters who are incar­cer­at­ed at dis­pro­por­tion­ate­ly high rates, but are count­ed as res­i­dents of the coun­ty in which they're imprisoned.
Such mis­clas­si­fi­ca­tion results in white, rur­al dis­tricts, arti­fi­cial­ly inflat­ed by pris­on­ers, receiv­ing the same rep­re­sen­ta­tion as larg­er urban minor­i­ty dis­tricts. This prac­tice, along­side deny­ing felons the right to vote in all but two states, has skewed rep­re­sen­ta­tion in state legislatures.
"When you try to divvy up dis­tricts equal­ly based on pop­u­la­tion and you use the cen­sus pop­u­la­tion blind­ly with­out sec­ond guess­ing it, you end up count­ing all these peo­ple in the wrong place which then shifts polit­i­cal pow­er," says Aleks Kajs­tu­ra, Legal Direc­tor for the Prison Pol­i­cy Ini­tia­tive, a non­prof­it crim­i­nal jus­tice think tank.
On June 28, the NAACP filed suit against Con­necti­cut over the prac­tice of prison ger­ry­man­der­ing. Most of the state's prison pop­u­la­tion comes from Bridge­port, Hart­ford and New Haven, the state's cities, while pris­ons are main­ly locat­ed in far-away loca­tions in north­ern Connecticut.
The suit iden­ti­fies one rur­al dis­trict, home to three state pris­ons, as a fla­grant exam­ple. The district's non-prison pop­u­la­tion is 15 per­cent small­er than that of urban dis­tricts locat­ed in New Haven, yet receives the same amount of rep­re­sen­ta­tion in the state legislature.
"In [urban] com­mu­ni­ties, more peo­ple are being rep­re­sent­ed by only one rep­re­sen­ta­tive. Essen­tial­ly, that means com­pet­ing for time and resources," says Ash­ley Hall, a stu­dent in the Yale Rule of Law Clin­ic which joined the NAACP in fil­ing the lawsuit.
The NAACP's law­suit calls for Connecticut's leg­isla­tive bound­aries to be redrawn before the 2020 elec­tion, argu­ing that the cur­rent map deprives the state of an addi­tion­al district.
The Prison Pol­i­cy Ini­tia­tive and the NAACP Legal Defense and Edu­ca­tion Fund were among a coali­tion of 40 civ­il rights groups that urged the Cen­sus Bureau to change course before 2020. These efforts sought to trans­fer the onus of real­lo­cat­ing prison pop­u­la­tions from the states to the Bureau, but in ear­ly 2018, the effort failed.
New York is one of only four states that have suc­cess­ful­ly pushed to cor­rect prison ger­ry­man­der­ing by reap­por­tion­ing cen­sus data. The state leg­is­la­ture passed leg­is­la­tion in 2010 requir­ing that pris­on­ers be count­ed as res­i­dents of their home dis­trict, an approach which could serve as a mod­el for oth­er states.
The redrawn dis­trict lines added a new seat to New York's con­gres­sion­al map.
Cal­i­for­nia, Delaware and Mary­land have also passed sim­i­lar leg­is­la­tion to cor­rect Cen­sus data. More than 200 local gov­ern­ments and coun­ties have abol­ished the prac­tice by remov­ing pris­ons from dis­trict maps or split­ting the prison pop­u­la­tion between all districts.
Advo­cates for redraw­ing prison-ger­ry­man­dered dis­tricts hope to see state-lev­el changes before the 2020 elec­tion. The effects of prison ger­ry­man­der­ing on races, how­ev­er, are often more per­va­sive than the elec­toral out­comes of spe­cif­ic districts.
"The types of peo­ple you are see­ing even run­ning are going to be dif­fer­ent if you change the way that peo­ple are count­ed and the way that dis­tricts are drawn," says Sophia Lin Lakin, staff attor­ney for the ACLU's Vot­ing Rights Project. ​"The fact that [pris­on­ers] can't vote is obvi­ous­ly hav­ing an effect."
Prison-based ger­ry­man­der­ing may also influ­ence leg­isla­tive pri­or­i­ties, giv­ing rur­al rep­re­sen­ta­tives incen­tives to pro­mote mass incar­cer­a­tion policies.
Before New York end­ed prison ger­ry­man­der­ing, the staunchest oppo­nents of drug sen­tenc­ing reform were two sen­a­tors whose dis­tricts were home to more than 17 per­cent of the state's pris­on­ers. Of this pop­u­la­tion, almost one-third were impris­oned for drug offens­es, accord­ing to the Prison Pol­i­cy Institute.
The Con­necti­cut law­suit, the only pend­ing suit on the sub­ject, is unlike­ly to be resolved before the Novem­ber 2018 midterms. The defen­dants' dead­line to answer the com­plaint is Sep­tem­ber 6.
Even if the law­suit doesn't have a cal­cu­la­ble effect on the 2018 midterms, how­ev­er, advo­cates hope it will ulti­mate­ly change the way leg­isla­tive seats are drawn for the fore­see­able future.
"This dis­torts rep­re­sen­ta­tion in a numer­i­cal sense, giv­ing more dis­pro­por­tion­ate and unwar­rant­ed pow­er," says Lin Lakin. ​"Prison-based ger­ry­man­der­ing is not very democratic."
Grace Dixon
is a sum­mer
2018
In These Times edi­to­r­i­al intern.