Federal Employees Are Suing the Trump Administration for Forcing Them to Work for Free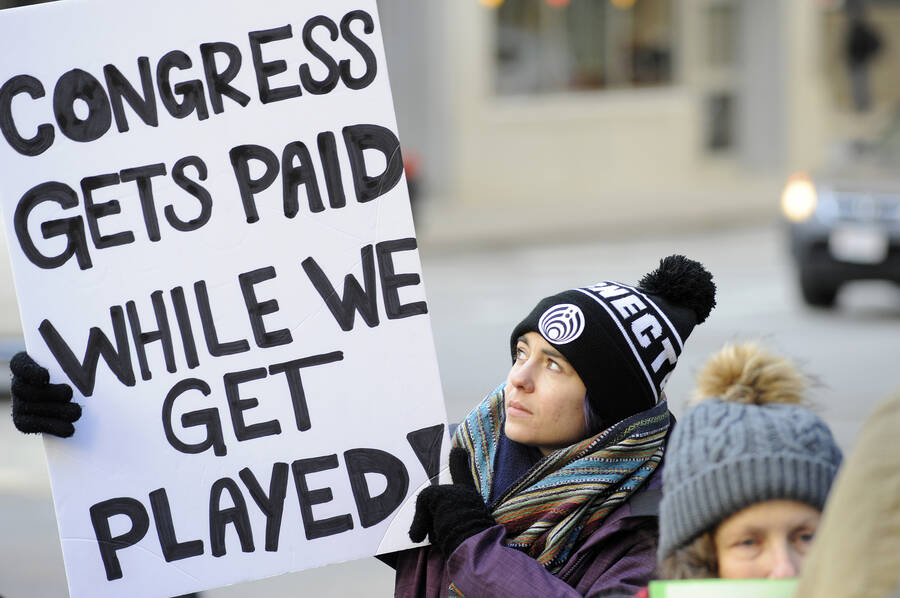 Work­ers are suing the Trump admin­is­tra­tion, argu­ing that it's ille­gal to com­pel fed­er­al employ­ees to work with no pay. Filed by the Amer­i­can Fed­er­a­tion of Gov­ern­ment Employ­ees (AFGE), the law­suit comes amid calls for fed­er­al work­ers to go on strike or stage a sick-out as the gov­ern­ment shut­down enters its fifth week.
On Decem­ber 31, the AFGE sued the Trump admin­is­tra­tion for deny­ing pay to fed­er­al work­ers dur­ing the par­tial gov­ern­ment shut­down, alleg­ing that the action was a clear vio­la­tion of the Fair Labor Stan­dards Act, the 1938 law that cre­at­ed the right to a min­i­mum wage and over­time pay. On Jan­u­ary 9, the union filed an amend­ed com­plaint in the law­suit, charg­ing that the gov­ern­ment is in vio­la­tion of min­i­mum wage laws.
Near­ly half a mil­lion fed­er­al employ­ees deemed ​"essen­tial" have been ordered to con­tin­ue work­ing despite the fact that they do not know when they will ulti­mate­ly be paid for their hours.
Hei­di Burakiewicz, an attor­ney rep­re­sent­ing the plain­tiffs as part of Kali­jarvi, Chuzi, New­man & Fitch, told In These Times that the amend­ed com­plaint was ini­ti­at­ed over the fact that 420,000 fed­er­al employ­ees had gone a full two weeks with­out a pay­check by mid-Jan­u­ary, which is a vio­la­tion of min­i­mum wage laws.
Burakiewicz says the plain­tiffs are seek­ing back pay, plus liq­ui­dat­ed dam­ages to com­pen­sate for the finan­cial deci­sions they've been forced to make dur­ing the shut­down. ​"Peo­ple are run­ning up late pay­ment penal­ties and inter­est charges," said Burakiewicz. ​"There's so many peo­ple who live pay­check to pay­check, and we've heard about so many incred­i­bly heart­break­ing situations."
Although there are just two plain­tiffs so far, AFGE is set­ting up an elec­tron­ic sign-up sys­tem for oth­er work­ers to join the law­suit, and Burakiewicz esti­mates that she's already received about 7,000 emails from peo­ple inquir­ing about how to become part of it.
This isn't the first time Burakiewicz has sued the fed­er­al gov­ern­ment. After the 2013 gov­ern­ment shut­down, Burakiewicz rep­re­sent­ed 25,000 essen­tial fed­er­al employ­ees who filed a law­suit on sim­i­lar grounds. The gov­ern­ment tried to get the case dis­missed by argu­ing that fed­er­al law pre­vent­ed them from spend­ing any mon­ey that had not been allo­cat­ed by Congress.
A judge with the U.S. Court of Fed­er­al Claims dis­agreed with the government's assess­ment and ruled in favor of the plain­tiffs in 2014. In 2017, the court deter­mined that the work­ers were actu­al­ly enti­tled to dou­ble their back pay. Despite the vic­to­ry, the work­ers are still wait­ing to receive their compensation.
Burakiewicz says that one of the rea­sons the lit­i­ga­tion has been so slow is because the law­suit was unprece­dent­ed and there were a num­ber of legal issues that had to be ironed out. Since this ter­rain has now been cov­ered, she thinks that this sec­ond law­suit will pro­ceed much quick­er — and that it will be much eas­i­er to cal­cu­late dam­ages for the workers.
As the shut­down con­tin­ues, some are call­ing for strikes and work stop­pages. On Jan­u­ary 14, Bar­bara Ehren­re­ich and Gary Steven­son called on Trans­porta­tion Secu­ri­ty Admin­is­tra­tion (TSA) work­ers to go on a strike in a New York Times op-ed. ​"The moral foun­da­tion for a strike is unques­tion­ably firm," reads the piece. ​"The fed­er­al gov­ern­ment has bro­ken its con­tract with its employ­ees — lock­ing some of them out of their work­places and expect­ing oth­ers to work for the mere promise of even­tu­al pay."
Fed­er­al employ­ees are legal­ly pre­vent­ed from going on strike, and in 1981 Ronald Rea­gan infa­mous­ly fired almost 13,000 mem­bers of the Pro­fes­sion­al Air Traf­fic Con­trollers Orga­ni­za­tion (PAT­CO) for par­tic­i­pat­ing in one. Many cred­it Rea­gan with deal­ing orga­nized labor a blow that it has nev­er entire­ly recov­ered from, as the pri­vate sec­tor began imi­tat­ing Reagan's move and began replac­ing strik­ing work­ers rather than nego­ti­at­ing with them.
How­ev­er, there are signs that work­ers today are bring­ing the strike back. The year 2018 saw waves of teach­ers' strikes and work stop­pages that rocked a num­ber of GOP-con­trolled states. All of these actions were led by the rank and file, and in many cas­es the teach­ers pushed the lead­er­ship of their unions towards more rad­i­cal demands. Teach­ers' strikes are ille­gal in West Vir­ginia, yet that didn't stop them from walk­ing out nor did it impact their success.
In Slate, Hen­ry Grabar spoke with his­to­ri­an Joseph McCartin about the many rea­sons that TSA work­ers shouldn't fear the specter of PAT­CO if they end up strik­ing. Rea­gan was pop­u­lar dur­ing the time of the strike, while Trump's approval rat­ing con­tin­ues to dip, and there prob­a­bly isn't a trained replace­ment work­force that could eas­i­ly be imple­ment­ed like there was in 1981. Addi­tion­al­ly, there are tens of thou­sands more TSA employ­ees than there were air-traf­fic con­trollers, and air trav­el is a much big­ger part of the country's econ­o­my, which would increase the poten­tial lever­age that a work stop­page could generate.
McCartin, who wrote the defin­i­tive book on the PAT­CO strike, pub­lished a piece in The Amer­i­can Prospect on Jan­u­ary 14 call­ing on TSA work­ers to par­tic­i­pate in a spon­ta­neous sick­out that would force the gov­ern­ment to act. McCartin doesn't believe that such an action would need to be nation­wide to have an imme­di­ate impact. ​"This par­tial shut­down can con­tin­ue only as long as hun­dreds of thou­sands of fed­er­al work­ers coop­er­ate with it by work­ing with­out pay, and often hav­ing to do more because many of their col­leagues have been fur­loughed," writes McMartin.
In addi­tion to the AFGE law­suit, the Nation­al Trea­sury Employ­ees Union sued the gov­ermnent in an attempt to excuse fed­er­al employ­ees from work­ing. On Jan­u­ary 15, a Wash­ing­ton, D.C. judge ruled that gov­ern­ment employ­ees are still legal­ly oblig­at­ed to go to work even if they aren't being paid.
"
Michael Arria
is the U.S. cor­re­spon­dent for Mon­doweiss. Fol­low him on Twit­ter: @michaelarria.