We'll Burn Until We Organize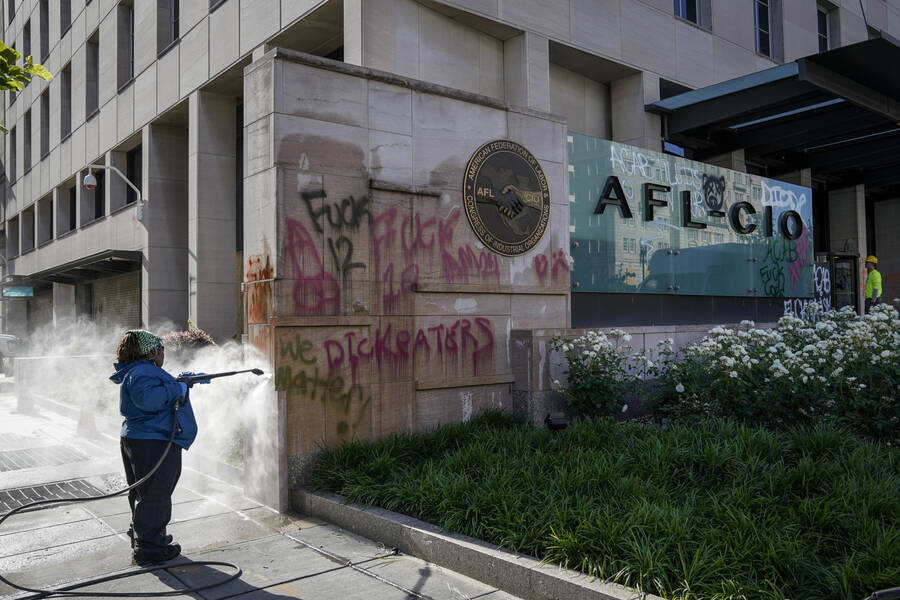 Last night they burned the AFL-CIO head­quar­ters. It was there. It sits right in the mid­dle of down­town DC, just north of Lafayette Square. The office win­dow of the AFL-CIO pres­i­dent looks out at the White House. That is where the protests were last night, and so it got smashed and set on fire. It doesn't matter.
The protests grew out of yet anoth­er case of police vio­lence, but they have grown and per­sist­ed because of a much deep­er sense of anger at our country's many fail­ures. It is not like­ly that the peo­ple who broke the win­dows and sprayed graf­fi­ti and set fires in the head­quar­ters of the AFL-CIO had a polit­i­cal motive any more point­ed than exis­ten­tial rage. In that sense they share the same motives that should be ani­mat­ing the AFL-CIO. If there is any mis­un­der­stand­ing of that, per­haps the riots will serve a clar­i­fy­ing purpose.
The close-up pic­ture of what is hap­pen­ing now is wan­ton chaos, but the big pic­ture is per­fect­ly clear. Forty years ago, the right wing gov­ern­ing phi­los­o­phy became ascen­dant. Since then, the work­ing peo­ple of Amer­i­ca have been get­ting their ass­es kicked. The wealth of our nation has pud­dled in the accounts of the very rich­est peo­ple as most every­one else saw their wages stag­nate. A ​"tough on crime" fan­ta­sy per­pet­u­at­ed by Repub­li­cans and Democ­rats alike has incar­cer­at­ed and ruined mil­lions of lives. Glob­al­ized cap­i­tal­ism has ful­ly set­tled over the world in a way that locks in the mech­a­nisms of inequal­i­ty and makes them extreme­ly hard to fight. And now we are in a dead­ly pan­dem­ic, with Great Depres­sion-lev­el unem­ploy­ment, and a gov­ern­ment that does not care to extend even a bridge to the oth­er side of this dis­as­ter for work­ing peo­ple, because the stock mar­ket is doing just fine.
You don't have to read an eco­nom­ic study to under­stand the vile depths of inequal­i­ty and injus­tice hap­pen­ing in Amer­i­ca right now. Reg­u­lar peo­ple have lost their jobs by the tens of mil­lions in the past two months and peo­ple have no way to pay their rent or buy their food, and when they look to the lead­ers of this coun­try for help, they get a knee on the neck. This is not sus­tain­able. Nor is it human. It is not some­thing that can wait. It is not some­thing that vot­ing is the solu­tion for. This time, things are very bad.
In the grand strug­gle between cap­i­tal and labor, cap­i­tal has won. We now live inside of a sys­tem set up to cater to the demands of cap­i­tal, in which work­ing peo­ple are lit­tle more than a cost on a bal­ance sheet to min­i­mize. When you think in that log­i­cal frame­work, every­thing that is hap­pen­ing now makes per­fect sense. If the stock prices can stay strong even after 100,000 peo­ple are dead from Covid-19 and 40 mil­lion peo­ple are unem­ployed, why spend the mon­ey to build some sort of social safe­ty net? That mon­ey could go back to the bot­tom line. So here we are. And the 40 mil­lion have lit­tle left to do but smash and burn.
What is the role of orga­nized labor in all this? Only the role of a sol­dier who is watch­ing his army get slaugh­tered and the city he is sup­posed to pro­tect be raid­ed and destroyed. A key part of capital's ascen­dance was the abil­i­ty to destroy the pow­er of orga­nized labor. That is why, over those same past 40 years of the post-Rea­gan era, the por­tion of Amer­i­cans who are union mem­bers has been cut in half. This is the result of a very spe­cif­ic set of legal and reg­u­la­to­ry strate­gies pur­sued over many years by busi­ness inter­ests designed to make it hard­er to orga­nize unions and keep them oper­at­ing. Yes. But it is also the result of the fail­ure of orga­nized labor itself to beat back those strate­gies pur­sued by its ene­mies. That is that nature of your ene­mies, after all: they try to destroy you. It is your job not to let them. In that, orga­nized labor has failed. And when orga­nized labor fails, the work­ing peo­ple that orga­nized labor exists to pro­tect are the ones that suffer.
If Amer­i­ca had 20 mil­lion more union mem­bers than it has now, things might not be so bad. The inter­ests of work­ing peo­ple would have more polit­i­cal clout. More peo­ple would be cov­ered by union con­tracts, and less sub­ject to pover­ty wages and exploita­tion. The laws might be some­what less bad. Peo­ple would be some­what less poor and vul­ner­a­ble. If Amer­i­ca had 20 mil­lion more union mem­bers than it has now, we might not have ever got­ten to quite so low of a place. A place where the gov­ern­ment will let cit­i­zens get sick and die or get unem­ployed and starve and offer noth­ing in return but a police offi­cer and hand­cuffs. If unions had not died off quite so harsh­ly, things might be dif­fer­ent. We will nev­er know.
I don't dis­like the AFL-CIO. It is too insti­tu­tion­al, and too mod­er­ate, and it spends too much mon­ey on pol­i­tics and not enough on union orga­niz­ing, and its lead­ers are gen­er­al­ly unin­spir­ing, and it has a poor polit­i­cal track record, and it is too inward-look­ing, and it often seems to be com­plete­ly obliv­i­ous to the life-or-death scale of the prob­lems it is fac­ing. All of that is true. But if I con­sid­er myself a part of the labor move­ment, and the AFL-CIO is the orga­ni­za­tion that rep­re­sents the major­i­ty of America's union mem­bers, then I am the AFL-CIO. Its fail­ures are our fail­ures. That's the nature of a move­ment. We have to lift it up togeth­er. We can­not get dis­gust­ed and give up, because that just brings on our destruc­tion sooner.
I've been to the AFL-CIO's head­quar­ters many times. It has a very nice mur­al in the lob­by, and the rest of it is a for­get­table office build­ing. It doesn't mean any­thing. What means some­thing are the labor unions that it rep­re­sents and the mem­bers of those labor unions whose lives have been less exploit­ed by cap­i­tal because those unions exist. The oth­er thing that means some­thing are the 90% of Amer­i­can work­ing peo­ple who are not mem­bers of any of those unions. Who have not ever expe­ri­enced any of the lofty promis­es that the labor move­ment likes to make. Who have noth­ing to show for the labor movement's work. Who are tru­ly des­per­ate now. Who are full of rage. Who are in the streets, protest­ing, and set­ting things on fire. Includ­ing the AFL-CIO's headquarters.
It's good to get punched in the face some­times. It wakes you up. All of Amer­i­ca is expe­ri­enc­ing that feel­ing right now. The labor move­ment needs to expe­ri­ence it for our­selves. If we had served our pur­pose bet­ter for the past two gen­er­a­tions, things might not have got­ten to this point. If unions are so great, we need to orga­nize the next 20 mil­lion union mem­bers. Oth­er­wise, we are just mak­ing speech­es with­out shar­ing the spoils.
The way to not get burned down next time is to make sure that every­one in the streets is a union mem­ber. We bet­ter get to work.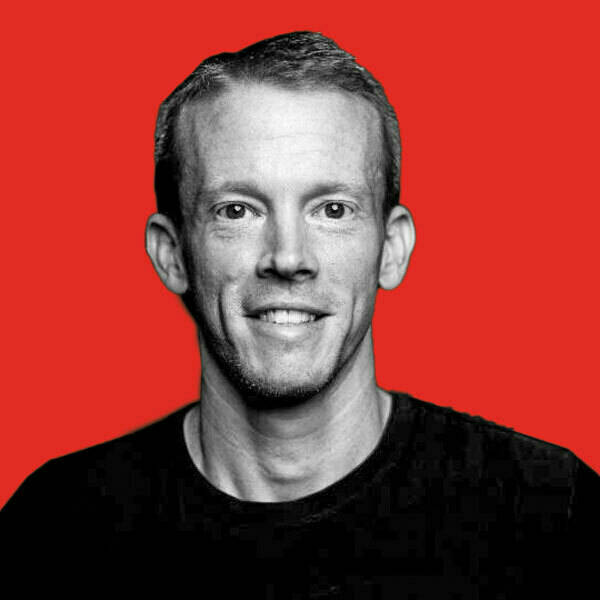 Hamil­ton Nolan is a labor reporter for In These Times. He has spent the past decade writ­ing about labor and pol­i­tics for Gawk­er, Splin­ter, The Guardian, and else­where. You can reach him at Hamilton@​InTheseTimes.​com.