Even With Daisey's Lies Peeled Away, Apple's Rotten Core Exposed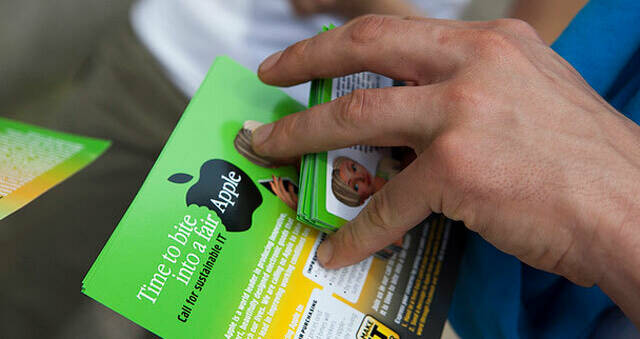 Apple's brand glared in the media spot­light this past week, after the pub­lic learned that per­for­mance artist Mike Daisey's the­atri­cal ren­der­ing of the strug­gles of Apple fac­to­ry work­ers con­tained false claims — painful­ly exposed on an episode of the radio pro­gram This Amer­i­can Life. But if one fun­da­men­tal truth has emerged from the scan­dal sur­round­ing Daisey's dra­mat­ic fudg­ing, it's that the lived real­i­ty of many Chi­nese work­ers is undoubt­ed­ly bleak — no embell­ish­ment needed.
Daisey's per­son­al account is gra­tu­itous­ly pep­pered with fab­ri­ca­tions, but the sto­ry of sys­tem­at­ic exploita­tion is essen­tial­ly true. For years var­i­ous watch­dog groups have tried to hold Apple account­able for harsh work­ing con­di­tions in Chi­na, which have been linked to work­place-relat­ed sui­cides and health haz­ards. Since a num­ber of young work­ers killed them­selves in 2010, the con­sumer advo­ca­cy cam­paign Make IT Fair, togeth­er with the Hong Kong-based Stu­dents Against Cor­po­rate Mis­be­hav­ior (SACOM), have doc­u­ment­ed sys­tem­at­ic abus­es: exhaust­ing hours, an oppres­sive, mil­i­taris­tic work­place cul­ture and, despite con­cil­ia­to­ry pay hikes, extreme­ly low wages in com­par­i­son to the tremen­dous cor­po­rate prof­its and bru­tal work­ing conditions.
It should be not­ed, how­ev­er, that Daisey's ​"dra­mat­ic license" was debunked large­ly through the real find­ings of intre­pid inves­ti­ga­tions by advo­cates and pro­fes­sion­al reporters, which some com­men­ta­tors have high­light­ed amid the media fall­out. As part of its ​"Retrac­tion" episode, in fact, TAL inter­viewed New York Times reporter Charles Duhigg about the real sto­ry behind Daisey's fictions.
On the report­ed wide­spread vio­la­tions of a 60-hour week­ly cap on work­ing hours, Duhigg tells host Ira Glass, Apple claims work­ers vol­un­teer for this excess work:
Duhigg: They say, ​"Look, one of the rea­sons why there is so much over­time that's inap­pro­pri­ate and, in some places, is ille­gal, is because the work­ers them­selves are demand­ing that overtime."

Now, work­ers don't always say that. What work­ers often say is that they feel coerced into doing over­time, that if they did­n't do over­time when it's asked of them, that they would­n't get any over­time at all, and that finan­cial­ly they would suf­fer as a result.
This is the kind of more nuanced, day-to-day exploita­tion that Fox­conn work­ers face – not so sen­sa­tion­al, but nonethe­less dri­ven by glob­al eco­nom­ic forces.
Li Qiang, head of the New York-based Chi­na Labor Watch, told In These Times that in terms of the sit­u­a­tions Daisey described, basi­cal­ly, ​"What he said about work­ing con­di­tions is true." He added, ​"Through this kind of media report­ing, maybe more artists or jour­nal­ists, or oth­ers will go to Chi­na to inves­ti­gate the real cir­cum­stances in Chi­nese fac­to­ries…. This way, this issue can gen­er­ate more pub­lic debate."
While Apple has tout­ed a new part­ner­ship with the third-par­ty mon­i­tor­ing orga­ni­za­tion Fair Labor Asso­ci­a­tion, many crit­ics remain wary that Apple will con­tin­ue to fail the work­ers at the dregs of the sup­ply chain. Even worse, Apple might turn the scan­dal into a mar­ket­ing oppor­tu­ni­ty, pol­ish­ing its rep­u­ta­tion with a dab of ​"cor­po­rate social respon­si­bil­i­ty" measures.
Make IT Fair recent­ly denounced the FLA part­ner­ship as ​"a mere PR stunt," cit­ing com­ments by FLA pres­i­dent Auret van Heer­den prais­ing Apple facil­i­ties as ​"way, way above the aver­age of the norm." Activists call on Apple and oth­er indus­try lead­ers to adopt more strin­gent eth­i­cal codes, which pro­tect the envi­ron­ment from dam­ag­ing extrac­tion of raw mate­ri­als, hon­or col­lec­tive bar­gain­ing rights, and pro­tect work­ers and their com­mu­ni­ties from dis­crim­i­na­tion and rights abuses.
Apple's real atti­tude toward its work­ers has been far from char­i­ta­ble. In a state­ment respond­ing to TAL​'s retrac­tion, SACOM (whose cam­paigns have informed both Daisey's and TAL​'s report­ing) point­ed to the ongo­ing ram­i­fi­ci­a­tions of an inci­dent that inspired Daisey's nar­ra­tive — a mass poi­son­ing at a facil­i­ty where work­ers were exposed to the chem­i­cal n‑hexane while pol­ish­ing gleam­ing touchscreens:
In con­trast to Apple's state­ment that they have all been treat­ed suc­cess­ful­ly, many work­ers still suf­fer from weak limbs and oth­er health prob­lems after nine-month hos­pi­tal­iza­tions. The vic­tims sent three let­ters to Apple last year, but the com­pa­ny did not answer them at all. Like­wise, after the explo­sion at the iPad case man­u­fac­tur­er Riteng in Shang­hai in last Decem­ber, which injured 59 work­ers, Apple has not sent any­one to vis­it the vic­tims. The young work­ers are in despair because their faces were dis­fig­ured due to the fire from the blast. Some of them suf­fer from bones so severe­ly shat­tered that they may be per­ma­nent­ly dis­abled. Three months have passed, but the vic­tims have not received any compensation….

While Apple hyp­o­crit­i­cal­ly expressed that the com­pa­ny was deeply sad­dened by the tragedy, it has nev­er apol­o­gized or offered com­pen­sa­tion to the work­ers for its neg­li­gence in com­ply­ing with work safe­ty rules.
For all his pro­fessed empa­thy for Fox­conn work­ers, Daisey's exag­ger­a­tions were stu­pe­fy­ing­ly self-serv­ing. Even as he awk­ward­ly attempt­ed to express con­tri­tion in the fol­low-up dia­logue with Ira Glass, he insist­ed that with­in the realm of the­ater, he had legit­i­mate­ly blend­ed fic­tion and non­fic­tion to cre­ate a more emo­tive expe­ri­ence for a West­ern audience.
The claim reveals that Daisey lied to ele­vate his role in the sto­ry. He basi­cal­ly decid­ed that the ugly truth wasn't quite dra­mat­ic enough for him — a side­ways insult to the work­ers whose cause he claimed to champion.
In a cor­re­spon­dence with In These Times, SACOM project offi­cer Chan Sze Wan said, ​"we wor­ry that the pub­lic will mis­un­der­stand [and think] Fox­conn is inno­cent after the Mike Daisey's case." As a research-based group, she added, SACOM ​"will con­tin­ue to pro­vide accu­rate infor­ma­tion to con­sumers to solic­it their sup­ports," but ulti­mate­ly, voic­es of work­ers them­selves will need to be heard:
Nowa­days, Fox­conn work­ers do not have real work­er rep­re­sen­ta­tive sys­tem in the fac­to­ry. So, SACOM has to chan­nel their griev­ances to Apple. How­ev­er, we always empha­size that work­ers should be the ones to mon­i­tor the work­ing con­di­tions at their work­place and fight for the rights.
Fol­low­ing the string of sui­cides, a quote from a Chi­nese blog cap­tured the work­ers' sto­ry more elo­quent­ly than an Amer­i­can per­former ever could:
Per­haps for the Fox­conn employ­ees and employ­ees like us
– we who are called nong­min­gong, rur­al migrant work­ers, in China –
the use of death is sim­ply to tes­ti­fy that we were ever alive at all,
and that while we lived, we had only despair.
In the con­text of that hushed plea, the media hooplah over the fudged Fox­conn nar­ra­tive sim­ply dis­tracts us from the real mas­ter­work of fic­tion that Apple and oth­er tech giants con­tin­ue to ped­dle: the imag­i­nary world of our gad­gets, a cos­mopoli­tan uni­verse that pre­tends to con­nect every­one while in fact sharp­en­ing the lines between con­sumers and the invis­i­ble work­ers that enable that care­free lifestyle. And we're all buy­ing it.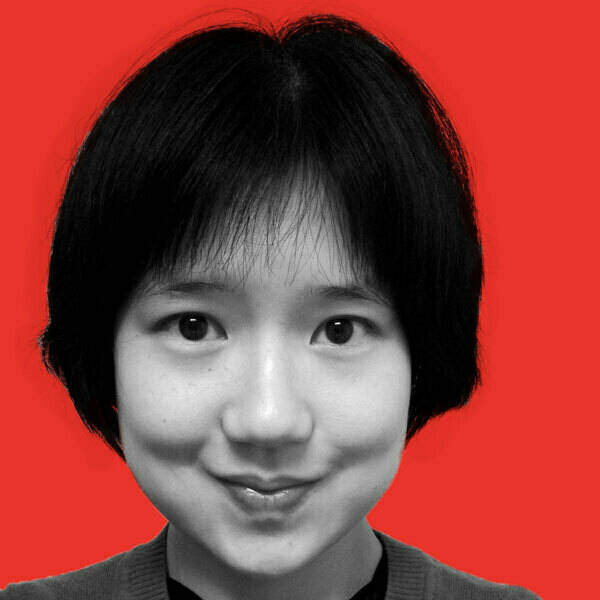 Michelle Chen is a con­tribut­ing writer at In These Times and The Nation, a con­tribut­ing edi­tor at Dis­sent and a co-pro­duc­er of the ​"Bela­bored" pod­cast. She stud­ies his­to­ry at the CUNY Grad­u­ate Cen­ter. She tweets at @meeshellchen.