After Fukushima, Japan Seeks Non-Nuclear Option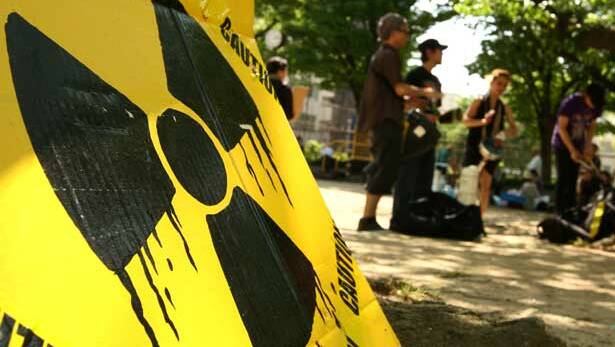 On May 5, a lit­tle more than a year after the melt­down at Fukushi­ma Dai­ichi, thou­sands marched to cel­e­brate as Japan shut down its last work­ing nuclear reac­tor. Though the clo­sures are rou­tine, anti-nuclear groups are work­ing to pre­vent the reac­tors from reopen­ing in the hope that this moment could mark the end of nuclear pow­er in Japan.
Before the dis­as­ter in March 2011, Japan had 54 nuclear reac­tors, four of which were decom­mis­sioned due to dam­age. Though it's required that reac­tors be shut down and inspect­ed approx­i­mate­ly every 13 months, local offi­cials wary of pub­lic pres­sure have so far refused to restart them. Pub­lic out­cry ​"is the sin­gle most impor­tant thing in keep­ing [the reac­tors] shut down," accord­ing to Michael Mar­i­otte, exec­u­tive direc­tor of the Nuclear Infor­ma­tion and Resource Center.
The back­lash from Fukushi­ma has reen­er­gized civ­il soci­ety in Japan. Since the dis­as­ter, shocked com­mu­ni­ty groups have joined forces with exist­ing anti-nuclear orga­ni­za­tions to push for greater pro­tec­tions against radi­a­tion. Orga­niz­ers say they have gath­ered enough sig­na­tures to hold local ref­er­en­dums on nuclear pow­er in two cities, and Occu­py-style camps have sprung up in front of the Min­istry of Econ­o­my and Min­istry of Trade.
In an Octo­ber 2011 poll by a nation­al broad­cast­er, 66 per­cent of respon­dents said they want­ed nuclear pow­er abol­ished or reduced. But Japan was the world's third largest user of atom­ic ener­gy pri­or to the dis­as­ter, and there is strong pres­sure to restart the reac­tors. Cit­ing fears of ener­gy short­ages, gov­ern­ment offi­cials are already seek­ing to rein­state two reac­tors at Ohi nuclear plant.
​"We're at this key turn­ing point of whether or not we'll go back to the sta­tus quo," says Aileen Mioko Smith of Japan's Green Action. Smith, who has been has been work­ing against nuclear pow­er for the past 30 years, said that she is encour­aged by the issue's move­ment from the fringe to the cen­ter of pub­lic discourse.
Anti-nuclear activists also hope that Japan's exam­ple will bol­ster move­ments else­where. ​"Japan is unique; you have a sit­u­a­tion where they were get­ting 30 per­cent of their pow­er from nuclear on March 10, 2011, and the next day they went down to half that and now they're all the way down," says Mar­i­otte. ​"If they can main­tain it … it's a les­son to the rest of the world that nuclear isn't real­ly needed."
Lind­sey Kra­tochwill
, an In These Times edi­to­r­i­al intern, is stu­dent at North­west­ern University's Medill School of Journalism.