Don't Thank Democrats. A Tradition of Black Radical Organizing Paved the Way for the Alabama Upset.
How decades of organizing against the suppression of the Black vote made Roy Moore's defeat possible.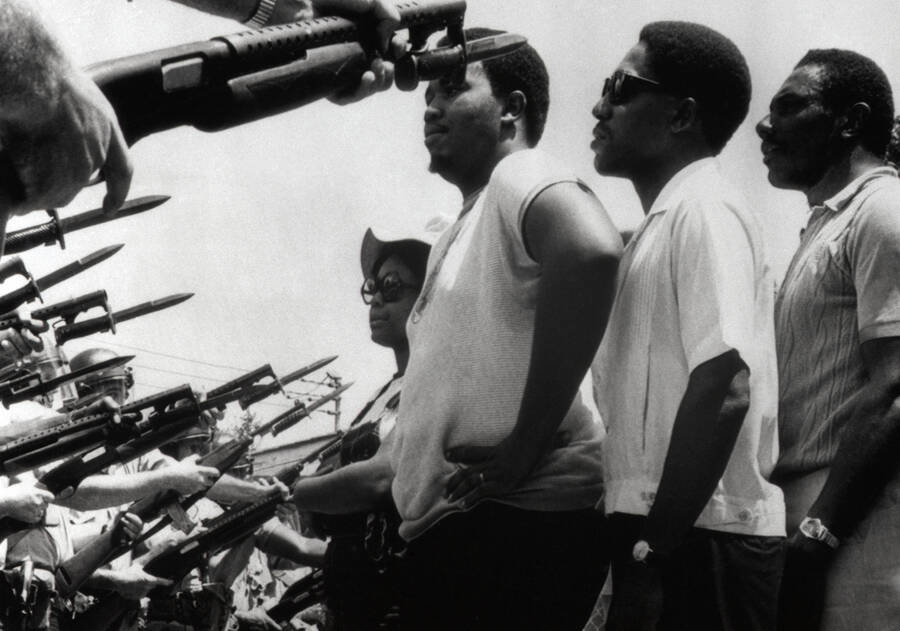 Roy Moore lost in Alaba­ma because Black peo­ple — in par­tic­u­lar, Black women — turned out in unprece­dent­ed num­bers to vote against the accused ser­i­al sex­u­al assaulter who has pub­licly defend­ed the era of slav­ery. Lead­ing pun­dits and politi­cians are cel­e­brat­ing the upset by Demo­c­rat Doug Jones with dera­cial­ized plat­i­tudes about the ​"tri­umph of decen­cy." But racial jus­tice orga­niz­ers say cred­it should go to Black Alabami­ans — specif­i­cal­ly, to the hard-fought Black rad­i­cal tra­di­tion, in a state where many have sac­ri­ficed their homes, jobs and even lives to fight the exclu­sion and sup­pres­sion of the African-Amer­i­can vote.
"We learned from the Black radical movement, the lessons taught on bloody Sunday, from people dying to vote."
"This wasn't about Doug Jones," says Por­tia Shep­herd, a Demopo­lis, Ala., orga­niz­er with the grass­roots group Black Belt Cit­i­zens. ​"For so long, Black women have been sub­ject­ed to vio­lence. [Moore's can­di­da­cy] was a slap in the face of what Black women have gone through. This was moti­vat­ing peo­ple to say, ​'We don't want to go back­ward.' We learned from the Black rad­i­cal move­ment, the lessons taught on bloody Sun­day, from peo­ple dying to vote."
In the mid-1960s, rur­al Alaba­ma was on the front lines of the Black free­dom move­ment, which saw nation­al and local groups orga­nize with the poor African Amer­i­cans who com­prised the bulk of the state's share­crop­ping indus­try. The Sel­ma to Mont­gomery March against seg­re­ga­tion­ist repres­sion helped lay the ground­work for, among oth­er things, the Vot­ing Rights Act of 1965 — now being aggres­sive­ly erod­ed by the GOP.
Lown­des Coun­ty in south­ern Alaba­ma became a flash­point of this strug­gle in 1965, when more than 20 Black fam­i­lies were evict­ed by white landown­ers for mobi­liz­ing against racial seg­re­ga­tion and the near-total sup­pres­sion of the African-Amer­i­can vote.
Orga­niz­ers respond­ed by con­struct­ing a tent city on sev­en acres of land, to give those new­ly home­less a place to live while they con­tin­ued to reg­is­ter vot­ers. ​"They know if they leave, the strength of the vot­er reg­is­tra­tion cam­paign would dimin­ish," Stoke­ly Carmichael of the Stu­dent Non­vi­o­lent Coor­di­nat­ing Com­mit­tee (SNCC) said in 1965.
The tent city was erect­ed not far from where anti-racist orga­niz­ers Vio­la Luiz­zo and John Daniels were mur­dered in 1965, and it became the site of mass meet­ings and vot­er reg­is­tra­tion dri­ves, as well as ongo­ing strug­gles to ward off attacks. Par­tic­i­pants in the move­ment with­stood fierce retal­i­a­tion, in an area where many Black fam­i­lies relied on the same hand­ful of white landown­ers for work and housing.
"After going to the mass meet­ings, liv­ing on this man's place, he want­ed to put me off because I was going to the mass meet­ings, but still I was work­ing for him, and I don't see why because work­ing on the farm is not easy," then-85-year-old Nel­lie Nel­son, a for­mer share­crop­per in Lown­des Coun­ty, recount­ed to a jour­nal­ist in 2016.
This pro­tract­ed strug­gle was sus­tained by direct sup­port from Black free­dom move­ment groups, includ­ing SNCC and the Lown­des Coun­ty Free­dom Orga­ni­za­tion (LCFO). The sym­bol of the Black Pan­ther first emerged in Lown­des Coun­ty dur­ing this peri­od, as LCFO sought to build an inde­pen­dent polit­i­cal force. In the words of LCFO co-founder John Hulett, ​"The black pan­ther is a vicious ani­mal, as you know. He nev­er both­ers any­thing, but when you start push­ing him, he moves back­ward, back­ward and back­ward, and then he comes out and destroys every­thing that's in front of him."
In 1966, orga­niz­er and writer Gwen Pat­ton described the scene in Lown­des Coun­ty on vot­ing day. ​"Black folks walked, rode in trucks and cars to the polls — all of them try­ing to remem­ber the instruc­tions giv­en to them that night before at the Mass Meet­ing," she wrote. ​"Some of the new cit­i­zens had to be car­ried because they could­n't walk; oth­ers had to be led because they could­n't see."
While these move­ments were ulti­mate­ly unable that year to elect their slate, activists today say they draw direct inspi­ra­tion from their orga­niz­ing prece­dent. ​"Before Democ­rats were con­sid­ered any kind of win in the South, the Lown­des Coun­ty Free­dom Orga­ni­za­tion was launched by SNCC in 1965 to reg­is­ter Black vot­ers and elect Black peo­ple as inde­pen­dents into crit­i­cal polit­i­cal posi­tions," the region­al group Project South said in a state­ment respond­ing to Moore's defeat.
"What I think is impor­tant and very real about the elec­tion is the many years it took to build the infra­struc­ture, the ground work, the polit­i­cal edu­ca­tion and the lead­er­ship across the state in so many orga­ni­za­tions," Stephanie Guil­loud, the co-direc­tor of Project South, tells In These Times. ​"For us, the impor­tant les­son is to tie that pow­er to its true lega­cy: the free­dom move­ment in Alaba­ma and across the South."
The state has con­tin­ued to be the site of bat­tles against vot­er dis­en­fran­chise­ment. In 2011, law­mak­ers passed a sweep­ing pho­to ID law that dis­pro­por­tion­ate­ly blocks Black, Lati­no and poor vot­ers from cast­ing their bal­lots. When key mea­sures of the law were upheld by the Supreme Court in 2013, then‑U.S. Sen. Jeff Ses­sions cel­e­brat­ed the devel­op­ment as ​"good news."
Alabami­ans have spent years orga­niz­ing to expand the rights of cur­rent­ly and for­mer­ly incar­cer­at­ed peo­ple to vote. Pas­tor Ken­neth Glas­gow, direc­tor of The Ordi­nary Peo­ple Soci­ety and him­self for­mer­ly incar­cer­at­ed, says the exclu­sion of this pop­u­la­tion draws a direct lin­eage from the seg­re­ga­tion­ist repres­sion on dis­play in Lown­des Coun­ty more than 50 years ago.
"For­mer­ly and cur­rent­ly incar­cer­at­ed peo­ple had to rewrite our own his­to­ry," says Glas­gow. ​"We nev­er had the right to vote. We had to go back and go through hoops and hur­dles to get our own right to vote."
In May, advo­cates suc­cess­ful­ly pressed Gov. Kay Ivey ® into sign­ing the Def­i­n­i­tion of Moral Turpi­tude Act, which grants thou­sands of peo­ple with felony con­vic­tions the right to vote. Glas­gow, who advo­cat­ed for the law and now focus­es on vot­er reg­is­tra­tion dri­ves in pris­ons and jails, says it is impor­tant to rec­og­nize the orga­niz­ing tra­di­tion these cur­rent efforts stem from.
"One of the biggest slo­gans that I use and have used since 2005 is, ​'From the back of the bus to the front of the prison, the strug­gle con­tin­ues,'" he says. ​"The way they orga­nized then is the same way we have to orga­nize now with peo­ple who are incar­cer­at­ed. We look as exam­ples to the civ­il rights move­ment and how they got the word to each other."
Activists say that col­lec­tive defense against dis­en­fran­chise­ment remains a key strug­gle across the state, from pris­ons to the rur­al towns often left out of elec­tion-sea­son jock­ey­ing for votes.
Accord­ing to Shep­herd, Moore lost because Black Alabami­ans reached out to each oth­er, buoyed by move­ment infra­struc­ture. ​"We didn't see Doug in our neigh­bor­hood. In the Black Belt of Alaba­ma, we didn't see him," she says. ​"But we did see Black Lives Mat­ter there. I did see peo­ple involved in get­ting the word out about voting."
Shep­herd adds that the result ​"was not because a hell of a cam­paign was ran. Peo­ple didn't come and ask what our needs are. It wasn't because Doug was the best can­di­date. We want­ed to show the world we are here, too. We have a voice, and you need to listen."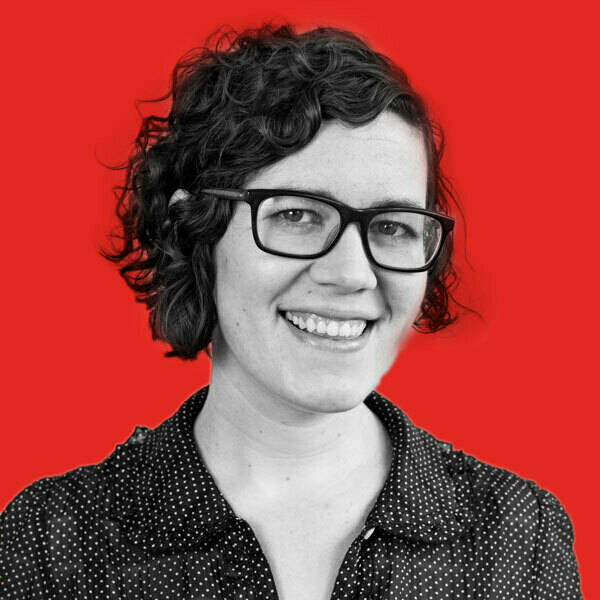 Sarah Lazare is web edi­tor at In These Times. She comes from a back­ground in inde­pen­dent jour­nal­ism for pub­li­ca­tions includ­ing The Inter­cept, The Nation, and Tom Dis­patch. She tweets at @sarahlazare.