ALEC Is Pushing a New Slate of Viciously Anti-Worker, Pro-Corporate Laws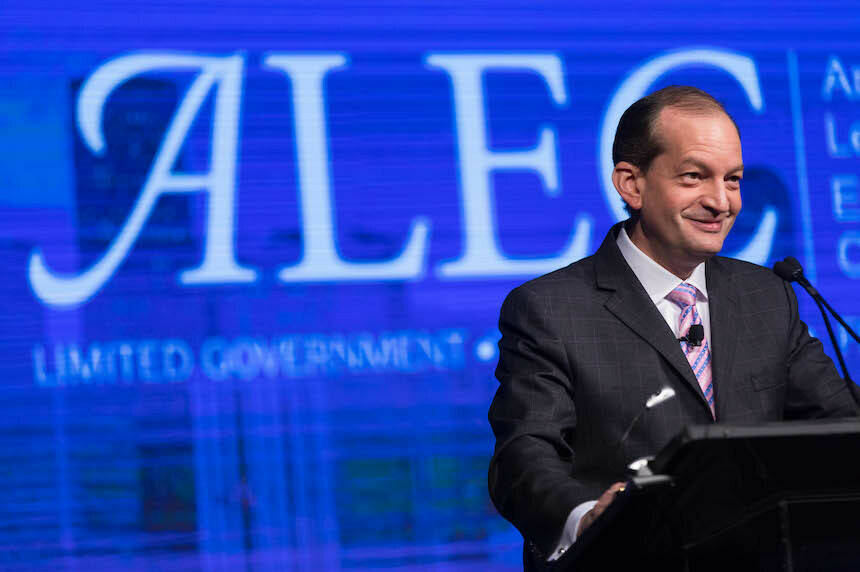 When the Amer­i­can Leg­isla­tive Exchange Coun­cil (ALEC) con­vened its 45th annu­al meet­ing of leg­is­la­tors and cor­po­rate lob­by­ists at the swank Hilton New Orleans River­side hotel on August 8, it served up a ver­i­ta­ble ban­quet of union-bust­ing, ger­ry­man­der­ing, pro-fos­sil fuel, and school pri­va­ti­za­tion pro­pos­als for law­mak­ers to take back home.
Wel­com­ing the ALEC crowd was Jason Saine, a North Car­oli­na Rep­re­sen­ta­tive and ALEC's Nation­al Chair­man. Ear­li­er this year, CMD report­ed that Saine used $19,000 from his cam­paign kit­ty to order cus­tom-tai­lored suits.
Oth­er keynote speak­ers includ­ed Sec­re­tary of Trans­porta­tion Elaine L. Chao, Sec­re­tary of Health and Human Ser­vices Alex Azar, Louisiana Gov­er­nor John Bel Edwards, and White House Spe­cial Assis­tant in the Office of Amer­i­can Inno­va­tion Brooke Rollins. Rollins was an aide to for­mer gov­er­nor Rick Per­ry, who is now Sec­re­tary of Energy.
ALEC's menu of pol­i­cy pro­pos­als at the New Orleans con­fer­ence included:
Right to Ger­ry­man­der Resolution
With cit­i­zens turn­ing to the courts and bal­lot box in a grow­ing num­ber of states to clamp down on hyper-par­ti­san ​"ger­ry­man­der­ing" schemes, ALEC mem­bers will instead be vot­ing on a res­o­lu­tion to defend the right of politi­cians to keep hand-pick­ing their voters.
Ger­ry­man­der­ing is the prac­tice of manip­u­lat­ing elec­toral dis­trict bound­aries to favor the par­ty in pow­er and min­i­mize the abil­i­ty of oppos­ing par­ties or dis­fa­vored racial and eth­nic con­stituen­cies to elect can­di­dates of their choice.
The res­o­lu­tion, enti­tled ​"Draft Res­o­lu­tion Reaf­firm­ing the Right of State Leg­is­la­tures to Deter­mine Elec­toral Dis­tricts," asserts the leg­isla­tive branch's ​"sov­er­eign­ty" over redis­trict­ing and states that the ​"inter­ven­tion of state supreme courts to redis­trict con­gres­sion­al dis­trict maps vio­lates the fun­da­men­tal right of the res­i­dents of a state to repub­li­can self-government."
What has ALEC's knick­ers in a twist? In Penn­syl­va­nia, Repub­li­cans drew such a ger­ry­man­dered map in 2011 that it result­ed in an aston­ish­ing 13 – 5 con­gres­sion­al dis­trict advan­tage in a state where Democ­rats won five straight pres­i­den­tial elec­tions. The Penn­syl­va­nia Supreme Court inter­vened to ensure that new maps fol­low the tra­di­tion­al redis­trict­ing cri­te­ria of com­pact­ness, con­ti­gu­i­ty, and equal­i­ty of pop­u­la­tion. In a blow to the Penn­syl­va­nia GOP, the U.S. Supreme Court declined to strike down the more bal­anced maps cre­at­ed by the court.
Oth­er cas­es on sim­i­lar grounds have made their way to the nation's high­est court this year from Wis­con­sin, Mary­land, and North Car­oli­na. But the Supreme Court has so far declined to set clear rules lim­it­ing this type of vot­er manipulation.
With the Court fail­ing to act, vot­ing rights advo­cates are push­ing hard for reforms. A quar­ter of U.S. states have already giv­en non-par­ti­san com­mis­sions full or par­tial author­i­ty to draw leg­isla­tive dis­tricts, and with ini­tia­tives on the bal­lot this fall in Col­orado, Michi­gan, Mis­souri, and Utah, more states may join them soon.
Janus v. AFSCME Vic­to­ry Lap
ALEC has invit­ed Mark Janus, plain­tiff in the Janus v. AFSCME case recent­ly decid­ed by the U.S. Supreme Court, to be a keynote speak­er. ALEC, along with the State Pol­i­cy Net­work (SPN) and the Kochs' Amer­i­cans for Pros­per­i­ty, are key insti­tu­tions in a mul­ti-pronged strat­e­gy to dis­man­tle pub­lic sec­tor unions through the courts and state leg­is­la­tures across the coun­try. CMD's report­ing on this top­ic in Feb­ru­ary received nation­al recognition.
Mark Janus was a pub­lic work­er in Illi­nois whom groups put for­ward as a plain­tiff in the case after the actu­al plain­tiff, bil­lion­aire Repub­li­can Gov­er­nor Bruce Rauner – who had vowed to dis­man­tle unions for par­ti­san polit­i­cal advan­tage – was found to not have stand­ing. Rauner's case was orig­i­nal­ly filed and pro­mot­ed by two SPN groups in the state, the Illi­nois Pol­i­cy Insti­tute and its off­shoot, the Lib­er­ty Jus­tice Cen­ter.
In May 2018, the U.S. Supreme Court used the ginned-up case to strike down agency fees and make it hard­er for pub­lic sec­tor unions to oper­ate. Short­ly there­after, Janus left pub­lic employ­ment to take a job at the Illi­nois Pol­i­cy Institute.
"As we cel­e­brate 45 years of ALEC, we meet to cre­ate solu­tions for the future," ALEC CEO Lisa B. Nel­son said in a press release about the meet­ing. But one of the first bills on the ALEC agen­da has been on the cor­po­rate wish list for a very long time. ALEC's lat­est union-bust­ing bill, which would force unions to hold recer­ti­fi­ca­tion elec­tions every oth­er year, has long been pushed by anti-union PR man Richard Berman and others.
Under the pro­posed mea­sure, unions would have to get the votes of a major­i­ty of all mem­bers – not just those show­ing up to vote – in order to retain their right to rep­re­sent work­ers in a bar­gain­ing unit. That puni­tive stan­dard is far more restric­tive than any­thing used in cor­po­rate gov­er­nance or U.S. elec­tions. (Imag­ine a bill forc­ing the unseat­ing of cor­po­rate direc­tors if the major­i­ty of all share­hold­ers, not just those cast­ing bal­lots, did not vote for man­age­ment – or a sim­i­lar stan­dard for politicians.)
Richard Berman's PR firm, Berman & Com­pa­ny, oper­ates a net­work of indus­try front groups and attack-dog web sites that work to coun­ter­act min­i­mum wage cam­paigns, keep wages low for restau­rant work­ers, block paid sick leave laws, and main­tain bar­ri­ers to work­place orga­niz­ing. Berman, along with U.S. Sen­a­tor Orin Hatch (R‑UT), has pushed a sim­i­lar decer­ti­fi­ca­tion bill in Con­gress, called the ​"Employ­ee Rights Act."
In an audio record­ing obtained by CMD, Berman boast­ed about his obses­sion with unions and his attack on their efforts to raise the min­i­mum wage for Amer­i­can work­ers: ​"I get up every morn­ing and I try and fig­ure out how to screw with the labor unions," Berman said.
Keep­ing Down Pay and Ben­e­fits in the Gig Economy
ALEC will also be con­sid­er­ing a ​"Uni­form Work­er Clas­si­fi­ca­tion Act" that pro­motes short-term con­tracts and free­lance work over per­ma­nent jobs. The res­o­lu­tion focus­es on ​"uni­form stan­dards for deter­min­ing who is an employ­ee and who is an inde­pen­dent con­trac­tor," but is designed to estab­lish a very broad def­i­n­i­tion of inde­pen­dent con­trac­tor that lets employ­ers off the hook for the rights and ben­e­fits enjoyed by tra­di­tion­al employ­ees and pre­vents union orga­niz­ing. Mis­clas­si­fy­ing work­ers is a clas­sic cor­po­rate strat­e­gy for short-shrift­ing employ­ees and has been the sub­ject of much litigation.
While com­pa­nies such as Uber, Lyft, and TaskRab­bit are chang­ing the job mar­ket, they typ­i­cal­ly gen­er­ate low-pay­ing jobs with few or no ben­e­fits. The ten­u­ous rela­tion­ship between employ­ers and employ­ees in many of these jobs rais­es a pas­sel of legal issues. Are these con­tract employ­ees sub­ject to the same wage and hour laws? Are these con­tract employ­ees eli­gi­ble for unem­ploy­ment ben­e­fits, job train­ing, workman's com­pen­sa­tion, and oth­er work­er protections?
In New York, the state has tak­en steps to reg­u­late the indus­try after six pro­fes­sion­al dri­vers killed them­selves, and dri­vers for-hire and taxi dri­vers say they are not mak­ing enough to pay their bills or sup­port their fam­i­lies. New York's Unem­ploy­ment Insur­ance Appeal Board recent­ly ruled that Uber and Lyft dri­vers are for­mal employ­ees of the com­pa­ny, and Seat­tle recent­ly gave Uber and Lyft dri­vers the right to orga­nize a union. The mod­el bill being con­sid­ered at ALEC would attempt to fend off such reg­u­la­tion by low­er­ing the bar for whom cor­po­ra­tions can con­sid­er a con­tract employee.
The NetChoice trade asso­ci­a­tion rep­re­sents e‑commerce employ­ers such as Lyft and Airbnb at ALEC and is like­ly respon­si­ble for this bill. The Nation­al Employ­ment Law Project has a handy fact sheet on why this is such an impor­tant issue.
Pro­tect­ing Fos­sil Fuel Indus­try with Bills Under­min­ing Elec­tric Cars, Fuel Econ­o­my Standards
ALEC will debate a ​"Res­o­lu­tion Regard­ing Sub­si­dies and Man­dates for Ener­gy Vehi­cles and Fuels."
The mea­sure express­es oppo­si­tion to ​"all fed­er­al, state, and local efforts to com­pel con­sumers to sub­si­dize any and all vehi­cles, ener­gy, fuels, and fuel­ing infra­struc­ture." Oil Change Inter­na­tion­al tried to put a price tag on U.S. oil and gas sub­si­dies and pegged them at about $20 bil­lion per year.
At face val­ue, it sounds like ALEC is con­sid­er­ing tak­ing a bold new stand against fos­sil fuel com­pa­nies such as Koch Indus­tries, Peabody Ener­gy, and oth­ers that have long under­writ­ten its work. Could ALEC be object­ing to the mil­lions in sub­si­dies that Koch Indus­tries receives from fed­er­al, state, and local gov­ern­ments (some $430 mil­lion and count­ing accord­ing to Good Jobs First)? Does this explain why Exxon­Mo­bil decid­ed to dump ALEC ear­li­er this year?
But some­thing about the word­ing of the res­o­lu­tion, espe­cial­ly the lan­guage con­demn­ing ​"agree­ments in which costs to con­struct and oper­ate fuel­ing infra­struc­ture are social­ized" and an ​"infra­struc­ture that will like­ly be used by a small minor­i­ty of con­sumers," sug­gests that they are only talk­ing about elec­tric vehicles.
As CMD has report­ed, the Kochs have long opposed elec­tric vehi­cles, pub­lic trans­porta­tion, renew­able ener­gy, and oth­er clean ener­gy ini­tia­tives, and this res­o­lu­tion appears to be more of the same
The res­o­lu­tion ignores the fact that fuel econ­o­my stan­dards have cleared the dead­ly smog from Los Ange­les and oth­er Amer­i­can cities, improv­ing the envi­ron­ment and the health of res­i­dents, espe­cial­ly those suf­fer­ing from asth­ma. Plus, fuel econ­o­my is an very impor­tant fac­tor to many car buy­ers who want to save mon­ey at the pump, which is why they enjoy broad bipar­ti­san sup­port. The fact that U.S. cars lag behind for­eign cars on fuel econ­o­my has long dis­ad­van­taged U.S. car mak­ers. The Trump admin­is­tra­tion announced last week that it would try to roll back fed­er­al fuel stan­dards and pre­empt the state of Cal­i­for­nia from issu­ing sep­a­rate stan­dards. The Trump admin­is­tra­tion has lit­tle regard for the fact that tailpipe emis­sions are one of the largest sources of glob­al warm­ing pol­lu­tion in the Unit­ed States.
In tak­ing a stand against renew­ables and clean ener­gy, ALEC is not just out of touch with the world, it is out of touch with its own base. Promi­nent GOP poll­sters have shown that 72 per­cent of con­ser­v­a­tive Repub­li­cans want to accel­er­ate the devel­op­ment of clean ener­gy to reduce pol­lu­tion and cre­ate jobs. A sol­id major­i­ty of 54 per­cent believe the world's cli­mate is chang­ing and that mankind plays a role in the change.
Also under con­sid­er­a­tion for the August meet­ing is the ​"Dri­ving Automa­tion Sys­tem Uni­for­mi­ty Act," which would bar local­i­ties from reg­u­lat­ing dri­ver­less vehi­cles, con­tin­u­ing ALEC's love affair with pre­empt­ing local democ­ra­cy. ALEC mem­bers have fought to pre­empt liv­ing wage cam­paigns, plas­tic bag bans, and paid sick leave ordi­nances across Amer­i­ca. At this meet­ing, ALEC will also be review­ing a 2012 pol­i­cy call­ing for the pre­emp­tion of local food and nutri­tion pol­i­cy.
Sub­si­diz­ing Pri­vate Schools for Fam­i­lies in Low-income Areas
Over the years, ALEC has worked hand-in-hand with the DeVos family's group, Amer­i­can Fed­er­a­tion for Chil­dren, to advance a ​"cash for kids" mod­el of school pri­va­ti­za­tion, includ­ing dozens of bills pro­mot­ing school vouch­ers. For decades, ALEC billed vouch­ers as a civ­il rights tick­et for low-income kids, but then ALEC's ​"Edu­ca­tion Sav­ings Account Act" cre­at­ed a ​"uni­ver­sal" sys­tem that siphons off pub­lic edu­ca­tion dol­lars to pri­vate school par­ents of any income lev­el. Now ALEC is debat­ing a new bill, the ​"Eco­nom­ic Devel­op­ment Zone ESA Act," to require the state to pay the equiv­a­lent of pub­lic school aid toward any pri­vate school for stu­dents who live in major­i­ty low-income eco­nom­ic devel­op­ment zones. Giv­en the cost of a pri­vate school edu­ca­tion, the like­ly effect would be to sub­si­dize the abil­i­ty of mid­dle- and upper-income fam­i­lies in eco­nom­i­cal­ly dis­tressed areas to pull their kids out of pub­lic school.
A Res­o­lu­tion on School Vio­lence Miss­es the Mark
ALEC's pro­posed ​"State­ment of Prin­ci­ples on School Safe­ty and Secu­ri­ty" begins with the bold state­ment, ​"The Amer­i­can Leg­isla­tive Exchange Coun­cil rec­og­nizes the pres­ence of vio­lence every­day in America's schools," and states that ​"evil, men­tal ill­ness and alien­ation are clear­ly factors."
What fol­lows is a 1,600-word state­ment chock-full of plat­i­tudes and non sequiturs that men­tions guns only once and gun con­trol not at all.
While ALEC is a big fan of pre­empt­ing local con­trol, in this instance the draft pro­pos­al states that "[a]ll deci­sions regard­ing school safe­ty and secu­ri­ty should be made by local author­i­ties." ALEC is hap­py to turn over the issue to local­i­ties because it knows that local author­i­ties in 43 states are already pre­empt­ed from reg­u­lat­ing firearms.
There are many oth­er items on ALEC's agen­da for the New Orleans meet­ing includ­ing the fol­low­ing draft bills:
The Open Finan­cial State­ment Act
Mod­el Pol­i­cy on Risk Algo­rithms and Arti­fi­cial Intel­li­gence in Crim­i­nal Justice
Crim­i­nal Jus­tice Data Trans­paren­cy Model
Res­o­lu­tion in Sup­port of Estab­lish­ing Effi­cient and Fair Crim­i­nal Law Dis­cov­ery Practices
Draft Exec­u­tive Branch Trans­paren­cy in Tes­ti­mo­ny Act
Draft Exec­u­tive Branch Pub­lic Advo­ca­cy and Trans­paren­cy Act
Draft Res­o­lu­tion in Sup­port of the Tai­wan Trav­el Act
Draft Estab­lish­ing an Eco­nom­ic Analy­sis Unit in the State Leg­is­la­ture Act
Draft Vic­tims of Com­mu­nism Memo­r­i­al Day Resolution
Admin­is­tra­tive Pro­ce­dures Act
Res­o­lu­tion Sup­port­ing States Estab­lish Trans­paren­cy with the Cost of Leg­is­la­tion Affect­ing Reg­u­lat­ed Util­i­ties Be Shown as Line Items on Con­sumer Bills
Res­o­lu­tion Con­cern­ing the EPA's New Source Review Regulation
Res­o­lu­tion in Sup­port of the Recon­sid­er­a­tion of Cor­po­rate Aver­age Fuel Econ­o­my (CAFE) Standards
Draft Reform­ing How Fed­er­al Grants Are Pro­vid­ed to the State
Draft Res­o­lu­tion to Restore the Divi­sion of Gov­ern­men­tal Respon­si­bil­i­ties between the Nation­al Gov­ern­ment and the States
This arti­cle was first post­ed by Exposed by CMD
Mary Bot­tari
is the deputy direc­tor of the Cen­ter for Media and Democ­ra­cy (CMD).