The Key to Tammy Baldwin's Landslide Re-Election? Exposing Her Opponent's Shady Ties to ALEC
Targeted with $14 million in outside spending, the Wisconsin senator fought back by tagging her opponent as a servant of special interests.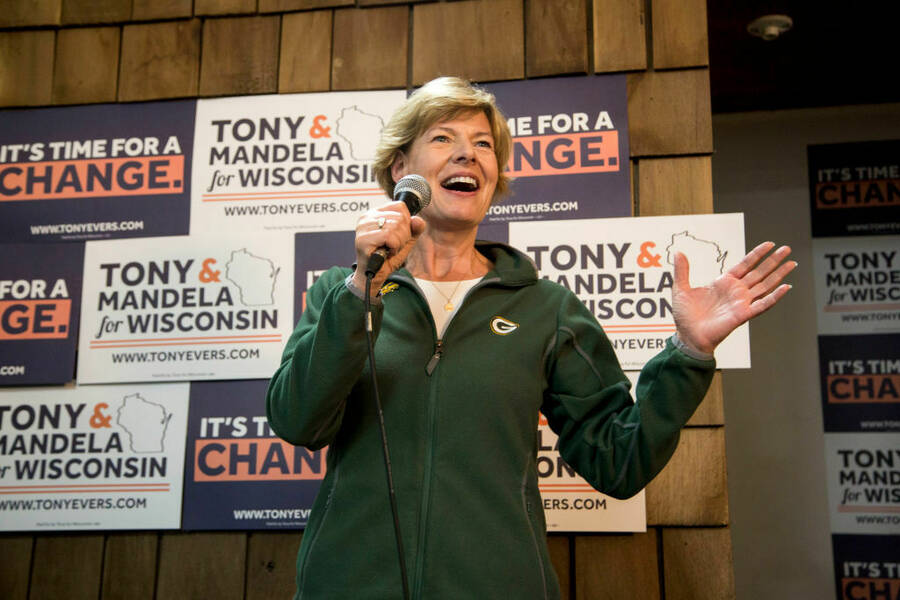 U.S. Sen­a­tor Tam­my Bald­win took to the stage for her vic­to­ry speech on Novem­ber 6th with Pat Benatar's ​"Hit Me With Your Best Shot," blasting.
Baldwin has long courted ticket-splitters without giving up on progressive politics.
Bald­win, the top tar­get of ear­ly Koch Broth­ers attack ads, won big in the state of Wis­con­sin, crush­ing her oppo­nent Repub­li­can State Sen­a­tor Leah Vuk­mir by 11 points. She also gar­nered 150,000 votes more than Tony Evers, the Demo­c­ra­t­ic nom­i­nee for gov­er­nor who beat Scott Walk­er by 31,000 votes. This, in a state that had elect­ed Walk­er three times and gave Trump the 23,000 votes he need­ed to cap­ture Wis­con­sin and the White House.
By Feb­ru­ary, Bald­win had already been the tar­get of $4.5 mil­lion in ads from just one Koch front group, Con­cerned Vet­er­ans of Amer­i­ca, claim­ing she dropped the ball on the over-pre­scrip­tion of opi­oids at the Tom­ah veteran's clin­ic, which result­ed in the death of a U.S. Marine. The group ladled on anoth­er $1.5 mil­lion in July, claim­ing that she failed to attend impor­tant com­mit­tee meet­ings. Oth­er ads by the Koch's Amer­i­cans for Pros­per­i­ty and Free­dom Part­ners groups attacked Bald­win over tax­es and for ​"rig­ging the sys­tem against us."
Bald­win used these ear­ly attacks to raise mon­ey to respond, and respond she did. The par­ents and wife of a vet­er­an quick­ly came to her defense in an ad that effec­tive­ly put an end to the issue, and Bald­win moved ear­ly to define her oppo­nent as a ser­vant of spe­cial interests.
Bald­win Ads Used Vukmir's ALEC Ties to Define Her
Bald­win was the first can­di­date in a high-pro­file race that used the Amer­i­can Leg­isla­tive Exchange Coun­cil (ALEC) to effec­tive­ly frame her oppo­nent as doing the bid­ding of cor­po­rate spe­cial inter­ests. The ads cap­i­tal­ize on Leah Vukmir's long asso­ci­a­tion with the cor­po­rate bill mill, where she moved from trea­sur­er to vice pres­i­dent to nation­al chair by 2016. In 2017, she was giv­en an ​"Iron Lady" award from ALEC, liken­ing the ambi­tious Vuk­mir to GOP icon Mar­garet Thatcher.
The first Bald­win ad intro­duced ALEC as ​"a shad­owy orga­ni­za­tion where lob­by­ists get leg­is­la­tors to intro­duce their pre-pack­aged bills. On their nation­al board? Leah Vuk­mir…," accom­pa­nied by a list of ALEC cor­po­rate fun­ders includ­ing Pfiz­er, Exxon, and Koch Indus­tries. Anoth­er ad asked ​"who is Leah Vuk­mir real­ly?… a nation­al leader of ALEC an orga­ni­za­tion fund­ed by cor­po­ra­tions to lob­by state gov­ern­ments," list­ing ALEC posi­tions she has tak­en, includ­ing loos­en­ing safe­ty stan­dard at nurs­ing homes.
The final ALEC ad high­light­ed the Cen­ter for Media and Democracy's (CMD) 2013 open records law­suit against Vuk­mir that first made head­lines when a Vuk­mir staffer berat­ed, chased, and pushed CMD's process serv­er to the ground. After claim­ing that she had no ALEC-relat­ed doc­u­ments in her leg­isla­tive or per­son­al email, Vuk­mir end­ed up cough­ing up hun­dreds of emails from ALEC after CMD won its lawsuit.
"Leah Vukmir's secret, dozens of emails she didn't want any­one to see," the ad begins, dis­play­ing redact­ed emails. ​"Vuk­mir was sued and forced to release them. She stuck tax­pay­ers with $15,000 in legal bills. What was Vuk­mir hid­ing? Emails with lob­by­ists from ALEC — the shad­owy cor­po­rate inter­est group. Instruc­tion for Vuk­mir to block Med­ic­aid expan­sion and help the insur­ance com­pa­nies. It's no secret Leah Vukmir's not for us." See the ad here. Inter­est­ing­ly, a right-wing dark mon­ey group used a very sim­i­lar ad to attack Vuk­mir in the primary.
The pre­vi­ous­ly undis­closed records from ALEC's Spring 2013 meet­ing show a Flori­da-based lob­by­ing group instruct­ing Vuk­mir and oth­er leg­is­la­tors to intro­duce a bill to thwart Med­ic­aid expan­sion in the states. The lob­by­ist even wrote a script explain­ing the bill for leg­is­la­tors to par­rot — con­tra­dict­ing ALEC's claims to reporters that the orga­ni­za­tion is ​"leg­is­la­tor driven."
It was the most high-pro­file race to use ALEC effec­tive­ly, help­ing to dri­ve Vukmir's neg­a­tives high­er through­out the cam­paign. By elec­tion day, she was ​"the most unpop­u­lar politi­cian in the state," said Tom Rus­sell, an advi­sor to the Demo­c­ra­t­ic Governor's Association.
"Research has shown that link­ing bills or can­di­dates to ALEC tends to sig­nif­i­cant­ly decrease sup­port for those bills or can­di­dates, and Tam­my Baldwin's win, and the effec­tive­ness of her ads tying Vuk­mir to ALEC pro­vides real-world evi­dence that peo­ple respond neg­a­tive­ly when they are informed of cor­po­rate influ­ence on elect­ed offi­cials,'" said Sam Munger, Direc­tor of Exter­nal Rela­tions for the State Inno­va­tion Exchange, a group formed to counter ALEC's influ­ence in the states. ​"It helped Tam­my make the case that, as her ads said, Vuk­mir was on the side of spe­cial inter­ests and ​'not for us.'"
Court­ing Tick­et Split­ters With­out Giv­ing Up on Pro­gres­sive Policies
Bald­win was espe­cial­ly effec­tive at reach­ing out to the white work­ing class and rur­al vot­ers, key con­stituen­cies that gave Trump a win­ning mar­gin in 2016. Bald­win flipped 17 of the rur­al coun­ties that had vot­ed for Trump.
Accord­ing to Sarah Lloyd, a dairy farmer and the co-chair of the pro­gres­sive group Our Wis­con­sin Rev­o­lu­tion, Bald­win knew the peo­ple and knew the issues most impor­tant to rur­al vot­ers. ​"Tammy's office is excel­lent at con­stituent ser­vices; she knows farm­ers across the state and can speak flu­ent­ly about the agri­cul­tur­al issues that are at the heart of Wisconsin's rur­al communities."
Remark­ably, exit polls showed that 12 per­cent of Walk­er vot­ers vot­ed for Bald­win. This in a state where tick­et split­ting had been declared dead.
Bald­win has long court­ed tick­et-split­ters with­out giv­ing up on pro­gres­sive pol­i­tics. When Bald­win was first elect­ed to the Sen­ate in 2012, she was out ear­ly on tele­vi­sion with ads stress­ing themes of the work­ing per­son, specif­i­cal­ly blue col­lar men who were los­ing ground in a Wis­con­sin econ­o­my bat­tered by unfair trade deals, a job killing reces­sion, and then by a hos­tile gov­er­nor work­ing to put an end to good pay­ing union jobs. She told vot­ers that her oppo­nent, for­mer Gov­er­nor Tom­my Thomp­son, was ​"changed" in ads that focused on his lob­by­ing for drug com­pa­nies and insur­ance companies.
This cycle, she once again focused on themes and images sure to res­onate with work­ing and mid­dle class fam­i­lies. One of Baldwin's most impor­tant nar­ra­tives fea­tured the work she has done defend­ing Wisconsin's paper indus­try, which employs some 53,000 work­ers, against preda­to­ry busi­ness­es and unfair trade prac­tices. She has a long track record on these issues both in the House and in the Sen­ate, intro­duc­ing ​"Buy Amer­i­ca" leg­is­la­tion and chal­leng­ing Trump to cross the aisle to sup­port it.
"Sen­a­tor Bald­win has been a con­sis­tent fair trade cham­pi­on, stand­ing up for her state's work­ers even when it meant tak­ing on a Demo­c­ra­t­ic pres­i­dent and had led the fight to expand ​'Buy Amer­i­can' poli­cies so our tax dol­lars are rein­vest­ed to cre­ate jobs at home instead of being out­sourced," said Wis­con­si­nite Lori Wal­lach, the direc­tor of Pub­lic Citizen's Glob­al Trade Watch group.
The fair trade theme helped oth­er can­di­dates in the Great Lake states includ­ing Sher­rod Brown of Ohio, Deb­bie Stabenow of Michi­gan and Bob Casey of Penn­syl­va­nia. ​"The 2018 Demo­c­ra­t­ic Sen­ate can­di­dates who won in states that Trump car­ried are all fair trade cham­pi­ons who fought against job-killing trade agree­ments, while those who lost sup­port­ed the cor­po­rate-rigged deals," said Wal­lach. Brown is now dis­cussing a pos­si­ble run for the White House.
Health Care Takes Cen­ter Stage
But the his­tor­i­cal moment clear­ly ben­e­fit­ed Bald­win. Across the coun­try peo­ple from both par­ties told poll­sters that health care was their num­ber-one issue, not immi­gra­tion or the oth­er issues that Repub­li­cans attempt­ed to ele­vate. Nine­ty-three per­cent of vot­ers in a Mar­quette poll put cov­er­age for pre­ex­ist­ing con­di­tions at the top of their list of priorities.
On the stump, Bald­win spoke for the first time about a child­hood ill­ness she had that made her unin­sur­able. ​"I had a seri­ous child­hood ill­ness at age nine. It was sim­i­lar to spinal menin­gi­tis … it put me in the hos­pi­tal for three months," she explained. ​"And despite the fact that I ful­ly recov­ered, my grand­par­ents who raised me were unable to get insur­ance at any price."
"This was the per­fect elec­tion for Tam­my," said Dr. Robert Kraig of Cit­i­zen Action Wis­con­sin, a pub­lic inter­est group that fights to expand health care cov­er­age. ​"She went into pub­lic life because of health care and it has been a pri­or­i­ty issue for her entire polit­i­cal career. She worked hard in the Sen­ate to expand the Afford­able Care Act, tak­ing great pride in the amend­ment to allow young peo­ple to stay on their par­ents' plans until they were 26, and she doesn't shrink from Medicare for All. I saw her after the elec­tion and she was still thrilled about being about to go back to the Sen­ate to work on the issue!"
With her civil­i­ty, Bald­win dif­fer­en­ti­at­ed her­self from Walk­er and Trump. ​"Walk­er was a polar­iz­ing fig­ure right out of the gate in 2011," said Bar­ry Bur­den, a Pro­fes­sor in the Uni­ver­si­ty of Wisconsin's Depart­ment of Polit­i­cal Sci­ence. ​'Since that time, Wis­con­sin res­i­dents have had clear opin­ions about him and those opin­ions have divid­ed the state down the middle."
"Bald­win has tak­en a dif­fer­ent approach to gov­ern­ing," Bur­den said. ​"Although she is an unapolo­getic pro­gres­sive, she has not been bom­bas­tic or aggres­sive. In the lead up to 2018 she actu­al­ly iden­ti­fied a cou­ple of issues where she and Pres­i­dent Trump might find com­mon ground. She is a less famil­iar face than Walk­er, so as vot­ers learned about her over the course of the cam­paign they saw a rea­son­able Sen­a­tor who seemed to care a great deal about the well-being of Wisconsinites."
Bald­win rarely men­tioned Trump by name and did not cut a sin­gle ad talk­ing about Trump.
"The con­trast with the way Hillary Clin­ton cam­paigned in Wis­con­sin in 2016 is marked. Tam­my ran on bread and but­ter poli­cies — good wages, good health care — and she didn't get side­tracked into spend­ing a lot of time tak­ing shots at Trump," Munger said. ​"Her cam­paign and elec­tion results prove that when you run on pro­gres­sive solu­tions, you can win."
Mak­ing It Personal
But to many CMD inter­viewed, the key to her secret sauce was her ​"authen­tic­i­ty" and ​"gen­uine warmth" that con­vinced vot­ers she was on their side. Rarely does an expe­ri­enced politi­cian run bio­graph­i­cal ads deep into her polit­i­cal career and reveal details that the pub­lic nev­er knew, but Bald­win did a num­ber of these ads.
While many knew that Bald­win had been raised by her grand­par­ents, the rea­son for this were nev­er clear. In May, Bald­win revealed that that her moth­er had passed away after a life-long strug­gle with opi­oid addic­tion. Her ad por­trays a child knock­ing on the front door, but there is no response because the moth­er is passed out in the house. ​"I had to grow up fast, very fast, so when I see the opi­oid cri­sis wreck­ing so many Wis­con­sin fam­i­lies all I can say is that I have been there," Bald­win says in the affect­ing ad.
This warm, per­son­al approach stood in stark con­trast to the tone set by Leah Vuk­mir and her campaign.
For­mer Amer­i­cans for Pros­per­i­ty Chief Exec­u­tive Offi­cer Luke Hilge­mann and Chief Oper­at­ing Office Sean Lans­ing joined Vukmir's 2018 U.S. Sen­ate cam­paign ear­ly as senior advi­sors. Right out of the box, Vuk­mir set a nasty tone, issu­ing an attack on May 9 claim­ing that Bald­win was on ​"Team Ter­ror­ist" and sid­ing with 9⁄11 mas­ter­mind Khalid Sheikh Mohammed for not sup­port­ing Trump's nom­i­nee for CIA Direc­tor, Gina Haspel. Sen­a­tor Ron John­son called it a mis­take and the right-wing media out­let Right Wis­con­sin called the ad ​"an irre­spon­si­ble cam­paign blun­der," but the low blows continued.
She tried to dub Bald­win ​"Princess Painkiller" and sent out a press release when Sen­a­tor Eliz­a­beth War­ren vis­it­ed the state enti­tled ​"Poc­a­hon­tas cam­paigns with Tom­ah Tam­my." Vukmir's Super­PAC slammed Bald­win for lead­ing ​"lib­er­al mobs" dur­ing the 2011 Act 10 protests, inad­ver­tent­ly show­ing video of Bald­win look­ing young and vibrant.
Vuk­mir embraced every con­tro­ver­sial pol­i­cy of the Trump admin­is­tra­tion. While Walk­er and Paul Ryan made a point to dis­tin­guish their cam­paign rhetoric from Trump's, Vuk­mir rev­eled in Trump­ism, pledg­ing to help Trump ​"build the wall" dur­ing Trump's final ral­ly in the state at Moisi­nee in Octo­ber and wav­ing and smil­ing as the crowd chant­ed ​"lock her up," two years after Clin­ton lost the elec­tion and after four Trump asso­ciates had pled guilty to charges from the Spe­cial Counsel.
"Vuk­mir was hin­dered by a dif­fi­cult pri­ma­ry bat­tle and her unwa­ver­ing embrace of Trump," not­ed Pro­fes­sor Burden.
The nasty tone under­cut Vukmir's paid ads, which attempt­ed to cast her as a nurse and a mom who cared about Wis­con­sin fam­i­lies. Vuk­mir repeat­ed­ly claimed that she would ​"throw her­self in front of a bus" to safe­guard pre­ex­ist­ing con­di­tion cov­er­age for Wis­con­sin fam­i­lies, but her long record of votes on health care came back to haunt her.
Baldwin's final dev­as­tat­ing ad was a roll call of votes tak­en by the State Sen­a­tor against expand­ing health care cov­er­age: ​"Why would Leah Vuk­mir vote against hear­ing aids for chil­dren?" ​"Why? Why?" ask peo­ple in the ad repeatedly.
There is no doubt that his­toric trends in Wis­con­sin favor a sen­a­tor in the oppo­site par­ty of the par­ty in the White House, and Bald­win ben­e­fit­ed from a record-break­ing turnout approach­ing 60 per­cent of vot­ing-age adults (a 70-year high), but her cam­paign made few stum­bles, con­cen­trat­ed on the con­cerns of work­ing fam­i­lies, defined the can­di­date and her oppo­nent ear­ly, and spoke to vot­ers in rur­al and urban Wis­con­sin, pro­vid­ing a blue­print for 2020 candidates.
Reprint­ed with per­mis­sion from the Cen­ter for Media and Democracy.
Mary Bot­tari
is the deputy direc­tor of the Cen­ter for Media and Democ­ra­cy (CMD).