Why Is the Political Establishment So Afraid of Ocasio-Cortez's Green New Deal?
Instead of pouring money into endless war and tax cuts for the rich, Congress now has a chance to solve the climate crisis. But devotion to the economic status quo is standing in the way.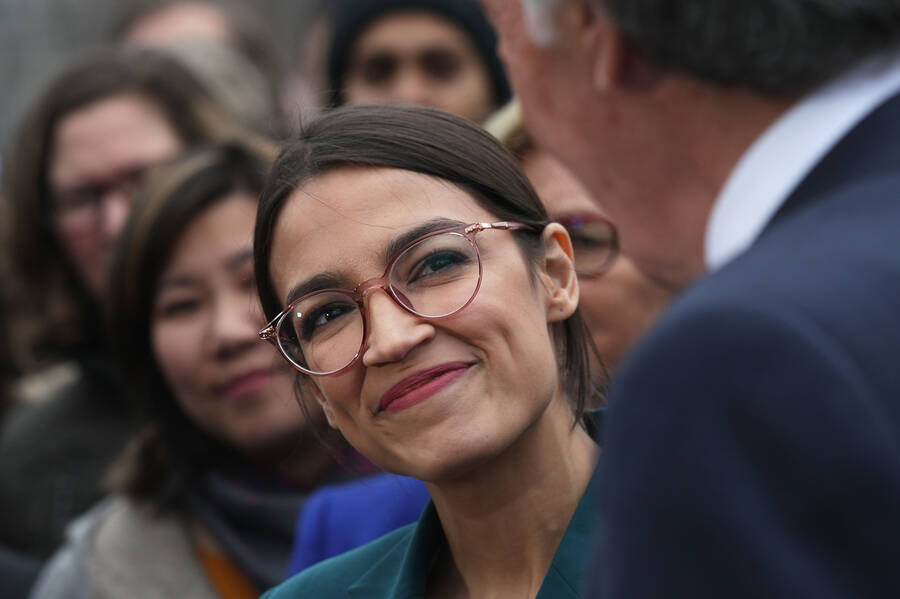 At a time of wide­spread envi­ron­men­tal dev­as­ta­tion, much of the U.S. polit­i­cal estab­lish­ment appears aller­gic to large-scale pub­lic projects that would solve the cli­mate cri­sis through direct­ly chal­leng­ing the eco­nom­ic sta­tus quo.
Completely missing from Republicans' outright opposition—and some Democrats' ambiguous hedging—is a recognition of what's at stake.
This atti­tude was per­haps best encap­su­lat­ed by House Speak­er Nan­cy Pelosi's glib mock­ery of the Green New Deal plan laid out Thurs­day morn­ing by Rep. Alexan­dria Oca­sio-Cortez (D‑N.Y.) and Sen. Ed Markey (D‑Mass.). In an inter­view with Politico, Pelosi referred to the pro­pos­al as ​"the green dream or what­ev­er they call it." She went on to sug­gest that the plan had not been thought through, say­ing, ​"nobody knows what it is, but they're for it, right?"
Pelosi is not the only law­mak­er who is reflex­ive­ly resis­tant to the plan. There is the pre­dictable oppo­si­tion from Repub­li­cans, includ­ing Rep. John Shimkus (Ill.), the rank­ing mem­ber on the House Ener­gy and Com­merce Committee's Sub­com­mit­tee on Envi­ron­ment and Cli­mate Change. He said at a hear­ing Wednes­day, ​"We should be open to the fact that wealth trans­fer schemes sug­gest­ed in the rad­i­cal poli­cies like the Green New Deal may not be the best path to com­mu­ni­ty pros­per­i­ty and preparedness."
Rep. Doug Lam­born (R‑CO), mean­while, turned to red-bait­ing, say­ing the Green New Deal ​"sounds too much like a Sovi­et five-year plan." Lamborn's cri­tique echoed Pres­i­dent Trump, who warned in his State of the Union (SOTU) speech on Tues­day that ​"in the Unit­ed States, we are alarmed by new calls to adopt social­ism in our coun­try. Amer­i­ca was found­ed on lib­er­ty and inde­pen­dence — not gov­ern­ment coer­cion, dom­i­na­tion and control."
Pelosi her­self has direct­ly aid­ed this anti-social­ist appeal. At a CNN Town Hall event in 2017, Pelosi was asked by a New York Uni­ver­si­ty stu­dent, who cit­ed the grow­ing pop­u­lar­i­ty of social­ist poli­cies among Democ­rats, whether the par­ty ​"could move far­ther left to a more pop­ulist mes­sage?" She respond­ed, ​"We're cap­i­tal­ists, and that's just the way it is." In the after­math of Ocasio-Cortez's shock­ing vic­to­ry last year, Pelosi was asked whether demo­c­ra­t­ic social­ism was ​"ascen­dant" in the par­ty. Her response: ​"No." And when Trump said in his SOTU address Tues­day that ​"Tonight, we renew our resolve that Amer­i­ca will nev­er be a social­ist coun­try," Pelosi applauded.
This oppo­si­tion to demo­c­ra­t­ic social­ist poli­cies helps explain why Pelosi has been so resis­tant to embrace the Democ­rats' ris­ing left flank that wants to see imme­di­ate action on redis­trib­ut­ing wealth and pow­er away from the top ech­e­lons of soci­ety. Such demands for a rad­i­cal restruc­tur­ing of the U.S. econ­o­my is a crit­i­cal ele­ment under­pin­ning calls for enact­ing up-and-com­ing left-wing poli­cies like the Green New Deal.
Pelosi's ide­o­log­i­cal posi­tion­ing has, not sur­pris­ing­ly, dove­tailed with oppo­si­tion to the Green New Deal. Last year, Oca­sio-Cortez joined a demon­stra­tion at Pelosi's office orga­nized by the Sun­rise Move­ment — a youth-led envi­ron­men­tal jus­tice group — which called for the cre­ation of a select com­mit­tee to craft a Green New Deal. Rather than insti­tut­ing such a com­mit­tee, how­ev­er, Pelosi instead cre­at­ed a select com­mit­tee on cli­mate change more broad­ly, with pow­ers much more lim­it­ed scope than what orga­niz­ers had demand­ed. Pelosi's com­mit­tee, fur­the­more, will not require mem­bers to eschew cam­paign con­tri­bu­tions from the fos­sil fuel indus­try, anoth­er demand laid out by the Sun­rise Movement.
Mean­while, oth­er Demo­c­ra­t­ic lead­ers are more cagey and guard­ed. Rep. Kathy Cas­tor (D‑Fla.), the chair of the U.S. House Select Com­mit­tee on the Cli­mate Cri­sis, released an ambigu­ous state­ment today in which she declined to sup­port the Green New Deal but praised the pas­sion behind it. ​"We must exam­ine the entire range of tools we have to tack­le the cli­mate cri­sis," she said. ​"I share the sense of urgency behind the Green New Deal and I believe that we must act bold­ly to reduce green­house gas­es and to make clean ener­gy a pil­lar of our economy."
Com­plete­ly miss­ing from Repub­li­cans' out­right oppo­si­tion — and some Democ­rats' ambigu­ous hedg­ing — is a recog­ni­tion of what's at stake. The plan­et faces mon­u­men­tal warm­ing with threats not just of sea lev­el rise and expan­sive droughts but mas­sive bouts of famine, eco­nom­ic dev­as­ta­tion and refugee crises. Instead of grap­pling with the mas­sive destruc­tion wrought by wors­en­ing cli­mate change, the polit­i­cal estab­lish­ment is con­tin­u­ing to deflect the debate toward crit­i­cism of those who want action that's too bold, or pub­lic projects that are too ambitious.
Yet this oppo­si­tion to cost­ly and large-scale leg­is­la­tion appar­ent­ly doesn't extend to projects that con­cern end­less war and tax cuts for the wealthy. Bipar­ti­san law­mak­ers, includ­ing Pelosi, hand­ed a major win to Trump last year by pass­ing the stag­ger­ing $716 bil­lion Nation­al Defense Autho­riza­tion Act (NDAA) for 2019, which includ­ed funds for a nuclear buildup. Mean­while, in 2017, Repub­li­cans glee­ful­ly lined up behind Trump to hand a tax break to cor­po­ra­tions and the super-rich that will add near­ly $2 tril­lion to the U.S. debt.
This incon­gru­ence is enabled by a media echo cham­ber. Dur­ing an inter­view with NPR's ​"Morn­ing Edi­tion" on Thurs­day, Oca­sio-Cortez was grilled by host Steve Inskeep about how she would pay for her cli­mate plan. ​"It is just cer­tain­ly a lot of mon­ey. You don't spec­i­fy where it's going to come from oth­er than say­ing it will all pay for itself." This refrain has been echoed across major media out­lets since the con­cept of a Green New Deal was first intro­duced, from Politi­co to ​"60 Min­utes." As Aylin Wood­ward notes in Busi­ness Insid­er, ​"Much of the dis­cus­sion so far about the Green New Deal has cen­tered on how to pay for its lofty objectives."
Ocasio-Cortez's response to Inskeep was instruc­tive. ​"I think the first move we need to do is kind of break the mis­tak­en idea that tax­es pay for 100 per­cent of gov­ern­ment expen­di­ture," Oca­sio-Cortez answered. ​"It's just not how gov­ern­ment expen­di­ture works," she said. ​"We can recoup costs, but often­times you look at, for exam­ple, the GOP tax cut which I think was an irre­spon­si­ble use of gov­ern­ment expen­di­ture, but gov­ern­ment projects are often financed by a com­bi­na­tion of tax­es, deficit spend­ing and oth­er kinds of invest­ments, you know, bonds and so on."
She went on to point out the long term fail­ure of a mar­ket fun­da­men­tal­ist approach to envi­ron­men­tal pol­i­cy in deal­ing with cli­mate change. ​"We have tried their approach for 40 years — to let the pri­vate sec­tor take care of it," she explained, lay­ing out a case for mas­sive gov­ern­ment inter­ven­tion that – until recent­ly – has rarely sur­faced in main­stream polit­i­cal discourse.
Yet, amaz­ing­ly, this hos­tile polit­i­cal cli­mate is fail­ing to squash the Green New Deal. To achieve the goals of staving off the worst effects of cli­mate change while putting the Unit­ed States on a path to envi­ron­men­tal sus­tain­abil­i­ty and eco­nom­ic equi­ty, the Green New Deal calls for elim­i­nat­ing net green­house gas emis­sions by 2030, mas­sive­ly invest­ing in gov­ern­ment pro­grams to update infra­struc­ture and build up renew­able ener­gy sources, trans­form­ing sec­tors of the econ­o­my such as man­u­fac­tur­ing and trans­porta­tion to remove car­bon emis­sions, retro­fitting build­ings and pro­vid­ing guar­an­teed liv­ing-wage employ­ment to any­one who wants a job.
Not all of the details have been hashed out, and it will no doubt take con­sid­er­able strug­gle — and out­side agi­tat­ing — to ensure any final plan is informed by left prin­ci­ples. But, nonethe­less, the pro­pos­al rep­re­sents the most ambi­tious effort yet to tack­le the cli­mate cri­sis. And it cor­rect­ly refo­cus­es the ques­tion of cost away from whether the Unit­ed States can afford to pay for such a bold pro­pos­al to whether it can afford not to.
Already more than 60 mem­bers of the House and 9 sen­a­tors have co-spon­sored Oca­sio-Cortez and Markey's res­o­lu­tion. Much like oth­er bold left-wing pro­pos­als such as Medicare for All and tuition-free col­lege, the Green New Deal has emerged as a con­sen­sus pol­i­cy back by a num­ber of high-pro­file poten­tial 2020 Demo­c­ra­t­ic nom­i­nees such as Sens. Eliz­a­beth War­ren, Kamala Har­ris, Cory Book­er, Kirsten Gilli­brand and Bernie Sanders. And over 80 per­cent of the Amer­i­can pub­lic sup­ports the Green New Deal, includ­ing 92 per­cent of Democ­rats and 64 per­cent of Republicans.
Repub­li­cans and cen­trist Democ­rats alike seem con­tent con­tin­u­ing to over­see the same eco­nom­ic and polit­i­cal con­sen­sus that led us to the brink of cli­mate chaos. But for the vast major­i­ty of Amer­i­cans who want real solu­tions to the cri­sis, today's Green New Deal res­o­lu­tion marks a clear escape path from the stale pol­i­tics of the past.
Sarah Lazare and Mar­co Car­tolano con­tributed report­ing to this piece.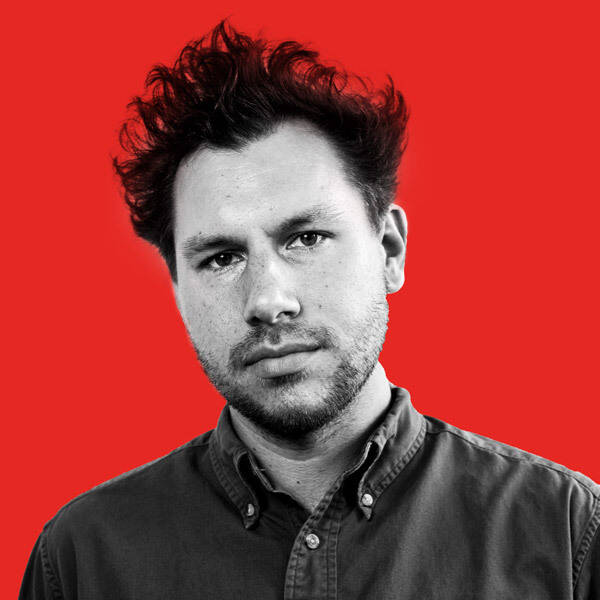 Miles Kampf-Lassin, a grad­u­ate of New York Uni­ver­si­ty's Gal­latin School in Delib­er­a­tive Democ­ra­cy and Glob­al­iza­tion, is a Web Edi­tor at In These Times. Fol­low him on Twit­ter @MilesKLassin