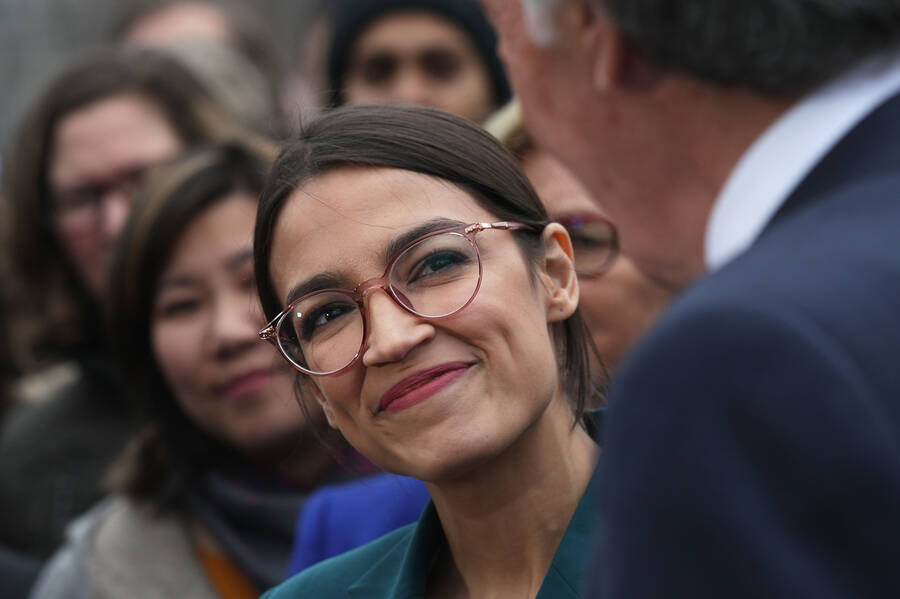 Alexan­dria Oca­sio-Cortez hasn't yet been sworn in as a rep­re­sen­ta­tive in Con­gress, but she's already mak­ing waves in Wash­ing­ton, D.C. Ear­li­er this month, Oca­sio-Cortez joined a group of pro­test­ers from the cli­mate jus­tice group Sun­rise Move­ment at the D.C. offices of Nan­cy Pelosi. The pro­test­ers were demand­ing that the like­ly next Speak­er of the House cre­ate a Select Com­mit­tee with a man­date to draft leg­is­la­tion for a bold Green New Deal to tack­le cli­mate change by 2020. Oca­sio-Cortez fol­lowed up the action by releas­ing a spe­cif­ic res­o­lu­tion for the cre­ation of the Select Committee.
By shining a spotlight on what would normally be an internal process decision, Ocasio-Cortez has turned the Green New Deal Committee creation into a referendum on the populist progressive agenda.
While protests tar­get­ing mem­bers of Con­gress are not unusu­al, it is extreme­ly uncom­mon for them to include fel­low elect­ed rep­re­sen­ta­tives, par­tic­u­lar­ly some­one fresh to their office. Many lib­er­al pun­dits react­ed neg­a­tive­ly to Ocasio-Cortez's par­tic­i­pa­tion, accus­ing her of grand­stand­ing rather than engag­ing in pro­duc­tive col­lab­o­ra­tion with her new colleagues.
But Ocasio-Cortez's actions actu­al­ly demon­strate a high­ly sophis­ti­cat­ed strat­e­gy — both for advanc­ing pol­i­cy and for build­ing pow­er in Washington.
A Green New Deal is not a cau­tious pol­i­cy pro­pos­al — it involves imple­ment­ing a mas­sive pub­lic works pro­gram with the goal of rad­i­cal­ly over­haul­ing the Unit­ed States' infra­struc­ture to pro­duce 100 per­cent renew­able ener­gy with­in 10 years. It also includes ambi­tious pro­pos­als for elim­i­nat­ing pover­ty and sig­nif­i­cant­ly decreas­ing eco­nom­ic inequal­i­ty through poli­cies like a fed­er­al jobs guar­an­tee and a uni­ver­sal basic income. If you believe, as the recent UN Inter­gov­ern­men­tal Pan­el on Cli­mate Change report warns, that cli­mate change is an impend­ing, exis­ten­tial threat, the Green New Deal is a pol­i­cy that match­es the scope and urgency of the challenge.
Pass­ing leg­is­la­tion of this mag­ni­tude will be a mas­sive under­tak­ing, both in ham­mer­ing out the pol­i­cy specifics and build­ing buy-in for the pro­pos­al. It took Democ­rats near­ly a year to pass the Afford­able Care Act, even with con­trol of both cham­bers of Con­gress. If Democ­rats are able to take back the Sen­ate and the pres­i­den­cy in 2020, even if they imme­di­ate­ly start­ed work on a Green New Deal as their top pri­or­i­ty, there's a good chance noth­ing close to the pol­i­cy would be passed until 2022 or lat­er. By cre­at­ing a Select Com­mit­tee now, Democ­rats can get a jump start on fig­ur­ing out what actu­al­ly goes into a Green New Deal and build­ing sup­port among leg­is­la­tors to move quick­ly toward enact­ing it once they regain power.
But beyond the pol­i­cy ratio­nale, Ocasio-Cortez's push for a Green New Deal is also smart pol­i­tics. The Rep­re­sen­ta­tive-elect has quick­ly become a lead­ing fig­ure for pop­ulist Democ­rats who are advo­cat­ing a far more rad­i­cal approach to pol­i­cy-mak­ing than the incre­men­tal­ism typ­i­cal­ly seen in Con­gress. With signs that like­ly-Speak­er Pelosi is plan­ning to leg­is­late with a con­ser­v­a­tive approach, many on the Left fear the momen­tum they've been build­ing through move­ment orga­niz­ing and elec­tions of insur­gent can­di­dates will not trans­late into a bold Demo­c­ra­t­ic agenda.
In a sys­tem based on senior­i­ty for deter­min­ing Con­gres­sion­al Com­mit­tee assign­ments, Oca­sio-Cortez has very lit­tle pro­ce­dur­al pow­er as a leg­is­la­tor to influ­ence the party's agen­da. If she were to fol­low the typ­i­cal path for a new­ly elect­ed mem­ber of Con­gress, it would be years before she would have any sig­nif­i­cant influ­ence on larg­er deci­sions. But her mas­sive pop­u­lar sup­port could poten­tial­ly trans­late into a dif­fer­ent kind of pow­er that exists out­side of tra­di­tion­al con­gres­sion­al operations.
By shin­ing a spot­light on what would nor­mal­ly be an inter­nal process deci­sion, Oca­sio-Cortez has turned the Green New Deal Com­mit­tee cre­ation into a ref­er­en­dum on the pop­ulist pro­gres­sive agen­da. While cre­at­ing the com­mit­tee is a fair­ly mod­est ask in prac­ti­cal terms (since it doesn't involve actu­al­ly enact­ing leg­is­la­tion), it now has sig­nif­i­cant impli­ca­tions around the mes­sage it sends on how big the Demo­c­ra­t­ic Par­ty will go. With Democ­rats alone con­trol­ling com­mit­tee deci­sions, Pelosi and oth­er Demo­c­ra­t­ic rep­re­sen­ta­tives now must choose whether to embrace the left wing of the par­ty by cre­at­ing the com­mit­tee or to reject it — and run the risk of los­ing dona­tions, votes, and per­haps even pri­ma­ry elec­tions, as Oca­sio-Cortez her­self demon­strat­ed by defeat­ing Rep. Joe Crow­ley, pre­vi­ous Chair of the House Demo­c­ra­t­ic Caucus.
Crit­ics of Ocasio-Cortez's actions often seem put off or con­fused that she would take such a con­fronta­tion­al approach as a new leg­is­la­tor, rather than putting in her dues by fol­low­ing a more tra­di­tion­al path. But this per­spec­tive miss­es the fact that Ocasio-Cortez's elec­tion was a clear man­date for more rad­i­cal pol­i­tics — an activist out­sider with a bold agen­da unseat­ing a senior par­ty insid­er rep­re­sent­ing pol­i­tics-as-usu­al. She right­ly believes she has a respon­si­bil­i­ty to go big, using what­ev­er tools are avail­able to her. And if she can win a vic­to­ry right out of the gate, it will cre­ate momen­tum for the many polit­i­cal fights to come.
So far, the approach seems to be work­ing. Fif­teen House rep­re­sen­ta­tives have already come on board to endorse the cre­ation of the Select Com­mit­tee for a Green New Deal, giv­ing the pro­pos­al a big boost in legit­i­ma­cy. Whether or not Rep. Pelosi will ulti­mate­ly back the effort remains to be seen, but one thing is already clear — Alexan­dria Oca­sio-Cortez is chang­ing the sta­tus quo Washington.
Jim Pugh
is the co-direc­tor of the Uni­ver­sal Income Project.