In Roma, Alfonso Cuarón Zooms in on Class Tensions
Set in early 1970s Mexico, a new film explores the life of a domestic worker in a middle-class family.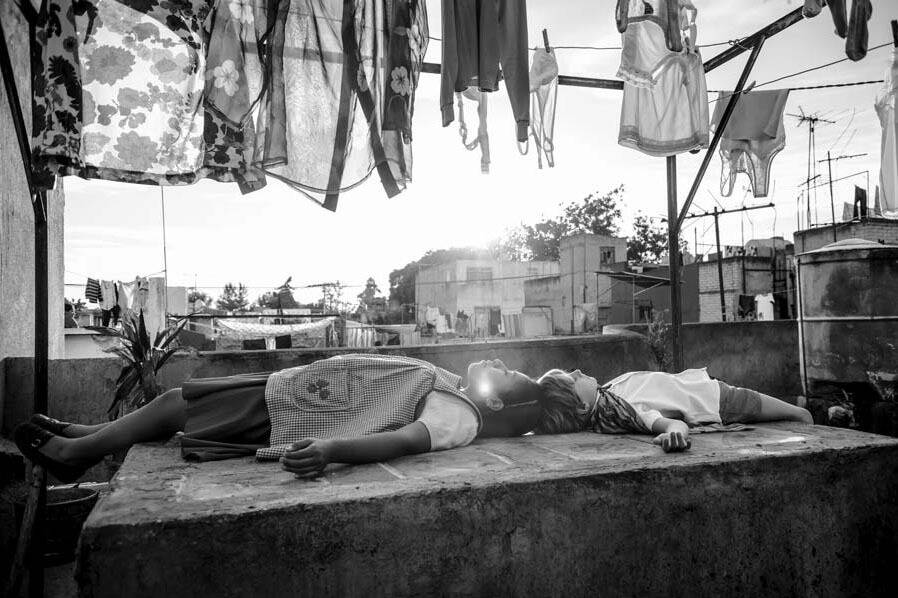 In Alfon­so Cuarón's lat­est film, Roma, the ten­sion between the haves and have-nots is elo­quent­ly explored from the per­spec­tive of those who are ill-equipped to effect social change. Set in 1970 and 1971, the sto­ry cen­ters on a mid­dle-class fam­i­ly in the Mex­i­co City neigh­bor­hood of Colo­nia Roma; it chron­i­cles the tur­moil of two vul­ner­a­ble women, Sofía (Mari­na de Tavi­ra), a moth­er of four whose hus­band is about to leave her, and Cleo (Yal­itza Apari­cio), an indige­nous woman who is one of the family's two live-in maids.
Lusciously shot in black and white, Roma is a paean to the Mexico City of the time.
The plot revolves around Cleo, who, after get­ting preg­nant, fears being fired by Sofía. Sofía her­self is in cri­sis, com­mit­ted to keep­ing her fam­i­ly togeth­er as her hus­band runs away with anoth­er woman. The chil­dren are more attached emo­tion­al­ly to Cleo than to their moth­er, although they know she is just a maid, that is, a subordinate.
As these women under­go their own per­son­al strug­gles, a larg­er polit­i­cal and social strug­gle is unfold­ing in Mex­i­co. The Par­tido Rev­olu­cionario Insti­tu­cional has ruled the nation since before World War II. But the youth are grow­ing increas­ing­ly rest­less and the party's con­trol is crum­bling. A stu­dent-led anti-author­i­tar­i­an move­ment has risen up, lead­ing to the Hal­cona­zo, or the Cor­pus Christi mas­sacre, in which around 120 demon­stra­tors are killed by a gov­ern­ment-spon­sored para­mil­i­tary group, at the Insti­tu­to Politéc­ni­co Nacional on June 10, 1971. These real life events even­tu­al­ly inter­sect with the char­ac­ters when the boy Cleo is dat­ing, Fer­mín (Jorge Anto­nio Guer­rero), a mar­tial arts freak, is revealed to have par­tic­i­pat­ed in the mas­sacre (although Cleo is naïve about his involvement).
The film is decid­ed­ly auto­bi­o­graph­i­cal, as Cuarón grew up in Roma dur­ing the same peri­od. A vir­tu­oso of sub­tle­ty, he looks at the social ten­sion tan­gen­tial­ly, explor­ing the way the Mex­i­can mid­dle class is insu­lat­ed, and thus obliv­i­ous, to the hav­oc on the streets. Coun­try and fam­i­ly are falling apart. There is an author­i­ty vac­u­um. Chaos reigns while Sofía and her chil­dren, accom­pa­nied by Cleo, go on vacation.
Lus­cious­ly shot in black and white, Roma is a paean to the Mex­i­co City of the time. The recre­ation is impec­ca­ble. I know because this is my back­ground, too; I grew up near Coyoacán, the art­sy neigh­bor­hood, and, like Cuarón, was ten years old in 1971. There are recur­ring musi­cal ref­er­ences to the undu­lat­ing tonal­i­ties of water. Pop songs are con­stant­ly play­ing in the back­ground. Mean­while, the family's dog keeps defe­cat­ing on the dri­ve­way. The shots of des­per­ate Cleo look­ing to con­front Fer­mín about the pater­ni­ty of the baby she will soon birth take place in the slums, where progress hasn't made an entrance. In con­trast, the sequence where the fam­i­ly goes on vaca­tion to a rich hacien­da — which sud­den­ly catch­es fire dur­ing their stay — dis­plays a prof­li­gate upper class.
Cuarón not only wrote the screen­play but was the cin­e­matog­ra­ph­er as well, and his touch is every­where. There are trib­utes to Mex­i­can direc­tors like Luis Buñuel and Emilio ​"El Indio" Fer­nán­dez and ref­er­ences to Cuarón's own work, as when the char­ac­ters see on TV a movie about two astro­nauts float­ing aim­less­ly in space, like George Clooney and San­dra Bul­lock in Grav­i­ty, and when the fam­i­ly trav­els to a vaca­tion retreat that invokes not only the atmos­phere but the imagery of Y Tu Mamá Tam­bién.
The hos­pi­tal scene in which Cleo deliv­ers her baby might well be among the best depic­tions of loss I have ever seen on screen. And the sequence in which a despon­dent Cleo is invit­ed to join the fam­i­ly on a trip to the ocean in Ver­acruz will for­ev­er stand, I ven­ture to sug­gest, as Cuarón's best dis­play of cin­e­mat­ic dexterity.
Toward the end of Roma, as the fam­i­ly is return­ing from Ver­acruz, there is a shot inside the car where, while Sofía is dri­ving, two of the four chil­dren fall asleep in Cleo's arms. And then, in pass­ing, we see Sofía's sec­ond child in the back seat. We have got­ten used to him, but only now does he come into focus. Like every­one else, his expres­sion is one of dejec­tion. It becomes obvi­ous that it's Cuarón him­self. By tying the sto­ry to a spe­cif­ic view­point, the shot gives the film its gravitas.
Roma is ded­i­cat­ed to the real life Cleo, whose name is Libo­ria ​"Libo" Rodríguez, in trib­ute to the love Cuarón feels for the per­son who raised him. And love, its com­plex­i­ties, its sur­pris­es, even amid loss and class anx­i­ety, is what this mas­ter­piece splen­did­ly explores.
Ilan Sta­vans
is Lewis-Sebring Pro­fes­sor of human­i­ties, Latin Amer­i­can and Lati­no cul­ture at Amherst Col­lege. He is the prize-win­ning author of numer­ous books, includ­ing On Bor­rowed Words: A Mem­oir of Lan­guage. Pro­fes­sor Sta­vans is the recip­i­ent of a Guggen­heim Fel­low­ship and Lati­no Lit­er­a­ture Prize. He is a reg­u­lar con­trib­u­tor to Nation­al Pub­lic Radio and hosts NEPR's pod­cast ​
"
In Con­trast." He is also pub­lish­er of Rest­less Books.