In Roma, Alfonso Cuarón Zooms in on Class Tensions
Set in early 1970s Mexico, a new film explores the life of a domestic worker in a middle-class family.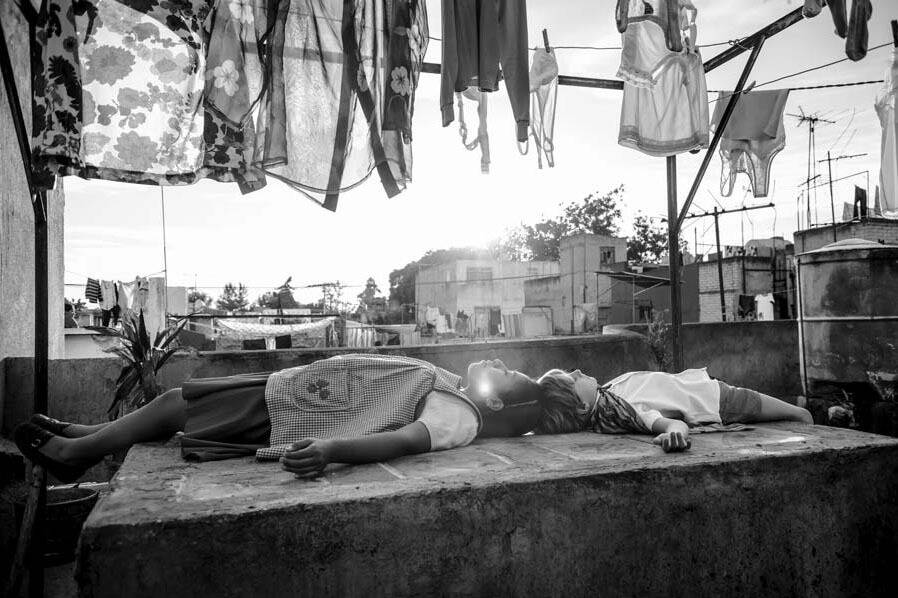 In Alfonso Cuarón's latest film, Roma, the tension between the haves and have-nots is eloquently explored from the perspective of those who are ill-equipped to effect social change. Set in 1970 and 1971, the story centers on a middle-class family in the Mexico City neighborhood of Colonia Roma; it chronicles the turmoil of two vulnerable women, Sofía (Marina de Tavira), a mother of four whose husband is about to leave her, and Cleo (Yalitza Aparicio), an indigenous woman who is one of the family's two live-in maids.
Lusciously shot in black and white, Roma is a paean to the Mexico City of the time.
The plot revolves around Cleo, who, after getting pregnant, fears being fired by Sofía. Sofía herself is in crisis, committed to keeping her family together as her husband runs away with another woman. The children are more attached emotionally to Cleo than to their mother, although they know she is just a maid, that is, a subordinate.
As these women undergo their own personal struggles, a larger political and social struggle is unfolding in Mexico. The Partido Revolucionario Institucional has ruled the nation since before World War II. But the youth are growing increasingly restless and the party's control is crumbling. A student-led anti-authoritarian movement has risen up, leading to the Halconazo, or the Corpus Christi massacre, in which around 120 demonstrators are killed by a government-sponsored paramilitary group, at the Instituto Politécnico Nacional on June 10, 1971. These real life events eventually intersect with the characters when the boy Cleo is dating, Fermín (Jorge Antonio Guerrero), a martial arts freak, is revealed to have participated in the massacre (although Cleo is naïve about his involvement).
The film is decidedly autobiographical, as Cuarón grew up in Roma during the same period. A virtuoso of subtlety, he looks at the social tension tangentially, exploring the way the Mexican middle class is insulated, and thus oblivious, to the havoc on the streets. Country and family are falling apart. There is an authority vacuum. Chaos reigns while Sofía and her children, accompanied by Cleo, go on vacation.
Lusciously shot in black and white, Roma is a paean to the Mexico City of the time. The recreation is impeccable. I know because this is my background, too; I grew up near Coyoacán, the artsy neighborhood, and, like Cuarón, was ten years old in 1971. There are recurring musical references to the undulating tonalities of water. Pop songs are constantly playing in the background. Meanwhile, the family's dog keeps defecating on the driveway. The shots of desperate Cleo looking to confront Fermín about the paternity of the baby she will soon birth take place in the slums, where progress hasn't made an entrance. In contrast, the sequence where the family goes on vacation to a rich hacienda — which suddenly catches fire during their stay — displays a profligate upper class.
Cuarón not only wrote the screenplay but was the cinematographer as well, and his touch is everywhere. There are tributes to Mexican directors like Luis Buñuel and Emilio ​"El Indio" Fernández and references to Cuarón's own work, as when the characters see on TV a movie about two astronauts floating aimlessly in space, like George Clooney and Sandra Bullock in Gravity, and when the family travels to a vacation retreat that invokes not only the atmosphere but the imagery of Y Tu Mamá También.
The hospital scene in which Cleo delivers her baby might well be among the best depictions of loss I have ever seen on screen. And the sequence in which a despondent Cleo is invited to join the family on a trip to the ocean in Veracruz will forever stand, I venture to suggest, as Cuarón's best display of cinematic dexterity.
Toward the end of Roma, as the family is returning from Veracruz, there is a shot inside the car where, while Sofía is driving, two of the four children fall asleep in Cleo's arms. And then, in passing, we see Sofía's second child in the back seat. We have gotten used to him, but only now does he come into focus. Like everyone else, his expression is one of dejection. It becomes obvious that it's Cuarón himself. By tying the story to a specific viewpoint, the shot gives the film its gravitas.
Roma is dedicated to the real life Cleo, whose name is Liboria ​"Libo" Rodríguez, in tribute to the love Cuarón feels for the person who raised him. And love, its complexities, its surprises, even amid loss and class anxiety, is what this masterpiece splendidly explores.
Ilan Stavans
is Lewis-Sebring Professor of humanities, Latin American and Latino culture at Amherst College. He is the prize-winning author of numerous books, including On Borrowed Words: A Memoir of Language. Professor Stavans is the recipient of a Guggenheim Fellowship and Latino Literature Prize. He is a regular contributor to National Public Radio and hosts NEPR's podcast ​
"
In Contrast." He is also publisher of Restless Books.