All for One, None for All
School choice policies sacrifice universal education in favor of personal freedom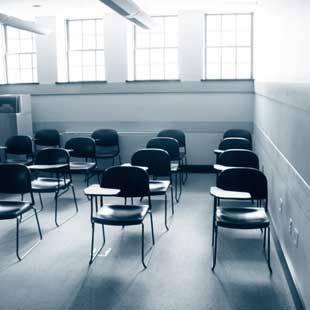 Port­land, Ore.–On any giv­en week­day here, the res­i­den­tial streets are clogged with par­ents dri­ving their kids away from neigh­bor­hood schools. Har­bor­ing visions of cre­ative and chal­leng­ing aca­d­e­mics, upward­ly mobile moth­ers and fathers head for one of the district's 20 spe­cial focus and lan­guage immer­sion schools, or oth­er schools deemed supe­ri­or by virtue of test scores or socio-eco­nom­ic enroll­ment pat­terns. As of two years ago, hun­dreds of Port­land kids have also left their neigh­bor­hood school under No Child Left Behind (NCLB), the nation­al edu­ca­tion law under which schools that earn a ​"fail­ing" des­ig­na­tion must give stu­dents pri­or­i­ty trans­fer to anoth­er dis­trict school.
Under the district's open enroll­ment pol­i­cy, over 35 per­cent of the Port­land pub­lic school pop­u­la­tion now attends a school out­side of their neighborhood.
NCLB and school choice poli­cies are often tout­ed as effec­tive strate­gies to improve edu­ca­tion­al qual­i­ty and close the achieve­ment gap between low-income/mi­nor­i­ty and white mid­dle-class stu­dents. But school choice in Port­land has also exac­er­bat­ed inequal­i­ty, favor­ing savvy mid­dle-class fam­i­lies at the expense of fam­i­lies in strug­gling com­mu­ni­ties. The­o­ret­i­cal­ly, NCLB gives low-income stu­dents the oppor­tu­ni­ty to move to high­er per­form­ing schools. In real­i­ty, the law means the kids who are left behind have even few­er resources than before.
​"No Child Left Behind gives the illu­sion of choice, but it's real­ly about dis­man­tling the schools," says Elisha Williams, a senior at Jef­fer­son High School, a pre­dom­i­nant­ly African-Amer­i­can insti­tu­tion that lost more than 10 per­cent of its enroll­ment to fed­er­al­ly man­dat­ed NCLB trans­fers last year. When strug­gling schools like Jef­fer­son are labeled ​"non­per­form­ing," Williams says, fam­i­lies trans­fer to oth­er schools, tak­ing per capi­ta gov­ern­ment dol­lars with them. Williams also argues that high stakes test­ing man­dat­ed by NCLB fuels neg­a­tive stereo­types about African Amer­i­can com­mu­ni­ties and encour­ages fam­i­lies to pull their kids from low-income minor­i­ty schools. ​"That doesn't seem like choice to me, but fear," Williams says.
Williams is a mem­ber of Sis­ters in Action, a local non­prof­it that devel­ops lead­er­ship skills among young women of col­or. Last year, the Sis­ters launched a ​"Sup­port our Schools and Neigh­bor­hood" cam­paign, call­ing on the school dis­trict to resist the NCLB man­date. The Sis­ters are not alone in their con­cerns. A grow­ing num­ber of par­ents, teach­ers and admin­is­tra­tors have sound­ed the alarm about the impact of school choice on equi­ty issues, as well as the long-term via­bil­i­ty of pub­lic edu­ca­tion itself.
"Most schools are harmed by school choice," says Ter­ry Olson, a for­mer lan­guage arts teacher who ran for the Port­land Pub­lic School Board in 2003. Designed to retain stu­dents who might oth­er­wise attend pri­vate schools, the district's array of spe­cial pro­grams ​"has back­fired," says Olson. ​"It's a ques­tions of edu­ca­tion­al fair­ness. If fam­i­lies are allowed to trans­fer, the kids with the most involved par­ents and the most resources will be skimmed from low­er class schools to places with ​'bet­ter' test scores. Those schools lose their appeal, enroll­ment plum­mets and the schools become tar­gets for closure."
This year, Super­in­ten­dent Vic­ki Phillips closed five schools and anoth­er six may be head­ed for clo­sure in 2006. Over the past four years, dis­trict-wide enroll­ment in Port­land has dropped by 4,500 kids. Although dimin­ish­ing house­hold size and ris­ing hous­ing costs are par­tial­ly respon­si­ble for declin­ing enroll­ment, demo­graph­ic fac­tors alone do not account for the exo­dus of fam­i­lies from the district.
From inte­gra­tion to liberation
U.S. pub­lic schools have always eeri­ly repli­cat­ed society's racial and eco­nom­ic strat­i­fi­ca­tion, but the seg­re­ga­tion caused by school choice is espe­cial­ly dis­turb­ing. First, thanks to urban revi­tal­iza­tion efforts around the coun­try, many inner-city neigh­bor­hoods are no longer defined by race and class. And yet, as these for­mer­ly lan­guish­ing com­mu­ni­ties attract new – and wealth­i­er – res­i­dents, the schools them­selves con­tin­ue to lose mon­ey, stu­dents and pres­tige. Sec­ond, although you can't blame par­ents for want­i­ng to send their child to the best school they can find, polit­i­cal­ly sanc­tioned choice poli­cies facil­i­tate, rather than mit­i­gate the decline of urban schools.
"In the 1970s, school choice was con­sid­ered a peace­ful way to inte­grate the schools and encour­age parental involve­ment," says Peter Cook­son, Dean of the Grad­u­ate School of Edu­ca­tion at Lewis & Clark Col­lege. ​"The empha­sis on school choice is now per­son­al lib­er­ty and indi­vid­ual competition."
Ask some of Portland's trans­fer fam­i­lies why they left the neigh­bor­hood, and you'll hear an invo­ca­tion to aca­d­e­m­ic achieve­ment and free­dom of choice. Con­sid­er Vic­to­ria Guille­beau, a self-described white mid­dle class Port­land mom who used the NCLB trans­fer pro­vi­sion to put her son in a spe­cial focus arts school across town. ​"I have a child who is very bright," says Guille­beau, who opt­ed out of the pre­dom­i­nant­ly black neigh­bor­hood school because she didn't con­sid­er it intel­lec­tu­al­ly challenging.
"I think it's great we have a trans­fer sys­tem that allows par­ents to pick schools that fit their kids bet­ter so they can grow up in a com­mu­ni­ty of their choos­ing," says Craig Williams, anoth­er par­ent who trans­ferred his daugh­ter from a pre­dom­i­nant­ly African Amer­i­can ele­men­tary school – with decent test scores – to Hol­ly­rood Ele­men­tary, a pro­gram rat­ed ​"excep­tion­al" by the Ore­gon Depart­ment of Edu­ca­tion. ​"It tru­ly gives kids a bet­ter oppor­tu­ni­ty to learn," he says.
Miguel Sali­nas, a for­mer prin­ci­pal and an advo­cate for poor and Lati­no stu­dents, begs to dif­fer. School choice only works, he says, if par­ents have the abil­i­ty to make informed deci­sions, an ingre­di­ent in short sup­ply among the fam­i­lies he rep­re­sents. ​"If a stu­dent is hav­ing trou­ble at Mar­shall High School [a fail­ing school under NCLB], just pick­ing up and trans­fer­ring is sel­dom going to pro­duce a pos­i­tive result," Sali­nas says. ​"I'd rather take a look at Mar­shall and say, ​'What is the capac­i­ty here? How do we build up the com­mu­ni­ty as a real partner?'"
Vicious cycles
But how do you build up com­mu­ni­ty when edu­ca­tion­al poli­cies con­spire to tear it down? As Olson points out, under Portland's school choice sys­tem, two of the city's poor­est ele­men­tary schools, Hum­boldt and King, have lost 40 per­cent of their neigh­bor­hood stu­dent pop­u­la­tion to oth­er schools. The city's two rich­est schools, by con­trast, For­est Park and Ainsworth, enroll more than 95 per­cent of their neigh­bor­hood population.
Elisha Williams speaks wist­ful­ly of a slate of new fam­i­lies who moved just across the street from Jef­fer­son High School. ​"The peo­ple mov­ing into our neigh­bor­hood don't bring their chil­dren to our schools," she says. ​"They take the oppor­tu­ni­ty to be part of this great area, but they're not help­ing to ben­e­fit our school." Jef­fer­son, which enrolls few­er than 40 per­cent of the neigh­bor­hood pop­u­la­tion, is locat­ed next to the Mis­sis­sip­pi neigh­bor­hood, a for­mer­ly red­lined dis­trict that over the last two years has become one of the hottest des­ti­na­tions in the city.
Under NCLB, fail­ing schools are required to set aside 20 per­cent of their fed­er­al fund­ing for stu­dent trans­porta­tion costs – to oth­er schools. Fed­er­al fund­ing should be used to sup­port instruc­tion, says Court­ney Jones, anoth­er mem­ber of Sis­ters in Action, ​"not to give peo­ple bus pass­es so kids can leave our school."
Two years ago, Port­land school offi­cials pro­posed a minor restric­tion to the school choice sys­tem that would have required par­ents to re-enter a school choice lot­tery after ele­men­tary and mid­dle school. But those plans were axed after well-orga­nized par­ents threat­ened to jump ship for pri­vate schools. A sim­i­lar out­cry occurred last spring in Seat­tle after school offi­cials pro­posed restruc­tur­ing of the decade-old school choice sys­tem. The idea was to revert to a more equi­table neigh­bor­hood-based enroll­ment sys­tem. Around the same time, the Eugene, Ore., School Super­in­ten­dent admit­ted his district's choice sys­tem had allowed afflu­ent fam­i­lies to cre­ate a cadre of ​"elit­ist" schools, leav­ing most neigh­bor­hood schools ​"brown­er and poorer."
The long-term prob­lem with choice is that it leads down the slip­pery slope to the demise of pub­lic edu­ca­tion itself. (After all, the Bush administration's ini­tial plan was to sup­port NCLB with school vouch­ers.) Nor can choice be divorced from the larg­er fund­ing cri­sis fac­ing pub­lic edu­ca­tion. This year alone, the Port­land dis­trict lost $35 mil­lion in local tax rev­enue and fed­er­al fund­ing, lead­ing to a loss of 250 teach­ing and class­room aide posi­tions. As fund­ing declines, parental shop­ping for spe­cial pro­grams increas­es, fuel­ing a spi­ral of decline.
In Port­land, the irony is espe­cial­ly bit­ter. A city that is nation­al­ly rec­og­nized for its empha­sis on com­mu­ni­ty build­ing and sus­tain­abil­i­ty hous­es an edu­ca­tion­al sys­tem where schools are dis­en­gaged from neigh­bor­hood, where more kids have to be dri­ven to school and where stu­dents are increas­ing­ly sort­ed by race, social class, inter­est and ability.
If that kind of cus­tom edu­ca­tion sounds famil­iar, it should. It's called pri­vate school.
Lin­da Bak­er
is a Port­land-based jour­nal­ist whose arti­cles have appeared in the
New York Times
, and the
Chris­t­ian Sci­ence Mon­i­tor
. Her two chil­dren attend the Port­land pub­lic school in her Sun­ny­side neighborhood.