'All of Us Feel Absolutely Betrayed'
In last-minute compromise, Colorado Dems squelch anti-fracking ballot measures.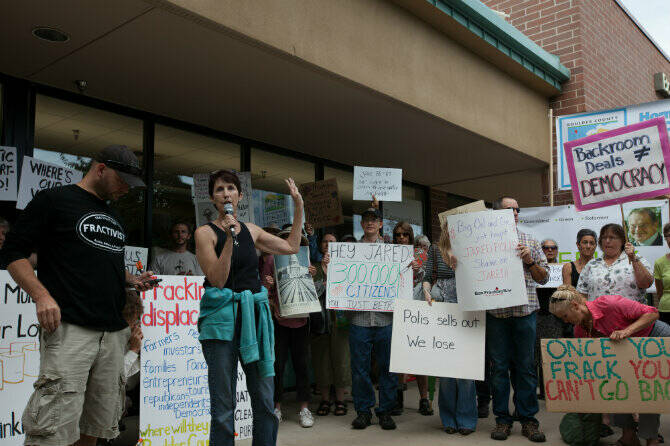 Col­orado was sup­posed to be the epi­cen­ter of this fall's bal­lot box bat­tles on hydraulic frac­tur­ing, or frack­ing — the con­tro­ver­sial drilling prac­tice that involves shoot­ing chem­i­cal­ly-sat­u­rat­ed water deep into the ground to blast apart shale rock and expose oil and gas reserves.
"You've taken a big step down from giving the people of Colorado a direct say to an advisory committee that can give recommendations that aren't binding ... It's replacing something that had teeth with something that's window dressing."
Deep in the heart of some of the nation's rich­est oil and gas fields, vot­ers were gear­ing up to take part in two state-wide ref­er­en­da in Novem­ber. The first would have quadru­pled the size of Colorado's min­i­mum 500-foot ​"buffer" zone between oil and gas wells and occu­pied build­ings. Anoth­er would have estab­lished local con­trol of ener­gy resources, paving the way for a future series of bans and moratoria.
A lot was at stake. Activists saw a his­toric vic­to­ry with­in their grasp. Oil and gas execs wor­ried about the long-term finan­cial impact of such wide-reach­ing votes; Demo­c­ra­t­ic king­mak­ers were filled with dread at the thought of frack­ing dom­i­nat­ing the elec­tion cycle, risk­ing the loss of a crit­i­cal U.S. Sen­ate seat and gov­er­nor­ship in the Rocky Moun­tain State. Now the lat­ter two camps can rest easy, thanks to an eleventh-hour deal bro­kered by top Democ­rats and the ener­gy industry.
On Mon­day, the day the bal­lot-qual­i­fy­ing sig­na­tures were due, the group lead­ing the peti­tion dri­ve, Col­oradans for Safe and Clean Ener­gy, heav­i­ly fund­ed by Con­gress­man Jared Polis (D‑Colo.), agreed to drop both mea­sures. In exchange, Demo­c­ra­t­ic Gov­er­nor John Hick­en­loop­er — an oppo­nent of both ini­tia­tives and such a par­ti­san of shale drilling that he once boast­ed of drink­ing frack­ing flu­id—agreed to launch a new com­mis­sion to make non-bind­ing rec­om­men­da­tions on the top­ic to the state leg­is­la­ture. The state also agreed to drop its law­suit chal­leng­ing a local ban on frack­ing in the town of Long­mont, and the oil and gas indus­try aban­doned two of its own pro-frack­ing bal­lot initiatives.
Polis is believed to have spent hun­dreds of thou­sands of dol­lars in sup­port of the bal­lot ini­tia­tives, accord­ing to the Wash­ing­ton Post. The con­gress­man has acknowl­ed­ed bankrolling Col­oradans for Safe and Clean Ener­gy, though the full extent of his involve­ment is unclear; the group received a large dona­tion from anoth­er Polis-backed orga­ni­za­tion that is not required to dis­close its donors.
Appear­ing at a joint press con­fer­ence with Hick­en­loop­er on Mon­day, Polis cheered the last-minute deal. ​"For the first time, this puts cit­i­zens on an equal foot­ing with indus­try," he told the Den­ver Post.
Many activists don't share that sense of opti­mism. They say oth­er moti­va­tions shaped the agreement.
​"This deal was clear­ly struck in the name of polit­i­cal expe­di­en­cy to pro­tect politi­cians and not to safe­guard the peo­ple of Col­orado from frack­ing," says Sam Sch­abacker, Moun­tain West region orga­niz­er for Food & Water Watch, a nation­al envi­ron­men­tal group that cam­paigns against fracking.
As Sch­abacker points out, if asked about frack­ing on the cam­paign trail, Hick­en­loop­er and Demo­c­ra­t­ic Sen­a­tor Mark Udall can now com­fort­ably point to the com­mis­sion and say the issue is being addressed. A recent poll found each can­di­date lead­ing his respec­tive GOP coun­ter­part by a sin­gle per­cent­age point. The frack­ing debate risks alien­at­ing envi­ron­men­tal­ly con­scious Demo­c­ra­t­ic vot­ers and serves only to ben­e­fit the GOP, the log­ic goes.
There's also some­thing in the deal for Polis. For one, the con­gress­man emerges with more polit­i­cal clout after dis­play­ing his orga­niz­ing and fundrais­ing skills. He's also able to pre­serve his stand­ing with­in the party's ranks. The for­mer busi­ness­man, a cel­e­brat­ed fundrais­er and ris­ing star in the par­ty, is wide­ly regard­ed as one of the top con­tenders to lead the Demo­c­ra­t­ic Con­gres­sion­al Cam­paign Com­mit­tee, once cur­rent chair­man Rep. Steve Israel (D‑N.Y.) retires. It's no secret that Polis' sym­pa­thy for the anti-frack­ing cause was start­ing to annoy key Demo­c­ra­t­ic play­ers.
​"It stands to rea­son that Polis prob­a­bly wouldn't win that chair­man­ship if he was going to be accused of caus­ing the Democ­rats to lose the Sen­ate," says Sch­abacker. With the Sen­ate up for grabs due to a host of close races, the Col­orado con­test could have nation­al repercussions.
The turn of events has activists feel­ing very bitter.
​"We feel like bar­gain­ing chips in back­room deals," says Kaye Fissinger, pres­i­dent of Our Long­mont, a group that also cham­pi­oned a ref­er­en­dum that out­lawed frack­ing in the town in 2012—the first of five such munic­i­pal-lev­el bans in the state. ​"In a nut­shell, all of us who worked on this in Long­mont feel absolute­ly betrayed by what took place."
In the last cou­ple of weeks, Fissinger's group helped col­lect about 500 sig­na­tures on each of the two bal­lot ques­tions. A cou­ple dozen peo­ple, she says, did most of the leg work.
​"We were assured in Long­mont when we met with the cam­paign direc­tor that there were already ade­quate sig­na­tures to get this on the bal­lot, and they were going for it," Fissinger says. ​"Either the cam­paign man­ag­er did not know what was going on behind the scenes or he told us some­thing that was not true."
​"To have our sig­na­tures thrown away is like a kick in the gut," says Karen Dike, who serves as leg­isla­tive chair for the state's Sier­ra Club chap­ter and coor­di­nat­ed much of the peti­tion dri­ve in Long­mont. ​"You're left feel­ing like you went into this maybe a bit too naive­ly. You begin to think, wow, why didn't I see this com­ing? I guess when I saw that they were col­lect­ing mon­ey, they were very serious."
A request for com­ment sent via email to Safe Clean Col­orado—the elec­toral arm of Polis' Col­oradans for Safe and Clean Ener­gy — was not returned.
When Polis attend­ed a town hall in his native Boul­der on Tues­day, he felt the heat from a pack of a few dozen protesters.
One protester's sign, in a ref­er­ence to the pop­u­lar Net­flix dra­ma that chron­i­cles the shady wheel­ing and deal­ing of Wash­ing­ton polit­i­cal life read ​"House of Cards Star­ring Jared Polis As ​'The Sellout.'"
A spokesper­son for Polis did not respond to request for comment.
Tyson Slocum, direc­tor of the Ener­gy Pro­gram at Pub­lic Cit­i­zen, a con­sumer advo­ca­cy group, stress­es the chief prize of Monday's com­pro­mise — the 18-mem­ber advi­so­ry com­mis­sion — is no consolation.
​"You've tak­en a big step down from giv­ing the peo­ple of Col­orado a direct say to an advi­so­ry com­mit­tee that can give rec­om­men­da­tions that aren't bind­ing," Slocum says. ​"It's replac­ing some­thing that had teeth with some­thing that's win­dow dressing."
Hick­en­loop­er has already named the two chair­per­sons of the task force — an envi­ron­ment-friend­ly coun­ty com­mis­sion­er Gwen Lachelt and XTO Ener­gy pres­i­dent Randy Cleve­land. (XTO Ener­gy is a sub­sidiary of Exxon-Mobil). Hick­en­loop­er has not yet named the oth­er 16 members.
Col­orado envi­ron­men­tal activists are still mulling their next steps. They may push for anoth­er statewide bal­lot ini­tia­tive in the next elec­tion or con­tin­ue pur­su­ing munic­i­pal-lev­el bans.
At any rate, the move­ment should avoid repli­cat­ing this year's top-down orga­niz­ing mod­el, says Rus­sell Mendell, spokesper­son for Frack Free Col­orado, anoth­er anti-frack­ing group in the state.
​"If you want some­thing like this to hap­pen, you can't have one per­son who is the cen­tral per­son who can make these deci­sions for every­one else," Mendell says. ​"I think that was the real problem."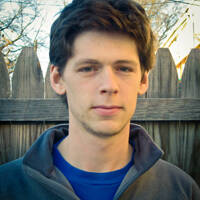 Cole Stan­gler
writes about labor and the envi­ron­ment. His report­ing has also appeared in The Nation, VICE, The New Repub­lic and Inter­na­tion­al Busi­ness Times. He lives in Paris, France. He can be reached at cole[at]inthesetimes.com. Fol­low him
@colestangler
.