From the Alt-Right to the White House, White Nationalism and Misogyny Go Hand in Hand
Sexism and racism are deeply intertwined and mutually reinforcing—you can't understand one without the other.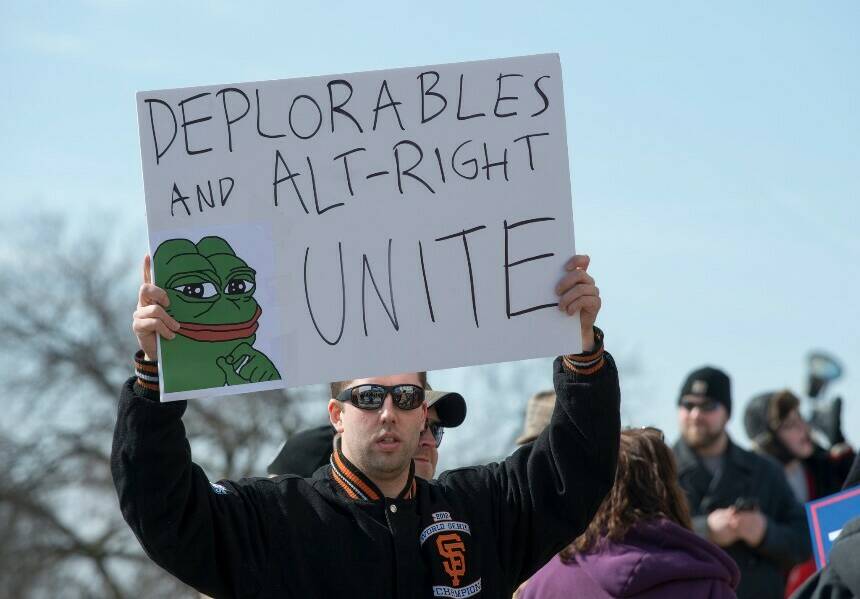 Address­ing an audi­ence at a ral­ly in Flori­da on Feb­ru­ary 18, Pres­i­dent Trump yet again used his bul­ly pul­pit for hare­brained fear mongering:
Protecting what they imagine as the virtue of white women, white men also assert their claim on the sexual lives of "their" women.
"You look at what's hap­pen­ing last night in Swe­den. Swe­den, who would believe this?"
The com­ment gave the impres­sion that a ter­ror­ist attack had occurred the night before in Swe­den; none had.
Trump lat­er tweet­ed an expla­na­tion. Appar­ent­ly, he had been watch­ing Tuck­er Carl­son Tonight on Fox News, and his com­ments referred to Carlson's inter­view with Ami Horowitz. Horowitz is a right-wing doc­u­men­tar­i­an whose short film ​"Stock­holm Syn­drome" cov­ers the pur­port­ed ​"migrant cri­sis" in Sweden.
Horowitz's jour­nal­is­tic meth­ods have recent­ly come under scruti­ny after two Swedish police offi­cers recant­ed the inter­views aired dur­ing Carlson's seg­ment, which alleged a steep rise in the country's crime rates. The offi­cers told the Swedish pub­li­ca­tion Dagens Nyheter that they had respond­ed to a ques­tion about a rise in crime gen­er­al­ly, not one attrib­uted to migrants in particular.
The media has right­ful­ly used the episode to high­light how nim­bly Trump and co. use imag­ined ter­ror­ist attacks — à la the Bowl­ing Green Mas­sacre — to win pub­lic sup­port for their xeno­pho­bic policies.
But large­ly left out of dis­cus­sion of Horowitz's Fox inter­view, indeed large­ly miss­ing from the main­stream media nar­ra­tive itself, was an analy­sis of the gen­der pol­i­tics behind the right-wing man­u­fac­tured ​"migrant cri­sis." In a move that has become char­ac­ter­is­tic of the far Right, Horowitz por­trayed Mid­dle East­ern and African migrants as intran­si­gent rapists, whose alle­giance to sharia law and sex slav­ery wreaks hav­oc on inno­cent (white) Euro­pean women.
Such rhetoric echoes the asser­tions made by white nation­al­ists in the U.S., led by Steve Ban­non and his Bre­it­bart sur­ro­gates, as well as the alt-right ​"manos­phere" of blog­gers. Bre­it­bart rou­tine­ly runs arti­cles with head­lines like ​"Europe's Rape Epi­dem­ic: West­ern Women Will Be Sac­ri­ficed at the Altar of Mass Migra­tion" (retweet­ed by Don­ald Trump Jr. dur­ing the elec­tion) and ​"Polit­i­cal Cor­rect­ness Pro­tects Mus­lim Rape Culture."
Milo Yiannopou­los, the for­mer Bre­it­bart edi­tor known in part for his role in Gamer­gate, an Inter­net harass­ment cam­paign against female video game play­ers, has also fash­ioned him­self a noble pro­tec­tor of women and gay peo­ple from Mus­lim rapists. He has warned that Mus­lim immi­grants will bring ​"lamb chops, yoghurt and gang-rape" to Amer­i­ca. Yiannopou­los, who has urged gay men to return to the clos­et, has also por­trayed him­self as a selec­tive defend­er of gay rights against the per­ceived onslaught of Islam. On speak­ing tours and in Bre­it­bart think pieces, Yiannopou­los has con­sis­tent­ly por­trayed the Orlan­do shoot­ings, which result­ed in the deaths of 49 peo­ple last June, as, in the words of one head­line, an exam­ple of ​"the Left Cho[osing] Islam Over Gays."
Fem­i­nists and out­lets such as The Guardian have point­ed out the racist under­pin­nings of the so-called migrant rape cri­sis, argu­ing that the far Right is only inter­est­ed in using the issue of rape to gar­ner sup­port for their anti-immi­gra­tion agen­da. But there is more to the migrant rape bogey­man than its use as a tool to advance racism and xenophobia.
Sex and White Supremacy
The South­ern Pover­ty Law Cen­ter, a lead­ing hate group watch­dog, acknowl­edges that the alt-right con­sists of a diverse set of ide­olo­gies but sees racism as its sin­gle uni­fy­ing fea­ture. The rag­tag alt-right, accord­ing to a recent report by the Cen­ter, con­verges around ​"white eth­no-nation­al­ism as a fun­da­men­tal val­ue." Lack­ing from the report, how­ev­er, was an analy­sis of how this white eth­no-nation­al­ism inter­plays with the movement's equal­ly vir­u­lent sexism.
Sim­i­lar­ly, the media often ignores the alt-right's misog­y­ny, or treats it as a foot­note to sci­en­tif­ic racism and the desire for a white eth­no-state. One of the rel­a­tive­ly few main­stream news arti­cles to focus on the sex­ism of the alt-right, Vox​'s ​"How the Alt-Right's Sex­ism Lures Men into White Suprema­cy," described the alt-right's hatred of women as a ​"gate­way drug" to racism, rather than dis­cussing it as a prob­lem in its own right.
But misog­y­ny and het­eropa­tri­archy are as foun­da­tion­al to the alt-right as racism. It would be more accu­rate to say that sex­ism and white suprema­cy are deeply inter­twined and mutu­al­ly rein­forc­ing — you can't under­stand one with­out the oth­er. When extrem­ists like Ban­non and Yiannopou­los posi­tion them­selves as the sole pro­tec­tors of white women, they are, in Emi­ly Bazelon words, ​"reassert[ing] the country's Euro­pean and Chris­t­ian her­itage." But that her­itage is indeli­bly inscribed in patri­ar­chal author­i­ty — and the restora­tion of that author­i­ty is a cen­tral aspect of the far-Right platform.
The movement's favorite term ​"cuck­ser­v­a­tive" (or just ​"cuck") is a pejo­ra­tive for estab­lish­ment con­ser­v­a­tives who have been so emas­cu­lat­ed from a cul­ture dom­i­nat­ed by ​"social jus­tice war­riors" and ​"polit­i­cal cor­rect­ness" that they have muz­zled their own unpop­u­lar opin­ions. At the most basic lev­el, the alt-right defines itself in high­ly gen­dered terms. The move­ment sees itself as a force of detached, mas­cu­line ​"rea­son" defend­ing the hon­or of West­ern cul­ture against the hys­ter­i­cal, fem­i­nine excess­es of liberalism.
But the cuck epi­thet also con­tains a racist sub­text. ​"Cuck­old" has long been asso­ci­at­ed with white men who allow their wives to have sex with black men: an entire off­shoot of the porn indus­try is ded­i­cat­ed to it. In cuck­old porn, the (typ­i­cal­ly white) hus­band is humil­i­at­ed by his wife sleep­ing with a black man. The cul­tur­al sig­nif­i­cance of inter­ra­cial cuck­old­ing is pur­port­ed­ly root­ed in the addi­tion­al shame of being replaced by a racial­ly infe­ri­or black man.
The ​"cuck" term draws from a long Amer­i­can tra­di­tion. Sex has been at the fore­front of white suprema­cy since slav­ery, and anx­i­eties about inter­ra­cial sex and rape fueled the rise of the Ku Klux Klan in the 1920s. His­to­ri­an Nan­cy MacLean, who explores the KKK's gen­der pol­i­tics in her book Behind the Mask of Chival­ry, notes that by the end of the nine­teenth cen­tu­ry, ​"a large num­ber of white Amer­i­cans … believed that black men had acquired an incor­ri­gi­ble desire to rape white women." Rape alle­ga­tions against black men were the most com­mon jus­ti­fi­ca­tion for lynch­ings, and they still form a basis for racial­ly moti­vat­ed killings: In the midst of his 2015 shoot­ing ram­page in Charleston, Dylann Roof told his vic­tims, ​"You rape our women, and you're tak­ing over our coun­try, and you have to go."
Beyond its obvi­ous racism, the notion that white men are charged with the ​"pro­tec­tion" of white women reveals the patri­ar­chal val­ues upon which white suprema­cy rests. This is because alle­ga­tions of rape against black men — and the vio­lence pro­duced by these alle­ga­tions — also rein­force white women's depen­dent and sub­or­di­nate sta­tus. Pro­tect­ing what they imag­ine as the virtue of white women, white men also assert their claim on the sex­u­al lives of ​"their" women.
This brings us back to the sym­bol of the immi­grant rapist, which has seeped from the pages of Bre­it­bart to the elec­toral sphere. This shad­owy fig­ure played a star­ring role in the elec­tion of Don­ald Trump, who jus­ti­fied build­ing a wall between the U.S. and Mex­i­co as a vital mea­sure to keep Mex­i­can rapists out of the coun­try. In Ger­many on New Year's Eve 2015, reports of mass sex­u­al assaults per­pe­trat­ed by refugees stirred talk of a nascent ​"migrant rape cri­sis." Since then, the specter of for­eign Mus­lim rapists pil­lag­ing ​"civ­i­lized" Europe has fueled the rise of a vir­u­lent­ly anti-immi­grant pop­ulist par­ty in Ger­many, Alter­na­tive für Deutsch­land (AfD).
Scare­mon­ger­ing over sex­u­al assault has helped Steve Ban­non, Trump's head strate­gist and one of the chief archi­tects of the administration's Mus­lim ban, advance the idea that Islam is fun­da­men­tal­ly at odds with West­ern cul­ture. (While Ban­non him­self does not claim the alt-right label, he has con­ced­ed that the web­site he used to run, Bre­it­bart News, is ​"the plat­form" for the movement.)
The por­tray­al of Mus­lims as rapists should not be alto­geth­er sur­pris­ing; sex between white women and men of col­or is the strongest taboo in the white supremacist's code. Since slav­ery, rape alle­ga­tions against black men received exclu­sive atten­tion, although rape by white men against black women was much more com­mon. As MacLean observes, the dis­crep­an­cy is large­ly because rape against black women con­firmed white pow­er over all black Amer­i­cans. And because racial affil­i­a­tion is traced through the moth­er, the rape of white women, and the con­trol of their sex­u­al lives, has always been an inte­gral part of the racial puri­ty myth.
Like their fore­bears, today's white suprema­cists jus­ti­fy their actions in the name of pro­tect­ing white women. In a viral blog post enti­tled ​"The Case Against Female Self- Esteem," alt-right blog­ger Matt For­ney (who has also writ­ten charm­ing posts on ​"How to Beat Your Girl­friend or Wife and Get Away With It" and ​"Why Fat Girls Don't Deserve to be Loved") warns that female empow­er­ment won't keep women from being raped or mur­dered. In the case of an apoc­a­lyp­tic civ­i­liza­tion­al col­lapse, he says, ​"all the Strong, Inde­pen­dent Women™ who read Jezebel and xoJane would last about five minutes."
Pro­tect­ing women from intra-racial sex­u­al vio­lence seems to be a dif­fer­ent issue, how­ev­er. The movement's romance with pick-up artist (PUA) cul­ture and men's rights-style activism lends itself to a host of defens­es for sex­u­al assault. Mike Cer­novich, an alt-right media per­son­al­i­ty and ​"men's empow­er­ment" blog­ger, reg­u­lar­ly writes about the ​"myth" of date rape. ​"Have you guys ever tried ​'rap­ing' a girl with­out using force?" he tweet­ed in 2012. ​"Try it. It's basi­cal­ly impos­si­ble. Date rape does not exist." (The New York­er reports that Cer­novich was him­self accused of rape in 2003.) For­ney has also penned many defens­es of domes­tic vio­lence— includ­ing one essay argu­ing that ​"women should be ter­ror­ized by their men; it's the only thing that makes them behave bet­ter than chimps."
Com­par­ing women to chimps is not just a rhetor­i­cal sleight of hand; a sig­nif­i­cant num­ber of alt-right sup­port­ers believe that women are genet­i­cal­ly infe­ri­or to men. They con­verge around a con­cept called ​"human bio­di­ver­si­ty" (HBD). HBD is basi­cal­ly just repur­posed sci­en­tif­ic racism: Its adher­ents wor­ship at the altar of IQ, and believe the mea­sure is close­ly tied to race. Their view of race and intel­li­gence is also inti­mate­ly linked to their vision of the ide­al form of gov­ern­ment. A promi­nent strain of the alt-right iden­ti­fies as ​"neo-reac­tionar­ies" (NRX-ers). Steeped in the tech-bro elit­ism of Sil­i­con Val­ley — the phrase was ini­tial­ly coined by com­put­er sci­en­tist Cur­tis Yarvin — NRX-ers are skep­ti­cal of the com­mon man and believe that demo­c­ra­t­ic sys­tems should be replaced with a genet­i­cal­ly supe­ri­or rul­ing class.
Unsur­pris­ing­ly, the white nation­al­ists' plans for gov­er­nance exclude women entire­ly. This is based not only on tra­di­tion­al gen­der roles, but also on essen­tial­ist views of women as too eas­i­ly swayed by emo­tion to be fit to gov­ern. Richard Spencer, head of the alt-right think tank Nation­al Pol­i­cy Insti­tute, tweet­ed after the first pres­i­den­tial debate, ​"Women should nev­er be allowed to make for­eign pol­i­cy. It's not that they're ​'weak.' To the con­trary, their vin­dic­tive­ness knows no bounds."
Pseudo­his­to­ry appears to be just as influ­en­tial as pseu­do­science in bol­ster­ing this argu­ment. As Moth­er Jones has report­ed, the wide­ly dis­cred­it­ed author Nicholas Wade has a large alt-right fol­low­ing. Wade argues in his book A Trou­ble­some Inher­i­tance that there is a genet­ic basis for the so-called ​"trib­al behav­ior" of Mid­dle East­ern coun­tries and African Amer­i­cans' rejec­tion of mod­ern eco­nom­ic institutions.
Pseu­do­science also found its way into one of the movement's only female-run blogs, The​NewFem​.com, where an inter­vie­wee explained that women tend to be lib­er­als and embrace racial diver­si­ty because they have ​"evolved to have no real loy­al­ty to a tribe. If they are tak­en over they will con­tin­ue to breed with their new tribe." Men, then, are nat­ur­al pro­tec­tors of white­ness. Echo­ing the ​"trib­al" the­o­ry of sex­u­al dif­fer­ence, alt-right vlog­ger Col­in Robert­son put it sim­ply: ​"Men form tribes. Women join them."
Trump's Alt-Right, Anti-Woman Agenda
A Decem­ber 14 pod­cast enti­tled Between Two Lamp­shades (a revolt­ing ref­er­ence both to Zach Gal­i­fi­anakis' com­e­dy show Between Two Ferns and the alle­ga­tions that Nazis used Holo­caust vic­tims' skin for lamp­shades), fea­tur­ing The Dai­ly Stormer's Andrew Anglin, The Right Stuff's Mike Enoch, and the Nation­al Pol­i­cy Institute's Richard Spencer, exposed some of the ten­sions fes­ter­ing with­in their nox­ious ide­ol­o­gy. (Since the air­ing of the show, Enoch quit his posi­tion at The Right Stuff when doxxers revealed his mar­riage to a Jew­ish woman.)
When the con­ver­sa­tion turned to abor­tion, the two dom­i­nant strains of the alt-right — sex­ism and racism — seemed in com­pe­ti­tion. Spencer, a staunch sci­en­tif­ic racist and the self-fash­ioned ​"intel­lec­tu­al" of the alt-right, opposed repeal­ing Roe v. Wade on the grounds that abor­tion is ​"ulti­mate­ly eugenic." He also com­plained that if the Supreme Court deci­sion were repealed and the legal­i­ty of abor­tion left to the states, South­ern states with high black pop­u­la­tions would most cer­tain­ly ban the prac­tice. Anglin, on the oth­er hand, favored repeal, on the grounds that it would weak­en the fem­i­nist move­ment. ​"If you get rid of abor­tion … you would have a sit­u­a­tion where fem­i­nism just couldn't exist," he said.
Anglin's sce­nario is more like­ly under the new admin­is­tra­tion: Trump has vowed to ban abor­tion and his Supreme Court nom­i­nee, Neil Gor­such, like­ly shares his anti-choice views. (Although Gor­such has nev­er had to rule on abor­tion, his oppo­si­tion to euthana­sia and assist­ed sui­cide sug­gests a pro-life stance.) One Trump admin­is­tra­tion offi­cial whose views are not in ques­tion is Vice Pres­i­dent Mike Pence, who favors crim­i­nal­iz­ing women who get an abor­tion. Under his watch as Indi­ana gov­er­nor, low-income women of col­or Purvi Patel and Bei Bei Shuai were charged with feti­cide for obtain­ing an ille­gal abor­tion. Even if Trump fails to over­turn Roe v. Wade, his efforts to repeal the Afford­able Care Act will have seri­ous con­se­quences for women's health, includ­ing access to birth con­trol and pre­na­tal care.
Trump's cozy rela­tion­ship with the reli­gious right also sug­gests that he will not be an advo­cate of LGBT rights — although it is polit­i­cal­ly expe­di­ent to say so when draw­ing a com­par­i­son between ​"rad­i­cal Islam" and the West. Sarah Pos­ner writes in the New Repub­lic that the ​"reli­gious right has effec­tive­ly become a sub­sidiary of the alt right, yoked to Trump's white nation­al­ist agen­da." In return, Trump has float­ed a draft exec­u­tive order that would dras­ti­cal­ly expand reli­gious exemp­tions and repeal the John­son amend­ment, the leg­is­la­tion that pro­hibits tax-exempt groups such as church­es or char­i­ties from par­tic­i­pat­ing in polit­i­cal cam­paigns. The like­ly result? A far more polit­i­cal­ly potent reli­gious right that will try to push its anti-LGBT, anti-woman poli­cies onto a coun­try that over­whelm­ing­ly dis­agrees with them.
The Trump administration's alle­giance to vot­er sup­pres­sion, law and order polic­ing, and restric­tive immi­gra­tion poli­cies reveal an exec­u­tive branch ful­ly com­mit­ted to advanc­ing the cause of alt-right white supremacy.
There is no doubt that racism dri­ves the far right resur­gence in the U.S. and Europe. But to down­play the misog­y­ny of these once fringe, now main­stream, move­ments rep­re­sents a missed oppor­tu­ni­ty for the Left. At a time when con­ser­v­a­tives seek to reha­bil­i­tate Ban­non and dis­tance Trump from any con­nec­tion to the alt-right, the Left must be relent­less­ly com­mit­ted to expos­ing the extrem­ism of the far right on all fronts. Despite efforts to por­tray them­selves as nobly shield­ing women and LGBT peo­ple from the depre­da­tions of ​"rad­i­cal Islam," one thing is cer­tain: The dark vision pro­mot­ed by Trump and his alt-right influ­encers will only pro­vide refuge for white men.
Rachel John­son
is a writer based in Chica­go. She holds a mas­ter's degree in U.S. his­to­ry from North­west­ern University.