Bad Green Jobs
The big launch of a New York bike-share program is marred by wage theft accusations.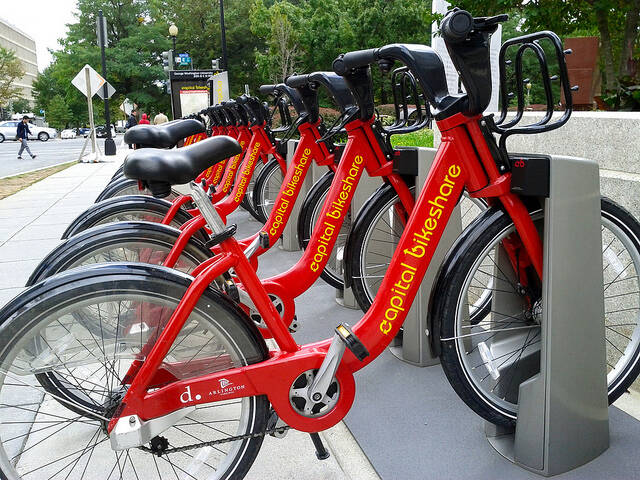 Today, New York City launches the largest bicycle sharing program in the country, CitiBike. It will be run by the company, Alta Bicycle Share, Inc., that is responsible for Washington, D.C.'s flagship program, Capital Bikeshare. Based on a European model used in Paris and London, the program is touted as a greener, healthier form of public transportation.
'They are creating green jobs, which is great, but they need to play by the rules," says Swenson. 'It's because of the D.C. program and because of the work that people like me did that they've been able to secure contracts in other cities. We don't want to see the undermining of labor law to be part of the example that Alta carries through the rest of the country.'
But Capital's workers have a few problems with that image.
Samuel Swenson says he was excited when he was hired at Capital Bikeshare in the summer of 2011. He and his new colleagues were enthusiastic about bicycles and alternative transportation, he told In These Times. ​"We helped sell the program as much as we helped make it work."
Things quickly started to go wrong. According to Swenson, he was hired with the expectation that he would become a full-time bicycle mechanic and that he would receive health benefits, but the benefits didn't materialize. The warehouse where he and the handful of other mechanics worked was housed next to a concrete mill in a Superfund site. The hard work and the silica dust from the concrete made him concerned about when his healthcare would kick in. When he never got a satisfactory answer from the company, he began researching Alta's contract with the city.
​"I found out that I was entitled to health benefits, based on federal law, that my employer had agreed to, that I had been paid less than they had agreed [in their contract] to pay me, again according to this federal law," he says.
According to the McNamara-O'Hara Service Contract Act (SCA), contractors and subcontractors with federal and D.C. agencies must pay their workers the prevailing wages and benefits in their locality. Alta's 2010 contract with the District Department of Transportation (provided to In These Times by Swenson) explicitly states that they are bound by the wage determinations made by the SCA. According to that contract, ​"Bicycle Repairers" should be paid $14.43 an hour, plus either $3.35 an hour or $580.66 a month in ​"health & welfare" benefits. They should also receive two weeks of paid vacation and paid federal holidays. The SCA also covers part-time workers — under the act, they should be paid the same wages and receive benefits appropriate for their time spent at work.
Swenson says that while he received a raise to $15 before leaving the company in 2012, he was paid $13 an hour initially and never got the promised healthcare benefits.
The Capital Bikeshare workers' complaints come at a time when federal contractors are under public scrutiny for dodging the pay requirements of the SCA. Last week, hundreds of low-wage workers whose employers are funded by the federal government took to the streets of D.C. on strike for better wages. As Josh Eidelson reported at The Nation, those workers demanded stronger action from President Obama to ensure that federal dollars aren't funding poverty-wage jobs.
An OSHA problem
Bernie Smith was one of the first employees at Capital Bikeshare; he helped assemble the original bicycles before the program launched. For that, he was paid by the bicycle rather than by the hour. When the program launched, he came on part-time as a mechanic, paid $15 an hour and no benefits. For him, the biggest problem wasn't the compensation, it was the conditions. In addition to the silica dust, which he says the company did eventually mitigate by moving the workers to a different building, he tells In These Times that he found a string of safety issues, including unsafe use of power tools and workstations in close proximity to one another, that management ​"did not seem interested in addressing."
​"I'm a 25-year-plus veteran of the bicycle industry, I've been running shops before in Pennsylvania and also in DC, fairly aware of what the OSHA requirements would be," Smith said. ​"I'm over 50, I'm an ex-paratrooper, I have lower-back problems and feet problems. After the first month of working there I requested to have better standing mats. It took months and months, [then] there was one standing mat that came in. My immediate supervisor took it and put it under his stand to ​'test it out' to see if he wanted to buy any more."
Swenson says he, too, made a complaint about working conditions that went unheeded. ​"One day I took photos of these two work benches with 40-pound vises on them, that were nearly collapsing. It's a rather dangerous thing to put a wheel on a 40-pound vise, crank down on it, and then have the whole table kind of kneel over," he said. ​"It looked like a matter of time before it fell on one of us. They wouldn't do anything about it, so I took photos and told the general manager that this was an OSHA problem."
Instead of addressing the problem, he says, the company took away his key and security access code, telling him that he needed ​"close supervision." Before, he'd been free to work on his own time as long as the work got done.
So Swenson called the Department of Labor in June of 2012. At first, he recalls, he had trouble getting them to take his complaints seriously, but he kept pushing and eventually got a call back from an investigator in the Wage and Hour Division. The department did not return a call from In These Times requesting comment, but did confirm to the Washington Post earlier this month that they had opened an investigation into his complaints.
Swenson is still waiting for a determination from the Department of Labor. ​"I think Alta is doing a really good thing from an environmental perspective, and they are creating green jobs, which is great, but they need to play by the rules," Swenson says. ​"It's because of the D.C. program and because of the work that people like me did that they've been able to secure contracts in other cities. We don't want to see the undermining of labor law to be part of the example that Alta carries through the rest of the country."
A ​'groundbreaking' program
While advocates cheer and politicians congratulate themselves for a new environmentally friendly initiative, it's worth asking if a ​"green" transportation system built with underpaid workers in unhealthy conditions is truly sustainable.
According to Alta's contract with the D.C. Department of Transportation, ​"The purpose of this bike-sharing program is to improve the environmental impact of transportation infrastructure within the District by reducing emissions, and increasing the number and type of transportation options available to the public for commuting, shopping, recreating and exercising."
And New York bicycling advocates have called CitiBike ​"groundbreaking" and said that it will have a significant impact on the city's public transportation, allowing people the option of biking rather than driving or taking the bus or subway.
That may or may not be true — surveys of Capital Bikeshare users in Washington have found that not everyone is taking advantage. Users of D.C.'s program are younger, whiter, and more male than the city's population. In New York, CitiBikes' locations in Lower Manhattan and pricier neighborhoods in Brooklyn mean that they're less accessible to the city's lower-income residents, who tend to live further out.
But Capital Bikeshare is popular. Users reported annual savings in transportation costs — short rides are free for those who pay a yearly membership fee — and they've requested more locations for more access.
The bikes, large bulky ​"cruisers" with three gears and a basket, are stored at solar-powered racks around the city and can be returned to any one of the system's locations, making them ideal for one-way trips. Users can purchase an annual membership or a temporary pass with a swipe of a credit card. Light truck drivers go around the city picking up the bikes that need repair and ​"rebalancing" the racks — making sure each has bikes and extra spaces for returns.
Unlike D.C.'s Capital Bikeshare, New York's CitiBike program doesn't receive government funds — not yet, anyway. The city's transportation commissioner, Janette Sadik-Khan, has said that she's actively seeking federal funding to help expand the program outside of the current locations in Manhattan and Brooklyn.
At the moment, it's completely underwritten by CitiBank and MasterCard, who coughed up $41 million and $6.5 million, respectively, for the right to have their names front and center on the bikes.
That advertising alone has created tension; residents in Clinton Hill and Fort Greene in Brooklyn took to pasting signs on the bikes that say, ​"Residential Landmark Blocks are Not for Advertising or Commercial Activity."
The underwriters receive no profits, but the city says it will share any profits with Alta Bicycle Share.
Because the bikes are completely funded by a corporate sponsor (leaving aside the question, for the moment, of how it looks to have the city partner with a bank that kicked off the deregulatory bonanza that caused the financial crisis and has been accused of helping drug lords launder money), the workers for CitiBike will not be subject to the city's living wage law for city-funded jobs, which would require a minimum pay rate of $10.20 an hour with benefits or $11.75 an hour without benefits.
Chicago, too, has a contract with Alta Bicycle Share to create a bike-sharing program, which will be funded by $18 million in federal grants earmarked for reducing air pollution, along with $3 million from the city. But Chicago's program has been stalled, not by technical difficulties, but by claims from a rival company, Bike Chicago, that Alta's connection to that city's transportation commissioner, Gabe Klein, got them the job. (He once worked for them as a consultant). Josh Squire of Bike Chicago told the Chicago Sun-Times that his proposal had lower start-up costs and annual operating costs than Alta's, yet he lost the bid. The city's inspector general looked into the claims, but the City Council gave Alta the go-ahead to operate the system through 2027 as the investigation continued.
Alta Bicycle Share did not return a request for comment on the jobs that will be created in New York as a result of the CitiBike program.
Council scrutiny
New York City Council member Letitia James, whose district will host some of the first CitiBike stations, said that members of the city government have not yet discussed the wages and benefits for the program's employees, but she will be doing so as a result of the concerns of the D.C. workers.
​"I'll be asking the administration to provide me some background information on the wages and benefit packages of the workers, and will be rallying my colleagues in the progressive caucus to join me in championing this issue," she told In These Times.
Smith, who spent many years working in small independent bicycle shops, said that the workers at Capital Bikeshare did not receive the benefits of working for a large, well-funded entity. ​"The power and the authority and the financial backing of the corporation did not serve its workers well. It served something else well."
Swenson and Smith remain believers in the program; they just want to see it do the right thing for past, present, and future employees.
​"I think the right thing for Alta to do is pay up on the back wages and benefits that they've effectively stolen from us and to set an example for this new industry by applying Service Contract Act-level living wages and health and welfare benefits to all the programs that they're running," Swenson said. ​"Creating green jobs while undermining hard-won American labor laws is ultimately not in the spirit of creating a new sustainable economy. It's the same old exploitative attitude."
Socialism ... Seriously
"The most fun and accessible introduction to socialist ideas I've ever read."—Anand Gopal
For a limited time, when you donate $20 or more to support In These Times, we'll send you a copy of the new, expanded edition of Socialism ... Seriously by Danny Katch.

Sarah Jaffe is a Type Media Center Fellow, co-host (with Michelle Chen) of Dissent magazine's Belabored podcast, and a columnist at The Progressive. She was formerly a staff writer at In These Times and the labor editor at AlterNet. Her previous books are Work Won't Love You Back: How Devotion to Our Jobs Keeps Us Exploited, Exhausted and Alone and Necessary Trouble: Americans in Revolt, which Robin D.G. Kelley called ​"The most compelling social and political portrait of our age." You can follow her on Twitter @sarahljaffe.