Who's Afraid of Rahm Emanuel?
Amara Enyia, who plans to run for mayor of Chicago in 2015, certainly isn't.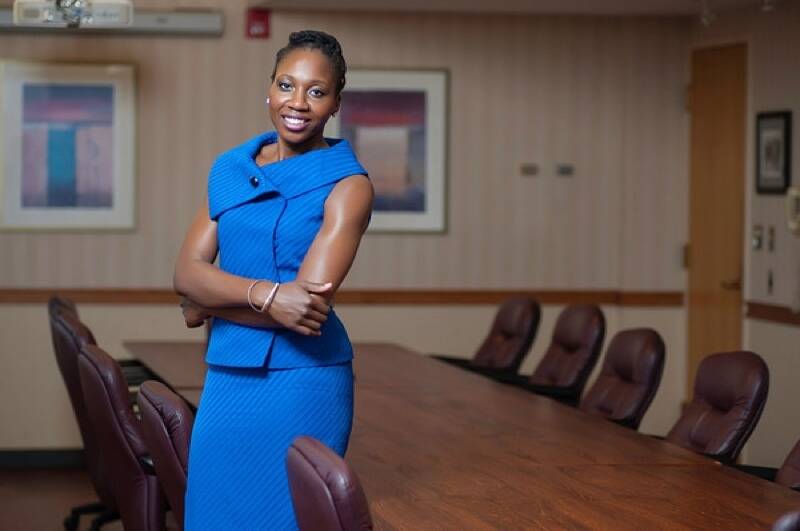 Peo­ple often ask Ama­ra Enyia whether she fears Chica­go May­or Rahm Emanuel.
The political system needs to be obliterated and we need something new and different. The status quo doesn't work—at least, it doesn't work for too many people.
That's because Enyia, a 30-year-old munic­i­pal con­sul­tant and com­mu­ni­ty orga­niz­er, is plan­ning to run against Emanuel in the Feb­ru­ary 2015 may­oral race. Though Emanuel is known for his abra­sive style and atten­tion-get­ting stunts—such as send­ing a dead fish in the mail to a poll­ster—Enyia scoffs at the idea of being afraid of him.
Enyia her­self was raised by activists. Her par­ents fought in Nigeria's civ­il war and, lat­er, against dic­ta­tors Ibrahim Babangi­da and Sani Abacha. Even after Enyia's par­ents migrat­ed to the Chica­go sub­urbs, ​"the gov­ern­ment actu­al­ly sent emis­saries all the way from Nige­ria" to ques­tion them about their activism in their home coun­try, says Enyia, who as a child thought the vis­i­tors were friends of her par­ents. Only lat­er did they tell her the truth. Enyia's fam­i­ly also faced pres­sure from politi­cians and civic lead­ers in the Unit­ed States for speak­ing out against Amer­i­can lead­ers, includ­ing for­mer Sen­a­tor Car­ol Mose­ley Braun, for main­tain­ing close ties with Abacha. Hence, Enyia says she is not cowed by the Emanuel camp. In fact, the administration's cul­ture of intim­i­da­tion is a major rea­son she is so deter­mined to run against — and ulti­mate­ly unseat — him.
After simul­ta­ne­ous­ly obtain­ing a law degree and a doc­tor­ate in edu­ca­tion­al pol­i­cy stud­ies at the Uni­ver­si­ty of Illi­nois, Enyia worked in for­mer May­or Richard M. Daley's office on a fel­low­ship, focus­ing on a wide range of issues that includ­ed eco­nom­ic devel­op­ment and trans­porta­tion. Though she says the stint with Daley was a rich learn­ing expe­ri­ence, it also left her frus­trat­ed with the con­straints of try­ing to change pol­i­cy through City Hall. So when Daley's term end­ed, she says, she ​"head­ed straight to the West Side." There, she spent about a year as exec­u­tive direc­tor of Austin Com­ing Togeth­er, a com­mu­ni­ty orga­ni­za­tion based in a pre­dom­i­nant­ly African-Amer­i­can neigh­bor­hood heav­i­ly impact­ed by dis­in­vest­ment, fore­clo­sures and poverty.
Today, Enyia does munic­i­pal con­sult­ing through the firm she found­ed, ACE Munic­i­pal Part­ners, in addi­tion to con­tin­u­ing her work with com­mu­ni­ty groups in Austin and oth­er hard-hit Chica­go neigh­bor­hoods, includ­ing Engle­wood and Rose­land on the South Side. She also offers her thoughts on urban plan­ning, cul­ture, pol­i­tics and glob­al trav­el — she speaks Igbo, Por­tuguese, Span­ish and French — on her blog The Munic­i­pal Maven; she spends her scant remain­ing spare time com­pet­ing in marathons and triathlons. In These Times talked recent­ly with Enyia about what may be the biggest race of her life.
You had planned to announce your cam­paign on Feb­ru­ary 11, but you say the event was can­celed because board mem­bers at the venue where you planned to make the announce­ment were con­cerned about the reac­tion from the may­or. What does that indi­cate about the cur­rent administration?
For there to be that lev­el of fear of lead­er­ship — that's wrong. Peo­ple are liv­ing in such dire cir­cum­stances, and they feel they can­not speak up or advo­cate because they're afraid of ret­ri­bu­tion. That fear par­a­lyzes them from being able to speak up and demand bet­ter from their gov­ern­ment. I hope that some­one would see what I'm doing and think, ​"This ran­dom girl is chal­leng­ing him — maybe I can do some­thing." It doesn't have to be run­ning for office; it can be doing some­thing in their com­mu­ni­ty to break that fear. We're talk­ing about peo­ple pow­er. Peo­ple have brought down dic­ta­tors of entire coun­tries and risked their lives. With Rahm Emanuel, let's have some per­spec­tive and just be glad we can vote him out!
May­or Daley was also pow­er­ful; how did his style com­pare to May­or Emanuel's? Did peo­ple ever fear Daley in that way?
They have two dif­fer­ent styles of gov­ern­ing. One thing Daley under­stood was how to lever­age rela­tion­ships. He would engage with peo­ple whether he liked them or not. With Daley, for bet­ter or worse, you knew deep down he real­ly loved the city — it was in his blood. Under this admin­is­tra­tion, there's no under­stand­ing of the impor­tance of rela­tion­ships. There's a sense of indif­fer­ence. Rahm wants to be may­or of Chica­go, but that doesn't trans­late into car­ing about the city as a whole. That's why you have so many parts of the city that are com­plete­ly neglected.
So you don't think Rahm loves Chicago?
No. The oppo­site of love isn't hate. With hate, at least there's emo­tion there. The oppo­site of love is indif­fer­ence. Rahm sim­ply doesn't care about these neigh­bor­hoods. He sim­ply doesn't care about the South and West Sides. These whole sec­tions of the city are crum­bling, but they're com­plete­ly out of the equation.
What about the wide­ly held belief that Chicagoans feel like elect­ing the anoint­ed may­oral can­di­date is inevitable, and that — no offense — there won't be a valid oppo­nent chal­leng­ing Rahm, same as Daley?
I don't agree that [Chicagoans] want a tough-guy may­or who's going to curse you out. I think we've had enough of that. We want a may­or who inspires peo­ple, not one who instills fear in peo­ple. I think peo­ple are ready for a change — for lead­er­ship that shares their val­ues of integri­ty in trans­paren­cy and equi­ty. It's not even about pit­ting the haves against the have-nots. My mes­sage is the city will nev­er be as great as it can be unless we all grow togeth­er. What impacts [some­one] liv­ing in Lin­coln Park impacts some­one in Hum­boldt Park, and vice ver­sa. The vio­lence in Back of the Yards impacts [some­one] even if [they] live in Edge­wa­ter. It's one city; we all rise together.
As a spe­cial­ist in urban plan­ning, what do you think of the things Emanuel's received glob­al acco­lades for? He's become famous for his trans­porta­tion and start­up busi­ness inno­va­tions and clean ener­gy ini­tia­tives — do you think they're effective?
Some of it's good, but again, it comes down to this issue of equi­ty and where those advances are tak­ing place. For 20-some years, as a mat­ter of pol­i­cy we focused on down­town. The goal was to cre­ate this glob­al world-class city, but that hap­pened at the expense of the rest of it. Under the cur­rent admin­is­tra­tion, that divide has con­tin­ued. We can put as many resources into the down­town areas as we want — but with­out tar­get­ed invest­ment in [low-income] neigh­bor­hoods and com­mu­ni­ties, all we're doing is cre­at­ing a much more stark dichoto­my between down­town and the rest of Chicago.
Though you have an impres­sive résumé, you're only 30 years old. What do you say to peo­ple who think you're not qual­i­fied to be mayor?
I have no con­cerns about the weight of run­ning the city; I can do that. The issue for me is this broad­er one of what lead­er­ship should look like in the city. How do you trans­form the way peo­ple think and see them­selves? That's how you facil­i­tate trans­for­ma­tive change. I think the city needs that: The polit­i­cal sys­tem needs to be oblit­er­at­ed and we need some­thing new and dif­fer­ent. The sta­tus quo doesn't work — at least, it doesn't work for too many peo­ple. Now we have a unique oppor­tu­ni­ty to chart a new path.
We have to present an alter­na­tive vision for the city. For me, it's a vision of the city that cares about all the neigh­bor­hoods, val­ues pub­lic assets, and val­ues peo­ple regard­less of their eth­nic­i­ty, socioe­co­nom­ic sta­tus or geog­ra­phy. It's a Chica­go that talks about equi­ty and enacts poli­cies that reflect notions of equi­ty. A Chica­go where peo­ple aren't scared of their mayor.
Does that vision exist already among dif­fer­ent orga­ni­za­tions and com­mu­ni­ty leaders?
I think it exists — whether you talk to a ran­dom per­son on the street or mem­bers of orga­ni­za­tions, peo­ple are agi­tat­ing for that alter­na­tive vision. For exam­ple, when it comes to edu­ca­tion, groups like Action Now, the CTU (Chica­go Teach­ers Union), Par­ents for Teach­ers and Raise Your Hand are tak­ing action.
Speak­ing of edu­ca­tion, what do you think of Rahm's han­dling of Chica­go Pub­lic Schools, and what would you do on that front?
CPS, under the lead­er­ship of the may­or, under­es­ti­mates sim­ple good faith and respect­ing peo­ple, not lying to them. CPS made so many need­less mis­steps. If [you're] going to close 50 schools, just tell the com­mu­ni­ty you're going to close 50 schools because you can't afford to keep them open. Peo­ple will be angry, but they will appre­ci­ate the fact you told them straight out — you didn't try to come up with all these dif­fer­ent false mis­lead­ing rea­sons to jus­ti­fy it. What CPS did under the mayor's lead­er­ship was come up with all these fake half-baked rea­sons [for clos­ing spe­cif­ic schools], and once things start­ed to unrav­el they spent all this time in dam­age con­trol and came up with these process­es of engage­ment that were for show. Then they won­dered why nobody trusts them!
I did my [doc­tor­al] dis­ser­ta­tion on good faith in school pol­i­cy. When all this was hap­pen­ing, I was shak­ing my head, think­ing, they should have just read my dis­ser­ta­tion. I have no illu­sions of easy answers, but respect peo­ple enough to tell them the truth and take their input in devel­op­ing a way forward.
Real­is­ti­cal­ly, do you think you have any chance to win the may­oral race?
No one in his­to­ry who has changed things did it by being real­is­tic. My dad always said rev­o­lu­tions nev­er come from peo­ple in the sta­tus quo; they come from those on the out­side. You can't be ​"real­is­tic" when it comes to these things that are tru­ly trans­form­ing. There's a cer­tain ​"delu­sion­al" qual­i­ty that you have to have, because you see some­thing that oth­er peo­ple don't see.
For me, being real­is­tic is being mediocre. It's telling the guy on the street in Lawn­dale that this is it — this is as good as it's going to get. I've seen oth­er­wise. By run­ning for office I want to reveal to him what I see, with the hope that he sees it too.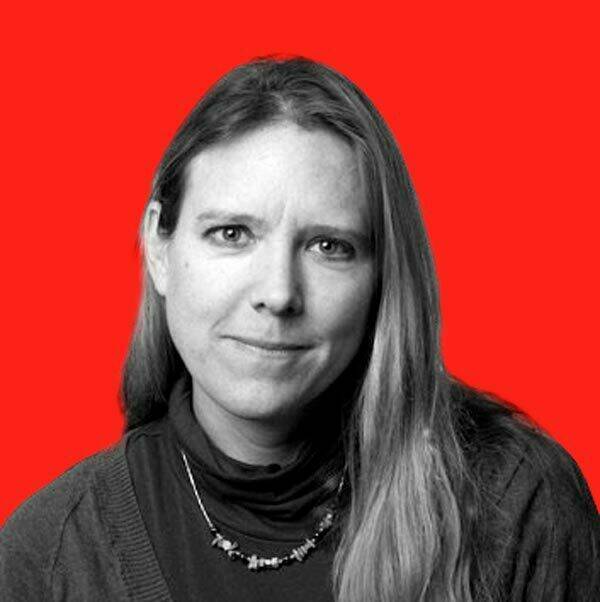 Kari Lyder­sen
is a Chica­go-based reporter, author and jour­nal­ism instruc­tor, lead­ing the Social Jus­tice
&
amp; Inves­tiga­tive spe­cial­iza­tion in the grad­u­ate pro­gram at North­west­ern Uni­ver­si­ty. She is the author of May­or
1
%: Rahm Emanuel and the Rise of Chicago's
99
%.