Disrupting the Disruptors
Working at Amazon.com sucks. Can unions do something about it?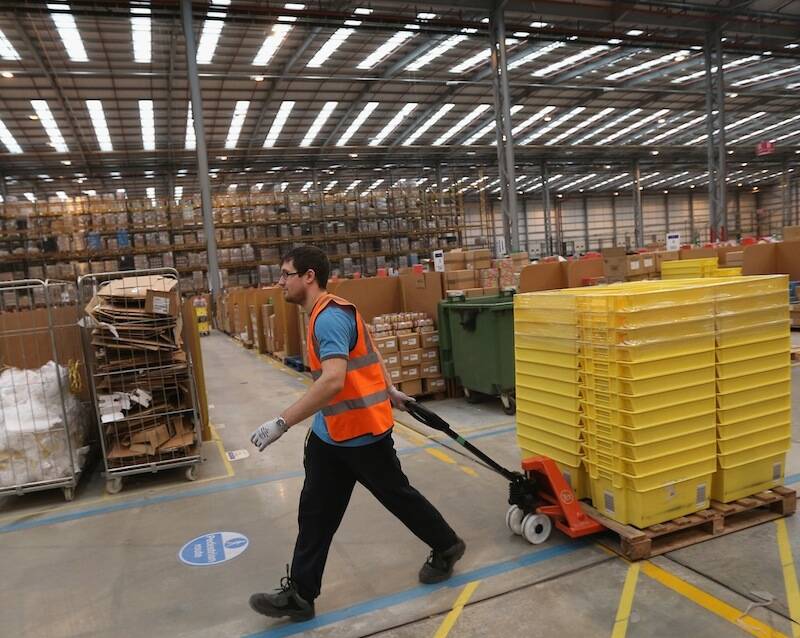 Yes­ter­day, 30 tech­ni­cians at an Ama​zon​.com ware­house in Mid­dle­town, Delaware vot­ed in the e‑retail titan's first-ever union elec­tion in the Unit­ed States. The vote marks the arrival on U.S. shores of a ris­ing tide of Ama­zon work­er orga­niz­ing. Half a world away, more than 1,000 work­ers at three Ama­zon ware­house loca­tions in Ger­many staged a string of one-day strikes from May to Decem­ber of 2013, part of a cam­paign by the Ger­man ser­vice-indus­try union Ver.di to bring the com­pa­ny in line with the stan­dards of the country's offline retail industry.
Workers face authoritarianism from all levels of management: a 'pronounced hierarchy,' Sam says, that robs technicians of control over their own work. Instead, he says, they are overseen by people with no hands-on experience with the machinery they're using.
The Ama​zon​.com work­ers' strug­gles are a cru­cial bat­tle for labor on capitalism's newest fron­tier: the high-tech takeover of tra­di­tion­al indus­tries. Just when labor appears to be catch­ing up with the turn toward ser­vice-indus­try employ­ment — with the union­iza­tion of adjuncts in high­er edu­ca­tion, strikes at Wal­mart and fast-food stores, large-scale orga­ni­za­tion of taxi dri­vers, and Unite-Here's vic­to­ries in hotel orga­niz­ing, to name just a few labor inroads — the ground is already shift­ing omi­nous­ly beneath its feet.
Flush with invest­ment cap­i­tal, thou­sands of would-be Jeff Bezos­es have set to work ​"dis­rupt­ing" indus­try after indus­try in the same way Ama­zon has done for retail — apply­ing the tech­nolo­gies of the dig­i­tal age to cut labor costs, get around reg­u­la­tions and make work more pre­car­i­ous. As the strug­gles at Amazon's ware­hous­es illus­trate, while infor­ma­tion tech­nolo­gies may make old indus­tries obso­les­cent, they are mak­ing the need for a strong labor move­ment greater than ever.
Run ​
'

til failure

​"It is a mod­ern-day sweatshop."

I'm talk­ing with Sam (not his real name), a work­er in the Mid­dle­town Ama­zon plant.

​"All these man­agers care about are num­bers — get it out the door, get it out the door, get it out the door. They blame it on ​'cus­tomer obses­sion,' " he says.

Sam is one of 24 work­ers who main­tain the Moloch machine of belt con­vey­ors, flat con­vey­ors, flex con­vey­ors, max-reach con­vey­ors, motors, flat sorters, and assort­ed vehi­cles that fer­ry a riv­er of com­modi­ties through the warehouse.

Though Pres­i­dent Barack Oba­ma recent­ly deliv­ered a speech in front of an Ama­zon ​"ful­fill­ment cen­ter" in Ten­nessee extolling the company's con­tri­bu­tion to cre­at­ing mid­dle class jobs, the major­i­ty of posi­tions in the ware­house are sea­son­al jobs that pay around min­i­mum wage. And the work is not easy, as a series of high-pro­file exposés has shown.

Accord­ing to Sam, the work­ers on the floor of the ware­house walk 20 or 30 miles a day. ​"Their rates [how rapid­ly they have to pick items] keep going up and up and up," he says. ​"It's all these bean coun­ters who don't care about machines break­ing down and peo­ple break­ing down. If you don't make your rate by the third day, you're writ­ten up. And on the fourth day, you're fired."

While tech­ni­cal work­ers are spared some of the worst of Amazon's report­ed abus­es, they have oth­er issues to con­tend with.

A cen­tral issue in Amazon's dis­pute with the Ger­man labor union Ver.di has been mis­clas­si­fi­ca­tion of work­ers. The union says the ware­house work­ers should be clas­si­fied not as logis­tics work­ers, but as high­er-paid retail work­ers. Sam alleges that mis­clas­si­fi­ca­tion result­ing in low­er pay is also an issue in the com­pa­ny's U.S. warehouses.

Adding insult to injury, work­ers face author­i­tar­i­an­ism from all lev­els of man­age­ment: a ​"pro­nounced hier­ar­chy," Sam says, that robs tech­ni­cians of con­trol over their own work. Instead, he says, they are over­seen by peo­ple with no hands-on expe­ri­ence with the machin­ery they're using.

​"Peo­ple who work in ​'car­pet­land' — office peo­ple — dic­tate our Stan­dard Oper­at­ing Pro­ce­dures. They write these for us and they have zero main­te­nance back­ground. It makes our job that much hard­er. We're for­go­ing main­te­nance because some­one tells us we have to," Sam says. ​"If we hear a motor that's going out, they'll do an RTF, which is ​'run til failure.'"

This empha­sis on short-term prof­it, he says, only cre­ates more inef­fi­cien­cy in the long run.

​"We aren't giv­en the time to actu­al­ly fix things. We have to push it off to a Sat­ur­day night — when they shut down, hope­ful­ly — and then it's very stress­ful for us and makes our jobs hard­er … The 20-minute fix it'll take, they won't give us the equip­ment for it … [so it] turns into a four-hour fix down the road."

But what pushed the work­ers over the edge was being dis­ci­plined by a young man­ag­er for what they say are indus­try-stan­dard ways of per­form­ing basic pro­ce­dures, such as run­ning con­vey­or belts. At first, Sam says, the work­ers tried to work with­in Amazon's sys­tem to deal with the problem.

​"We've actu­al­ly had to go to human resources [about the man­ag­er]," Sam says. ​"We've reached out as high as we could to say it's unan­i­mous across the board."

Man­age­ment didn't lis­ten. So the work­ers met with an orga­niz­er from the Inter­na­tion­al Asso­ci­a­tion of Machin­ists & Aero­space Work­ers (IAM) and began sign­ing autho­riza­tion cards. That's when Sam says high­er-ups final­ly took notice.

​"The two days before we hand­ed in the cards, they end­ed up ​'repur­pos­ing' [the man­ag­er] in anoth­er role in anoth­er facil­i­ty. They had already known about the cards. Some­body had leaked out what we were doing, and imme­di­ate­ly they took action," Sam says. ​"What lengths do you have to go to get peo­ple to lis­ten? Our voic­es didn't mat­ter until we made the move that we made."
Orga­niz­ing by the book
On Decem­ber 6, the IAM filed cards with the Nation­al Labor Rela­tions Board request­ing an elec­tion to rep­re­sent the 24 main­te­nance mechan­ics at Amazon's Mid­dle­town plant for the pur­pos­es of col­lec­tive bar­gain­ing. With the fil­ing, they kicked off a process that has played out thou­sands of times since the NLRB was cre­at­ed to medi­ate indus­tri­al con­flict in 1935. Com­pa­nies have fig­ured out how to game the sys­tem, skirt­ing or sim­ply break­ing the law to throw elec­tion votes in management's favor.
In 2011, unions filed 2,108 peti­tions for elec­tions at the NLRB. Of these, almost 700 were with­drawn before a vote could take place — in many cas­es because the employer's anti-union cam­paign destroyed the pos­si­bil­i­ty of a fair elec­tion. Of the 1,398 union elec­tions that the NLRB did con­duct, unions only won 69 per­cent. Fil­ing for an NLRB elec­tion is a roll of a loaded dice. It's pos­si­ble to win, but only if the cam­paign can deflect a bar­rage of text­book anti-union maneuvers.
And so far, accord­ing to the union, Amazon's anti-union cam­paign has stuck to the usu­al script, echo­ing the mes­sag­ing it used to com­bat anoth­er dri­ve more than a decade ear­li­er. This time around, Ama­zon suc­cess­ful­ly pushed the NLRB to include six addi­tion­al work­ers in oth­er depart­ments, who had not been involved in the orga­niz­ing pre­vi­ous­ly, in the bar­gain­ing unit. The union believes this was a tac­tic to dilute support.
With­in a week of fil­ing, the com­pa­ny also brought the anti-union law firm Mor­gan, Lewis, & Bock­ius onto the scene, accord­ing to the IAM. High­er-ups from Boston have arrived, too, Sam says, requir­ing work­ers to come in every week for what is com­mon­ly called a ​"cap­tive audi­ence meet­ing." In these meet­ings, the union says, senior exec­u­tives have asked work­ers to give them anoth­er chance, promised pol­i­cy changes, tarred the union's rep­u­ta­tion and made sub­tle threats.
Accord­ing to Sam, ​"In the begin­ning it was relaxed. They tried to pull us into a round­table, which is a group meet­ing where they sit us down and they say, ​'What's going on? We know stuff is wrong.' Then they brought in some cor­po­rate peo­ple and they start­ed giv­ing us [rea­sons] why unions don't work in Ama­zon … they're bring­ing out all the bad pro­pa­gan­da with unions, as far as the strik­ing process."
As the weeks went on, the prover­bial car­rots and sticks mul­ti­plied. Pre­vi­ous­ly, main­te­nance work­ers had always been exclud­ed from in-plant raf­fles and con­tests, but in the past month, Sam says, par­tic­u­lar­ly out­spo­ken work­ers have mys­te­ri­ous­ly won prizes that include Ama­zon Kin­dles and a $500 gift certificate.
At the same time, mul­ti­ple copies of an anti-union peti­tion sur­faced, the union says. The peti­tion sug­gest­ed ​"maybe we should table this": anoth­er com­mon man­age­ment tac­tic to demor­al­ize workers.
Man­agers also began fol­low­ing work­ers around, tak­ing pic­tures of them as they worked in order to doc­u­ment com­pli­ance with safe­ty pro­ce­dures, Sam says. Vio­lat­ing a safe­ty pro­to­col can mean an instant firing.
The goal of an anti-union cam­paign is to cre­ate an envi­ron­ment so tense that work­ers sim­ply want the union ques­tion to go away. In this case, the tac­tics worked. Yes­ter­day's vote was 21 to 6 against unionization.
The IAM elec­tion at Ama­zon, while unsuc­cess­ful on the terms set by the NLRB, may prove to be an impor­tant step toward build­ing a move­ment that can win. ​"The odds were stacked against the work­ers, but our pres­ence there has real­ly gen­er­at­ed more inter­est," says John Carr, the IAM orga­niz­er. ​"Even though unsuc­cess­ful this time around, a day lat­er and the phone has­n't stopped ring­ing from oth­er Ama­zon employ­ees inter­est­ed in what an orga­niz­ing effort could do to assist them."
Dis­rupt­ing capitalism
If this plucky band of tech­ni­cians can inspire oth­er Ama­zon ware­house orga­niz­ing, they may be able to estab­lished a foothold for labor in a com­pa­ny that has been called the Wal­mart of e‑commerce — a sec­tor that may soon dis­place bricks-and-mor­tar retail. Achiev­ing these gains will require think­ing out­side the box of the NLRB process, and cru­cial­ly, expand­ing orga­niz­ing to include Amazon's low­est-paid work­ers, the staff that picks and packs orders.
It will be a hard fight, but if eco­nom­ic trends are any indi­ca­tion, labor doesn't real­ly have any oth­er choice. In a grow­ing num­ber of cities, ​"dis­rup­tive" indus­tries have giv­en cor­po­ra­tions new ways to exploit work­ers. Brick-and-mor­tar schools and uni­ver­si­ties are threat­ened with obso­les­cence by the rise of ​"MOOCs," short for ​"Mas­sive Open Online Cours­es." Taxi dri­vers now fre­quent­ly com­pete with an unli­censed, free­lance fleet of ​"Lyft" and ​"Uber" cars. Hotels face AirBnb. News out­lets strug­gle against the Huff­in­g­ton Post.
Sil­i­con Valley's ​"dis­rupters" like to fan­cy them­selves as genius­es and vision­ar­ies, but in real­i­ty, their ​"inno­va­tions" boil down to a famil­iar cor­po­rate for­mu­la: Cir­cum­vent reg­u­la­tions, under­cut labor stan­dards, auto­mate in order to reduce labor costs, or com­mod­i­fy a niche of human exis­tence pre­vi­ous­ly out of reach of the mar­ket. And prof­it. Massively.
This expan­sion, in turn, will like­ly attract Wall Street invest­ment and fuel mas­sive expan­sion, lead­ing to the even­tu­al pri­ma­cy of the new, ​"dis­rup­tive" com­pa­nies over the old. The pro­gres­sion is almost inexorable.
But crack­ing the code to orga­niz­ing Ama­zon — and all the prog­e­ny of ​"dis­rup­tive" cap­i­tal­ism — is not an impos­si­ble task. The work­ers have the same trump card they have always had. As Sam put it: ​"With­out us, the build­ing doesn't run, and they don't see that. Or didn't until we threat­ened to go through with the union orga­niz­ing." Every minute that the Mid­dle­town Ama­zon warehouse's con­vey­or sys­tem is shut down costs the com­pa­ny $44,000 because pack­ages have to be re-rout­ed to oth­er facil­i­ties and shipped via overnight deliv­ery. Imag­ine what coor­di­nat­ed strike action, or even sim­ply mass pick­ets at mul­ti­ple plants could do?
As tech­no-cap­i­tal­ism inno­vates and dis­rupts its way back to 19th-cen­tu­ry-style exploita­tion, work­ers are begin­ning to find their voice. The next step is to find a way to make this newest breed of boss­es listen.
Full dis­clo­sure: The IAM is a web­site spon­sor of In These Times. Spon­sors have no role in edi­to­r­i­al content.
Erik For­man
has been active in the labor move­ment for over a decade as a rank-and-file orga­niz­er, at the fore­front of cam­paigns to union­ize the U.S. fast food indus­try. He cur­rent­ly works as a labor edu­ca­tor in New York City and is pur­su­ing a Ph.D. in cul­tur­al anthro­pol­o­gy at the Grad­u­ate Cen­ter of the City Uni­ver­si­ty of New York. Fol­low him at
twit​ter​.com/​_​e​r​i​k​f​orman
.