In Feb­ru­ary, the first large-scale wind farm in the South­east went online in north­east North Car­oli­na. Cre­at­ed to pow­er Ama­zon data cen­ters, the 208-megawatt facil­i­ty will inject almost a mil­lion dol­lars into the local econ­o­my annu­al­ly. But the region is rur­al, decid­ed­ly poor and home to a siz­able African Amer­i­can pop­u­la­tion. Will the area's low-income res­i­dents ben­e­fit from any of that new mon­ey, or will the facil­i­ty wind up sim­ply widen­ing the exist­ing gulf?
The Ama­zon wind project strad­dles two coun­ties, Perquimans and Pasquotank, that sit on the Albe­mar­le Sound, just inland from the Out­er Banks. The region is flat and swampy, with long stretch­es of corn and soy­bean fields. The biggest munic­i­pal­i­ty, Eliz­a­beth City, has a charm­ing but desert­ed down­town and a pover­ty rate of 30 per­cent, almost dou­ble the state aver­age. The town, which is major­i­ty African Amer­i­can, hasn't ful­ly recov­ered from the reces­sion; jobs are at the local Coast Guard base or with the state, and there isn't much else.
Unfor­tu­nate­ly, unlike solar projects, wind facil­i­ties don't require many work­ers to set up or main­tain the tur­bines. ​"One per­son on the main­te­nance side takes care of twelve machines," says David Swen­son, an asso­ciate sci­en­tist in the depart­ment of eco­nom­ics at Iowa State Uni­ver­si­ty. ​"There's not many jobs cre­at­ed; the tra­di­tion­al work­ing per­son won't have access to much." So employ­ment isn't a major ben­e­fit of the projects.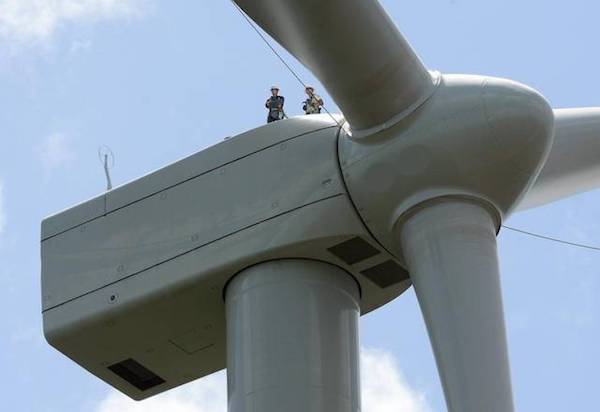 Aug. 10, 2016 — Two work­men stand on the nacelle (the hous­ing for a wind tur­bine's gen­er­at­ing com­po­nents) dur­ing con­struc­tion of the Ama­zon Wind Farm. The com­plete assem­bly of each tur­bine is 492 feet tall. (Pho­to: Chuck Lid­dy / new​sob​serv​er​.com)
But most wind projects do deliv­er rev­enue to a com­mu­ni­ty in two dis­tinct ways. First, landown­ers receive pay­ments for the tur­bines they host on their prop­er­ty. In this case, the 60-some prop­er­ty own­ers in the region are issued $6,000 per tur­bine per year. That's a big win for farm­ers, espe­cial­ly when agri­cul­tur­al com­mod­i­ty prices are low as they cur­rent­ly are; they receive pay­ments but are still able to farm 95 per­cent of the land.
But despite their peren­ni­al dif­fi­cul­ties, few landown­ing farm­ers are low-income. That's true here, where the medi­an income for the coun­ty as a whole is very close to the state aver­age. ​"We're qui­et, mid­dle class peo­ple. I wouldn't say anybody's strug­gling," says James White, a farmer in White­ston who has two tur­bines on his land. With 200 acres, he's con­sid­ered a small farmer. ​"It's not a make or break for any­one, just an extra benefit."
Those pay­ments do trick­le down to busi­ness­es and oth­ers in the com­mu­ni­ty — White and his wife bought a new car and truck in Eliz­a­beth City last year as a result of the forth­com­ing tur­bine pay­ments — but the over­all eco­nom­ic impact of leas­ing some­thing out is fair­ly weak, says Swen­son. That means non-landown­ing folks in the region don't wind up see­ing a whole lot of that money.
It's the sec­ond set of pay­ments from projects like these that real­ly mat­ter to low­er-income com­mu­ni­ties. Wind pow­er devel­op­ers pay prop­er­ty tax­es to coun­ties. In this region, Avan­grid Renew­ables, which built and oper­ates the Ama­zon wind facil­i­ty, pays Pasquotank and Perquimans coun­ties $5,000 per tur­bine. That comes out to around $500,000, which is rough­ly split between the two coun­ties, and makes Avan­grid the biggest tax­pay­er in both counties.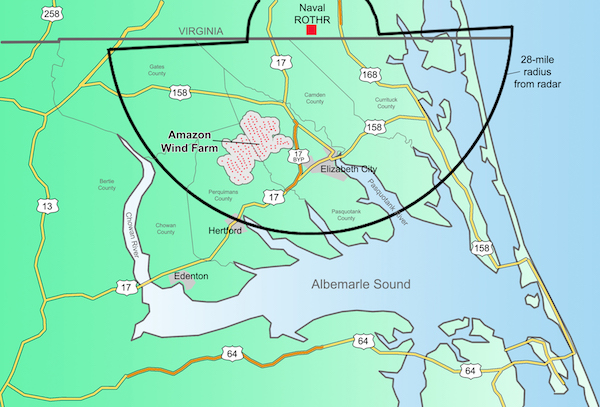 A map of the where the Ama­zon Wind Farm over­laps Pasquotank and Perquimans coun­ties. The Naval ROTHR is a near­by mil­i­tary long-range radar sur­veil­lance sta­tion. (Info­graph­ic: car​oli​na​jour​nal​.com)
Whether poor res­i­dents ben­e­fit from wind farms depends, by and large, on how a coun­ty gov­ern­ment choos­es to use those rev­enues. In Perquimans and Pasquotank coun­ties, the new funds are being used to fill holes. ​"It's been a very tight econ­o­my here, and most agen­cies have been spend­ing their fund bal­ance down to the allow­able lev­el. That $250,000 eas­es the pain a lit­tle bit, but does­n't cre­ate any mon­ey for addi­tion­al ini­tia­tives," says Wayne Har­ris, eco­nom­ic devel­op­ment offi­cer for Pasquotank County.
Coun­ty com­mis­sion­ers in this area could even­tu­al­ly make more strate­gic choic­es. Elect­ed offi­cials in oth­er regions have used their wind­fall to low­er their tax rates — by half or even more. Low-income res­i­dents would most like­ly gain from that. ​"Low­ered tax­es would ben­e­fit you even if you don't pay income tax­es or even own prop­er­ty," says John Rogers, a senior ana­lyst in the Cli­mate and Ener­gy Pro­gram at the Union of Con­cerned Scientists.
Oth­er com­mu­ni­ties have heav­i­ly invest­ed in schools, with pro­grams that ben­e­fit stu­dents across the income spec­trum. In Van Wert, Ohio, the school sys­tem used wind ener­gy mon­ey to buy com­put­ers for every stu­dent and estab­lish new STEM pro­grams. In Lowville, N.Y., rev­enues from a wind farm fund­ed AP cours­es, expand­ed tech­nol­o­gy and refur­bished school ath­let­ic facilities.
Of course, poor regions will always have com­pet­ing pri­or­i­ties — roads that need repaving or jails that are con­tin­u­al­ly under­fund­ed. In Pasquotank Coun­ty, for exam­ple, the school dis­trict has been des­per­ate for more fund­ing. This year, the coun­ty com­mis­sion­ers had to raise tax­es to cov­er a short­fall in the school system's bud­get. Next year, they might be able to use wind pow­er mon­ey for that.
But many Eliz­a­beth City res­i­dents are dubi­ous that they'll ever see that mon­ey. A rumor has been going around that the wind pow­er funds won't stay in the state, says Nan­cy, who doesn't want to use her last name. She's a long­time Eliz­a­beth City res­i­dent who recent­ly moved away when the house she was rent­ing was con­demned. ​"A lot of us have been told that the wind farm would only ben­e­fit peo­ple out­side of the area," she says.
Oth­ers sim­ply don't trust their coun­ty gov­ern­ment to do the right thing. Dou­glas Britt, own­er of D&J Wood­work­ing, is skep­ti­cal about how the city will man­age the new funds. ​"I'm for it; I just wish we'd get a lit­tle more money."
The upshot? Low-income peo­ple could see real ben­e­fits from new wind pow­er rev­enues — but they're going to have to push for it and advo­cate for themselves.
Mean­while, the state of North Car­oli­na is prov­ing to be the biggest bar­ri­er to eco­nom­ic devel­op­ment: The state leg­is­la­ture recent­ly passed an 18-month mora­to­ri­um on new wind farms across the state. Leg­is­la­tors say they're con­cerned that the tur­bines might inter­fere with air­craft activ­i­ty at near­by mil­i­tary bases, which pro­vide a major eco­nom­ic boost to the east­ern part of the state. But wind ener­gy projects must already pass rig­or­ous Defense Depart­ment and FAA reviews before approval, and many observers think mon­ey from the petro­le­um indus­try is play­ing an influ­en­tial role. Two more facil­i­ties have been in devel­op­ment in north­east­ern North Car­oli­na, but now the res­i­dents there will have to wait even longer to see ben­e­fits flow to their depressed regions.
In addi­tion to the mil­i­tary argu­ment being made in North Car­oli­na, the sound gen­er­at­ed by mas­sive tur­bines, their pres­ence on the land­scape, and the death of bats and birds also make wind farms con­tro­ver­sial in many parts of the coun­try.
(Video:
WAVY TV

10
/ YouTube)