American Airlines Petitions to Override 3 Unions' Contracts, Promises New Offer For Largest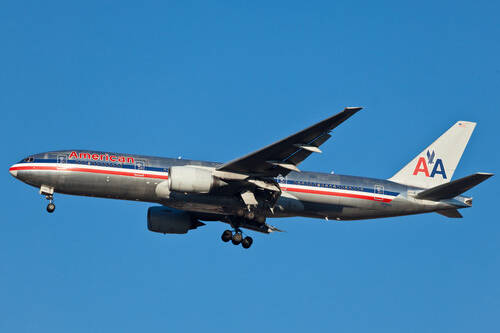 TWU appears most likely union to reach deal prior to judge's ruling
Four months after filing for bankruptcy, last week American Airlines' parent company AMR petitioned a judge to override its union contracts. In a letter to employees, American CEO Thomas Horton said that ​"with losses mounting and oil prices rising, there is growing urgency to move more quickly." Horton wrote that ​"consensually negotiated contracts…will remain the ultimate objective" in union negotiations. But he warned that ​"failure to make the right changes is failure and that puts all jobs at American at risk."
​"Everything we have…they want to put a blow torch to it…" says AMR employee Tom Hoban, communications chairman of the Allied Pilots Association (APA). ​"They're going for the jugular."
As I've previously reported, AMR filed for bankruptcy November 29, despite $4 billion in cash and the reported objections of then-CEO Gerard Arpey, whose resignation was announced the same day. The announcement came eight years after its three unions narrowly agreed to tremendous concessions to forestall bankruptcy, and weeks after tentative agreements were reached on new contracts — with more concessions — for some employees. Union leaders have condemned the bankruptcy filing as a gambit to extract even deeper concessions from workers.
AMR's ​"1113 motion" (so-named for a section of the bankruptcy code) drew criticism from its three unions: the 18,000-member Association of Professional Flight Attendants, the 10,000-member APA, and the Transport Workers Union, which represents 26,000 technicians, mechanics and fleet service workers at American and sibling airline American Eagle.
In an e-mailed statement, APFA President Laura Glading said the filing came as no surprise, and blamed Horton for ​"outright refusal to consider" the union's employee buy-out proposal. Glading said that the company's motion would succeed ​"only if it convinces the judge that contract changes it seeks are necessary, fair and equitable. In reality, its draconian demands are none of those things."
AMR made its bankruptcy proposal, designed to cut labor costs by 20 percent, on February 1. As Mike Elk reported, TWU has warned that AMR's planned elimination of 13,000 jobs could threaten safety by shifting maintenance to countries with less regulation.
But as David Moberg reported for In These Times, following pressure from unions and the Pension Benefit Guarantee Corporation, AMR agreed to freeze workers' pensions rather than liquidating them (TWU President Jim Little told me in an earlier interview that such pensions are unlikely to ever be unfrozen). Still, no contracts were reached, and AMR filed its 1113 motion last Tuesday.
In a statement that day, an American Airlines spokesperson said that while the company still seeks negotiated contracts, ​"Today's competitive marketplace gives no credit for sacrifices made in years gone by. The facts are American's labor agreements currently burden it with operations it cannot afford and restrictions that place it at a competitive disadvantage."
On Friday, AMR posted a ​"Negotiations Update" online that referenced ongoing discussions with all three unions and said, ​"We continue to make progress with the TWU and have narrowed many of the issues." AMR said that it had made ​"important moves toward the union, including outsourcing fewer TWU jobs," and would present TWU with ​"a comprehensive proposal…by early next week." In a statement released the same day, TWU President Little said, ​"Even as we prepare to vigorously defend our contracts in court, we will stay in communication with the company and we're ready to meet for as long as necessary."
Asked last month whether AMR was attempting to reach a deal with one of the three unions so that a judge would be more sympathetic to AMR's case against the other two, TWU President Little said, ​"I hope so. I would hope it would be us." Granted anonymity to speak candidly this morning, a source close to negotiations said AMR was expected to offer to reduce its 9,000 proposed layoffs of TWU members by ​"a couple thousand."
Little will hold a conference call with union members tomorrow night. Movement on layoffs could increase AMR's chances of appearing before the judge with a deal with its largest union already in place.
But Hoban, of APA, says AMR has shown no interest in a negotiatiated deal with his union. ​"What they've essentially done," he charges, ​"is postured for the last month or so…they moved a few insignificant items around" as part of ​"a kabuki dance designed to provide that little piece of theater to the court and then say, ​'Hey, we're ready to file.'"
Hoban says American's losses over the past decade result from management strategy —failure to keep up on fuel efficiency, customer service issues, and ​"this mantra that we're going to shrink ourselves to profitability" — not labor costs. ​"We gave them what amounted to a near-bankruptcy contract" in 2003, says Hoban. ​"They had a significant cost advantage, but the other issues with regard to fuel and revenue disadvantages are something that labor can't solve for them."
Hoban faults AMR for rejecting APA's proposal for binding arbitration, which he says would have resulted in concessions similar to those made during other airlines' bankruptcies. Instead, he says AMR has insisted on terms that could never be approved by members: ​"It's going to be an operational disaster…Do you really want to alienate everybody from the pilots all the way down?"
Pointing to precedent, APA's Hoban says AMR's motion is likely to prevail with or without any negotiated deals already in hand. ​"The judge always rules in favor management. That's just the way it is. That's why they filed in the second circuit." A hearing has not yet been scheduled; the judge has up to 21 days from the motion's filing to schedule a hearing, and 30 days afterwards to rule.
Section 1113 directs the court to approve management's motion if it meets three standards. First, the company must have ​"made a proposal," based on full and current information, whose terms are ​"necessary to permit the reorganizations" and under which ​"all of the affected parties are treated fairly and equitably." Second, the union must have ​"refused to accept such proposal without good cause." Third, the ​"balance of the equities" must favor overriding contracts.
The second circuit has ruled that while this includes a requirement that the company negotiate in good faith with the union over its proposal, it is not unreasonable to file a 1113 motion within as few as four days after making a proposal. It has also ruled that ​"fair and equitable" does not require that managers have their compensation cut ​"to the same degree" as union members, and that for labor to show ​"good cause" for rejection, ​"that refusal must be based on objective evidence that the proposal is not necessary to a successful reorganization."
The second circuit has specified that ​"balance of equities" includes considering the relative risks of liquidation, loss to creditors, strikes, and breach of contract lawsuits, as well as parties' different abilities to absorb costs and the extent to which they've acted in good faith.
In its legal filing, AMR says that American needs to cut labor costs by $1.25 billion per year in order to succeed. ​"Simply stated," says the filing, ​"if the Court does not grant the relief sought here, American will have no viable business enterprise." In arguing its case on ​"balance of equities," AMR's legal case specifically cites the legal limits on its workers' right to strike. Unlike most American workers, AMR employees aren't covered by the National Labor Relations Act, but instead by the Railway Labor Act.
As AMR notes, the RLA puts a series of hurdles in front of workers seeking to strike, including the requirement of release by the National Mediation Board. ​"Really the only thing that would compel management to bargain is a threat to strike," says Hoban. Because the risk of a strike is a potential factor for a judge to weigh against allowing contracts to be overriden, the same legal restriction that reduces workers' bargaining power also helps management's legal case for overriding their bargaining rights.
APA has filed a lawsuit attempting to bring the National Mediation Board, which oversees normal contract negotiations under the RLA, into the process.
When the Associated Press asked AMR CEO Horton about workers' pickets in a March 25 interview, he replied, ​"I don't pay attention to it. I don't know how many people have been out picketing. It must not be very big because I haven't seen it, but I've talked to thousands of people, real people doing real work…what I see is people doing a real good job and wanting to get behind our company and excited about the future."
Asked whether AMR's filing will spur closer coordination between its three unions, APA's Hoban says it's unlikely. ​"We all have different institutional issues…everybody's got a different agenda in this process."
Josh Eidelson
is a freelance writer and a contributor at In These Times, The American Prospect, Dissent, and Alternet. After receiving his MA in Political Science, he worked as a union organizer for five years. His website is http://​www​.joshei​del​son​.com. Twitter: @josheidelson E-mail: ​
"
jeidelson" at ​
"
gmail" dot com.