American Airlines Mechanics Are Threatening the "Bloodiest, Ugliest Battle" in Labor History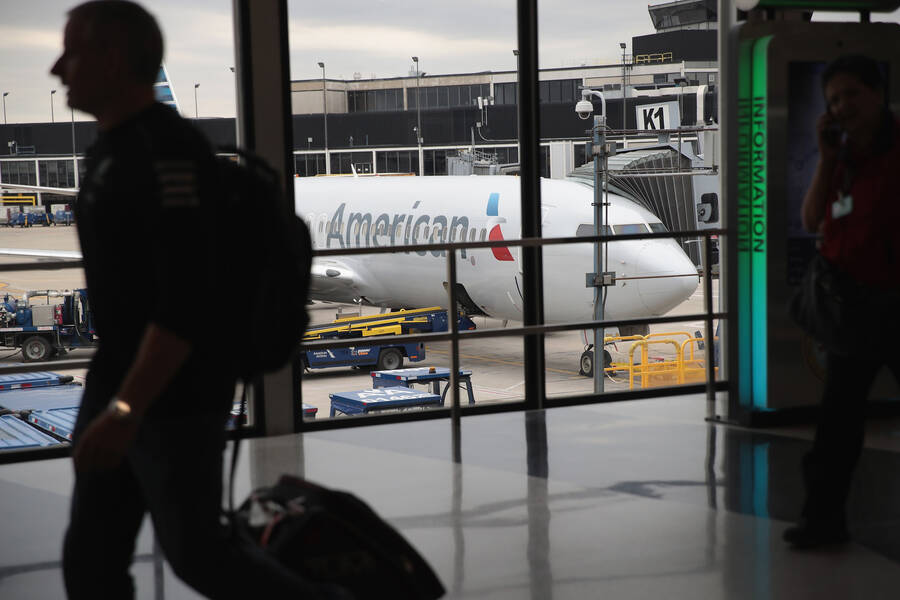 Mechan­ics at Amer­i­can Air­lines are threat­en­ing to strike if a new con­tract isn't nego­ti­at­ed, and union pres­i­dent John Samuelsen has declared that employ­ees are pre­pared for the dis­pute to erupt into ​"the blood­i­est, ugli­est bat­tle that the Unit­ed States labor move­ment ever saw." The state­ment comes just one day after the air­line sued its union work­ers, claim­ing that they had engaged in an ille­gal work slow­down to strength­en their hand at the bar­gain­ing table.
Amer­i­can Air­lines merged with US Air­ways in 2013 to become the largest air­line in the world. The 31,000 mechan­ics who fixed planes for both air­lines had exist­ing con­tracts, but the merg­er didn't pro­duce a joint con­tract. Amer­i­can Air­lines mechan­ics had con­tracts with the Trans­port Work­ers Union (TWU) and US Air­ways mechan­ics had con­tracts with the Inter­na­tion­al Asso­ci­a­tion of Machin­ists and Aero­space Work­ers (IAM). Amer­i­can Air­lines has been try­ing to update the col­lec­tive bar­gain­ing agree­ment with the TWU-IAM Asso­ci­a­tion (a part­ner­ship between the two unions that devel­oped as a result of the merg­er), through con­tract talks since Decem­ber 2015, with the Nation­al Medi­a­tions Board serv­ing as a fed­er­al medi­a­tor between the two sides. But talks were sus­pend­ed in April after reach­ing an impasse. In addi­tion to issues of pay and ben­e­fits, the union is con­cerned that the com­pa­ny is poten­tial­ly look­ing to out­source thou­sands of jobs.
Tim­o­thy KIl­i­ma is an Air­line Coor­di­na­tor for the IAM who has been per­son­al­ly involved with the nego­ti­a­tions. ​"The employ­ees rep­re­sent­ed by the TWU-IAM Asso­ci­a­tion want to pre­serve the work they do, the health­care they have and to reach par­i­ty in ben­e­fits between the two pre-merg­er work­groups," he told In These Times via email. ​"Amer­i­can Air­lines demands to reduce the amount of work per­formed by their employ­ees and a cor­re­spond­ing head­count reduc­tion; to elim­i­nate the bet­ter health­care choic­es the employ­ees already have; and refus­es to improve the prof­it shar­ing for­mu­la that is one of the worst among their peers. In short, the employ­ees desire to grow with a healthy Amer­i­can Air­lines but at least want to keep what they have com­ing into the merger."
On May 20, Amer­i­can Air­lines filed a law­suit in the North­ern Dis­trict of Texas fed­er­al court claim­ing that mechan­ics have pur­pose­ly slowed down their work in an effort to hin­der the company's day-to-day oper­a­tions. Accord­ing to the law­suit, the mechan­ics' actions have result­ed in 650 flight can­cel­la­tions and over 1,500 main­te­nance delays since February.
The union denies that there was ever a pur­pose­ful slow­down. ​"Amer­i­can Air­lines should focus its time and effort to reach con­trac­tu­al agree­ments with its employ­ees instead of false­ly accus­ing them of trumped-up job action charges," said Kli­ma. ​"Col­lec­tive bar­gain­ing agree­ments can­not be reached in court­rooms, in the media or by lob­by­ing politi­cians. The TWU-IAM Asso­ci­a­tion is eager to return to the bar­gain­ing table, which is the only are­na where our con­tract dis­putes can be resolved."
Ver­mont Sen­a­tor and Demo­c­ra­t­ic pres­i­den­tial can­di­date Bernie Sanders also crit­i­cized the legal action, tweet­ing on May 21, ​"Instead of rec­og­niz­ing and address­ing the con­cerns of work­ers, Amer­i­can Air­lines has moved to sue @MachinistsUnion. Machin­ists keep pas­sen­gers safe and on time. My mes­sage to Amer­i­can Air­lines is sim­ple: Stop the intim­i­da­tion and bullying!"
On May 21, dur­ing one of the airline's reg­u­lar town hall meet­ings with employ­ees at LaGuardia Air­port, TWU pres­i­dent John Samuelsen con­front­ed Amer­i­can Air­lines pres­i­dent Robert Isom and told him that the union was pre­pared to strike. ​"I stand here to tell you — in front of this whole room, in front of every­body, any­body who's lis­ten­ing — that you're not going to get what you want," said Samuelsen. ​"If this erupts into the blood­i­est, ugli­est bat­tle that the Unit­ed States labor move­ment ever saw, that's what's going to hap­pen. You're already prof­itable enough."
Samuelsen also told Isom that work­ers are des­per­ate­ly try­ing to avoid what's called a ​"self-help" sit­u­a­tion under the Rail­way Labor Act. That means the com­pa­ny would be able to force employ­ees into a con­tract with­out union approval if the gov­ern­ment con­dones it. ​"If we ever get to a point where there's self-help, we are going to engage in an absolute­ly vicious strike action against Amer­i­can Air­lines to the likes of which you've nev­er seen," said Samuelsen. ​"Not orga­nized by air­line peo­ple, but orga­nized by a guy that came out of the New York City sub­way sys­tem that's well inclined to strike pow­er, and who under­stands that the only way to chal­lenge pow­er is to aggres­sive­ly take it to them. … We're going to shut this place down."
Isom replied, ​"I will tell you this, that any­body that seeks to destroy Amer­i­can Air­lines, that is not going to be pro­duc­tive. It just won't. We have to be able to work togeth­er to see the views of both sides. And I, believe me, I will send peo­ple back to the table."
The air­line indus­try has seen its share of labor unrest over the last few years, and work­ers have been able to cel­e­brate a num­ber of orga­niz­ing vic­to­ries. The Amer­i­can Air­lines bat­tle mir­rors the recent fight between South­west Air­lines and the Air­craft Mechan­ics Fra­ter­nal Asso­ci­a­tion (AMFA). In March, South­west sued the AMFA and alleged that work­ers had par­tic­i­pat­ed in an ille­gal slow­down, but employ­ees were ulti­mate­ly able to win an agree­ment that estab­lished pay rais­es, new bonus­es and an end to the legal dis­pute. Last year, Jet­Blue flight atten­dants vot­ed to union­ize, and in Feb­ru­ary the Asso­ci­a­tion of Flight Atten­dants (AFA-CWA) helped end Trump's gov­ern­ment shut­down by threat­en­ing to strike.
Orga­niz­ing efforts have been met with extreme resis­tance from the air­lines beyond the afore­men­tioned law­suits. In Feb­ru­ary, The Guardian revealed that Jet­Blue pres­i­dent Joan­na Ger­aghty sent employ­ees an email warn­ing that the com­pa­ny would cease to be suc­cess­ful if work­ers union­ized. ​"So if any­one asks you to sign a card, I'm ask­ing you to decline," the email eads. This month, details of Delta's union-bust­ing cam­paign emerged, which includ­ed break­room lit­er­a­ture encour­ag­ing work­ers to spend their mon­ey on video games and alco­hol rather union dues.
Accord­ing to The Inter­na­tion­al Air Trans­port Asso­ci­a­tion, the air­line indus­try is expect­ed to gen­er­ate net prof­its of $35.5 bil­lion in 2019, bet­ter than the $32.3 bil­lion net­ted in 2018. Amer­i­can Air­lines is the world's largest air­line. Its par­ent orga­ni­za­tion, Amer­i­can Air­lines Group, report­ed a fourth-quar­ter 2018 pre-tax prof­it of $387 mil­lion. ​"We expect our total rev­enue per avail­able seat mile to grow faster than our net­work com­peti­tors, and to deliv­er strong pre-tax earn­ings growth in 2019," the group said in a state­ment.
Last week, the TWU-IAM Asso­ci­a­tion sent a let­ter to the Nation­al Medi­a­tion Board call­ing on the agency to com­pel fur­ther nego­ti­a­tions between the two sides, as the com­pa­ny has refused to engage in talks with­out a medi­a­tor. ​"These nego­ti­a­tions have reached the crit­i­cal end stage with the largest scope and eco­nom­ic issues yet to be resolved," reads the letter.
"
Michael Arria
is the U.S. cor­re­spon­dent for Mon­doweiss. Fol­low him on Twit­ter: @michaelarria.