American Airlines Union Questions Bankruptcy Motive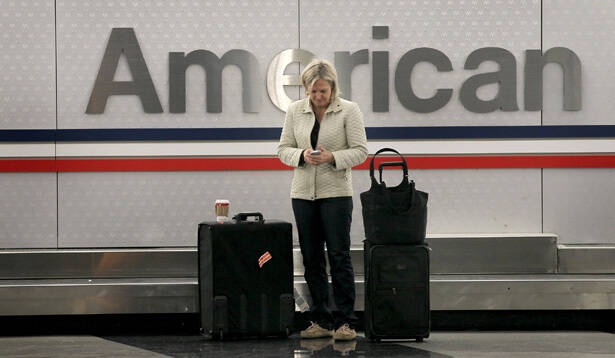 We wanted to make sure you didn't miss the announcement of our new Sustainer program. Once you've finished reading, take a moment to check out the new program, as well as all the benefits of becoming a Sustainer.

The bankruptcy move comes eight years after massive concessions, and weeks after reaching new contract agreements
American Airlines' parent company filed for bankruptcy protection on Tuesday, throwing into question the fate of thousands of union members' jobs, their contracts and an eight year-old partnership agreement under which they've made hefty sacrifices. ​"I was shocked that it happened when it happened…" says Transport Workers Union President James Little. ​"I thought we could have avoided it."
Little, whose union represents 26,650 mechanics, technicians, and fleet service workers at American Airline and sibling airline American Eagle, believes ​"a major motivation" for management was the desire ​"to get out of bankruptcy what you couldn't get at the table."
Prior to Tuesday's announcement, TWU had just reached tentative agreements with American for new contracts in some of its bargaining units that were awaiting ratification by members. Other union members at American were still working without a contract extension agreement four or more years since expiration. Although TWU has been preparing for the possibility of bankruptcy for two years, Little says management never indicated during negotiations that it could be imminent. ​"We didn't get any advance notice, except perhaps five minutes before the media knew about it."
Little suggested that the board of parent company AMR may have made the bankruptcy decision against the recommendation of CEO Gerald Arpey, whose retirement AMR also announced on Tuesday.
In a statement, Arpey's replacement Thomas Horton said that despite a series of achievements, ​"as we have made clear with increasing urgency in recent weeks, we must address our cost structure, including labor costs, to enable us to capitalize on these foundational strengths and secure our future." (An American Airlines spokesperson declined a request for comment.)
American Airlines was the only one of its peers not to file for bankruptcy following the sharp drop in business after the September 11, 2011 attacks. Little estimates that concessions from TWU and two smaller unions in 2003 saved American $1.6 billion. Before becoming president, he played a leading role in negotiating the package of contract concessions on behalf of TWU and persuading the Allied Pilots Association and Association of Professional Flight Attendants (APFA) to sign on.
The deal passed a TWU membership vote by what Little calls ​"a very, very small margin," and it prompted a lawsuit by some APFA members against their union. The three unions also entered a ​"partnership agreement" with American under which they met regulary with management and were provided confidential access to company financial information.
Soon after the restructuring deal, news broke that American had given some managers seven-figure bonuses while negotiating union concessions. American Airlines changed CEOs and agreed to some contract modifications in the ensuing outcry, but managers continued to receive hefty bonuses while hourly employees worked under concessionary contract terms.
APRA and APA later pulled out of the partnership agreement in protest of management's failure to make sacrifices equivalent to those of its employees. Little says TWU has benefited from maintaining dialogue with management and access to confidential information, though he doesn't dispute the other unions' complaint. He says labor and management established ​"an excellent process…but it fell apart. It fell apart because of the frustration of employees when management is getting all these bonuses." He says in the end workers were ​"sharing a large share of the pain, but were not receiving any of the gain."
Among the benefits TWU cites from partnership with management is American Airlines' continued use of domestic maintenance and overhaul work. While competitors have shifted to sending their planes to be repaired at lower cost in other countries, American has nearly 90 percent of such work done in house. In turn, TWU says workers' productivity has drawn some foreign airlines to contract with American Airlines for repairs of their planes. TWU says American saved on costs through increased productivity and worker input, as well as from workers' substantial concessions, which include allowing American to expand its use of third-party contractors for some work.
But relations between TWU and American Airlines have also frayed in recent years. Little blames American's insistence on deeper concessions from workers and continued largesse toward management for the years of contentious negotiations over contracts that expired between 2005 and 2007 — some of which were still open this week.
Last winter, TWU members voted to authorize a strike, but were stymied by the National Mediation Board, which denied them the economic release required for airline strikes under the Railway Labor Act. Little says the airline's morale and productivity were hurt by the failure to reach more contract extensions.
American Airlines has also suffered from decisions including a costly and ill-timed merger with TWA. Even so, Little says, the company is not ​"in the same financial straits" as it was after 9/11, when it averted bankruptcy. He cites the company's announced intention to self-finance its own bankruptcy as evidence that its financial position is comparatively less dire now than it was before the 2003 concessions. Asked if he now regrets those concessions, Little responds that they were a necessary move to avert a bankruptcy that could have meant a 30-percent reduction in the company. But he says the numbers he's seen wouldn't justify equivalent worker sacrifices today.
Next week, American is expected to file its plan for financial restructuring in bankruptcy court, where a judge will have final say over the company's future, including labor contracts and previously-planned divestiture of American Eagle. Horton said in his statement that ​"we plan to initiate further negotiations with all of our unions to reduce our labor costs to competitive levels."
Little says he sees the newly-reached tentative agreements as a proper ​"baseline" for bankruptcy deliberations. One of those contracts replaces the pension with a 401(k) for future hires. But Little names protection of pensions for current members and retirees as a top concern among TWU's membership.
​"I think it could have been avoided had we been able to get contracts…," says Little, ​"but the bar kept getting raised by the company…It seemed like every time we started to get to a conclusion, there was another ask."
Be a Sustainer
We surveyed thousands of readers and asked what they would like to see in a monthly giving program. Now, for the first time, we're offering three different levels of support, with rewards at each level, including a magazine subscription, books, tote bags, events and more—all starting at less than 17 cents a day. Check out the new Sustainer program.
Josh Eidelson
is a freelance writer and a contributor at In These Times, The American Prospect, Dissent, and Alternet. After receiving his MA in Political Science, he worked as a union organizer for five years. His website is http://​www​.joshei​del​son​.com.Twitter: @josheidelsonE‑mail: ​
"
jeidelson" at ​
"
gmail" dot com.