Garment Factory Workers in Southern California Are Calling for a Boycott of American Apparel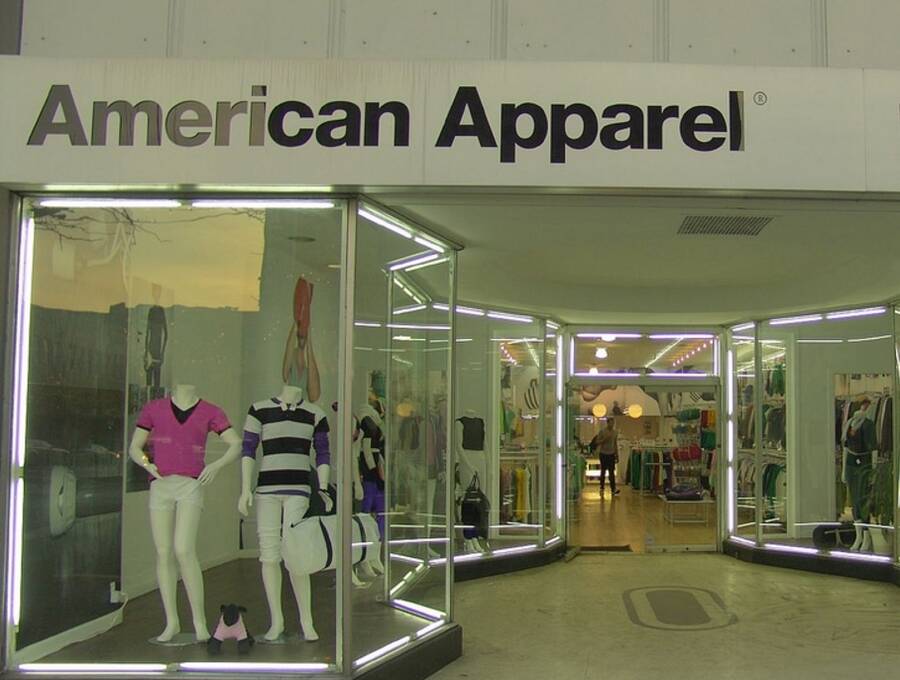 The General Brotherhood of American Apparel Workers (GBWAA), a union for garment workers at American Apparel's southern California manufacturing facilities — one of which, its downtown Los Angeles location, is the largest garment-making factory in the country — has called for a boycott of the brand's merchandise, pointing to mass layoffs and reduced compensation and benefits that have intensified since new management in January 2015 began a process of post-bankruptcy restructuring throughout the corporation.
GBWAA is currently awaiting a certification election date from the National Labor Relations Board, and workers with the union say they are calling for the boycott because American Apparel consumers must know the corporation is not the high-wage, sweatshop-free company once marketed itself to be, especially since Paula Schneider replaced American Apparel founder Dov Charney as chief executive officer of the corporation.
Schneider's appointment was approved by a corporate board that had been mostly hand picked by the hedge fund Standard General, who effectively had control of the company after a failed bid by Charney to regain control. Previously ousted as CEO amid reports of alleged sexual misconduct, Charney saw millions of his voting shares go to Standard General. When the company filed for bankruptcy in October 2015, claiming its debt was insurmountable, complete ownership went to the company's principal debtholders: Goldman Sachs Asset Management, Monarch Alternative Capital, Coliseum Capital, Pentwater Capital Management and Standard General (famous for their previous alleged hostile takeover of Radioshack), who kept on Schneider as CEO — much to the dismay of Charney and workers at American Apparel production sites that had already began organizing.
Union president Stephanie Padilha dos Santos tells In These Times, ​"If you're used to buying American Apparel and think that the company is great and that the whole concept of paying fair wages in [the garment] industry was what made the company a huge success, then we invite you now to boycott the brand because it is no longer sweatshop-free."
Padilha alleges that the company has been outsourcing production to other ​"sweatshops" around Los Angeles, while reducing the once relatively high wages earned by production workers at the company, which were the highest in the world, according to the company.
American Apparel did not respond to requests for comment by In These Times.
Meanwhile, in another round of layoffs, over 500 workers are reported to have been laid off this April as part of what Schneider has called a ​"redesign of [their] production process."
Victor Narro, Project Director at the UCLA Labor Center, says that American Apparel was famous for providing high-wage garment jobs that are seldom seen for the immigrant communities typically doing the work in Los Angeles. ​"These garment workers are not going to be able to find a similar type of workplace in the industry," Narro says.
Padilha says that after being abruptly let go with little notice, ​"All the dignity that the company provided [the laid-off workers] will be gone and they're going to have to go back to the poor reality of the garment industry." In the past, GBWAA has led work stoppages over decreased conditions and has filed dozens of unfair labor practices against the company since Schneider took over. Padilha believes a union can put a check on further layoffs and stabilizes the free falling wages and hours for the garment workers. American Apparel did not respond to requests for comment by In These Times in regards to GBWAA claims.
The company, however, has stressed that ​"the GBWAA could not fairly represent the interests of its near 4,000 production workers, even if elected" because of Charney's appearances at union functions throughout 2015. ​"Mr. Charney has used every tactic imaginable to claw his way back to the head of the company — including organizing workers to demand his return as CEO," says a letter by American Apparel legal representatives, asking a U.S District Court to force Charney to appear at NLRB hearings to provide testimony as well as submit documents relating to GBWAA in its appeal of the union's petition for election. The appeal centers on the claim that GBWAA is a Charney-created entity.
Nativo Lopez, an organizer in Los Angeles who has worked with American Apparel workers over issues of immigrant rights since 2009, says that the company's allegations are ​"absolutely false." Lopez says that garment workers active in Lopez's immigrant rights advocacy organization, Hermandad Mexicana, helped lead organizing, with Lopez serving in a voluntary advisory position. Thus, GBWAA is claiming it is an independent union — not a product of Charney.
Workers, he says, only focused on the return of Charney to company leadership initially because ​"working under him, in his administration, [they were] enjoying above-minimum wage and benefits that they had never previously experienced in any other apparel company where they had been employed."
"The ​'Save American Apparel' slogan has been changed to ​'Boycott American Apparel," Lopez says, predicting an entire offshoring of American Apparel's domestic manufacturing to low-wage countries, joining the approximately 97 percent of apparel brands in this country who do not produce their clothing in the United States. Onlookers from the finance world have said the same elsewhere. ​"It's no longer the same American Apparel," Lopez tells In These Times.
The last public union campaign at American Apparel garment factories occurred in 2003, when UNITE (the garment workers union that soon after merged with HERE to form UNITE HERE) tried to organize workers in the downtown manufacturing hub. Charney was not supportive, according to Stephen Wishart, a senior research analyst with UNITE HERE at the time, who said of the campaign:
The company's activities included holding captive meetings with employees, interrogating employees about their union activities and sympathies, soliciting employees to ask the union to return their union authorization cards, distributing anti-union armbands and T-shirts, and requiring all employees to attend an anti-union rally. The company's most devastating tactic, though, was threatening to shut down the plant if the workers organized.
Charney, speaking to the Los Angeles Business Review in 2004 about the unsuccessful union organizing campaign, called unions an ​"obstacle":
The concept of a union is a check against greed on the part of the employer. If I really wanted to be motivated by greed alone and pay the lowest possible wage, I wouldn't be working in this factory. To say, ​"Let's appoint a union to represent the workers even further" may put into disequilibrium the delicate balance that I've created between all the parties.
Narro says that although wages were high at American Apparel, the benefits of union collective bargaining agreements have always been sorely lacking and it remains evident in its current restructuring process. ​"If he had worked something out with UNITE back in 2002, and they agreed to a union contract, [then] these workers would have had a lot of protection right now. Nothing is guaranteed, but they would not have been as vulnerable to the bankruptcy and the downsizing and the management decisions."
"Union contracts would create mechanisms to protect workers as much as possible," says Narro. Organizing amid the corporation's restructuring is ​"harder to do now because there's nothing to enforce," he adds.
For now, GBWAA hopes the boycott will bring to the light the urgency they feel is required in its certification efforts, especially as predicted further layoffs loom. Padilha says the NLRB needs to act now, telling me, ​"As soon as a hedge fund takes over, the company goes into bankruptcy. Workers getting laid off, having their rights ripped apart, and they make no money. Everything is changing; outsourcing production. There [are] enough reasons why this election is what workers need right now."
Mario Vasquez is a writer from southern California. He is a regular contributor to Working In These Times. Follow him on Twitter @mario_vsqz.