Veteran on 'American Sniper': The Lies Chris Kyle Told Are Less Dangerous Than the Lies He Believed
Enough about Chris Kyle. Let's focus our anger against the authorities and the institutions that craft the lies that the Chris Kyles of the world believe.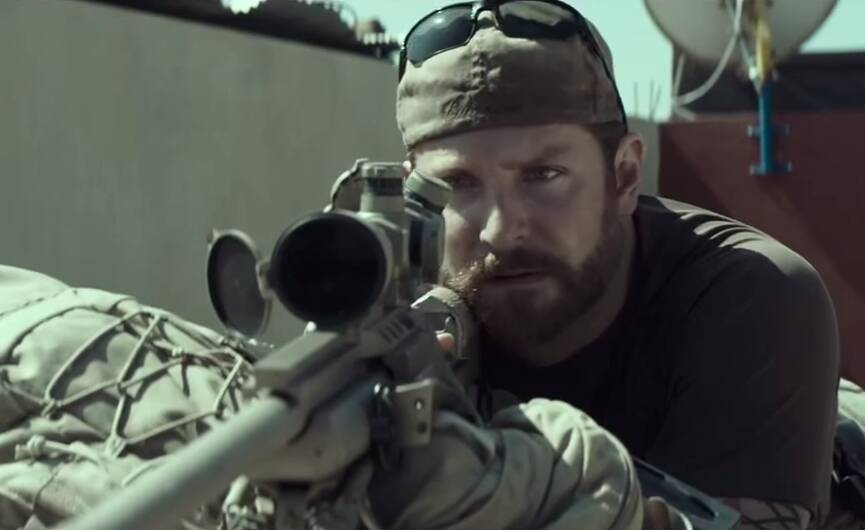 First post­ed at Wag­ing Nonviolence.
Chris Kyle didn't view Iraq like me and Garett, but neither of us have attacked him for it. He's not the problem. We don't care about the lies that Chris Kyle may or may not have told. They don't matter. We care about the lies that Chris Kyle believed. The lie that Iraq was culpable for September 11. The lie that there were weapons of mass destruction in Iraq. The lie that people do evil things because they are evil.
After watch­ing the movie Amer­i­can Sniper, I called a friend named Garett Rep­pen­hagen who was an Amer­i­can sniper in Iraq. He deployed with a cav­al­ry scout unit from 2004 to 2005 and was sta­tioned near FOB Warhorse. I asked him if he thought this movie real­ly mat­tered. ​"Every por­tray­al of a his­tor­i­cal event should be his­tor­i­cal­ly accu­rate," he explained. ​"A movie like this is a cul­tur­al sym­bol that influ­ences the way peo­ple remem­ber his­to­ry and feel about war."
Garett and I met through our anti­war and vet­er­an sup­port work, which he's been involved with for almost a decade. He served in Iraq. I served in Afghanistan. But both of us know how pow­er­ful mass media and mass cul­ture are. They shaped how we thought of the wars when we joined, so we felt it was impor­tant to tell our sto­ries when we came home and spoke out.
I com­mend Chris Kyle for telling his sto­ry in his book Amer­i­can Sniper. The scari­est thing I did while in the mil­i­tary was come home and tell my sto­ry to the pub­lic — the good, the bad and the ugly. I feel that vet­er­ans owe it to soci­ety to tell their sto­ries, and civil­ians owe it to vet­er­ans to active­ly lis­ten. Dr. Ed Tick, a psy­chother­a­pist who has spe­cial­ized in vet­er­an care for four decades, explains, ​"In all tra­di­tion­al and clas­si­cal soci­eties, returned war­riors served many impor­tant psy­choso­cial func­tions. They were keep­ers of dark wis­dom for their cul­tures, wit­ness­es to war's hor­rors from per­son­al expe­ri­ence who pro­tect­ed and dis­cour­aged, rather than encour­aged, its out­break again."
Chris Kyle didn't view Iraq like me and Garett, but nei­ther of us have attacked him for it. He's not the prob­lem. We don't care about the lies that Chris Kyle may or may not have told. They don't mat­ter. We care about the lies that Chris Kyle believed. The lie that Iraq was cul­pa­ble for Sep­tem­ber 11. The lie that there were weapons of mass destruc­tion in Iraq. The lie that peo­ple do evil things because they are evil.
The film Amer­i­can Sniper is also rife with lies. This was not Chris Kyle's sto­ry. And Bradley Coop­er was not Chris Kyle. It was Jason Hall's sto­ry, a one-time actor in ​"Buffy the Vam­pire Slay­er" and screen­writer for ​"Amer­i­can Sniper," who called his film a ​"char­ac­ter study." Don't believe him. His movie is as fic­tion­al as Buffy Summers.
In the movie's first scene, Coop­er faces a moral dilem­ma that nev­er hap­pened in real life. Coop­er sus­pects a boy is prepar­ing to send an impro­vised explo­sive device, or IED, toward a con­voy of approach­ing Marines on the streets of Fal­lu­jah. Either he kills a child or the child kills Marines. A sol­dier next to Coop­er warns, ​"They'll send your ass to Leav­en­worth if you're wrong." In writ­ing this line, Hall implies that killing civil­ians is a war crime and U.S. mil­i­tary mem­bers are sent to prison for it. If U.S. sol­diers, includ­ing Kyle, don't seem to be get­ting pun­ished for killing civil­ians, then they must not be killing civilians.
Garett and I agreed that even if that boy was a civil­ian, noth­ing would have hap­pened to Coop­er for shoot­ing him. Both of us were trained to take detailed notes with the under­stand­ing that if some­thing went wrong, it would be cor­rect­ed in the report. Amer­i­cans were respon­si­ble for thou­sands of Iraqi deaths and almost none were held accountable.
Dur­ing one inci­dent in Iraq, Garett was involved in a fire­fight that left six to sev­en civil­ians dead. He received his orders from an intel­li­gence offi­cer who got his intel­li­gence wrong. He led Garett and a small con­voy to an Iraqi deputy governor's com­pound, which was sup­pos­ed­ly under attack. As the con­voy approached, the sol­diers spot­ted a clus­ter of trucks with armed Iraqis. The armed Iraqis saw the Amer­i­can con­voy inch­ing clos­er, but they didn't fire. It seemed obvi­ous to Garett that these Iraqis were not who the intel­li­gence offi­cer was look­ing for. Then the offi­cer screamed, ​"Fire!" Con­fused, no one in the con­voy pulled their trig­gers. ​"I said fire god­damn it!" Some­one fired, and all hell broke loose. In the ensu­ing chaos, one of the Iraqi trucks struck a civil­ian seek­ing cov­er on the side­walk. As it turned out, those armed Iraqis were the deputy governor's own secu­ri­ty detail. The offi­cer didn't go to Leavenworth.
In Hall and Cooper's Fal­lu­jah, it's as if the Amer­i­cans just found a city that was already laid to waste. The movie leaves out America's bom­bard­ment of Fal­lu­jah. An offi­cer explains that the city has been evac­u­at­ed, so any mil­i­tary-aged male remain­ing must be an insur­gent. Con­ve­nient­ly, every Iraqi that Coop­er kills hap­pens to be car­ry­ing a rifle or bury­ing an IED, even though the real Chris Kyle wrote that he was told to shoot anymil­i­tary-aged male. Obvi­ous­ly, every non-insur­gent did not evac­u­ate Fallujah.
"Many Iraqis didn't have cars or oth­er trans­porta­tion," Garett explained. ​"To get to the near­est town, you'd have to walk across very hot desert, and you wouldn't be able to car­ry much. So a lot of res­i­dents just decid­ed to stay indoors and wait it out. It'd be like telling peo­ple in San Anto­nio that they have to walk to El Paso; then they come back home and their city is bombed and con­t­a­m­i­nat­ed with deplet­ed uranium."
So what brought Bradley Cooper's char­ac­ter to Iraq? Ear­ly in the film, Hall sets the stage for the moral theme of the movie. When Coop­er was a child he sat at a kitchen table with his father, who explained that there are only three types of peo­ple in the world: sheep who believe ​"evil doesn't exist," wolves who prey on the sheep, and sheep­dogs who are ​"blessed with aggres­sion" and pro­tect the sheep. In this world, when Coop­er watch­es the 1998 U.S. embassy bomb­ings on tele­vi­sion, there is only one expla­na­tion: just evil wolves being evil. So he joins the mil­i­tary. When Coop­er watch­es Sep­tem­ber 11 on tele­vi­sion, there is one expla­na­tion: just evil wolves being evil. So he goes to war with them.
Amaz­ing­ly, Hall and Cooper's war seems to have absolute­ly noth­ing to do with weapons of mass destruc­tion. It's about al-Qai­da, which in real life fol­lowed the Unit­ed States into Iraq after we invad­ed. Cooper's war also seems to have noth­ing to do with help­ing Iraqis, only killing them. Except for the military's inter­preters, every Iraqi in the movie — includ­ing the women and chil­dren — are either evil, butcher­ing insur­gents or col­lab­o­ra­tors. The sense is that there isn't a sin­gle inno­cent Iraqi in the war. They're all ​"sav­ages."
Final­ly, it seems that a voice of crit­i­cism will be heard through the char­ac­ter of Marc Lee. When Lee voic­es his skep­ti­cism, Coop­er asks, ​"Do you want them to attack San Diego or New York?" Coop­er some­how wins with that absurd ques­tion. Lat­er in the film, Navy SEAL Ryan Job is shot in the face. Dis­traught, Coop­er decides he should lead a group of SEALs back out to avenge Job's death, which is por­trayed as the hero­ic thing to do. While Lee and Coop­er are clear­ing a build­ing, an Iraqi sniper shoots Lee in the head. The audi­ence is then at Lee's funer­al, where his moth­er is read­ing the last let­ter that Lee sent home express­ing crit­i­cism of the war. On the road home, Cooper's wife asks him what he thought about the let­ter. ​"That let­ter killed Marc," Coop­er responds. ​"He let go, and he paid the price for it." What makes Coop­er a hero, accord­ing to the film, is that he's a sheep­dog. In Jason Hall's world, Lee stops being a sheep­dog when he ques­tions his actions in Iraq. He becomes a sheep, ​"and he paid the price for it" with a bul­let from a wolf.
Hall claims his film is a char­ac­ter study, yet he shame­less­ly butchered Marc Lee's real sto­ry (and part of Kyle's) to pro­mote his moral fan­ta­sy world and deny legit­i­ma­cy to vet­er­ans crit­i­cal of the war. Here's the truth: On the day that the real Ryan Job was shot, the real Marc Lee died after step­ping into the line of fire twice to save Job's life, which appar­ent­ly was either not ​"sheep­dog" enough to por­tray accu­rate­ly in the movie or would have tak­en the focus off of Cooper's reck­less hero­ics. You can't have peo­ple believe that crit­i­cal sol­diers are actu­al­ly not sheep, can you? And as it turns out, Kyle nev­er said those things about Lee's let­ter and nev­er blamed Lee for his own death for being skep­ti­cal of the war. (Here is Marc Lee's actu­al last let­ter home in full.)
Chris Kyle was like so many sol­diers who served in Iraq and Afghanistan. He believed in doing the right thing and was will­ing to give his life for it. That trait that dri­ves many vet­er­ans is a tru­ly spe­cial one I wish we all had. Was Kyle wrong that the Iraq War had any­thing to do with Sep­tem­ber 11, pro­tect­ing Amer­i­cans, seiz­ing weapons of mass destruc­tion, or lib­er­at­ing Iraqis? With­out a doubt. But that's what he was told and he gen­uine­ly believed it — an impor­tant insight into how good peo­ple are dri­ven to work for bad caus­es. Was Kyle wrong for call­ing Iraqis ​"sav­ages"? Of course. In one inter­view, he admits that Iraqis prob­a­bly view him as a ​"sav­age," but that in war he need­ed to dehu­man­ize peo­ple to kill them — anoth­er impor­tant insight into how humans tol­er­ate killing, which was left out of the movie.
So enough about Chris Kyle. Let's talk about Coop­er and Hall, and the cul­ture indus­try that recy­cles pro­pa­gan­dis­tic fic­tion under the guise of a ​"true sto­ry." And let's focus our anger and our orga­niz­ing against the author­i­ties and the insti­tu­tions that craft the lies that the Chris Kyles of the world believe, that have cre­at­ed a trail of blow­back lead­ing from dumb war to dumb war, and that have sent 2.5 mil­lion vet­er­ans to fight a ​"war on ter­ror" that per­sists in Iraq, Afghanistan, Yemen, Syr­ia and Pak­istan. Crit­ics and non­vi­o­lent orga­niz­ers can be sheep­dogs too.
Brock McIn­tosh
served eight years in the Army Nation­al Guard as a com­bat MP, includ­ing a tour in Afghanistan from
2008
to
2009
. He is a mem­ber of Iraq Vet­er­ans Against the War and has been involved in numer­ous vet­er­an sup­port and advo­ca­cy orga­ni­za­tions. He is cur­rent­ly a Har­ry S. Tru­man Schol­ar pur­su­ing an MPA at New York University.