American Workers: Shackled to Labor Law
Does the National Labor Relations Act do more harm than good?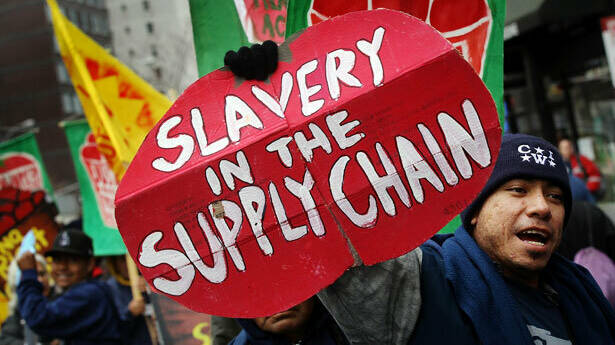 Repub­li­cans hate the Nation­al Labor Rela­tions Board. But they're not the only ones. In speech­es to work­ers and tes­ti­mo­ny in Con­gress in the ​'80s and ​'90s, then-AFL-CIO Pres­i­dent Lane Kirk­land repeat­ed­ly declared that union mem­bers would be bet­ter served by ​"the law of the jun­gle." Some union pres­i­dents agreed, includ­ing Richard Trum­ka, who now heads the AFL-CIO. In 1987, Trum­ka called for abol­ish­ing both the law's ​"pro­vi­sions that ham­string labor" and ​"the affir­ma­tive pro­tec­tions of labor that it promis­es but does not deliver."
Some of labor's dramatic victories in recent years have come from organizations that, by choice or necessity, operate outside of the protections and prohibitions of labor law.
In oth­er words, it's not just Mitt Rom­ney who argues the Nation­al Labor Rela­tions Board – which inter­prets and enforces labor law – does more harm than good.
That's in part because the Nation­al Labor Rela­tions Act (NLRA), as amend­ed by Con­gress and inter­pret­ed by the courts, bans or restricts labor's most effec­tive tac­tics. The occu­pa­tions of work­places that fueled momen­tum for the NLRA, passed by Con­gress in 1935, are now ille­gal under it. The aggres­sive strikes – shut­ting down work­places or even entire cities – that forged the mod­ern labor move­ment have large­ly been replaced with strikes that are essen­tial­ly sym­bol­ic. While anti-choice groups can tar­get Planned Par­ent­hood by pres­sur­ing the Komen Foun­da­tion not to fund it, and pro­gres­sives can hurt Rush Lim­baugh by call­ing on adver­tis­ers to drop his show, unions face unique legal restric­tions on mount­ing equiv­a­lent ​"sec­ondary boy­cott" cam­paigns that spread a strug­gle through­out a sup­ply chain.
Of course, when Repub­li­can pres­i­den­tial can­di­dates bash the NLRB, it's for restrict­ing busi­ness, not unions. On paper, the NLRA actu­al­ly com­mits the gov­ern­ment ​"to pro­mote col­lec­tive bar­gain­ing" and requires most com­pa­nies to rec­og­nize and nego­ti­ate with unions that win elec­tions. It made it ille­gal for com­pa­nies to spy on, threat­en or retal­i­ate against work­ers for union activism or oth­er ​"con­cert­ed activity."
But real­i­ty has proven to be a dif­fer­ent sto­ry. ​"This labor law is a scam," says Lar­ry Cohen, pres­i­dent of the Com­mu­ni­ca­tions Work­ers of Amer­i­ca. ​"It is garbage. … It's a fuck­ing lie."
Get­ting around a fail­ing law
Dur­ing an orga­niz­ing dri­ve, man­agers can legal­ly hold manda­to­ry anti-union meet­ings in which they pre­dict that union­iza­tion would shut down the com­pa­ny. Even when work­ers win a union elec­tion, 52 per­cent of the time they haven't won a union con­tract a year lat­er, because man­agers can legal­ly sab­o­tage union con­tract nego­ti­a­tions by refus­ing to con­cede any­thing. If a union con­tract is in place, once it's up for re-nego­ti­a­tion man­agers can legal­ly lock out union mem­bers, deny­ing them any work until they accept a worse con­tract or vote out the union.
And com­pa­nies don't restrict them­selves to these legal union-bust­ing tac­tics. In 57 per­cent of union elec­tions, employ­ers threat­en to shut down the work­site. In 34 per­cent, they fire union activists. When a union activist is ille­gal­ly fired, it's dif­fi­cult to prove that the fir­ing was retal­ia­to­ry – and even if the gov­ern­ment sides with the union, gen­er­al­ly the worst that can hap­pen to man­age­ment is being forced to rein­state the work­er with back pay. This process often takes years, which can be more than enough time to quash an orga­niz­ing cam­paign. Fred Fein­stein, who served under Pres­i­dent Clin­ton as the NLR­B's top pros­e­cu­tor, says the penal­ties avail­able against employ­ers ​"don't pro­vide any deter­rence" for com­pa­nies set on break­ing a union.
Efforts to reform this legal imbal­ance have been fail­ing for decades. Where labor is suc­ceed­ing, it's often in spite of or out­side of the law, not because of it. Major unions have aban­doned gov­ern­ment-run elec­tions in favor of ​"com­pre­hen­sive cam­paigns" that lever­age some com­bi­na­tion of work­er, con­sumer, media and polit­i­cal pres­sure to extract agree­ments from com­pa­nies not to ter­ror­ize or stonewall. By block­ing tracks, spilling grain, and defy­ing a restrain­ing order in Longview, Wash., mem­bers of the Inter­na­tion­al Long­shore and Ware­house Union (with help from Occu­py) beat back a com­pa­ny's attempt to do their jobs with­out them. Oth­er labor orga­ni­za­tions – like the Nation­al Domes­tic Work­ers Alliance, or ​"work­ers' cen­ters" – are grow­ing and achiev­ing vic­to­ries through activism with­out iden­ti­fy­ing as unions at all.
​"The major­i­ty of our work in Jus­tice for Jan­i­tors was try­ing to fig­ure out how to nego­ti­ate around the sec­ondary boy­cott laws," says Stephen Lern­er, the archi­tect of that cam­paign for the Ser­vice Employ­ees Inter­na­tion­al Union. In the Jus­tice for Jan­i­tors cam­paign, labor law restrict­ed the Ser­vice Employ­ees union (SEIU) from tar­get­ing build­ing own­ers, even though they – rather than the con­trac­tors who tech­ni­cal­ly employed the jan­i­tors – were the real decision-makers.
Some of labor's dra­mat­ic vic­to­ries in recent years have come from orga­ni­za­tions that, by choice or neces­si­ty, oper­ate out­side of the pro­tec­tions and pro­hi­bi­tions of labor law. Long­time farm work­er Ger­ar­do Reyes works for one such orga­ni­za­tion, the Coali­tion of Immokalee Work­ers (CIW). The Flori­da-based group does­n't iden­ti­fy itself as a union, it does­n't seek recog­ni­tion as one by man­age­ment or by the gov­ern­ment, and it does­n't nego­ti­ate union con­tracts. But CIW has extract­ed ​"Fair Food" agree­ments from the grow­ers who direct­ly employ farm work­ers. CIW has won and defend­ed agree­ments with the grow­ers by pres­sur­ing – and some­times boy­cotting – well-known com­pa­nies at the oth­er end of the sup­ply chain. In Feb­ru­ary, fol­low­ing a mul­ti-year cam­paign, CIW achieved an agree­ment with Trad­er Joe's under which the com­pa­ny will only buy toma­toes from grow­ers fol­low­ing ​"Fair Food" rules.
For farm work­ers under CIW agree­ments, says Reyes, ​"it is bet­ter as it is right now" than it would be under the NLRA. ​"Would we be bet­ter off if work­ers in Flori­da or in the entire nation were cov­ered? It's hard to tell, because that's not our real­i­ty … so we just work with what we have."
A sober­ing debate
Oth­ers argue that strip­ping away labor law would leave unions far worse off – not because cur­rent law removes the need for aggres­sive work­er activism, but because with­draw­ing the for­mal pro­tec­tion for union activ­i­ty would make such activism much hard­er to pull off.
​"If we took away the NLRA right now," says Cor­nell Uni­ver­si­ty Labor Edu­ca­tion Direc­tor Kate Bron­fen­bren­ner, labor ​"would lose the pro­tec­tions that they do have when employ­ers try to break unions." While harsh­ly crit­i­cal of the cur­rent labor law régime, Bron­fen­bren­ner sug­gests that labor lead­ers may use it as a scape­goat in an era of declin­ing union­iza­tion. ​"It is not like unions are using the pow­er they have" under cur­rent law, says Bron­fen­bren­ner, who thinks labor should aggres­sive­ly build coali­tions, mount anti-cor­po­rate cam­paigns and nur­ture work­place activism.
Yet the fact is, if a union want­ed to test its luck with few­er legal restric­tions on strikes and boy­cotts and no legal right to recog­ni­tion or nego­ti­a­tions, it could do so right now by legal­ly dis­solv­ing itself and re-con­sti­tut­ing as some­thing more like the CIW. His­to­ri­an and New Labor Forum edi­tor-at-large Steve Fras­er argues that the down­side of the NLRA may be less in the explic­it restric­tions it enforces than in the way its exis­tence has ​"locked the trade union move­ment into a juridi­cal way of pro­ceed­ing" and made it ​"doubt oth­er tactics."
The law is unlike­ly to change, argues Lern­er, as long as politi­cians ​"think the con­se­quence of not hav­ing labor law reform is there's no con­flict" with the pow­ers that be (both cor­po­rate and polit­i­cal). ​"We're more like­ly to get labor law reform if we're out there mass orga­niz­ing the pri­vate sec­tor and demon­strat­ing the need." To fix the law, he argues, we need con­di­tions like the ones that birthed it: hun­dreds of thou­sands of work­ers push­ing against – and beyond – the lim­its of cur­rent law by orga­niz­ing, occu­py­ing or going on strike. It takes ​"ammu­ni­tion," says Lern­er, ​"to prove … there's a cri­sis that needs to be fixed."
Josh Eidel­son
is a free­lance writer and a con­trib­u­tor at In These Times, The Amer­i­can Prospect, Dis­sent, and Alter­net. After receiv­ing his MA in Polit­i­cal Sci­ence, he worked as a union orga­niz­er for five years. His web­site is http://​www​.joshei​del​son​.com.Twit­ter: @josheidelsonE‑mail: ​
"
jei­del­son" at ​
"
gmail" dot com.