Americans Clearly Aren't Buying into Democrats' Empty Economic Promises
The Democrats have failed to put forward a program that offers real improvement in the average person's life.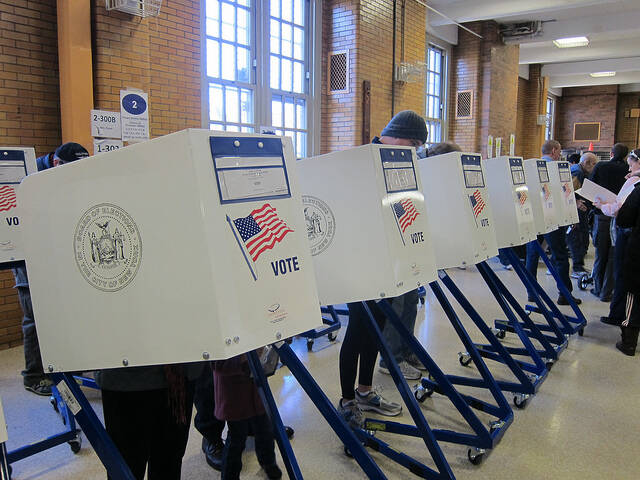 It looks like the Democ­rats have tak­en anoth­er shel­lack­ing in the con­gres­sion­al elec­tions this week. Part of this is due to fac­tors like the nor­mal falloff in vot­ing in a non-pres­i­den­tial year and the weari­ness with a pres­i­dent after six years in office, which tends to cause the elec­torate to sup­port the oppos­ing party.
Unfortunately, the Democratic Party seems to be controlled by economics denialists. This has prevented it from having a coherent economic message.
How­ev­er, part of the rea­son for the shel­lack­ing is the Democ­rats' refusal to address the eco­nom­ic issues that trou­ble most of the pub­lic. As folks know who are either famil­iar with the data or live in the real world, the econ­o­my is still bad for most peo­ple. Pres­i­dent Oba­ma can right­ly say that he inher­it­ed a mess from his pre­de­ces­sor, but at some point that does get old. He can also hon­est­ly blame the Repub­li­cans in Con­gress who have eager­ly pro­claimed their oppo­si­tion to any eco­nom­ic pro­pos­al that does­n't have the pri­ma­ry pur­pose of mak­ing the rich even richer.
While the grim real­i­ty can offer legit­i­mate excus­es, the Democ­rats still suf­fered from the fact that they did­n't have a real eco­nom­ic agen­da for the bulk of the pop­u­la­tion. The Repub­li­cans at least have a clear agen­da. Every­one knows if they get back in con­trol they will give every­thing left on the table to the rich­est 1 per­cent. But what would the Democ­rats do?
We do know they would raise the min­i­mum wage. This is good pol­i­cy to get more mon­ey in the pock­ets of low income work­ers who can bad­ly use a raise. It is also pop­u­lar. Polls reg­u­lar­ly show that large majori­ties of peo­ple across the polit­i­cal spec­trum sup­port increas­ing the min­i­mum wage.
Still, a high­er min­i­mum wage does­n't offer any­thing to the bulk of the labor force whose wages will not be affect­ed by plau­si­ble increas­es in the min­i­mum wage. To these peo­ple the Democ­rats offered noth­ing but emp­ty rhetoric and the pub­lic was­n't stu­pid enough to buy it.
There is no short­age of poli­cies that the Democ­rats could be push­ing which would help ordi­nary work­ers. To start with one that fea­tures promi­nent­ly in the busi­ness press, the Democ­rats could take a strong posi­tion behind an expan­sion­ary mon­e­tary pol­i­cy from the Fed­er­al Reserve Board.
This means strong oppo­si­tion to rate increas­es until there is clear evi­dence of inflation.
The Fed is inde­pen­dent and has to make its own calls, but it would help them make the right calls if they know that there are many in Con­gress who are pre­pared to insist the Fed fol­low its man­date for main­tain­ing high employ­ment. The Fed faces intense pres­sure from the finan­cial indus­try to pounce on any hint of inflation.
The finan­cial indus­try wants the Fed to raise inter­est rates to keep unem­ploy­ment high and pre­vent work­ers from gain­ing bar­gain­ing pow­er. It would be a nice switch if Democ­rats stood could say in pub­lic that the Fed should allow work­ers to get jobs and to gain some bar­gain­ing power.
Anoth­er switch would be if the Democ­rats could talk seri­ous­ly about the trade deficit. Talk of restor­ing ​"com­pet­i­tive­ness" is cute, but basi­cal­ly com­plete non­sense. No one in either par­ty has any pro­pos­al that will make more than a mar­gin­al dif­fer­ence in the pro­duc­tiv­i­ty of the U.S. econ­o­my any time in the near future.
If we want to get the trade deficit down then we have to get the val­ue of the dol­lar down against the cur­ren­cies of our trad­ing part­ners. And this is not a ques­tion of beat­ing them up for ​"manip­u­lat­ing" their cur­ren­cy. It is a ques­tion of nego­ti­at­ing where we give up things like enforce­ment of Microsoft­'s copy­rights or Pfiz­er's patent monop­o­lies in exchange for a low­er val­ued dol­lar, and there­fore more bal­anced trade.
Democ­rats also should be able to speak sim­ple truths about nation­al income account­ing instead of being afraid in the way that Repub­li­cans are scared to open­ly endorse the the­o­ry of evo­lu­tion. If we have a large trade deficit, the only ways we can get to poten­tial GDP is either through asset bub­bles that pump up invest­ment and con­sump­tion or through gov­ern­ment deficits. Like evo­lu­tion, this is true.
Unfor­tu­nate­ly, the Demo­c­ra­t­ic Par­ty seems to be con­trolled by eco­nom­ics denial­ists. This has pre­vent­ed it from hav­ing a coher­ent eco­nom­ic message.
Final­ly, a Demo­c­ra­t­ic Par­ty that hopes to have an appeal­ing eco­nom­ic mes­sage for ordi­nary work­ers has to be pre­pared to attack Wall Street. This is not an abstrac­tion. If the indus­try was forced to pay the same sort of tax­es as oth­er indus­tries, as even the I.M.F. now advo­cates, and we broke up the big banks, it would go far towards end­ing the finan­cial sec­tor's drain on the rest of the econ­o­my. It would also go far toward reduc­ing inequality.
In short, it is not sur­pris­ing that vot­ers were not hap­py with the Democ­rats. They did not have a pro­gram that offers real improve­ment in the aver­age per­son­'s life. And the mes­sage that the oth­er guy is worse appar­ent­ly did not cut it this year.