How the New York Times' Budget Coverage Keeps the Public in the Dark
Numbers without any context only serve to mislead the reader.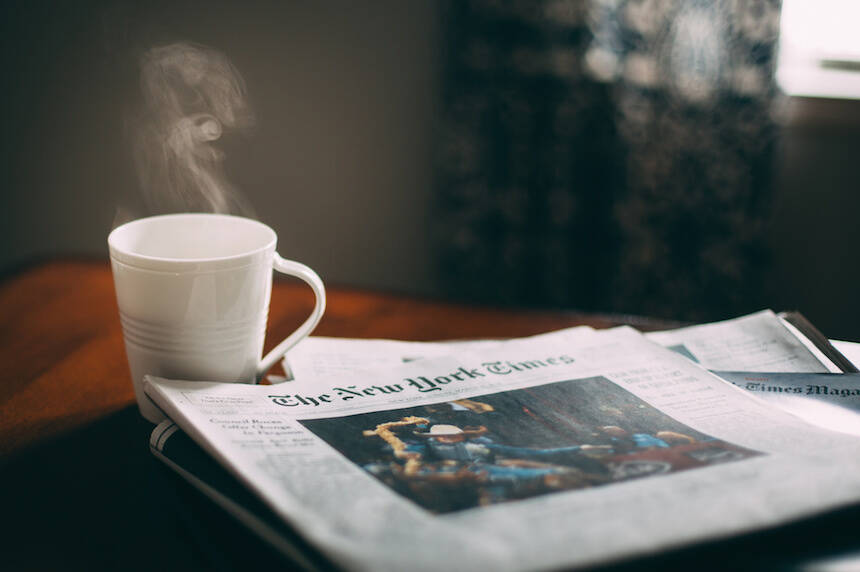 This piece was orig­i­nal­ly pub­lished at the Cen­ter for Eco­nom­ic and Pol­i­cy Research.
The media could do a much better job of informing the public about spending if they made a point of putting these figures in context.
Paul Krug­man crit­i­cized the Trump admin­is­tra­tion for its bud­get, which would cut or elim­i­nate many pro­grams that ben­e­fit low- and mod­er­ate-income peo­ple. In his piece, Krug­man points out that the pub­lic is incred­i­bly igno­rant on the bud­get, with most peo­ple hav­ing vir­tu­al­ly no idea of where most spend­ing goes.
In par­tic­u­lar, he ref­er­enced an analy­sis that found peo­ple on aver­age believed we spend more than 30 per­cent of the bud­get on for­eign aid. The actu­al fig­ure is less than one percent.
This is the sort of item that inevitably leads peo­ple to deplore the igno­rance of the mass­es. While igno­rance is deplorable, instead of blam­ing the mass­es, we might more appro­pri­ate­ly look at the elites.
The over­whelm­ing major­i­ty of peo­ple are nev­er going to look at a bud­get doc­u­ment. Inso­far as they get any infor­ma­tion on the bud­get, it is from reporters who tell them how much we spend in var­i­ous areas of the bud­get. (They may get this infor­ma­tion indi­rect­ly from their friends who read the news­pa­per or lis­ten to news.)
When they hear about spend­ing, they will invari­ably hear things like we spend $40 bil­lion a year on for­eign aid or $17.3 bil­lion on Tem­po­rary Assis­tance for Needy Fam­i­lies (TANF). Most peo­ple will think these fig­ures are large sums, since they dwarf the sums that peo­ple see in their dai­ly lives. In fact, the for­mer is less than one per­cent of the $4.1 tril­lion that we will spend in 2017, while the lat­ter is just over 0.4 per­cent of total spending.
The media could do a much bet­ter job of inform­ing the pub­lic about spend­ing (i.e. by doing their job) if they made a point of putting these fig­ures in con­text. As it is, giv­ing peo­ple these real­ly huge num­bers with­out con­text is essen­tial­ly telling them noth­ing. As an alter­na­tive, they could make a point of always refer­ring to these num­bers as a share of the bud­get and/​or express­ing them on a per per­son basis (e.g. the spend­ing on TANF comes to a bit more than $50 per per­son per year from every per­son in the country).
I have harangued reporters on this point for decades. No reporter has ever tried to argue that any sig­nif­i­cant share of their audi­ence had any idea of what these large bud­get num­bers mean. Yet, the prac­tice persists.
I thought I had scored a big vic­to­ry in this effort a few years back when Mar­garet Sul­li­van, who was then pub­lic edi­tor of the New York Times, wrote a strong piece com­plete­ly agree­ing with the need to express bud­get num­bers in con­text. She got David Leon­hardt, the NYT's Wash­ing­ton edi­tor at the time, to agree as well.
This seemed to indi­cate that the paper would change its pol­i­cy on bud­get report­ing. Giv­en the enor­mous impor­tance of the NYT, as the nation's pre­em­i­nent news­pa­per, such a change would have a sub­stan­tial impact on report­ing else­where. This was a huge deal, which I cel­e­brat­ed at the time.
But no, the NYT did not change its prac­tice. It con­tin­ued to report real­ly big num­bers, with­out any con­text, which every­one knows are mean­ing­less to the vast major­i­ty of even its well-edu­cat­ed readership.
Okay, so the mass­es are igno­rant about the bud­get. I and oth­er econ­o­mist nerd types would like the pub­lic to have more knowl­edge about our area of exper­tise. But the child care work­er who spent her day deal­ing with out-of-con­trol three-year-olds, or the bus dri­ver who was tied up in traf­fic for eight hours, is not going to come home and start look­ing at bud­get doc­u­ments from the Con­gres­sion­al Bud­get Office.
At most, these peo­ple will spend a few min­utes read­ing the arti­cle about the bud­get in their local paper or lis­ten­ing to a short sto­ry on the evening news. If these sources just give them real­ly big num­bers, with­out any con­text, how is the pub­lic sup­posed to know about the budget?
Look, I under­stand that we have racists who want to believe that all their tax dol­lars are going to good for noth­ing dark-skinned peo­ple and that many of them would believe this regard­less of what facts they are pre­sent­ed with. How­ev­er, we have plen­ty of non-racists who also believe some­thing like this because they hear that we spend real­ly big num­bers on TANF, food stamps, and oth­er pro­grams that help low-income people.
We can point fin­gers at the racists and denounce their racism and stu­pid­i­ty if that makes us feel good. But a more pro­duc­tive path would be to change what we should be able to change. We should be able to get reporters to do their jobs and report bud­get num­bers in a way that mean some­thing to their audi­ence. What's the prob­lem here?