Derek Chauvin and Amy Cooper Are One and The Same
Bogus allegations waged by white women are just as dangerous as police brutality—and come from the same callous privilege.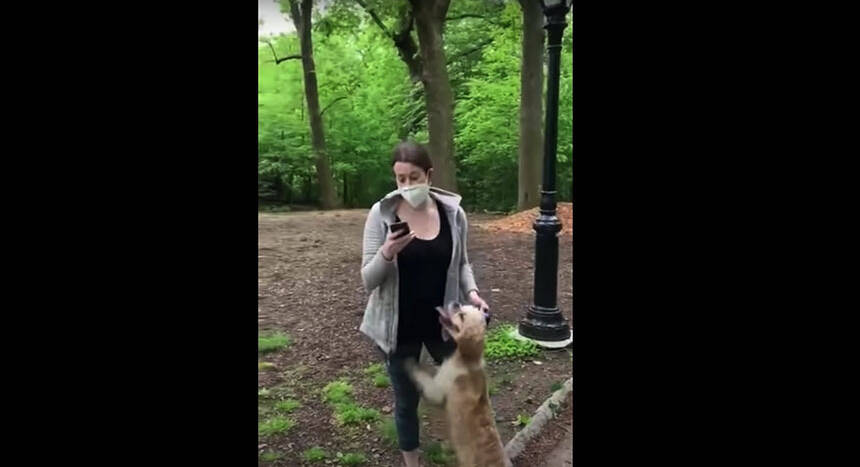 The morn­ing after protests and riots first erupt­ed over the heartwrench­ing video­tape of George Floy­d's death at the hand of rogue Min­neso­ta police offi­cer Derek Chau­vin, I post­ed to Face­book a stock pho­to of a ran­dom petite white woman, danc­ing in place, her arms raised in cel­e­bra­tion. Beneath it, I wrote: ​"Amy Coop­er last night."
Days before, a video had gone viral of Amy, a white woman, com­mit­ting ver­bal assault — call­ing the police on a Black man in Cen­tral Park who'd asked her to leash her dog in accor­dance with park rules. She'd claimed he was threat­en­ing her life.
As anguish and rage explod­ed on the streets of Amer­i­ca and across the globe, I imag­ined Amy watch­ing the unrest on her flat screen TV, curled up on the sofa of her posh apart­ment, smil­ing smug­ly; an organ­ic snack in hand. I sus­pect­ed that she was relieved that the brief fall­out she'd faced, includ­ing the media atten­tion that pur­port­ed­ly ​"destroyed" her life, had sud­den­ly become eclipsed by the round-the-clock atten­tion now being giv­en in the wake of Mr. Floyd's mod­ern-day lynch­ing record­ed in all its gore for the world to see.
The news cycle had moved on, and right­ful­ly so, but I hadn't. Even as my heart ached for Mr. Floyd and his fam­i­ly, espe­cial­ly his 6‑year-old daugh­ter, I found my mind drift­ing back to Amy. I couldn't shake the dis­ap­point­ment and anger, that she some­how would get the priv­i­lege of slip­ping back into obscu­ri­ty, almost com­plete­ly unchecked for her heinous crime. Sure she'd report­ed­ly lost a job and, briefly, her dog, but that pales in com­par­i­son to what could have hap­pened to Chris­t­ian Coop­er (no rela­tion), the vic­tim of her cal­cu­lat­ed assault, had they both remained on the scene when NYPD offi­cers arrived. She deserved so much more castigation.
As Yusef Salaam, a Black man who along with four oth­er Black and Lati­no men, spent years in prison before being exon­er­at­ed for a rape of a white woman in the very same park 30 years ago, recent­ly put it in an inter­view: Amy should be ​"made an exam­ple of … because nev­er again should that be allowed." I agree. I've had the priv­i­lege of inter­view­ing Salaam about his now-infa­mous case and the pas­sion he con­veyed about Amy is palpable.
You see to me, and many Black peo­ple, Derek Chau­vin and Amy Coop­er are one and the same. Their actions demon­strate that they each share an inabil­i­ty to acknowl­edge the human­i­ty of Black peo­ple; that they believe that Black peo­ple, espe­cial­ly Black men, are not deserv­ing of the same dig­ni­ty or respect that white peo­ple are grant­ed as a birthright. Their respec­tive actions, in my view, con­firm that when giv­en the oppor­tu­ni­ty, they'll exert what­ev­er pow­er they hold in the world over a Black life, what some call white priv­i­lege, com­plete­ly uncon­cerned or unaf­fect­ed by the con­se­quences that their actions may impose. Chau­vin, of course, is a sworn pub­lic ser­vant indebt­ed to the tax­pay­ing pub­lic, but enti­tled white women like Amy are to some degree more dan­ger­ous because they're account­able to no one.
Mr. Coop­er man­aged to walk out of Cen­tral Park alive, but had Amy had her way, he very well could have met the same fate as Mr. Floyd. As a grown woman liv­ing in a major U.S. city, she had to be well aware of the con­tentious rela­tion­ship between the Black com­mu­ni­ty and law enforce­ment; in the heat of the moment, how­ev­er, she sim­ply did not care. She, like so many oth­ers before her, wan­ton­ly weaponized her white­ness, as if to say: How dare this Black man have the audac­i­ty to demand that I, a white woman, fol­low park rules?
Her feel­ings were appar­ent in her Oscar-wor­thy per­for­mance, which Mr. Coop­er thank­ful­ly had the fore­thought to video; the way she cal­lous­ly threat­ened to call ​"the cops" and ​"tell them there's an African Amer­i­can man threat­en­ing my life." By then she was so wrapped up in her own the­atrics, that she near­ly stran­gled her dog as he became entan­gled in his leash. Her motives were fur­ther dis­played after she made good on her threat and dialed 911. When the dis­patch­er did not seem alarmed enough about her bogus claims, she raised the stakes a bit high­er, strate­gi­cal­ly tran­si­tion­ing into a high-pitched shriek.
White women like Amy are the rea­son we know Emmett Till, ​"The Scotts­boro Boys" case in Alaba­ma and the infa­mous Tul­sa upris­ing in Okla­homa. All of those trag­i­cal­ly vio­lent and destruc­tive inci­dents were ignit­ed by white women hurl­ing false alle­ga­tions against Black men.
Fast for­ward to today, and Amy Coop­ers still abound. Look no fur­ther than Dal­las cop Amber Guyger, who in 2018 gunned down Black church choir leader and accoun­tant Both­am Jean inside his own home. Her tear­ful, dra­mat­ic per­for­mance in court, almost as impres­sive as Amy Cooper's, earned her a hug from a pre­sid­ing judge, a teary-eyed solil­o­quy from her victim's griev­ing broth­er, and a hair stroke from a Black woman bailiff (lat­er declared a ​"con­tra­band search") rem­i­nis­cent of one of those cringe-wor­thy scenes between Miss Scar­lett and Mam­my. And this was after Guyger had been convicted.
Sev­er­al pro­fes­sion­al Black men I know, who remind me in many ways of the Har­vard-edu­cat­ed bird watch­er Mr. Coop­er, have con­fid­ed in me since the Cen­tral Park inci­dent that while they fear law enforce­ment, women like Amy fright­en them more. In fact, Black men I know, even at the high­est ech­e­lons of cor­po­rate Amer­i­ca, have admit­ted to me pri­vate­ly that to this day, yes in 2020, that they avoid being alone with white female co-work­ers and leave their office doors propped open dur­ing what would nor­mal­ly be pri­vate closed-door meet­ings. Some say they even avoid dat­ing white women— even ones they're attract­ed to — out of fear of what she could say or do to them if things some­how didn't work out.
I am elat­ed that in the wake of Amy's out­burst, New York Gov. Andrew Cuo­mo is back­ing a bill that would make it a hate crime to make a false police report based on someone's race, gen­der or reli­gion. That's a step in the right direc­tion. But I also chal­lenge those who claim to be seri­ous about mak­ing this unique time we've been expe­ri­enc­ing in the coun­try as of late more than a trend­ing hash­tag, a fad or just some­thing to pass the time dur­ing coro­n­avirus quar­an­tine, to do more. Make sure you also acknowl­edge, denounce and demand an end to the destruc­tion caused by the Amy Coop­ers of the world for far too long with far too lit­tle (if any) consequence.
Meet Amy Coop­er — and all of the Amy Coop­ers in your life — with the same scruti­ny, skep­ti­cism and scorn that Chau­vin and his cop com­rades now face. Their actions all come from the same place — where dou­ble stan­dards go unchal­lenged, pow­er is con­sis­tent­ly abused and dehu­man­iz­ing words and actions are allowed to den­i­grate those who, sad­ly, hold con­sid­er­ably less clout in our soci­ety. You know, all of the stuff that we as a soci­ety pro­fess to detest about the per­pe­tra­tors in the #MeToo movement.
Amy Coop­er. Amy Coop­er. Amy Coop­er. Remem­ber her name and speak of her as you would any oth­er racist. Don't min­i­mize her trans­gres­sion, or her role in fuel­ing and fur­ther per­pet­u­at­ing sys­temic racism. The only way that we can begin the long process of poten­tial­ly dis­man­tling racism in this coun­try is to demand that she and oth­ers who behave like her are final­ly held account­able, too.