Amy Poehler's Radical Niceness
Reading Poehler's new book Yes Please is like hanging out with a friend who believes you can do anything, and wants you to do much better.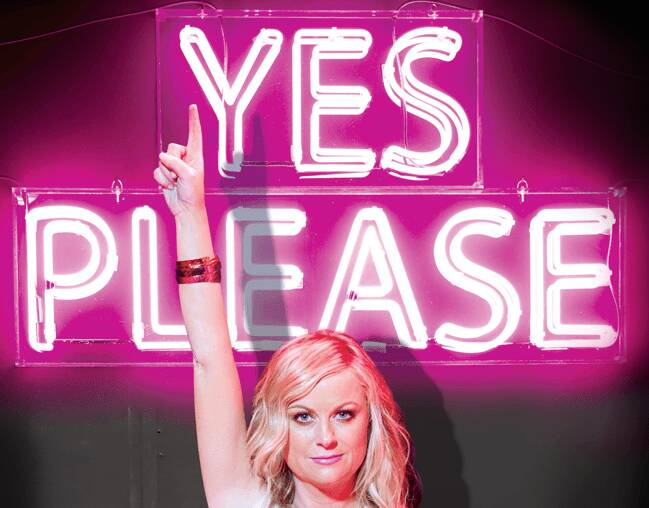 Amy Poehler has been called, repeat­ed­ly, the ​"nicest per­son in show busi­ness." That's a very strange title for a come­di­an, or, for that mat­ter, a fem­i­nist icon.
A few weeks ago, Poehler shut down Neal Brennan on his own show when he complained about the pressure to be "awkward and adorkable," telling him, "This feeling that you're having right now—which is like, 'I'm supposed to be all things'—is a feeling that women have every day and have their whole lives."
It's par­tic­u­lar­ly odd because Poehler has been known to deliv­er some scathing take-downs. One anec­dote from her friend Tina Fey's Bossy­pants—in which a male come­di­an told Poehler one of her bits was ​"not cute"; she snapped, ​"I don't fuck­ing care if you like it" (she ​"went black in the eyes for a sec­ond," Fey wrote) — has gone from pop­u­lar Tum­blr quote to fem­i­nist ral­ly­ing cry.
A few weeks ago, she shut down Neal Bren­nan on his own show when he com­plained about the pres­sure to be ​"awk­ward and adork­able," telling him, ​"This feel­ing that you're hav­ing right now — which is like, ​'I'm sup­posed to be all things' — is a feel­ing that women have every day and have their whole lives. … I'm glad you're final­ly expe­ri­enc­ing it as a white male."
And, in her new mem­oir, Yes Please, she relates a sto­ry about chas­ing a man through an air­port, scream­ing, because he'd told her that she didn't belong in first class. (Sam­ple quotes: ​"You rich moth­er­fuck­er! Who do you think you are? You're not bet­ter than me. Fuck you and your fuck­ing opin­ions, you piece of shit.") If she's ​"nice," it's not the kind that requires behav­ing like a door­mat or with­hold­ing your opinions.
But there is a gen­uine big-heart­ed­ness under­ly­ing Poehler's work. She seems gen­uine­ly com­mit­ted to the peo­ple in her life, and to mak­ing the world a bet­ter place. You can see it in Parks and Recre­ation, where her char­ac­ter, Leslie Knope, trans­formed over the course of the series from an uptight, dowdy bureau­crat to the most beloved per­son in Pawnee, Indi­ana, due large­ly to Poehler's own intense lik­a­bil­i­ty as an actress.
You can also see it in the work she's done out­side of Parks and Recre­ation: She found­ed a web­site, Smart Girls at the Par­ty, ded­i­cat­ed to cel­e­brat­ing young women who ​"change the world by being them­selves." (Scrolling through the web­site, you can find sec­tions for girls inter­est­ed in sci­ence, pol­i­tics and ​"entre­pre­neur­ship.") She's become a pro­duc­er and devot­ed her­self to pro­mot­ing and cre­at­ing come­dies that show­case great female per­form­ers like Com­e­dy Central's Broad City. She's one of the more open­ly fem­i­nist celebri­ties we have, and also one of the longest-run­ning play­ers in the Women In Com­e­dy debate, and she's had the good grace and good sense to nev­er act as if her oblig­a­tions to fem­i­nism and com­e­dy are in con­flict with each other.
That kind­ness, good sense and emo­tion­al gen­eros­i­ty are evi­dent through­out her mem­oir Yes Please—which is a relief, because the book itself is pret­ty all over the place. There's not a lot of struc­ture here; Poehler just dips in and out of her life in lit­tle, amus­ing chunks, inter­spers­ing bits of ear­ly-child­hood auto­bi­og­ra­phy with fake sex tips and behind-the-scenes anec­dotes about Sat­ur­day Night Live with lists of which recre­ation­al drugs she's done. There's very lit­tle in the way of shock­ing tell-all mate­r­i­al, and what there is, you've already seen report­ed in a more sen­sa­tion­al way. (The Colum­bus Dis­patch announced excerpts from Yes Please​'s drug-use chap­ter under the head­line ​"Amy Poehler admits pain of drug use, divorce in mem­oir." The ​"pain" in ques­tion refers to the fact that she some­times got hangovers.)
Poehler men­tions the recent break-up of her nine-year mar­riage to Will Arnett many times and makes it quite clear that it was an excep­tion­al­ly painful and con­fus­ing part of her life. Yet, some­how, she man­ages to say almost noth­ing about Will Arnett or why their rela­tion­ship end­ed. In fact, her chap­ter ​"on divorce" is actu­al­ly a col­lec­tion of fake pro­pos­als for books about divorce, with titles like ​"Hey, Lady, I Don't Want To Fuck Your Hus­band!" and ​"The Hol­i­days are Ruined!"
So Yes Please is not a por­trait of Amy Poehler's inner­most soul, or a col­lec­tion of her dirty secrets. (Not that we were owed either one.) In fact, it's not much of a mem­oir at all. It's more like a great­est-hits col­lec­tion, a reprise of some of Poehler's more notably kind and admirable pub­lic state­ments through­out the years: a lit­tle of the open-heart­ed advice about believ­ing in your­self and being kind that you can find in her Ask Amy web series, a bit of the rep­ping for the World­wide Orphans Foun­da­tion that she's done over the past few years, a lit­tle of the earnest and easy-to-under­stand fem­i­nism she's always mixed in with her interviews.
Along with some charm­ing­ly self-dep­re­cat­ing jokes about get­ting awards and recog­ni­tion for that fem­i­nism: ​"It's hard to be sur­round­ed by women who stood up against a total­i­tar­i­an régime and talk to them about my expe­ri­ence writ­ing sketch­es where a girl farts a lot." You liked her Time 100 accep­tance speech where she talked about the impor­tance and hard work of nan­nies? There's a chap­ter about the impor­tance and hard work of nannies.
There's not much that's new. But if you enjoy spend­ing time with Poehler's voice — and I do — it's a reward­ing, warm expe­ri­ence. It's hang­ing out with a friend who believes you can do any­thing, and wants you to do much bet­ter. Poehler knows how to be kind and vul­ner­a­ble with­out being meek or wishy-washy. And, while there are plen­ty of come­di­ans who could tell us about their divorces, or their drug expe­ri­ences, there are very few who would risk what Poehler does here, when she devotes a whole chap­ter to explain­ing how a pro­fes­sion­al come­di­an ought to apol­o­gize for an offen­sive joke.
In this chap­ter — ​"Sor­ry, Sor­ry, Sor­ry" — Poehler con­cen­trates entire­ly on her own expe­ri­ence, rather than crit­i­ciz­ing any­one else. She did a recur­ring sketch as the actress Dako­ta Fan­ning on SNL. One of those sketch­es con­tained a mean-spir­it­ed visu­al joke about a movie named Hur­ri­cane Mary in which Fan­ning played a dis­abled teen. Poehler did the skit with­out know­ing that Hur­ri­cane Mary was a real movie, and, even worse, a movie about a real teenage girl with cere­bral pal­sy. Worst of all, that girl hap­pened to be watch­ing SNL the night the sketch aired.
Poehler received an irate let­ter from the movie's screen­writer, Mar­i­anne Coop­er, and spent years feel­ing too ter­ri­ble about the inci­dent to for­get about it and too defen­sive to own up to it.
"I kept telling myself that the only thing I was guilty of was not pay­ing atten­tion," she writes. ​"Sure, I was being self-absorbed and insen­si­tive, but who isn't? Sure, I should have been more on top of what I was say­ing, but wasn't that some­one else's job? Didn't every­one know how busy I was? Didn't Mar­i­anne and Chris take into account what a NICE PER­SON I was? My brain shout­ed these things loud and clear. My heart qui­et­ly told a dif­fer­ent story."
Five years after the offense, Poehler apol­o­gized. Mar­i­anne Coop­er did not for­give her. Anas­ta­sia Solz­er, the girl she'd mocked, did. Poehler reprints Solzer's let­ter in full, call­ing it a ​"huge gift."
It doesn't seem like it should be that big of a deal. It's just a come­di­an apol­o­giz­ing for some­thing she did wrong. But in an envi­ron­ment where women are threat­ened with rape by come­di­ans like Daniel Tosh for dar­ing to find a joke un-fun­ny, or relent­less­ly harassed online by both come­di­ans and their fans for dar­ing to crit­i­cize the polit­i­cal con­tent of a joke, a high-pro­file come­di­an writ­ing in praise of apol­o­gy is not only a huge deal: It's a rad­i­cal act.
This is the kind of ​"nice­ness" that does not equate to weak­ness: That is fierce, and strong, and resilient, and even rad­i­cal. It's ​"nice­ness" that isn't incom­pat­i­ble with a lit­tle fem­i­nist out­rage, or a stern­ly word­ed take­down. It's nice­ness that's fueled by a desire to make the world better.
Amy Poehler may, or may not, be the nicest per­son in show busi­ness. But she is cer­tain­ly a kind per­son. And if she's what ​"nice" looks like, we could stand to have a lot more peo­ple com­pet­ing for her title.