Anchor Workers Are Organizing to Become One of the First Unionized Craft Breweries in the U.S.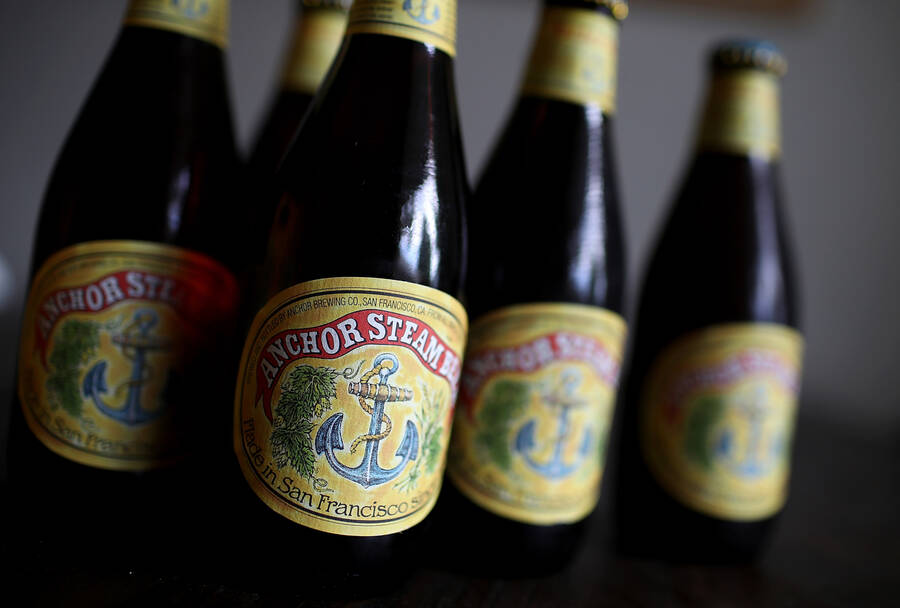 After tak­ing their union dri­ve pub­lic on Thurs­day, work­ers from Anchor Brew­ing Com­pa­ny, a San Fran­cis­co insti­tu­tion that was found­ed in 1896 and stands as one of the country's old­est craft brew­eries, ral­lied in the Mis­sion Dis­trict. The work­ers esti­mate 75 peo­ple showed up to sup­port their union, orga­nized with the Inter­na­tion­al Long­shore­men and Ware­house Union (ILWU). Should the work­ers' union dri­ve suc­ceed, theirs would be among the first union­ized craft brew­eries in the Unit­ed States.
"We were the first craft brew­ery," said Gar­rett Kel­ly, a full-time fer­men­ta­tion work­er at Anchor who has been with the com­pa­ny for three years. He stressed that his love for being a part of Anchor is part of the moti­va­tion for union­iz­ing. ​"We've led the way for decades, so it makes sense for us to lead the way in this new chapter."
After gath­er­ing in the Mis­sion for a few speech­es, the crowd dis­persed into small groups to coat the neighborhood's bars, restau­rants and liquor stores with signs in sup­port of the Anchor union.
"My group went to eight places and we did­n't get a sin­gle neg­a­tive reac­tion," said Kel­ly. ​"Peo­ple were giv­ing us free beer, free food; they were just real­ly excit­ed to sup­port us."
"We drew up a turf map of every place that sells Anchor, then we went out and talked to peo­ple at every one," said Brace Belden, a part-time Anchor work­er and mem­ber of the union's orga­niz­ing com­mit­tee. ​"The first bar we went to had all these old Anchor Steam signs and I thought ​'Man, this guy might be weird,' but his response was to say what we were doing was amaz­ing and to ask for eight of our signs."
Belden, like many of his cowork­ers, is kept at 29-hour work­weeks — Anchor would be legal­ly required to pro­vide health­care to any­one work­ing 30 hours or more. He makes $16.50 an hour, which he points out is far below what's con­sid­ered a liv­ing wage in San Fran­cis­co. ​"My rent is about to go up to $1,100," he added. ​"I make shit [mon­ey]." He described his work as fun but ​"back­break­ing," adding that hear­ing loss is a par­tic­u­lar con­cern among his coworkers.
These con­cerns are what led the approx­i­mate­ly 70-per­son bar­gain­ing unit to unionize.
"Work­ing at Anchor brew­ing com­pa­ny used to be one of the best jobs in San Fran­cis­co; you could make a career and raise a fam­i­ly with what used to be a full-time fac­to­ry job with great ben­e­fits" said Kel­ly. ​"But that's no longer the case. There's been a steady and sys­tem­at­ic roll­back of our wages, our ben­e­fits and our qual­i­ty of life."
Jon Ezell, a full-time bot­tle-shop work­er who has been with Anchor for almost two years, told me he some­times spends two hours com­mut­ing home from the company's Potrero Hill facil­i­ty, a reflec­tion of the Bay Area's bal­loon­ing hous­ing cri­sis, which is itself a prod­uct of the area's immense class divide. ​"That's the crush­ing fact of life in the Bay Area," Ezell said. ​"And it's time away from my kids… We have three kids. If I want­ed to live in the city, the cheap­est two-bed­room apart­ment near my work is over $4,000 a month."
Five mem­bers of the union's orga­niz­ing com­mit­tee deliv­ered a let­ter announc­ing their union­iza­tion to man­age­ment at the facil­i­ty on Thurs­day. They describe the imme­di­ate response as ​"extreme­ly neg­a­tive and pet­ty." After being shunt­ed into a small con­fer­ence room and told the CEO would not have time to speak with them, the work­ers said they were asked if they were still on the clock. ​"Who clocks out to go to a meet­ing?" Kel­ly recount­ed. Should Anchor refuse to vol­un­tar­i­ly rec­og­nize the union with­in 48 hours, work­ers say they will file for a Nation­al Labor Rela­tions Board vote ​"imme­di­ate­ly." They are urg­ing the com­pa­ny to remain neu­tral through­out that process.
The union dri­ve began a year ago, not long after beer con­glom­er­ate Sapporo's 2017 acqui­si­tion of Anchor. Though it's unclear how the acqui­si­tion will affect work­ing con­di­tions at the brew­ery — and it's worth not­ing that one Cana­di­an sub­sidiary of the com­pa­ny is union­ized and went on strike as recent­ly as 2017 — work­ers describe recent changes, such as the reduc­tion of a 45-minute paid lunch, as con­cern­ing. ​"If you work at a craft brew­ery, you get a shift beer," said Belden. ​"But they took that away recent­ly too."
While craft brew­eries are by def­i­n­i­tion small com­pa­nies, the country's 7,000 craft brew­eries rep­re­sent a grow­ing pro­por­tion of the U.S. beer mar­ket: 23 per­cent in 2017, accord­ing to the Brew­ers Asso­ci­a­tion. As was not­ed in an SF Week­ly sto­ry on the union­iza­tion dri­ve, that amounts to $26 bil­lion in sales. But despite gen­er­at­ing such prof­its, craft brew­ery work­ers' wages declined by 25 per­cent from 2006 to 2016, accord­ing to the Bureau of Labor Sta­tis­tics. Work­ers at Anchor say the start­ing wage is low­er now than it was 5 years ago. This squeeze is in stark con­trast to larg­er brew­eries such as Anheuser-Busch, where thou­sands of work­ers are mem­bers of the Inter­na­tion­al Broth­er­hood of Team­sters and receive high­er wages than their craft counterparts.
While so-called bread-and-but­ter issues are cen­tral to the union dri­ve, Belden empha­sized that the cam­paign is also about con­trol, and hav­ing a say in one's own life.
"I rent a place, and I can get kicked out any time. I'm an at-will employ­ee — I have no con­trol in that area of my life. I think once [my cowork­ers] real­ized that they could have an iota of con­trol, peo­ple start­ed tak­ing them­selves more seri­ous­ly. Peo­ple are valu­ing their work and real­iz­ing that, ​'Hey, all our man­agers moved here from Cana­da and Japan; we are the company.'"
The union with which Anchor work­ers have cho­sen to orga­nize, the ILWU, remains a bright spot in a U.S. labor move­ment that has found itself on the back foot for decades, besieged on all sides by anti-union politi­cians, mon­eyed orga­ni­za­tions that are hos­tile to labor and unfa­vor­able court rul­ings. The part­ner­ship, facil­i­tat­ed through the San Fran­cis­co chap­ter of the Demo­c­ra­t­ic Social­ists of Amer­i­ca, of which sev­er­al orga­niz­ers of the Anchor union are mem­bers, is a promis­ing sign that, where oth­er attempts have failed, these work­ers may suc­ceed. And that's why they're hop­ing not only to improve their own work­ing con­di­tions, but to inspire oth­ers in the craft beer indus­try to unionize.
"There is space for fight­ing unions right now," said Belden. ​"In the past year, since Trump's elec­tion, and since Janus, we've seen the labor­ers and work­ers and the toil­ers of Amer­i­ca — espe­cial­ly the teach­ers and nurs­es — get aggres­sive. But lots of peo­ple who work in these blue-col­lar jobs, for some rea­son they think that because they aren't car­pen­ters or some­thing, they can't have a union…People like it when Alexan­dria Oca­sio-Cortez fights, peo­ple like when Bernie Sanders fights, but they can't think of them­selves fight­ing, or their unions fight­ing. We're hop­ing to change that, we hope this can con­tribute to a fight­ing unionism."