"Let's Get This Bread": Bay Area Tartine Bakery Workers Move to Unionize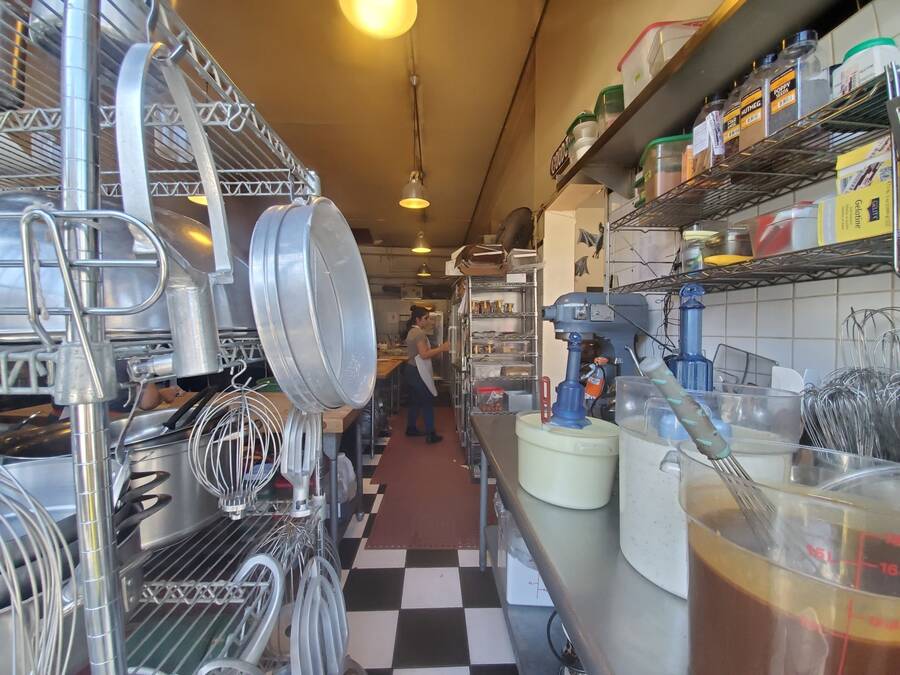 "What if a bak­ery kept its heart and soul, but always remained open to new ideas?" asks the web­site for Tar­tine, the world-renowned Bay Area bak­ery. Else­where on the site, the bak­ery boasts of ​"Pro­duc­tion at a human scale." Today, the humans who pro­duce Tartine's award-win­ning bread and pas­tries have a new idea of their own: a union.
The work­ers at four Bay Area loca­tions — three in San Fran­cis­co, one in Berke­ley — have cho­sen to become mem­bers in the Inter­na­tion­al Long­shore and Ware­house Union (ILWU). In doing so, they join their coun­ter­parts at anoth­er icon­ic Bay Area insti­tu­tion, Anchor Brew­ing, one year after Anchor work­ers went pub­lic with their union.
"We're proud to work at Tar­tine and want Tar­tine to be the best it pos­si­bly can be," opens a let­ter deliv­ered to man­age­ment Thurs­day morn­ing by mem­bers of the union's orga­niz­ing com­mit­tee. Of the esti­mat­ed 215 work­ers at the four loca­tions, 146 signed their name to the let­ter, a pub­lic dec­la­ra­tion of their sup­port for the union. The let­ter requests Tar­tine vol­un­tar­i­ly rec­og­nize the union, but notes that should the com­pa­ny refuse, the union will file for a Nation­al Labor Rela­tions Board (NLRB) elec­tion. Agustin Ramirez, lead ILWU orga­niz­er for North­ern Cal­i­for­nia, says the union will file for the elec­tion on Fri­day morn­ing, 24 hours after the letter's deliv­ery, should the com­pa­ny decline vol­un­tary recognition.
Chad Robert­son and Elis­a­beth Prueitt opened Tartine's first loca­tion in 2002, and have expand­ed their oper­a­tions in recent years. The com­pa­ny has opened two new loca­tions in the Bay Area since 2016, and stores con­tin­ue open­ing—and clos­ing—in Los Ange­les and Seoul, South Korea. Work­ers say this rapid growth is a key rea­son to unionize.
"As the com­pa­ny expand­ed, we were see­ing a cer­tain amount of neglect toward the work­ers — and not only the peo­ple, but oper­a­tions too: mon­ey to pay invoic­es, for exam­ple, wasn't there," says Pat Thomas, 30, a serv­er at the Tar­tine Man­u­fac­to­ry. ​"We weren't get­ting the atten­tion we felt like we deserved because they were open­ing all these new loca­tions, and it start­ed feel­ing more cor­po­rate." Thomas hopes union­iza­tion can res­cue what was once a pos­i­tive com­pa­ny envi­ron­ment, ​"before it's too late."
Tar­tine was ​"expand­ing like crazy, open­ing mul­ti­ple restau­rants in a short peri­od of time, and then telling us that they don't have the mon­ey to give us a $1 an hour raise," says Emi­ly Had­dad, 31, a barista at the Man­u­fac­to­ry. ​"It wasn't real­ly match­ing up," she adds.
Indeed, work­ers feel man­age­ment is ​"mak­ing it up as they go" when it comes to pay, says Mason Lopez, 36, a barista at the Berke­ley loca­tion. Many spoke of their wages as nowhere near liv­able, with employ­ees fre­quent­ly hav­ing to take sec­ond and third jobs. Plus, back-of-the-house staff is large­ly exclud­ed from the tip pool, say work­ers, an arrange­ment to which some object.
Tar­tine ​"can pay work­ers, the peo­ple who are mak­ing them the mon­ey — the cooks and the prep and the dish­wash­ers and so on — a liv­ing wage," says Han­nah Ger­ard, 27, a serv­er at the Manufactory.
In These Times was not able to reach any back-of-the-house employ­ees for com­ment. Work­ers admit to the dif­fi­cul­ties of coor­di­nat­ing the front of the house and the back of the house in the cam­paign, but describe sup­port for the union as ​"wide­spread" across all posi­tions and loca­tions, with a work­er at one loca­tion char­ac­ter­iz­ing sup­port as strongest among dish­wash­ers and prep cooks.
"The dish­wash­ers and prep cooks have been insane­ly proac­tive and have got­ten a lot of peo­ple on board," says Gerard.

​"These are world-class bak­ers," adds Lopez, list­ing off awards the bread has won over the years. ​"These bak­ers should be mak­ing at least $25 an hour, some­thing that mir­rors their expe­ri­ence and lev­el of skill, and then you find out they're mak­ing min­i­mum wage and bare­ly in the tip pool. Why?"
Through­out his­to­ry, bak­ers have a sto­ried record of orga­niz­ing. One of the first acts pro­posed by the Exec­u­tive Com­mit­tee of the Paris Com­mune in 1871 was a ban on night-work, a response to bak­ery work­ers' long­stand­ing demands. In the Unit­ed States, too, bak­ers' unions have a long his­to­ry. The Jour­ney­men Bak­ers' Union, found­ed in 1880, merged into what is now the Bak­ery, Con­fec­tionary, Tobac­co Work­ers and Grain Millers' Inter­na­tion­al Union (BCT­GM), which still rep­re­sents some 140,000 mem­bers, most­ly in the food pro­cess­ing industry.
In addi­tion to high­er wages, Tar­tine work­ers speak of a desire for paid-time off, as well as a say in deci­sions relat­ing to employ­ee health insur­ance. While Tar­tine offers health insur­ance to any­one who works 25 or more hours per week, the com­pa­ny recent­ly switched work­ers' health insur­ance provider, caus­ing sev­er­al to lose their doc­tors. Addi­tion­al­ly, sev­er­al work­ers say they hope union­iz­ing will bring greater trans­paren­cy across the com­pa­ny, par­tic­u­lar­ly when it comes to where Tartine's mon­ey is going.
"If the com­pa­ny's telling us that they're broke because their projects are going out of busi­ness, we have the right to see for our­selves instead of tak­ing their word for it," says Thomas. ​"We're just ask­ing for a say."
"Mon­ey has been fun­nel­ing into San Fran­cis­co by the buck­et­load over the last five years, but there's not a lot of fol­low-through when it comes to restau­rant work­ers, or any­one in cafes, and those are the peo­ple that keep these cities run­ning," says Lopez. ​"Mon­ey changes hands, but we're only get­ting the min­i­mum that an employ­er is sup­posed to pay a per­son to avoid get­ting into legal trou­ble. Put that way, it's hurtful."
By announc­ing their union cam­paign, Tar­tine work­ers fol­low the lead of those at Anchor Brew­ing, a craft brew­ery that union­ized last year, also with ILWU.
"When Anchor Steam went pub­lic with their union­iza­tion, that's what moti­vat­ed me to say, ​'Let's actu­al­ly do this instead of just talk­ing about it,'" says Thomas. Fol­low­ing the launch of Anchor's cam­paign, he met with peo­ple who had helped Anchor Steam work­ers orga­nize. From there, he says, the process began in earnest.
"We had read that Anchor Steam became pub­lic with their union and we thought that was awe­some," says Matthew Tor­res, 23, a barista at Tartine's Berke­ley loca­tion. ​"We'd talked about it play­ful­ly, like ​'Oh, that'd be so cool.'"
Soon enough, a small group began meet­ing with Anchor Steam work­ers, an ILWU rep­re­sen­ta­tive — and, as was true in the Anchor Steam cam­paign, col­lab­o­rat­ing with the San Fran­cis­co chap­ter of the Demo­c­ra­t­ic Social­ists of Amer­i­ca (DSA), who pro­vid­ed meet­ing space along with orga­niz­ing support.
"The process of orga­niz­ing can be very daunt­ing, very scary, and kind of emo­tion­al at times," says Tor­res, adding that hav­ing DSA present to facil­i­tate space for Tar­tine work­ers to con­nect with oth­er work­ers was ​"real­ly, real­ly help­ful." SF DSA plans to hold a ral­ly with Tar­tine work­ers at 6pm at 24th Street Plaza Thurs­day. As with the Anchor cam­paign, work­ers hope to imme­di­ate­ly build com­mu­ni­ty sup­port for their union.
Sev­er­al work­ers stressed inter­est in work­ing with the ILWU because of its rad­i­cal his­to­ry, and in par­tic­u­lar, what Lopez describes as its ​"antiracist advo­ca­cy," refer­ring to ILWU's will­ing­ness to shut down the Port of Oak­land in sol­i­dar­i­ty with the Black Lives Mat­ter move­ment, as well as its his­to­ry of polit­i­cal boy­cotts on cargo.
Tar­tine work­ers will join the same ILWU local as Anchor Steam work­ers, Local 6, expand­ing the less-tra­di­tion­al shops rep­re­sent­ed in the local. San Fran­cis­co vet­eri­nary hos­pi­tal work­ers have also orga­nized as Local 6 mem­bers, a process that Anchor work­ers — and DSA San Fran­cis­co—have sup­port­ed.
Local 6 has ​"phar­ma­ceu­ti­cal work­ers, work­ers at land­fills, work­ers at recy­cling facil­i­ties, work­ers at choco­late man­u­fac­to­ries, radi­ol­o­gist tech­ni­cians at hos­pi­tals, ware­hous­es, and now, work­ers in the beer indus­try," says Ramirez, the ILWU orga­niz­er, adding ​"We believe that the work­ers have the right to choose their union. The ILWU will be with them until we reach the oth­er side."
As to how they expect man­age­ment to respond to the union dri­ve, work­ers are uncer­tain (In These Times reached out to Tartine's Chief Oper­at­ing Offi­cer, Chris Jor­dan, for com­ment, and has yet to receive a response). ​"Tar­tine likes to be known as an inclu­sive and wel­com­ing place," says Ger­ard. ​"Hope­ful­ly they will take that rep­u­ta­tion and do the right thing: Let us bar­gain a contract."
Should union­iza­tion lead to an NLRB elec­tion, it's pos­si­ble the com­pa­ny will push for each Tar­tine loca­tion to hold a sep­a­rate elec­tion, a pos­si­bil­i­ty for which ILWU's Ramirez says the union is prepared.
Tar­tine work­ers empha­size that just because the vast major­i­ty of food ser­vice work in the Unit­ed States isn't cur­rent­ly union­ized, that doesn't mean the indus­try can't change its ways.
"I hope peo­ple can take inspi­ra­tion from us, like we did from Anchor Steam," says Tor­res. Food ser­vice work­ers ​"move through jobs every few months or year because these work­places are bad or unac­count­able and I real­ly want to see oth­er peo­ple be inspired by what we're doing and do it them­selves, and aid them in doing that."
"A lot of peo­ple think restau­rant work is not a skill, or not a career," agrees Lopez, ​"but you can have a ser­vice job be your career. There are plen­ty of real­ly tal­ent­ed, amaz­ing peo­ple work­ing in the ser­vice indus­try; the prob­lem is they aren't tak­en care of." Lopez spoke of how ​"exhaust­ing" it is ​"to go from restau­rant to restau­rant, from bar to bar, and it's always the same song."
"Why not make a dif­fer­ence," asks Lopez. ​"Why not set an exam­ple for oth­er restau­rant work­ers, and maybe inspire them to do the same?"